---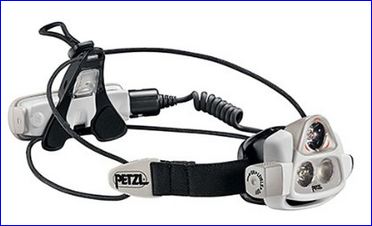 The word reactive in the name Petzl NAO Reactive Lighting headlamp describes the feature developed and applied for the first time for a headlamp. It implies that the lamp instantly adjusts to the surrounding, and it provides just the right amount of light that is needed.
So this is not about the amount of power but about using it intelligently: the right amount in the right moment. You need nothing to do manually and you are therefore able to focus more on your current activity.
I warmly recommend you to see this promotion Petzl NAO Reactive Lighting Headlamp video:
This Petzl headlamp allows for a more efficient burning time of its rechargeable battery. This is achieved by an integrated light sensor and a microprocessor which all together provide the right amount of light you need at any moment, without a need to do anything manually. In practice, for example when you look on a map the light is reduced, and it is automatically increased when you look in an another direction.
There is a free OS software by Petzl which you can download. It will allow you to fine tune the lamp for specific activities to achieve optimal performance and burn time.
Summary of features
Brightness: 7-355 Lumens (up to 575 for NAO 2).
Burn time: 1 h 20 min. – 20 hours.
Weight: 187 grams.
Water resistance; IP X4. It is real, you can trust this.
Power indicator
Light sensor.
Wide angle LED.
Focused LED.
30 cm USB cable included. Compatible with all USB chargers (computer, cell phone, solar panel, car cigarette lighter, MP3 player).
Rechargeable and programmable by USB.
Battery: Lithium-Ion 2600 mAh rechargeable battery (included).
Battery compatibility: alkaline and lithium.
Guaranty for the lamp: 3 years; for the rechargeable battery: 1 year (or 300 charging cycles).
Beam pattern: wide, mixed.
Recharge time: 5 h.
Constant lighting mode: stable lighting which does not diminish during the entire burn time.
Two lighting levels: max power (brightness prioritized), and max autonomy (burn time prioritized).
Optional belt kit for NAO, to move the rechargeable battery to the belt to reduce the weight on the head and to keep it warm.
Customized lighting with OS by Petzl software; download at www.petzl.com/OS. In other words, you can program it the way you want it to work for you.
Lock function:  to avoid accidentally turning it on.
Finally, it is comfortable. How do I know? Well, I have one, so I know what I am talking about.
Here is a table from Petzl where you can see some features related to the NAO lamp lighting performance:

Cons
There may be some minor issue with reactive lighting. It may be too sensitive and react inappropriately. I have read about it, did not have enough time to experience such negative effects myself, I ordered it not so long ago after some unpleasant experience with my former headlamp while climbing Mt Teide.
One could argue that it is a bit heavy, not far from the truth.
The price is high, but hey, you really have a quality tool.
---
To summarize, a good headlamp is a crucial part of your equipment if you do any sort of night activity outdoors. You need at least 100 lumens and Petzl NAO Reactive Lighting Headlamp will provide this to you.
Check at REI
If this is not for you, see Petzl Tikka RXP model. Thank you for reading, I hope you find this review useful. I shall be happy to read your comments in the box below. I wish you a pleasant day.