---
Here you have my selection of the best outdoor portable sun shades, canopies, and shelters, all lightweight, easy to use, versatile, and affordable.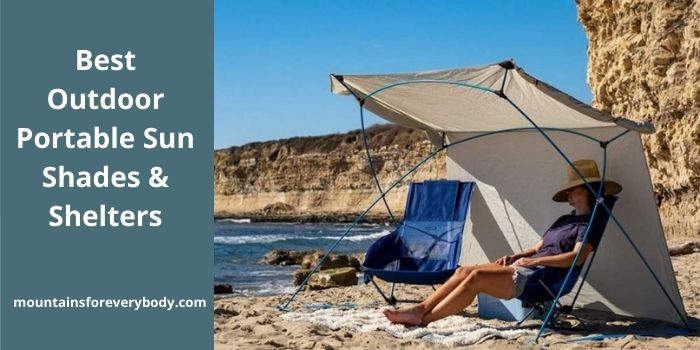 The list includes two main types, i) instant setup folding sunshades, and ii) collapsible sunshades. The latter implies a simple assembly that is easy to do and without any extra tools.
---
My list of the best portable sun shade canopies
So here is my list with the portable sun shelters ordered by weight from heavier to lighter:
Note that the weight in an absolute sense may not always be the best parameter to consider. It may also be useful to know the area/weight ratio, so I give this parameter whenever this is easy to determine.
---
1. Core Instant Sport Beach Sun Shade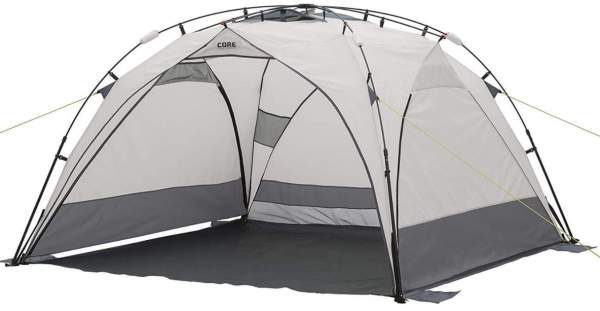 This Core Sun Shade can be described as affordable and very easy to use. It is in the group of the so-called instant setup shelters where the frame is permanently pre-attached to the fabric. So you open it in 30 seconds, this is its official setup time.
One feature that is not so frequent in shelters of this type is roof vents that are available here. You have a pre-attached floor as well, and 2 removable side walls. It comes with sandbags, so you can stabilize it without stakes, but stakes are also included.
Here are some numbers. The weight is 11.5 lb (5.2 kg) and the area is 64 ft² (6 m²). So it looks heavy but the area is large, and the area weight ratio is good 1.15 m²/kg. The peak height is 59 inches (150 cm), and the packed size is 39 x 6.1 x 6.1 inches (99 x 15.5 x 15.5 cm).

---
2. Coleman Go Shade Backpack Sun Shade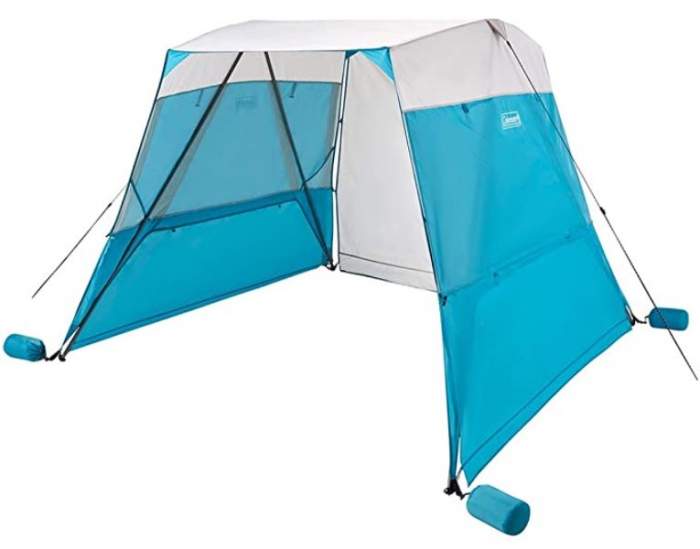 The Coleman Go Shade Backpack Sun Shade is supported by a double-hub strong steel frame. This is reflected in its weight which is 10.5 lb (4.8 kg). The area is 49 ft² (4.5 m²), so the area/weight ratio is 0.94 m²/kg.
There are several great features here, and they include adjustable walls so you can regulate views and drafts. There are wall pockets for small items, and sandbags are included as well. The carry bag is backpack-style and it is equipped with two mesh pockets.
The packed size is 31 x 6 x 6 inches (79 x 15 x 15 cm). The shelter is freestanding, but you have stakes and guylines included. 

---
3. OutdoorMaster Pop Up Beach Tent for 4 Person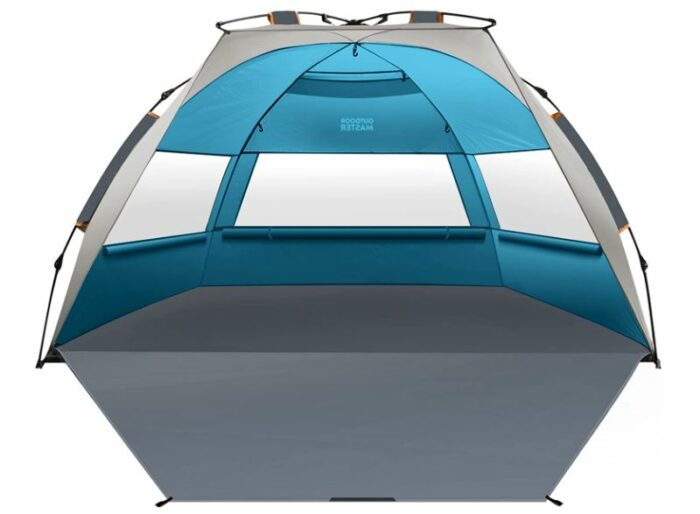 This is a freestanding shelter with a sewn-in floor and an integrated mat. The frame is pre-attached so this is an easy to use instant setup structure.
You have three double-layer windows, and the front mat doubles as the door so you can completely close this shelter for privacy.
A carry bag is included, and the price is excellent. The shelter weighs 8.15 lb (3.7 kg), and the dimensions are (H x W x D) 53 x 95 x 51 inches (135 x 240 x 130 cm).

---
4. Easthills Outdoors Instant Shader Deluxe XL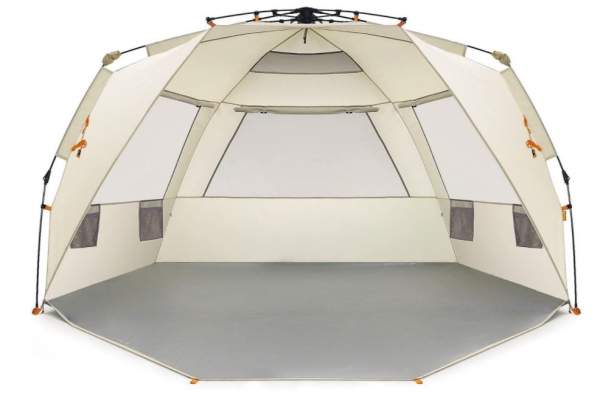 This is a freestanding sunshade with an integrated sewn-in floor shown in the picture above. The floor continues into a mat that doubles as a zippered door. The structure is an instant setup type and you can have it pitched in seconds.
You have 3 double-layer windows with mesh and with panels. There are also several storage pockets on the walls, you can see them in the picture.
It comes equipped with sandbags, but you also have a full collection of stakes, so you can set it up anywhere. A carry bag is also included.
The weight is 8 lb (3.6 kg) and the area is around 32 ft² (3 m²). So this is a very light shelter but note that it is not very large although they use the words Deluxe XL in the name, so the area/weight ratio is 0.83 m²/kg. 
The peak height is 57 inches (145 cm) and the packed size is 41 x 8.5 x 8.5 inches (104 x 22 x 22 cm). Note that they also have the Easthills Outdoors Instant Shader Extended with a very similar design.

---
5. ALPS Mountaineering Tri-Awning Elite Shelter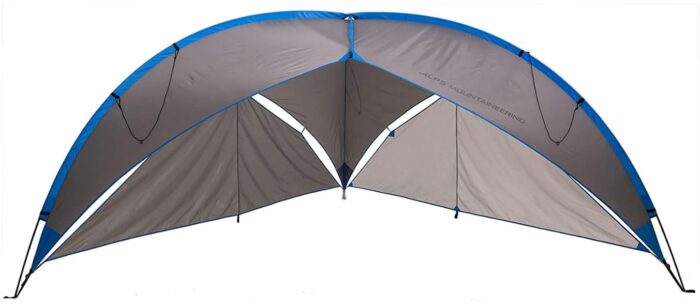 This ALPS Mountaineering Tri-Awning Elite Shelter is a very interesting freestanding structure with aluminum poles. It has removable sun-shield side fabric panels and its roof is with 1500 mm waterproof rating.
The area covered by the shelter is huge but it is variable. You have several mesh pockets for small items and hang loops. The weight of this shelter is 7 lb (3.17 kg) and the variable area is in the range of 75 – 95 ft² (6 – 8.8 m²) with 6'6 center height and 6′ center height, respectively. Clearly, the area/weight ratio here is great.
The shelter is nicely packable, it measures 20 x 6 x 6 inches (51 x 15 x 15 cm). So you can transport it even on a bicycle.

---
6. Kelty Cabana Shelter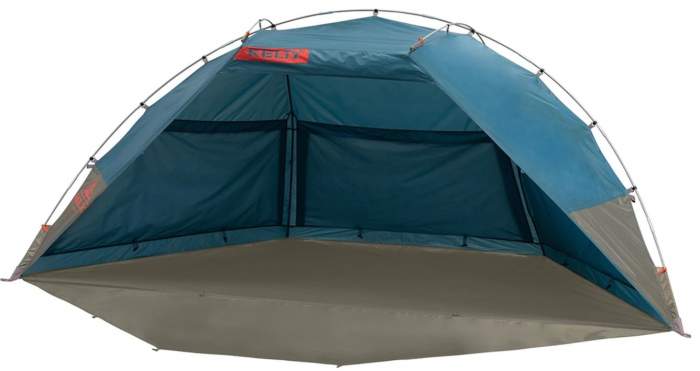 This Kelty Cabana Shelter is supported by fiberglass poles and it is fully freestanding. They use what they call the Quick-Corner design. This implies narrow but deep sleeves in the corners where you put poles. This is instead of the usual grommets or pin-and-ring attachment system. They use the same system in their tents, you can see it in this Kelty Wireless Tent 4 Person.
The shelter is with a floor that continues to a front mat. This you can raise and use to close the shelter, so the mat doubles as a door as well.
The weight is 7 lb 5 oz (2.9 kg) and the area is 45.5 ft² (4.2 m²). So the area/weight ratio is 1.45 m²/kg, and this puts it in the group of ultralight shelters of this type. The packed size is 26 x 8 x 5 inches (66 x 20 x 13 cm).

---
7. Helinox Royal Box
Here again, you have a freestanding and collapsible structure, so it needs assembly. It can be described as ultralight with its 4 lb 15 oz (2.25 kg). But the area is relatively small 29.6 ft² (2.75 m²), and the area/weight ratio is 1.22 m²/kg.
To continue with numbers, the peak height is 58.5 inches (149 cm), and the packed size is 27.5 x 9.5 x 5 inches (70 x 25 x 13 cm).
You have top-class materials, this includes a DAC aluminum alloy frame. As a result, this shelter comes with an incredible 5-year warranty.

---
Final thoughts & how to choose
So this was my selection of best outdoor portable sun shades and shelters, and I hope you have been able to find something for you. I shall be adding new products here when I find something suitable. So bookmark this text and visit it occasionally.
If you are still undecided about what to choose, as mentioned above, you have two main types. So folding (instant setup) shelters are far easier to use, and you can have such a shelter ready in seconds. But this type is usually a bit longer when packed, and they tend to be heavier. This is because their frame may have more poles, and those are mostly telescopic and this makes them heavier.
The other type (collapsible) needs assembly, but these shelters are usually lighter and they pack better. There are differences in prices, so follow the links to check them from your side.
Let me know if you have questions, there is a comment box below. Thank you for reading and have a nice day.