---
This ALPS Mountaineering Tri-Awning Elite Shelter is a freestanding structure with aluminum poles, incredibly compact, and with a waterproof fabric.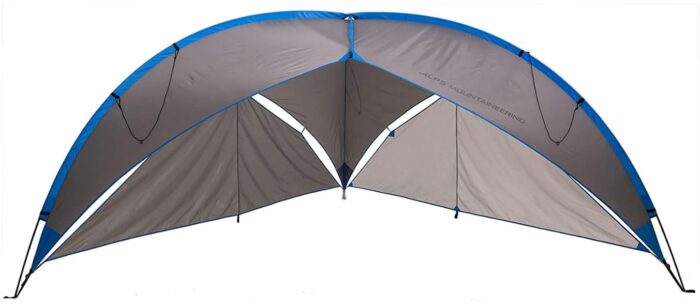 ---
Key features & benefits
Aluminum poles.
Removable sunshield side fabric panels.
Removable sunshield side mesh panels.
Variable height & area.
Waterproof & UV resistant roof.
Nicely packable.
Mesh pockets.
Hang loops.
---
What this Tri-Awning Elite shelter is about
This Tri-Awning Elite is an improved version of their original ALPS Mountaineering Tri-Awning Shelter. This is both a sunshade and also a rain shelter.
It comes with removable side panels and side mesh walls so you can use them as it suits you, when you need more privacy from one particular side, or when the Sun is low so you need some extra shade. The picture above shows it with the side walls in place, and below you can see it with one of them removed: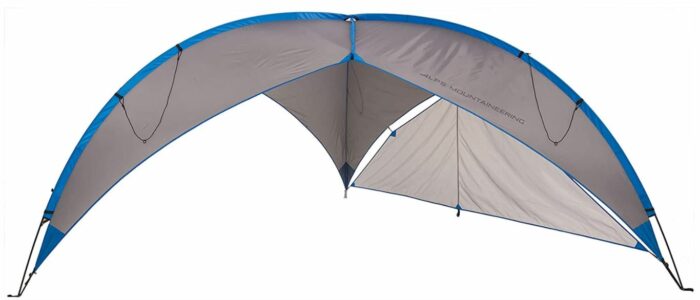 Variable height & area: As you realize from the picture above, this is a tripod structure. So you can make it wider and lower, as well as narrower and taller. Wherever you position the ends of the poles, you will stake them and fix them in place.
This means you can have almost any size, but just as a guide, you can have 75 and 95 ft² (6 and 8.8 m²) when the peak height is 6'6 and 6′, respectively. So you realize that you can have a very large shelter while at the same time it will be with a stand-up height.
Materials
The poles: You have high quality 11 mm diameter shock-corded 7000 series aluminum poles with short 18 inches (46 cm) sections. This is why the packed size is so incredibly small. The poles attach to the structure through the usual grommets, see the picture below.
The fabric: As mentioned above, this shelter will protect you from the rain. The fabric they use is a durable UV-resistant 75D polyester with 1500 mm multi-pass urethane coating.
This is not all in this department, you also have two mesh pockets (one shown above), there is a center Velcro light loop, plus six auxiliary hang loops (the picture below). This is convenient to pass a cord and hang your pieces of clothing.
---
Who is it for
Regarding the weight, this structure weighs 7 lb (3.17 kg) so it is portable but far from lightweight. However, this is a very large and tall shelter, you have 15 x 15 x 15 feet floor dimensions, and the weight is justified.
On the other side, the packed size is simply excellent, it measures 20 x 6 x 6 inches (51 x 15 x 15 cm) when packed. You can transport it even on a bicycle.
Regarding the best use & purpose, they describe it as a 3-season shelter, you have seen its features and you can easily decide where and when you can use it. No doubt it is very versatile, so you can use it for picnics, at the beach, next to your camping tent, or simply in the garden.
There are 12 guy-out points, all necessary stakes are included, and guy ropes as well, so you can secure it wherever you use it. A compression carry bag is included.
Regarding the price, it may look a bit steep but think about the quality poles, its waterproof fabric, and its overall size. So the price is justified.

---
Specifications
Weight: 7 lb (3.17 kg).
Area: 75 – 95 ft² (6 – 8.8 m²) with 6'6 center height and 6′ center height, respectively.
Packed size: 20 x 6 x 6 in (51 x 15 x 15 cm).
Poles: aluminum.
---
Final thoughts, rating, pros & cons
In conclusion, this ALPS Mountaineering Tri-Awning Elite Shelter includes quality materials and a reliable brand behind it. It is incredibly compact when packed and this adds to its versatility. They rightly claim that it offers endless height and area options, and you can use it for a variety of outdoor activities. Fully recommended.
See how I rate this shelter against my standard set of criteria, as you realize its average score is Excellent:
Please check under the category Tarps and Shelters if you need more options of this type. See this Kelty Cabana Shelter if you want something that includes a floor or this Easthills Outdoors Instant Shader Deluxe XL if you would rather have something with instant setup.
Subscribe to our weekly newsletter and stay informed, we add texts here regularly, there is a subscription form below. Thank you for reading and have a nice day.