---
This Easthills Outdoors Instant Shader Deluxe XL is freestanding, with a floor, and with a mat that doubles as a zippered door, it sets up in seconds, it is pleasant, and with some great features.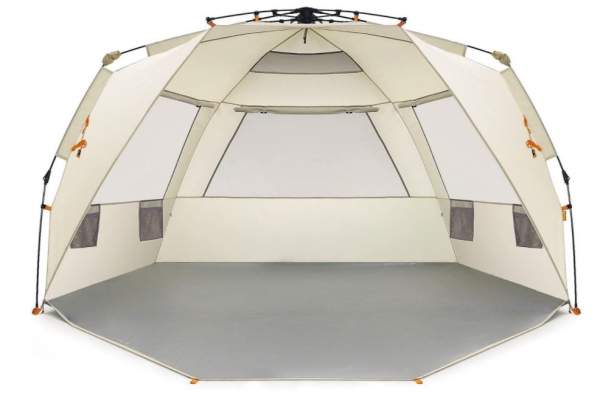 ---
Key features & benefits
Instant setup.
Sewn-in floor.
Front mat.
Closable door.
3 Double-layer windows.
Several storage pouches.
Carry bag.
Reasonable price.
---
What is in the name
I guess it is best to start with the word instant mentioned in the name. This means that the frame is pre-attached to the canopy and you can have the shelter ready in seconds. The pictures below show the most important steps in setting it up: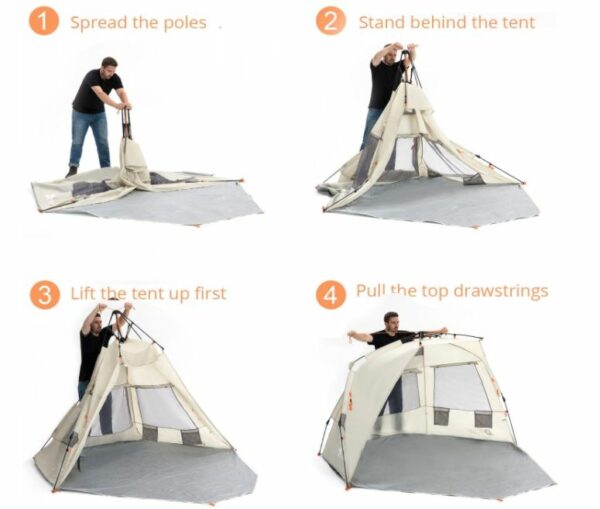 This is all due to its ingenious top hub that looks like an inverted umbrella, see the picture: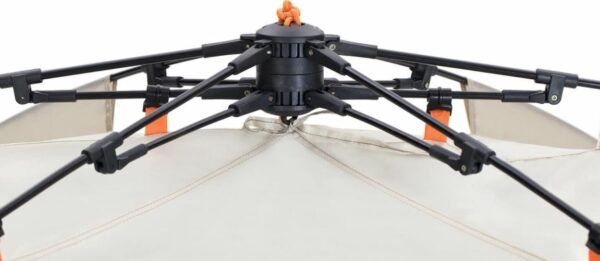 The shelter is more or less freestanding, but you have stakes and guylines, plus the sandbags attached to the base, see the picture below. So you can pitch this shelter anywhere, if the ground is soft you can use sandbags and fill them with anything that is heavy, and you can use stakes and guylines where appropriate.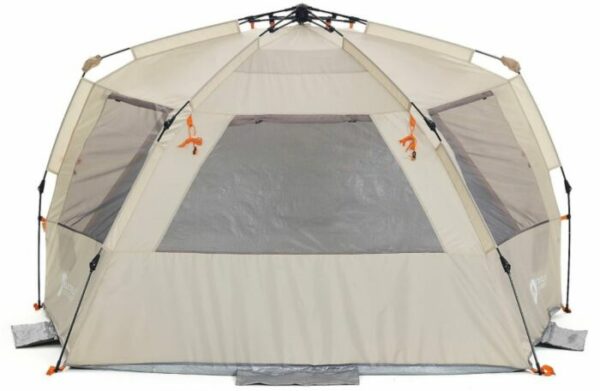 Deluxe XL – is it really so? 
They do not provide the exact numbers for the area which this structure offers, but this is a trapezoid and my estimate of the area is around 32 ft² (3 m²). See also the peak height below that is only 57 inches (145 cm). So this is not exactly an extra-large structure and the letters XL make no much sense to me.
There is also the front mat that extends the area outside but it is not under the canopy. So it is hard to understand why they are using the letters XL in the name of this shelter.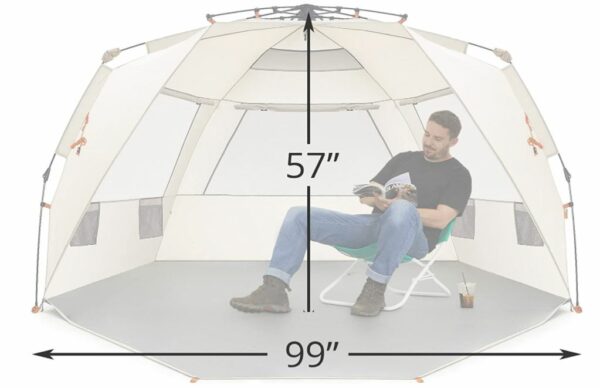 What makes this shelter Deluxe is the combination of its overall features that include:
The mentioned easy setup.
Numerous storage elements (4 pockets on the lower walls, plus a large storage pocket under the roof shown below).

Storage area.

3 Large windows with mesh and panels, you can see them in the pictures above.
The waterproof sewn-in floor so you are safe from the groundwater and from the sand.
A large front mat extends the floor area, and it also doubles as a door. Namely, it has a zipper and you can raise it and close the structure, see the picture below. In such a configuration and with panels on the windows it looks like a tent.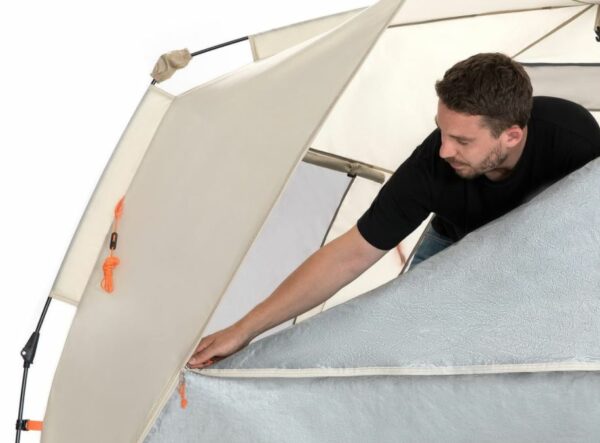 All in all, in view of all these features the word Deluxe in the name is fully justified, but this is a small shelter.
What is included
You have the following in the package, all shown below:
Beach tent with its floor + mat.
A carry bag.
10 Plastic stakes.
4 Guylines.
1 Storage pouch.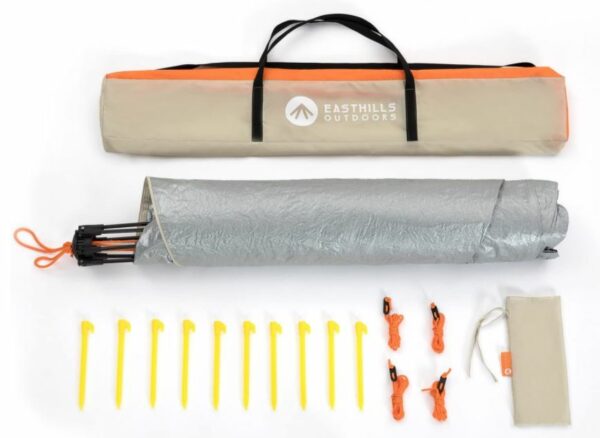 Materials
I would start with the frame which is built from fiberglass and the joints are some sort of hard plastic, nylon perhaps.
The fabric is a 185T polyester, it is coated and with UPF 50+ protection, they claim it blocks 97.5% of harmful UV sun rays. It is lightly water-resistant but this is primarily a sunshade. If you need something waterproof, check this ALPS Mountaineering Tri-Awning Elite Shelter.
The floor is a 120 g/m² polyethylene, this is a sort of plastic, fully waterproof and thick. The same material is used for the sandbags, and those are equipped with Velcro tabs, so it is easy to remove the sand from them, see the picture: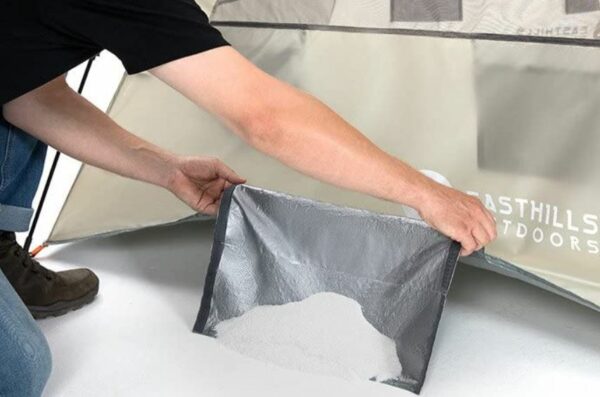 ---
Who is it for
Regarding the weight, here you have an incredibly light shelter. It weighs only 8 lb (3.6 kg). But note also that the overall area is very small, you have seen it in the text above. So the area/weight ratio is 0.83 m²/kg and this is far from impressive. To realize this you can compare it with the Kelty Cabana Shelter which is a similar structure but the area/weight ratio is 1.45 m²/kg.
As usual with instant tents and shelters, the packed size is also not so impressive because it is quite long when packed, see the picture below. The dimensions are 41 x 8.5 x 8.5 inches (104 x 22 x 22 cm).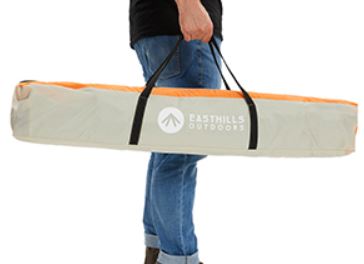 Regarding the dimensions & purpose, the area inside is a bit limited, but there should be enough space for two people on the floor laying parallel to the door. In this case there is enough space in the back area for the gear.
The height is such that you can sit on camping chairs. But the floor is not removable so make sure that the feet are floor-friendly.
You have already seen the weight and the packed size, so this shelter is portable, and for longer distances, you will need a car. It is incredibly easy to use, so keep it in the car trunk and use it whenever you need it. You can use it together with your camping tent, or for any other outdoor activity, like going to the beach, or simply in the garden.
Regarding the price, this is an affordable shelter and the price is appropriate for what you get.

---
Specifications
Weight: 8 lb (3.6 kg).
Dimensions (W x D): 99 x 53 in (251 x 135 cm).
Area: around 32 ft² (3 m²).
Front mat length: 53 in (135 cm).
Peak height: 57 in (145 cm).
Packed size: 41 x 8.5 x 8.5 in (104 x 22 x 22 cm).
Warranty: 1-year warranty.
---
Final thoughts, rating, pros & cons
To summarize this Easthills Outdoors Instant Shader Deluxe XL review, what you have here is a pleasant and well-built structure, incredibly easy to use and affordable. It is very light as well, but it is not large, this is why my rating for the area/weight ratio is relatively low.
This is a versatile sunshade and it comes with a nice carry bag, so keep it in the car and use whenever you need it, it is up in seconds. Fully recommended.
Please see how I rate this shelter, the same criteria are used for all of them so you can easily compare:
Check under the category Tarps and Shelters if you need more options. Note that they have yet another shelter built in the same style under the name Easthills Outdoors Instant Shader Extended.
Bookmark this site and visit again, this will keep you informed. Thank you for reading and have a nice day.