---
This Easthills Outdoors Instant Shader Extended is extremely easy to use, freestanding, lightweight, with double-layer windows, and a mat that doubles as a door.
---
Key features & benefits
Instant setup.
Ultralight shelter.
4 Wall pockets.
3 Large windows.
Patio mat doubles as a zippered door.
Great price.
---
What is in the name
This Easthills Outdoors Instant Shader Extended is what its name says, a structure with the frame pre-attached to the canopy, so there are no poles to be added and no assembly. You can have it ready to use in a minute. The pictures below show the steps in setting the shelter up: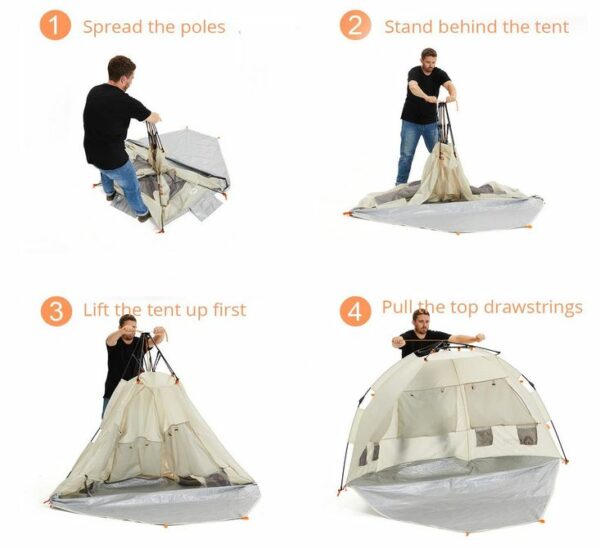 With its 4 legs, this is a freestanding structure, all its poles converge to the top hub element shown below. You also see the pull loops and strings which help to open the structure like an inverted umbrella.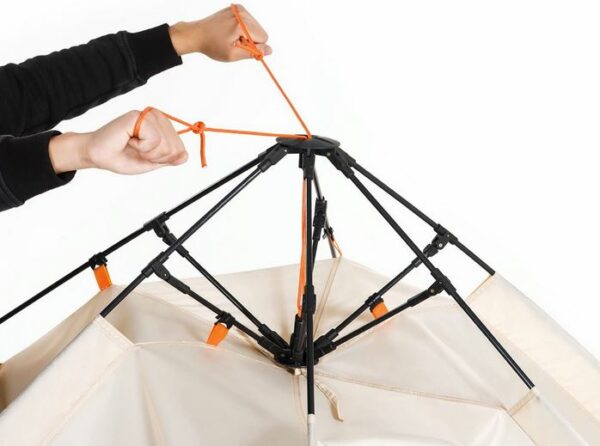 You have included all stakes and guylines necessary to fix it to the ground properly. Where the ground is soft, you can use its integrated sandbags and will them with sand or rock, see the pictures below. These sandbags are with Velcro tabs so you open them easily and empty from the content when it is time to go home.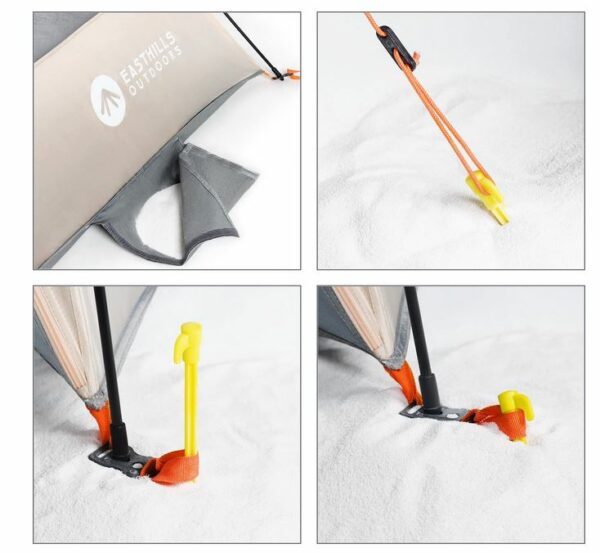 Materials
The frame is built from fiberglass poles and this is combined with plastic connectors that are probably nylon. This fiberglass material is not particularly durable and needs a careful handling, but it is commonly used in budget tents and shelters.
The fabric is an ultra-light water-resistant 185T polyester. Note that this is a sunshade and not a rain shelter. There is a coating and they claim this provides UPF 50+ protection, apparently, it blocks 97.5% of harmful UV sun rays.
The floor is polyethylene, and this is a reasonably durable, and highly waterproof plastic 120 g/m². It extends outside into a mat (which they call a porch), and this mat doubles as the door. There is a zipper so you can raise it and close the shelter to have full privacy, see the picture:
The three large windows on the back are with mesh and with panels, so you can use the panels for privacy and also when the sun is low so that you have shade.
Note also that you have 4 mesh pouches on the wall to keep small items organized and off the ground. All the elements in the package are shown in the picture:
---
Who is it for
Regarding the size, they do not provide the number for the area under the canopy. The base is a trapezoid and I estimate the area to be around or below 27 ft² (2.5 m²). The most important dimensions are shown in the pictures:

So you have enough space to put two camping chairs inside, as the picture below shows. When the door is zipped up, the area inside is more or less enough for two people laying on the floor parallel to the door.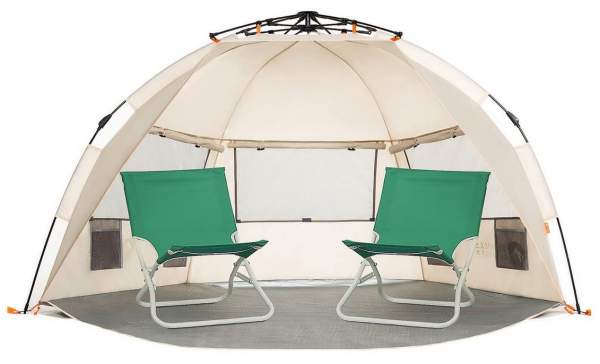 It is unclear to me why they use the word Extended in the name of this shelter, but most likely this is because of its front mat that extends the floored space by almost a factor two. In any case, if this is not large enough for you, check this Coleman Go Shade Backpack Sun Shade.
Regarding the weight, this is a very light item in the absolute sense, it weighs only 5 lb (2.2 kg). But see also the area/weight ratio which is around 1.13 m²/kg. So this value is better than in its larger cousin the Easthills Outdoors Instant Shader Deluxe XL, but it is still below the value you have in this Kelty Cabana Shelter.
Regarding the packed size, the carry bag measures 39 x 8.5 x 8.5 inches (99 x 22 x 22 cm) so you realize it is quite long. This is usually so with instant setup shelters and tents. You can compare it with this Alps Mountaineering Shelter which is not an instant type but it is incredibly compact when packed.
So all in all, this is a shelter which can be carried attached to the shoulder, but for long-distance transportation, you will need a car.
Regarding the price, this is a budget-friendly option and a great value for the money.

---
Specifications
Weight: 5 lb (2.2 kg).
Dimensions (W x D x H): 82 x 47 x 50 in (208 x 119 x 127 cm).
Area: around 27 ft² (2.5 m²).
Packed size:

39 x 8.5 x 8.5 in (99 x 22 x 22 cm).

Frame: fiberglass.
---
Final thoughts, rating, pros & cons
In the summary of this Easthills Outdoors Instant Shader Extended review I would stress again that this is a particularly easy to use construction. It comes with a step-by-step instruction sewed inside the carry bag, so there is nothing to guess.
The shelter is ultralight but this is because it is very small, bear this in mind. This is why my rating criterion is area/weight ratio and not just the weight in the absolute sense. It is built as a beach shelter, but it is versatile and you can use it anywhere. It comes with a 1-year warranty, so this should put your mind at ease.
There are many hundreds of reports by customers on Amazon alone, so all is known about this shelter, the link below will lead you there so you can read more. Below is summarized my rating based on my standard set of criteria, so as you see it scores very good.
If you need more options of this type, it is best to check under the category Taps and Shelters here in the site, you will find them many. Check this Core Instant Sport Beach Sun Shade as yet another great option. You might also want to compare it with the incredible Helinox Royal Box with its great features. 
You might want to subscribe to my weekly newsletter, the subscription form is below. This will keep you informed and you will never receive spam from me. Thank you for reading and have a nice day.