---
This Core Instant Sport Beach Sun Shade review is about an affordable easy to use ventilated shelter with removable walls and a sewn-in floor.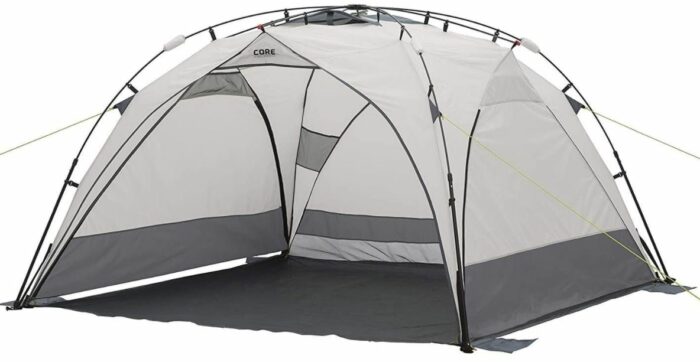 ---
Key features & benefits
30 Seconds setup.
Pre-attached frame.
Pre-attached floor.
2 Removable side walls.
Sand bags.
Roof vents.
Sewn-in floor.
Carry bag.
Very good price.
---
What exactly this Core Sun Shade is about
So the word Instant in the name describes the fact that the frame is pre-attached to the canopy, and you store it as it is. When you need the shelter, you simply unfold it and extend its telescopic poles. This is a 30-seconds setup as they describe it, the pictures below show how this is done: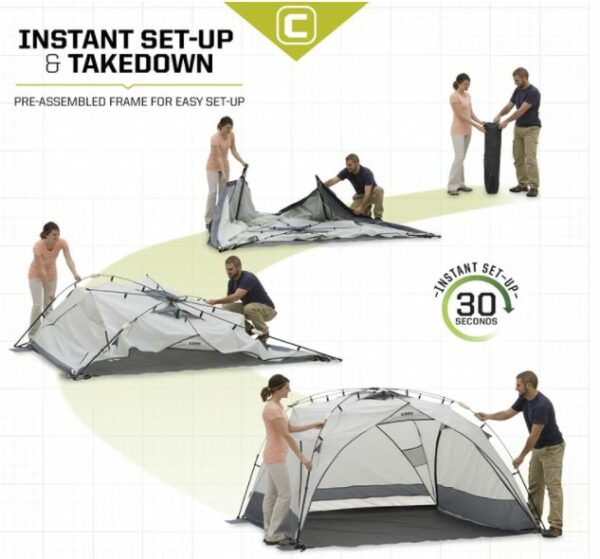 The structure is closed from three sides, but the two side walls are removable so you can use them as it suits you. The picture below shows how it looks when only the unremovable back wall is in place.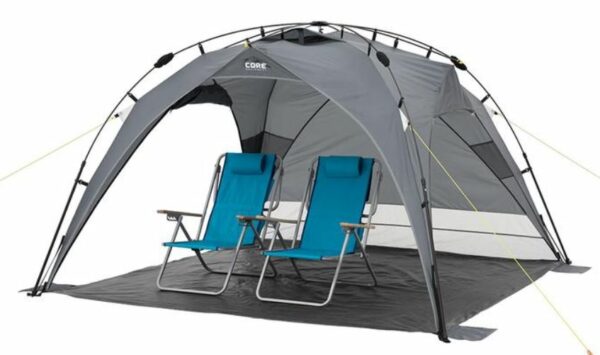 This is a freestanding shelter so you can pitch it anywhere. But they have included all the stakes needed to make it secure, see below the elements in the package. Note that you have both steel and plastic stakes, for grass and for sand, respectively. The steel stakes are 7 inches (18 cm) long, and the plastic ones 7.5 inches (19 cm).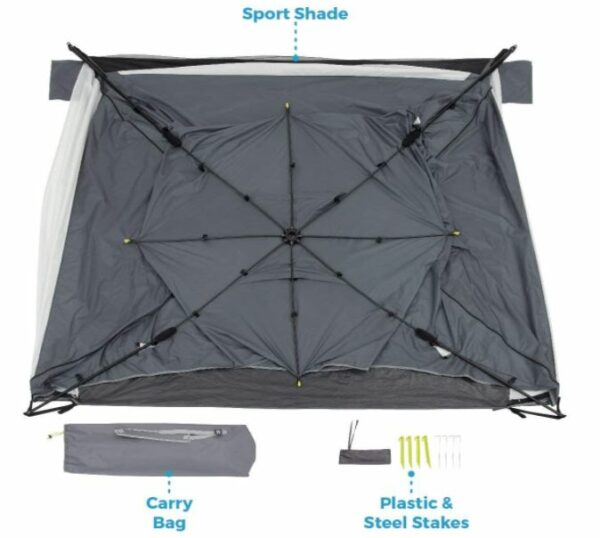 Apart from the stakes, you also have 4 integrated sandbags on the sides, see the picture below. This is convenient when you use the shelter on a solid ground. You can fill them with sand, gravel, rock, or with bricks.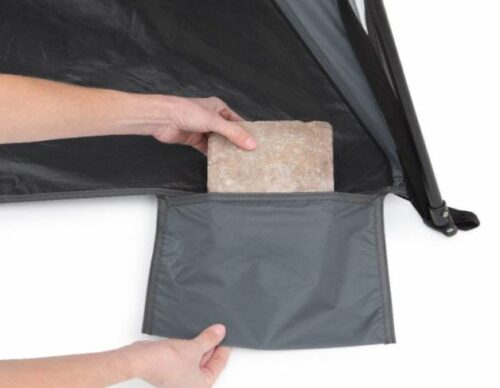 Note also that the floor is pre-attached and it is not removable. When the side walls are zipped in, the shade looks almost like a tent from three sides, see below how it looks from the back.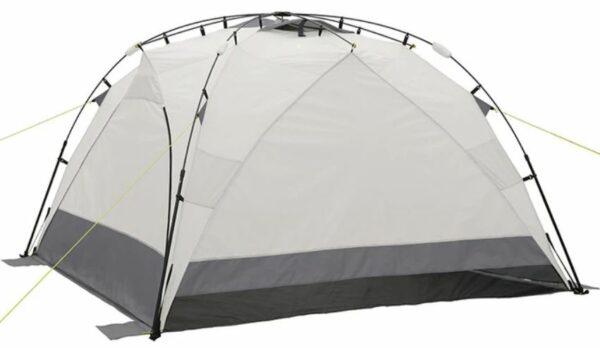 Ventilation
The front is always open, and the side walls allow for versatility regarding ventilation. But they did not stop there, they have added no less than 2 roof vents visible in the picture above. They are equipped with Velcro stiffeners and you can regulate ventilation.
The picture below shows the zoomed view, and you can also see the main ruff hub element. I would say this all is simply perfect.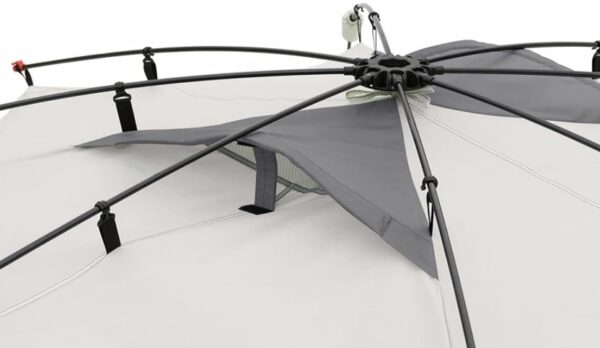 Other features
There are several storage pouches inside, see the picture below. When you unzip the side walls, you can store them in some of these wall pockets.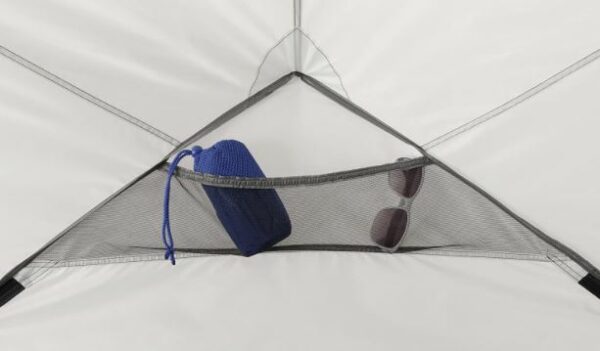 Materials
The canopy is a 68D polyester that repels rain and water, this is the same H20 Block material normally used for their excellent tents. Note that they have two different colors, so you might want to go for the darker material.
On the floor you have a heavy-duty 115 g/m² polyethylene, a sort of highly waterproof plastic. All the seams are heat-sealed.
The fabric is flame-resistant and it meets CPAI-84 specifications. They claim that it provides 50+ UV protection so this is the all with the highest standards, it is supposed to block out over 97% of UV rays. The frame is steel.
Please see more in this short video:
---
Who is it for
Regarding the weight & packed size, this is a moderately heavy shelter with its 11.5 lb (5.2 kg). The packed size 39 x 6.1 x 6.1 inches (99 x 15.5 x 15.5 cm) is not bad but as you realize it is a bit long.
So it is portable to short distances, the carry bag has two straps so you can carry it on the back, see the picture. For long-distance transportation, you will need a car. You might want to compare it with this incredible Helinox Royal Box with its great features.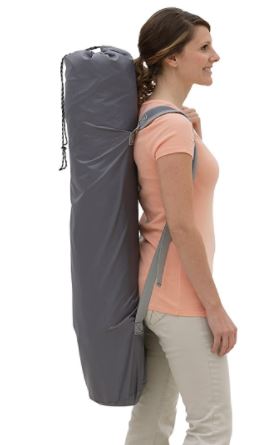 Regarding the area and best use, you have 64 ft² (6 m²) of the floored space and you are protected from three sides. This Core Instant Sport Beach Sun Shade is built in such a way that you can pitch it anywhere. So it is best suited at the beach as its name suggests, but you can also use it for picnics and as an annex to your camping tent. If you need something smaller, check this Coleman Go Shade Backpack Sun Shade.
The peak height is 59 inches (150 cm) so this is high enough to use with any camping chairs, you have seen it above with two chairs inside. It is large enough for parents with 2 kids.
Regarding the price, this is a very affordable shelter, a true bargain when you see all the features and the brand behind it.

---
Specifications
Weight: 11.5 lb (5.2 kg).
Peak height: 59 in (150 cm).
Floor dimensions: 8 x 8 ft (244 x 244 cm).
Area: 64 ft² (6 m²).
Packed size: 39 x 6.1 x 6.1 in (99 x 15.5 x 15.5 cm).
Warranty: 1-year limited warranty.
---
Final thoughts, rating, pros & cons
In summary, this Core Instant Sport Beach Sun Shade is really nicely built and very functional, with a variety of options for ventilation, and built in two fabric colors. It is extremely easy to set up, but a number of users have complained that the carry bag is built narrow. The price is more than appropriate, fully recommended. I have included it in my list of best outdoor portable sun shades.
This sunshade has been on the market for a few years already and all is known about it, there are many reports by users and the average rating is high. My own rating is Very Good:
For more options, please check under the category Tarps & Shelters here in the site. Check this Easthills Outdoors Instant Shader Deluxe XL with a closable door.
Bookmark this site and come again, this will keep you informed, we have new texts here on a regular basis. Have a nice day.