---
The Helinox Royal Box is a very reliable freestanding collapsible, ultralight, and versatile sunshade with an incredible warranty.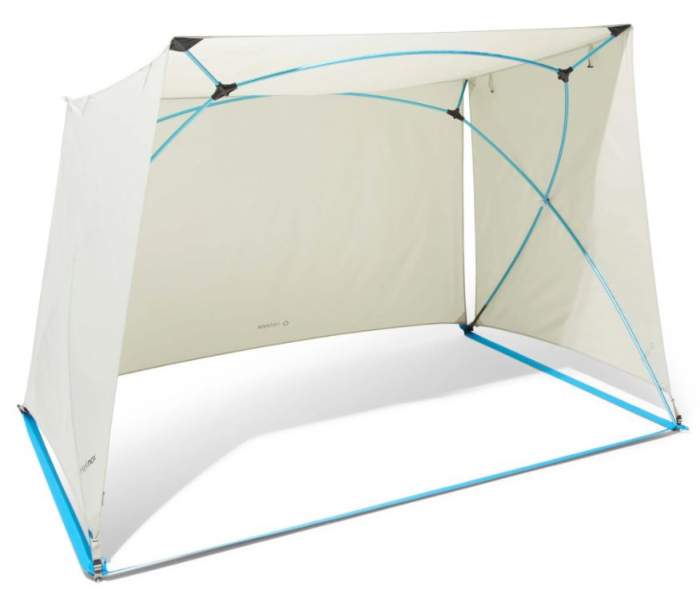 ---
Key features & benefits
Collapsible.
Freestanding.
Extendable shade design.
Roll-up sidewalls.
Ultralight shelter.
Incredible warranty.
---
What this Helinox Royal Box is about
This Royal Box is a freestanding sun shelter. This self-supporting feature is due to two elements: i) the ground grommets to which you put the ends of poles in, and ii) the hub elements on the X-crossed points on the sides.
The grommets are in the corners of the perimeter blue strap that you see in the top picture above. One of the hub elements is shown in the picture below. You will see more in the video below.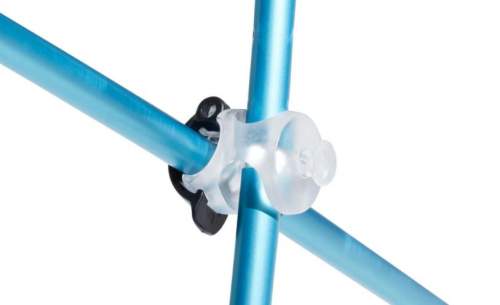 So this is a collapsible structure that needs assembly. One person can do this easily in a few minutes, but it is easier in two. You have protection from three sides and from above, the picture below shows the back view with the taffeta walls.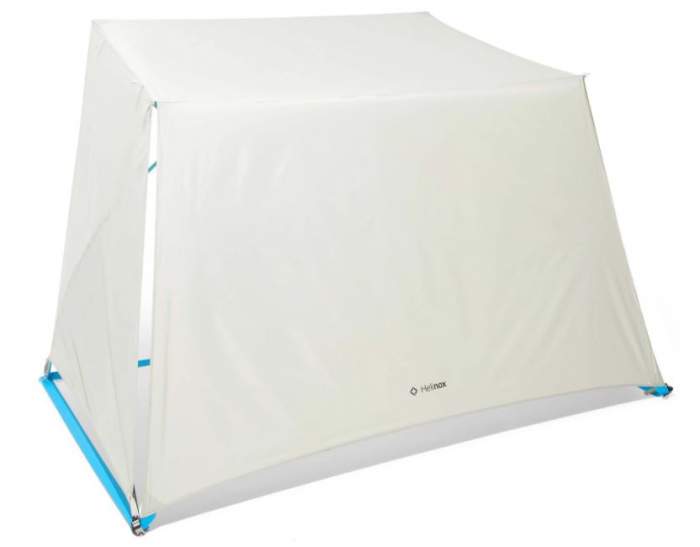 Note that the sidewalls can be extended and staked so you can have more shade, this is shown in the picture below: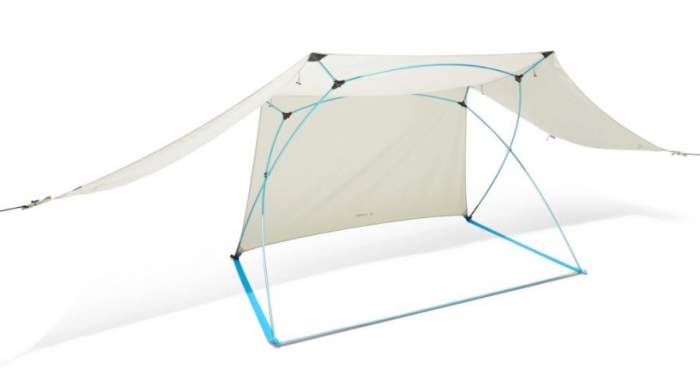 You can also roll the side walls up and fix them under the roof. With this, you still have the roof for the shade and drafts and views on the sides. See how this setup looks, this also reveals a bit more details of the frame: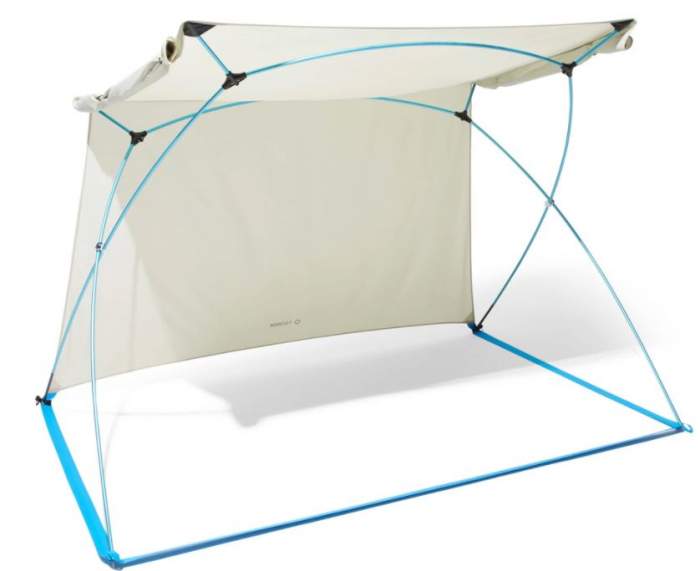 Materials
The shock-corded frame is a DAC aluminum alloy for maximum strength and minimal weight. This is the leading manufacturer of tent's poles so you have the best material and craftsmanship here. 
As mentioned above, the poles connect to the structure through the grommets on the ground. On the roof, you have those small black pockets visible in the picture above. 
The fabric is a nylon ripstop with an SPF 50+ rating. The black frame connectors visible in the picture are probably nylon, they did not provide information about this.
Observe also its incredible warranty which is 5 years. Not many brands in this industry show such confidence in their products. Helinox is the true leader in this sense.
Please see a bit more in this video:
---
Who is it for
Regarding climate and weather conditions, this is a sunshade, so obviously this is for sunny weather, but more importantly, this is for quiet weather. I would not even think of using it in windy conditions. But indeed you have 4 DAC stakes and guylines included in the package, see the picture.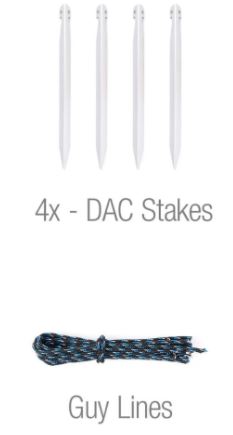 Regarding the size, the area is 29.6 ft² (2.75 m²), and the dimensions are shown in the picture: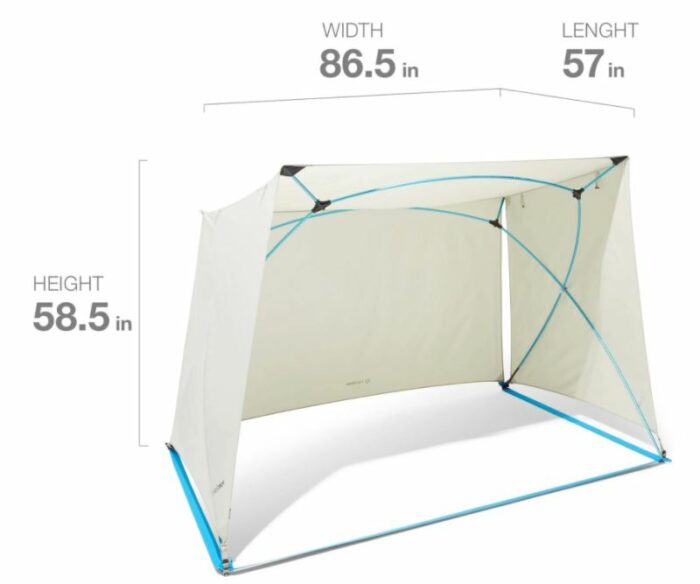 So this is enough for two people, you can use two sizeable chairs and a small side table. This is shown on the pictures below:
Regarding the weight, this is an ultralight shelter, it weighs only 4 lb 15 oz (2.25 kg). But it is not so large as you realize from the pictures above. This is why my rating for its area/weight ratio is not the highest.
The packed size is just average, its carry bag shown below measures 27.5 x 9.5 x 5 inches (70 x 25 x 13 cm).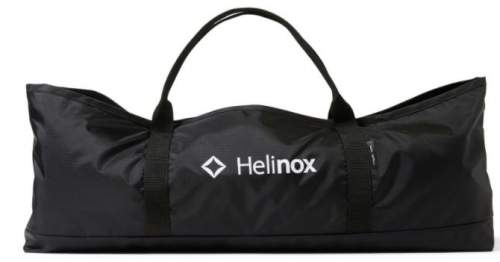 Regarding the price, it is expensive, but note that it comes with an incredible 5-years warranty. You will not find many brands that can match this warranty that shows the confidence of Helinox in their product.

---
Specifications
Packed weight: 5 lb 4 oz (2.38 kg).
Assembled weight: 4 lb 15 oz (2.25 kg).
Dimensions (W x D): 86.5 x 57 (220 x 145 cm).
Area: 29.6 ft² (2.75 m²).
Height: 58.5 in (149 cm).
Packed size: 27.5 x 9.5 x 5 in (70 x 25 x 13 cm).
Warranty: 5 years.
---
Final thoughts, rating, pros & cons
So this Helinox Royal Box is built from advanced materials, it is ultralight and this makes it very versatile. It needs an assembly so be ready for this. The 5-years warranty is rarely seen with products of this type. Fully recommended. It is included in my list of best outdoor portable sun shades.
Please see how I rate this shelter against my usual rating criteria, this will make it easier to compare it with some other products of this type that are available here in the site:
For more options, please check under the category Tarps & Shelters here in the site. Let me know if you have questions, there is a comment box below. Have a nice day.