This Kelty Cabana Shelter is their new version with some unique features that include the closable door and their new and unique poles attachment system.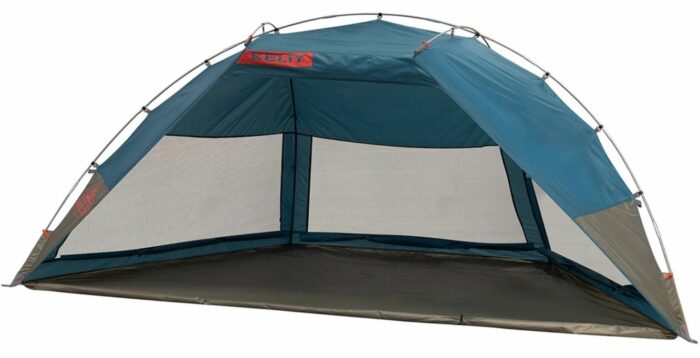 ---
Key features & benefits
Fiberglass poles.
Unique Quick-Corner design.
Door closure.
Freestanding.
Easy to use.
Great price.
---
What this Kelty Cabana Shade Tent is about
This Cabana has been on the market for years, but here you have its new and improved version. I see it almost as a hybrid between a beach shelter and a tent.
When you see it fully open as in the top picture above, it looks like a very typical beach shelter. The floor is rolled but you can extend it and have an extra mat in front of the shelter, the picture below shows how this looks.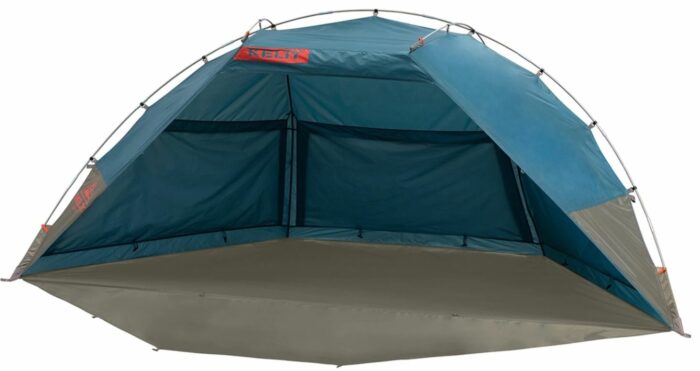 The structure is mostly a single-wall design, but there are three huge windows on the backside and they are with mesh and panels. The two pictures above show it with open and closed windows.
But this is not all, Kelty's ingenuity is endless, they never stop surprising with their unique features. This same front pad of the floor can be raised up and attached to the roof with toggles, and you can have a fully enclosed space shown in the picture below. In this setup, it looks like a tent, fully closed from all sides. I guess this is why some manufacturers call it Kelty Cabana Tent Shade Shelter and also Kelty Cabana Shade Tent.
When this design appeared on the market it was unique, but nowadays there are many shelters of this type with the same door closure, you can see them here. So why going for Kelty? The reason is simple, this is a reliable and globally known brand that has been around for many decades, even before I was born, and they are known for the quality of their products.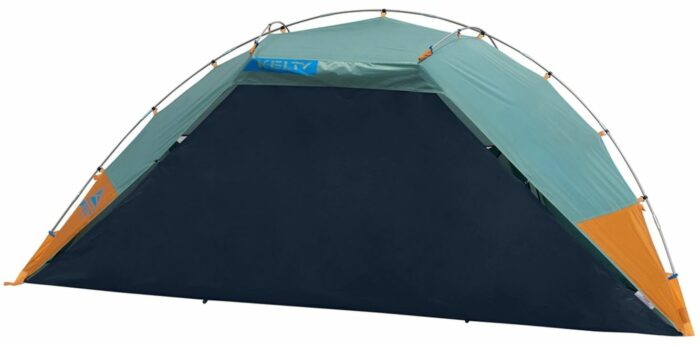 The poles
There are 3 of them, this is shock-corded fiberglass with a diameter of 7.9 and 9.5 mm. The structure is unique in at least two ways. First, it is freestanding. You have one long loop and two roof poles that end up above the door. So the structure is self-supporting due to the tension created in the fabric.
Second, they use what they call the Quick-Corner Technology. If you follow Kelty then you have seen this in their new tents like this Kelty Wireless Tent 4 Person and Kelty Night Owl 3 Person Tent. This means that you have those deep narrow pockets in the corners instead of the usual grommets or some pin and ring connection, see the picture: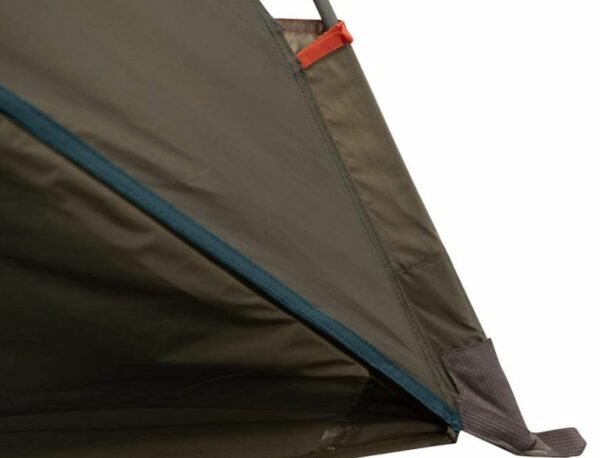 But they use it also above the door as you see in the picture below. This all makes setup easier when one person does the job. As you have probably experienced, a pole tends to jump out of the grommet's hole when you go to the other side of the tent to attach it there. But with such deep pockets, this is less likely. So here you have these poles' pockets at all ends of the poles. The rest is an attachment by clips, easy and simple. So one person can easily do everything.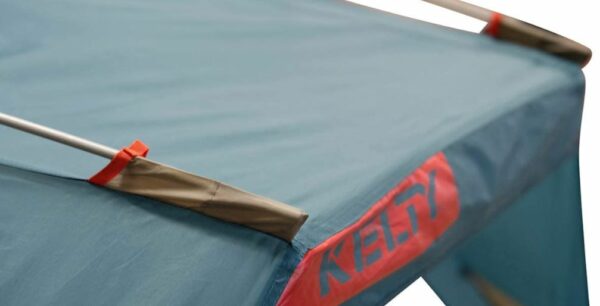 The fabric
On the floor, you have a hard-wearing 68D polyester, and the same material is used for the fly. The carry bag (picture below) is built from the same material, it is Shark Mouth duffel style for easy pack-up.
Other features include simple steel stakes, and sandbags that you can fill with sand or pieces of rock and secure the shelter at places where stakes can not be used.
---
Who is this Cabana shelter for
Regarding the weight, you have 7 lb 5 oz (2.9 kg) so this is portable to short distances. The packed size is 26 x 8 x 5 inches (66 x 20 x 13 cm), see below the picture of the tent in its carry bag. So it is a bit long but you can transport it even on a bicycle.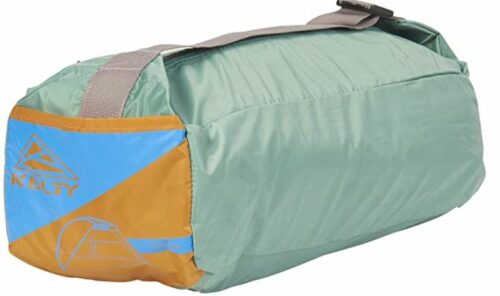 Regarding the purpose & best use, this is a sun shelter so you can use it on the beach or as an annex next to your camping tent and stay in it during the day. You have 45.5 ft² (4.2 m²) of the area under the dome, and this is almost the same as what you have in this Coleman Go Shade Backpack Sun Shade so you might want to compare them. The peak height is 53 inches (134 cm) so you can use it with some camping chairs inside.
There is a place under the shade for at least 3 people or so, note that the front width is almost 3 meters. The windows with panels and the closable door offer full privacy so it can serve as a change room on the beach. The panels are also very useful when the Sun is low, so you can use one or two of them for extra shade.
Regarding the price, Kelty is known for its reasonable prices, but this is never on the account of quality. So this Cabana shelter is more than affordable.
Please see more in this video:
---
Specifications
Weight: 7 lb 5 oz (2.9 kg).
Area: 45.5 ft² (4.2 m²).
Dimensions: 116 x 76 in (295 x 193 cm).
Peak height: 53 in (134 cm).
Packed size: 26 x 8 x 5 in (66 x 20 x 13 cm).
Poles: fiberglass.
---
Final thoughts, rating, pros & cons
In the summary of this Kelty Cabana Shelter review, I wish to stress that this is a nicely constructed structure, reliable and easy to use, and at a great price. It is versatile and portable. Fully recommended. I have included it in my list of best outdoor portable sun shades.
Please see how I rate this shelter, the same criteria are used for all such objects so you can easily compare.
For more options please check under the category Tarps & Shelters, you will find them many. Check this ALPS Mountaineering Tri-Awning Elite Shelter if you need something much bigger yet very compact when packed. However, if you need something with instant setup, see this Easthills Outdoors Instant Shader Deluxe XL.
Bookmark this site and visit again, we add texts here regularly so this will keep you informed. Thank you for reading and have a nice day.