---
This OutdoorMaster Pop Up Beach Tent for 4 Person review is about an easy to use freestanding shelter with a sewn-in floor, an integrated mat, and three double-layer windows.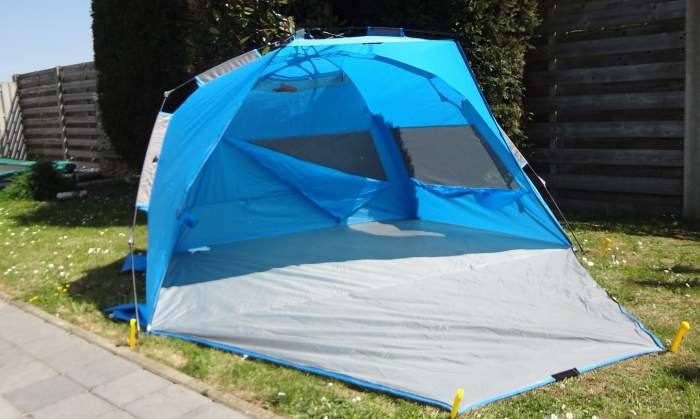 ---
Key features & benefits
Instant setup.
Freestanding.
Sewn-in floor + a mat.
Fully closable.
3 Windows.
Carry bag included.
Great price.
---
What this OutdoorMaster Pop Up Beach Tent is about
Here you have an incredibly popular shelter that has been around for several years, and it has collected a huge numbers of reviews. Only on Amazon, as of the moment of writing this text, there are more than 3000 reports. 
Clearly, there is nothing new one can say about this product, it has been tried and tested by many people in the past. All I can do is to present it from my own perspective and my first-hand experience.
This is a shelter with the frame pre-attached to the fabric. So this is all one single piece and you open it literally in seconds. In other words, there is no assembly. It is equally easy to close it and pack when it is time to go. Just press the bars shown in the picture below, and it will fold like an umbrella.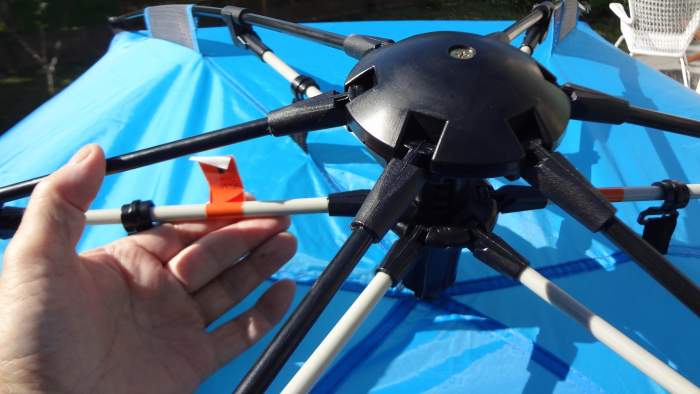 Such an ease of use is because of its clever top hub element which you see shown in the picture. The other elements that contribute to this are its folding legs. This construction is similar to the Easthills Outdoors Instant Shader Deluxe XL.
This shelter is fully freestanding and you can use it on any surface. But they have included a full set of plastic stakes (visible in the pictures) so do not miss to stake it down properly. 
The shelter is low profile, but when I tried it for the first time in the garden, it was windy, so I realized it was absolutely necessary to use the stakes. The inner peak height is around 122 cm, and the door opening is a few centimeters lower.
The door & windows
The front mat which you see in the pictures doubles also as a door. There are zippers on the sides and a Velcro on the top, plus webbing loops to attach it to the roof poles.
So you can raise it and close the shelter from the front as shown in the picture below. The zippers are with dual pulls so you can open them from both sides. This is similar to what you have in the Kelty Cabana Shelter.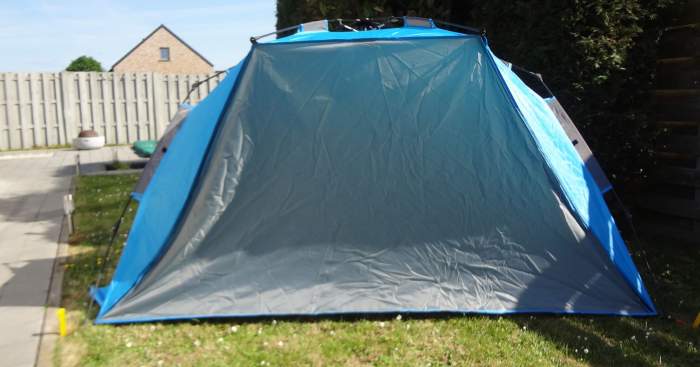 There are also three windows, and they are double-layer type with a fixed mesh and panels. With the panels you can regulate the air circulation, shade, and privacy. You can close everything if you need to change the clothing.
So the shelter is fully closable. All these features are useful if you are with kids, so you can close the shelter if they need to take a nap. But don't do this in a direct sunlight, it may become warm inside, let the air circulate in any way.
The materials
The fabric: The canopy is a combination of a 210T polyester used for the roof and panels, and a nylon mesh on the windows. Note that they build it in three different colors. 
I have seen a sentence in its description about its 3000 mm water resistance, and I do not see the purpose of such a statement. This is not a rain shelter.
I did not really try to test it that way, because it is unnecessary. It is obvious that the zippers and windows cannot possibly prevent leaks even if the seams and the fabric would really be waterproof.
It is best for the manufacturer to remove this part in its description. This only gives a bad impression about an otherwise excellent product. 
The frame: You have a set of 4 leg poles and 2 roof poles that pull the roof above the door up. They all converge to the top hub. This is a fiberglass and the top hub is with a spring loaded mechanism. Note that the front legs are longer, when I first unfolded it, I thought something was wrong.
When you unfold the shelter, spread its legs and the spring loaded hub system will activate almost by itself. To fold, just press the support bars up, this is shown in the pictures:

One detail worth mentioning here for folding – the two front legs fold twice. The upper elbows in all poles fold automatically when you release the top hub mechanism. But the lower elbows on the front legs need a bit attention. So just pull it a bit and it will unlock, then you fold it easily.   
Other details
You have a pair of wall pouches on the rear inner side, this is useful to keep your small items off the ground.
There are 4 hooks in the canopy corners, so here you can pass and attach a piece of string to hang your clothing and towels.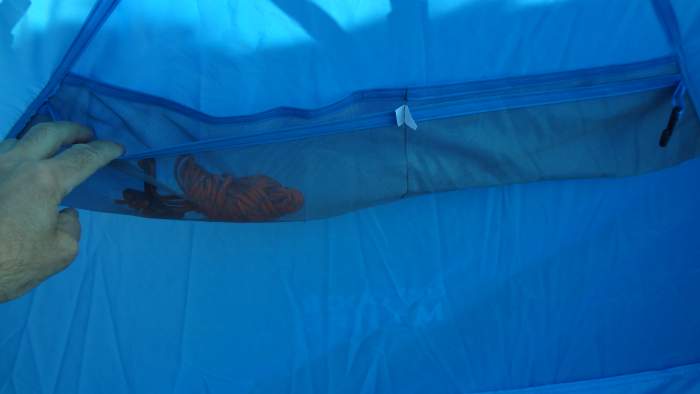 There are 8 plastic stakes to secure the shelter to the ground, they are visible in the pictures. You will normally use 4 for the shelter and 2 for the mat. The other two you can use together with the included guylines which you can add for extra security in windy situations. There are webbing loops on the roof of the shelter for this purpose.
There are also 4 sewn-in ground pouches on the outside, some are visible in the picture below. This is to use on a terrain that does not keep stakes, like a sandy beach of anything similar. So you simply put some weight into these pouches and this will anchor the shelter and make it stable in a moderately calm weather.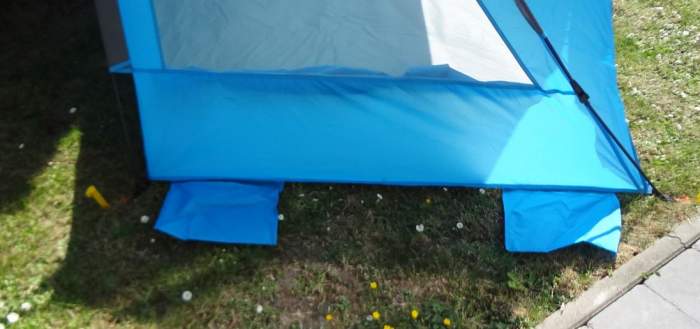 There is a carry bag included, and I like the fact that it has instructions sewn-in, the picture below. If my family members or friends borrow the shelter and use on their own, they can always see how to use it.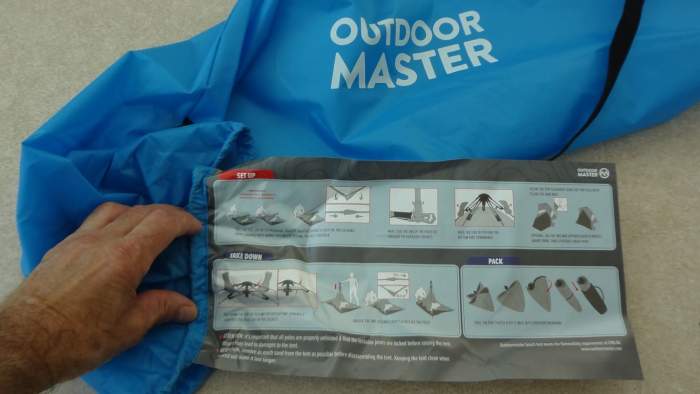 ---
Who this OutdoorMaster Pop Up Beach Tent is for
Regarding the size & best use, they describe it as suitable for parents with up to two kids. I think this is a bit unrealistic. They do not provide numbers, but my measurements show that the covered floored area is around 27 ft² (2.5 m²). This extends into the front mat that adds around 19.4 ft² (1.8 m²).
So it depends on how you would use the space, but I would say it is perfect for a couple, or for parents with a kid. Avoid windy places for sure.
If you decide to stay the night on a beach in this shelter, there is enough space for two sleeping pads. The back side is around 1.7 meters long, just to know. When you close the door, you will be fully protected from insects.
Regarding the weight, it is great, the shelter weighs only 8.15 lb (3.7 kg), in spite of its massive hub element and its mechanism.
But see also the overall area. I rate the area/weight ratio, so this you can use to compare with similar products of this type presented here in the site.
The packed size is typical for such instant setup shelters, they tend to be longer when folded than the collapsible shelters that need assembly. This is a usual trade-off.
The picture below shows how it looks in its carry bag. So it is an elongated tube with a shoulder strap, the dimensions are (L x D) 37 x 8 inches (94 x 20 cm).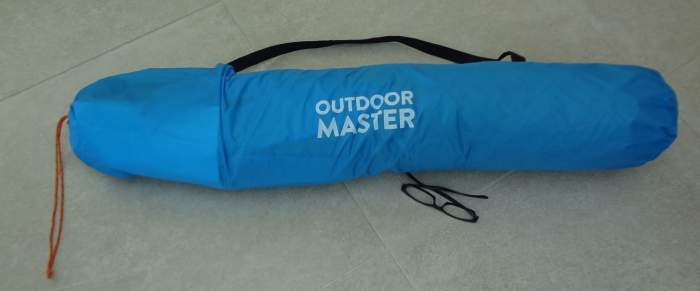 To get some idea, you can compare it with the previously mentioned Easthills Outdoors Instant Shader Deluxe XL built in the same style. But see also the ALPS Mountaineering Tri-Awning Elite Shelter that needs assembly, yet this is why it is incredibly compact.
Regarding the price, it is simply excellent, so there is no doubt this is partly behind the popularity of this product. It is more affordable than most of its closest competitor.

---
Specifications
Type: instant setup shelter.
Weight: 8.15 lb (3.7 kg).
Dimensions (H x W x D): 53 x 95 x 51 in (135 x 240 x 130 cm).
Inner floored area: around 27 ft² (2.5 m²).
Front mat area: around 19.4 ft² (1.8 m²).
Packed size (L x D): 37 x 8 in (94 x 20 cm).
---
Final thoughts & rating
In summary, this OutdoorMaster Pop Up Beach Tent for 4 Person is indeed very easy to use and affordable, so it is not surprising that it remains so popular for years.
You can use it in the garden, at picnics, at a beach, and also in the camp as an accessory next to your camping tent. It is fully closable for privacy at the beach. Fully recommended. I have included this shelter in my list of best outdoor portable sun shades.
Below you can see how I rate this shelter against my usual rating criteria so that you can easily compare it with other items of this type:
BEST PLACEs TO BUY
For more options, please check under the category Tarps & Shelters.
Bookmark this site and come again, this will keep you informed because I add texts here regularly. Let me know if you have questions or comments, there is a comment box below. Have a nice day.