---
Outdoor Research Helium Hybrid Hooded Jacket for men is a lightweight piece ideal for climbers, trail runners, and hikers. Built of breathable and waterproof, fast-wicking, and stretchy materials this jacket is ideal for highly aerobic activities. This is a new 2017 version of the well-known model.
Key benefits
Hybrid design.
Super lightweight.
Waterproof, but not everywhere.
Very breathable.
---
What is hybrid here
Instead of the usual pit zips which regulate ventilation, they have introduced another material on the sides and under the arms, you can see this in the picture below. So you have a very lightweight 30D Pertex Shield waterproof material on the front, back, sleeves, and on the shoulders. On the sides, however, you have a 90D stretch woven shell. This is the meaning of the hybrid in the name of this jacket.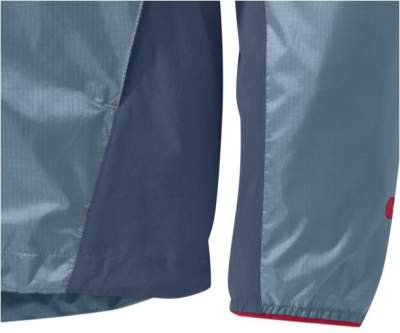 The idea behind this design is, as they describe it, to keep you dry from the inside out. So what you have here is, again using their own words, a cross-breed of two of their best-selling and award-winning products, the Helium material used in their waterproof jackets, and a very breathable Ferrosi fabric used in their soft shell jackets for men and for women.
Ferrosi itself is very durable and stretchy, made of a blend of nylon and spandex, and highly abrasion-resistant. So this all is combined in this extra lightweight piece which is only 8.5 oz (240 g) for the L-size jacket.
Old and new models – differences
Note that this jacket has been on the market for several years already. As far as I remember, it appeared somewhere in 2014. But the old version had far less waterproof materials, in fact, it was only on the hood and on the shoulders. So this new version is with a far bigger waterproof surface.

---
Waterproofness
The waterproofness rating of the Helium fabric is 20000 mm/day. This is at the borderline of the best possible waterproof materials, and you can see this in the scale below (in units mm/day):
0 – 5000
6000 – 10000
11000 – 15000
16000 – 20000
20000+
The waterproofing is due to Pertex Shield, an advanced polyurethane film laminate that breathes and keeps your outerwear completely dry.
In the specifications, you will see the term 'critically seam-taped'. This terminology is described in detail my another text. This means that only the most exposed seams are taped, see them below in the hood.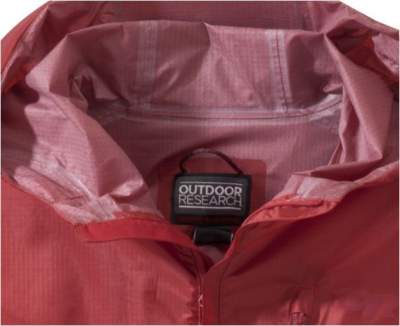 ---
The breathability of the Helium material
The breathability of the Helium fabric used here is 20000 g/m². If you are not familiar, this is at the borderline between medium and high breathable materials.
But the actual breathability of the OR Helium Hybrid Hooded Jacket is far bigger because of the large panels of the Ferrosi fabric which is highly breathable.
However, bear in mind that these same Ferrosi sections are not waterproof. They are water-resistant only.
---
Other features 
There are two handwarmer zippered pockets with mesh inside for extra ventilation. Note that the left one serves as a stuff sack as well. You also have one chest pocket with a water-resistant zipper, and with a mesh inside.
This is a full-zip jacket with storm flaps both outside and inside, and with a zipper garage on the top. The hood is fully waterproof and with a wire brim. The adjustment of the hood is only on the back.
On the cuffs you have some elastic and nothing more, yes, they were saving the weight everywhere. The hem is with a drawcord on the right side.
The style is trim and snug, so do not expect to add too much layering under this jacket. But a thin fleece can still fit underneath it.
---
Specifications & summary of features
Best use: hiking, climbing, trail running, biking, skiing, cross country skiing.
Weight (size L): 8.5 oz (240 g).
Center back length: 29 1/4 in (74 cm).
Hybrid Mapped Construction.
Fabric: Pertex Shield + 2.5 L, 100% nylon, 30D ripstop body, 86% nylon, 14% spandex 90D stretch woven ripstop panels.
Left-hand pocket doubles as a stuff sack.
Adjustable wire-brimmed hood.
YKK AquaGuard zipper chest pocket.
Internal and external front storm flaps.
Single-separating front zipper.
Low-Pro Binding Cuffs.
Movement-mirroring stretch panels.
Waterproof sections.
Breathable.
Critically seam-taped.
Quick-drying.
Colors: 3.
Infinite guarantee.
---
Summary & rating
To conclude this Outdoor Research Helium Hybrid Hooded Jacket for men review, this piece is a nice blend of a completely waterproof and breathable Helium fabric, and a stretchy, breathable, and water-resistant Ferrosi. So the jacket is surely not completely waterproof but it gives far more rain protection than the usual weather-resistant materials. Such a combination makes it suitable for any highly aerobic activity.
The brand behind this jacket is on the forefront in this industry, the price is truly reasonable, and I can fully recommend the jacket to anybody.
I have found this statement on the OR site: "Between 47 testers, 687 days tested, and 2495 miles hiked, Backpacker Magazine called the Helium Hybrid one of the Best New Hiking Shells of 2017." This sounds good enough to me.
They describe it as packable down to the size of a beer can. In fact, it stuffs into its own pocket. However, this jacket is not fully waterproof, so bear this in mind. The price of this jacket is very reasonable in view of its overall quality. See my rating below:
If you need a fully waterproof tool, check their Revel and Forray jackets for men, or just visit my page with jackets, there are many reviewed there.
Thank you for reading. Let me know if you have any question or comment, there is a comment box below. I wish you a pleasant day.