---
Outdoor Research Ferrosi Hoody jacket for men is an award-winning outdoor piece of clothing, ideal for any outdoor activity and for day life. It offers a moderate rain protection, and it is exceptionally breathable, windproof and stretchy.
---
Where to use Ferrosi Hoody jacket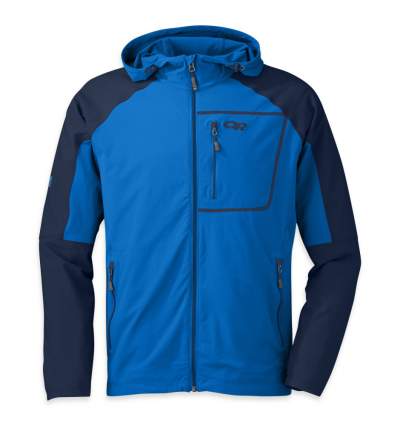 It is hard to imagine any outdoor activity where this piece of clothing would not fit. It is truly versatile.
In dry conditions, Ferrosi Hoody can be used as a main jacket for wind protection and moderate protection from cold, with some layers underneath of course.
It is water repellent so it offers a moderate protection from light rain. The jacket dries very quickly when becomes wet.
It is very stretchy so it will be great for any kind of activity.
It is also very breathable so you will be doing fine with it even for the hardest activities with a lot of sweating. It remains breathable even when it is soaked with rain.
In the case of strong rain and for rather low temperatures, it will fit nicely as an under-layer together with a breathable and waterproof rain shell or a hardshell jacket. I use my own rain shell jackets in the same manner, in all seasons.
This jacket simply looks great, technical, and modern. So it is a nice piece of garment to use in everyday life, for city use, easy walks, commuting, biking, or anything else.
---
Description 
Ferrosi Hoody is lightweight, 13.6 oz (384 g), and being so stretchy it offers a lot of freedom for any sort of movement.
A part of its charm is the use of different materials in different sections of the jacket. So you have nylon in some areas and spandex in others. In some particular sections, the durability is considerably increased, like under arms.
As the name of the jacket suggests, it has a hood, helmet-compatible. It is stretchy and adjustable, with two adjustment points on the sides of the face.

A full-sized zipper is on the front of the jacket, and you have a zipper garage on the top.
On the sleeves, you do not have velcro tabs, only elastic. I love to have them both, and that is what I have in one of my own soft-shell jackets.
On both sides you have zippered pockets, should I add very stretchy (like everything else in this jacket). The jacket is designed so that it can completely be packed into its left-side pocket. You even have a key-clip inside, and you can also attach it to your pack. So the jacket is highly packable and easy to carry in your pack, regardless of where you put it.
There is one chest pocket, zippered of course. Having two would be better, but this is not bad as it is.
Here is a short promotion video about Outdoor Research Ferrosi Hoody jacket for women and for men. You will notice that the women in this video uses the beautifully designed Petzl Elia helmet described in this site. Have a look:
Summary of technical specifications & features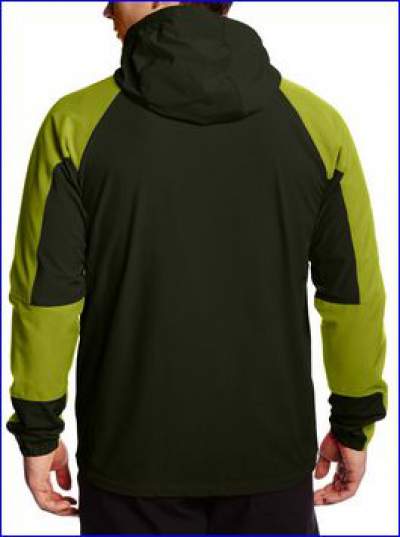 Avg. weight: 13.6 oz (384 g).
Fabric:
– 86% nylon,
– 14% spandex 90 D stretch woven ripstop body and hood.
– Cordura, 91% nylon, 9% spandex 120 D stretch woven shoulders and lower sleeves.
Standard fit.
Sizes: S, M, L, XL, XXL.
Breathable.
Water-resistant.
Wind resistant.
Durable.
Quick drying.
Lightweight.
Fully adjustable hood.
Front zipper.
Two zippered side pockets.
Zippered chest pocket.
Left-side pocket serves also as stuff-sack.
Key clip.
Hem with drawcord.
DWR-coated zippers.
Colors: 9 different combinations:

---
About Outdoor Research company
The company was established in 1981 and they are known for the reliability of their products. You have seen above, they give infinite guarantee for what they produce.
I added a short video about the company, have a look:
---
Conclusion & rating
This jacket rocks! This is how I would conclude this text about the Outdoor Research Ferrosi Hoody jacket for men. It is so versatile, made of the best materials, very packable and with a modern design. A great tool for any environment, and absolutely worth the money spent on it.
The jacket has received a very good rating by Amazon customers, and its fit statistics also looks great. You might want to read these field reports about testing the Ferrosi Hoody in outdoor situations. Some of them are for the model for women. See below my own rating:
If you feel this jacket is not what you want, you might want to check this Patagonia Nano-Air insulated jacket for men or the OR Helium Hybrid Hoody which is far more waterproof.
Thank you for reading. I shall be happy to have some comment from you. Have a nice day.