---
Outdoor Research Revel jacket for men is a waterproof and breathable rain shell jacket suitable for a variety of outdoor activities, as well as for city use and daily life. Its unique design with two-way zippers, and hem-to-bicep full-length zippers, offers a ventilation which is hard to match.
Key benefits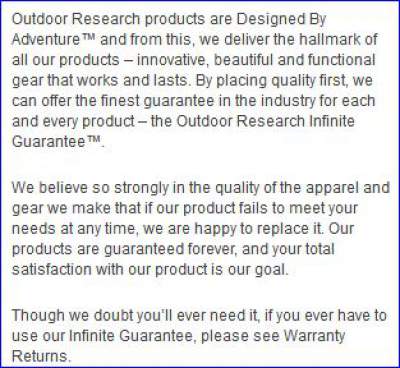 Great venting, TorsoFlo system with side zippers from hem to bicep.
Two-way type zippers.
Very good price.
Full protection.
Infinite guarantee.
---
Best price & place to buy
The best place regarding the price and shipping conditions is usually Amazon.com.
Description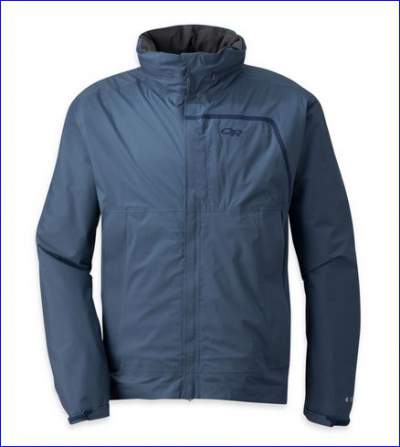 Outdoor Research Revel is a version for men, the corresponding version for women is known as Reflexa.
This is a 2.5 layer jacket, which means that you do not have an internal liner or a free-hanging mesh. Instead, an abbreviated pattern is screened on the membrane from inside.
As I mentioned above, venting is the feature where this jacket shines. It is designed with long zippers on both sides so that the jacket can be open completely and used as a short poncho. You can see this in the picture below.
In the same time, these side zippers, as well as the front zipper, are all two-way type. This means that you can open them from both sides.
Why this all is good? For ventilation of course. This jacket is breathable but this can never be perfect, so with this two-way feature you can make an extra opening and increase ventilation. On the other hand, using it poncho-style due to the side zippers, you can put the hip belt of your pack under the jacket, and with this, you again have the best possible ventilation.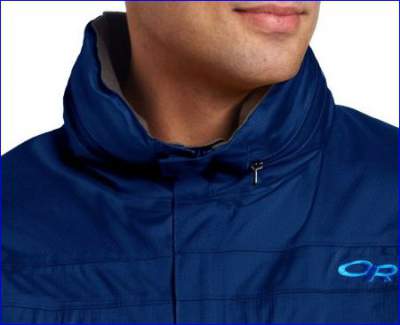 There are jackets on the market that are quite noisy, but this is not so with OR Revel jacket. The fabric here is soft and stretchy, so called Pertex Shield fabric, and with what they call movement-mirroring stretch properties. The fabric behaves nicely at low temperature and it does not get crinkly.
The hood is completely adjustable and with a nice brim, and it rolls and zips nicely into the collar, as you can see from the picture here. I like the fact that the collar is not too high, with such a design, the jacket can be used as an ordinary jacket in everyday life.
You have two nicely positioned zippered hand pockets, which are rather high and you can use them even if you have your backpack on.
The cuffs are with all what I love to have in such jackets, so you have both elastic and velcro tabs, this is visible in the picture below. Such a design allows for a complete adjustability and you can use them with glows of any type. The front zip is full length and with both internal and external flap.
Breathability and waterproofness
With the waterproof rating of 10000 mm and breathability rating of 7000 g/m², this Outdoor Research Revel jacket is in the range of very reliable tools. Roughly speaking it is in the upper moderate range with respect to breathability. The given waterproof rating puts it in the category 2 out of 5 which you may find on the Internet, where the 5th implies more than 20000 mm. So it is not bad with respect to this as well.
Some of the features of the Outdoor Research Revel jacket you can see in this short video:
This picture gives body measures used by Outdoor Research, use it to choose your size:

---
Pros & cons
Here is my summary, not much on the cons side:
 Cons
 Pros

Very good price.
Completely waterproof.
Very breathable.
Very packable.
Durable material.
Great ventilation.
Full-length pit zips.
My 'no liner' objection may sound strange but this is how I see this design. I prefer to have a free-hanging mesh instead, even though this means a bulkier and heavier jacket. So it is up to you, you can disregard this objection.
Note that the jacket is available on multiple departments at Amazon, so you will see several different ratings by customers. However, all of them are exceptionally high, the resulting average rating is in the range 4.5/5 to 4.9/5. This is no surprise, what you have here is a very good jacket with great features and a truly great price.
---
Specifications
Infinite guarantee.
Weight (L size): 12.4 oz (351 g).
Standard fit.
Fabric: Pertex Shield, 2.5L, 100% nylon, 40 D stretch ripstop.
Movement-mirroring stretch design.
Waterproof and breathable.
Waterproof rating: 10000 mm.
Breathability rating: 7000 g/m².
DWR-coated zippers.
Seams taped.
Double-sliding TorsoFlo Hem-To-Bicep zippers.
External and internal front zip storm flap.
2 zippered hand pockets.
Center back length: 29 ½ in (L).
Adjustable hood and it zips into collar.
Two-way front zipper.
Drawcord hem.
Elastic cuffs with velcro tabs.
Colors: 4

---
Conclusion
To summarize this Outdoor Research Revel jacket for men review, this is a great rain-shell jacket designed so nicely that it offers the best possible ventilation. This makes it suitable for any outdoor activity. The jacket can be used in all seasons, but this is not an insulated jacket so for low temperatures you will have to add extra layers underneath it.
However, you should know that there exists a trio version of this jacket with a removable insulation layer.
The model described here is for men, and there exists Reflexa model for women with the same features. You can see it in the video below.

I hope the text has been useful to you. Do you have any question and comment? There is a comment box below. I shall be happy to reply. Thank you for reading and have a nice day.