---
Outdoor Research Helium II jacket for women is an extraordinary lightweight 5.5 oz (156 g) only, fully waterproof and breathable rain jacket. Such a weight is due to its very thin fabric of 30 D only.
The jacket is exceptionally packable (in its own internal pocket). It is thus a great piece of equipment for backpackers and hikers, and for all those concerned about extra grams in their heavy packs.
---
Short description
The design of Helium II is very simplistic and it is so lightweight, yet it still has a number of good features.
The hood is with a single adjustability point on the back, with a cord and a toggle. This is a clever design where the single cord runs from the front to the back side, as you can see a bit in the picture below.
On the cuffs, you only have elasticity, no adjustability tabs. This is not something I love to have, but this comes with the design of this minimalist jacket.
On the hem, there is a single drawcord with a toggle for adjustability. The front zipper is without external storm flap, again something I dislike, but it is sealed from inside.
The jacket does not have pit zips or any kind of vents, I guess mainly to save weight and because it is so breathable already.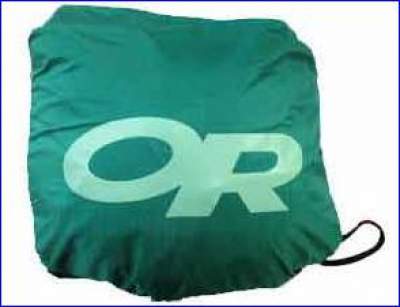 You have one single external chest pocket, and one internal pocket which serves also as a stuff sack, see it in the picture. This jacket is incredibly packable, not surprising though in view of its tiny fabric.
There are no hand pockets, must say pity indeed. I do not think a few extra grams for that purpose would do any harm. In some jackets, pockets add to the ventilation, so having them can only be useful.
The jacket is very comfortable and it allows for adding extra layers under it. This is surely good in view of its tiny fabric which only provides a shell against the rain.
Note that the jacket has been on the market for several years now. It has been improved considerably in comparison with the previous versions, just to know if you read some older reports.
Material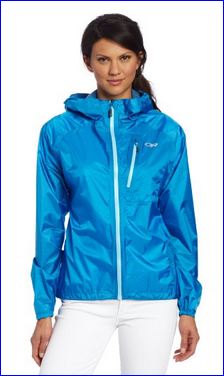 The material of the Helium II is 2.5 layer nylon ripstop. So what this means? Ripstop implies that it is hard enough and if damaged, this does not spread through the material. But frankly speaking, I would not expect much from a 30 denier material.
So I would not go through bushes with such a jacket. In my numerous hikes through the rainforest on Tenerife island, such a jacket would easily be destroyed.
2.5 layer implies that you have the outer fabric (nylon) with a waterproof membrane (Pertex Shield) on the fabric from inside.
There is also a screen of a half-layer imprinted on the membrane with two functions, to protect it from abrasion and to give you some comfort because touching the membrane is not so pleasant. For that reason, jackets of such a type do not have a classic liner inside.
You can see more about these materials in my separate post.
---
Breathability and waterproofness
Breathability of the Helium II jacket is 20000 g/m2. This number is in fact, the accepted borderline between medium and high breathable materials. So this jacket is indeed for very hard outdoor activities which imply a lot of sweating.
This partly explains the absence of any vents or pit zips. The jacket is good enough as it is. Compared with the previous version, the breathability is improved for 10%.
Waterproofness of the Helium II is 20000 mm/day. This is again on the borderline of the best possible waterproof materials. The accepted categories for this feature are as follows (in mm/day):
0 – 5000
6000 – 10000
11000 – 15000
16000 – 20000
20000+
Just for a comparison, a hurricane force rain is in the range of 10000. So the Helium II is definitely a piece of clothing which will keep you dry. Its waterproofness has been improved for 30% percent in comparison with the previous version.
Here is a short promotion video about Helium II rain jacket:
Pros and cons, users' experience

Here is my list of possible cons and pros, the majority of items is in the second group. This is my view, your priorities may be different:
 Cons
 Pros

No hand pockets.
No pit zips.
No adjustability on cuffs.

Waterproof.
Breathable.
Extremely lightweight.
Extremely packable.
Very comfortable.
Reasonable price.
Incredible choice of colors.
Amazon customers have rated Helium II jacket very high, and the same holds for its fit as expected statistics.
Technical specifications & summary of features
Avg. weight: 5.5 oz (156 g).
Standard fit.
Fabric: Pertex Shield,  2.5 L, 100% nylon 30 D ripstop.
Waterproof.
Breathable.
Fully seam-taped.
Laminated construction.
Windproof.
Ultra-lightweight.
Single-separating front zipper.
Elastic cuffs.
Elastic drawcord hem.
Adjustable hood.
YKK AquaGuard zippers.
Zip chest pocket.
An internal pocket, it serves as a stuff sack with a carabiner loop.
---
Conclusion
To conclude this text, the Outdoor Research Helium II jacket for women is an exceptionally advanced piece of waterproof clothing. The two most outstanding features of this jacket are:
it is ultra-lightweight,
it is extremely packable.
Both of these two features come at a price: it lacks some features which I love to have, like pockets and internal lining, and its material looks so tiny and fragile. But, this jacket will indeed keep you dry, and it will not take much space in your backpack.
Note that there exists a version for men as well. Please visit my page with jackets if you need something different. You might want to check this Patagonia Torrentshell jacket for women.
I hope this text has been useful to you. If so, perhaps it may be to others as well, so please share it. I shall be happy to have some comment from you, there is a comment box below. Have a nice day.