---
I climbed Piz Boè from Pordoi Pass and descended the same way after making a round tour of three huts and ascending Sass Pordoi as well. Here is my first-hand report.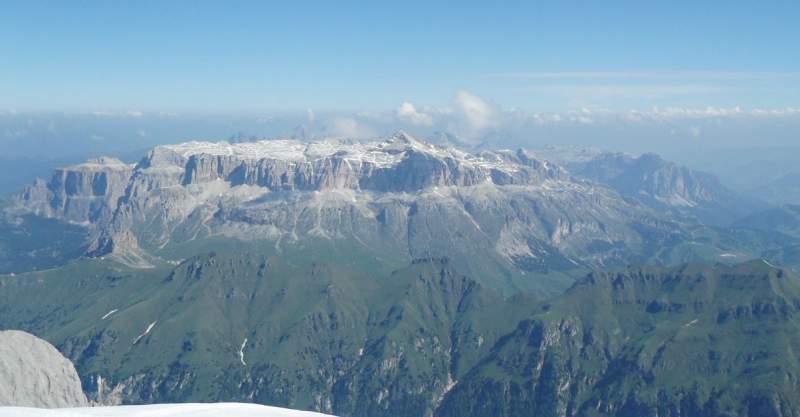 Piz Boè is the highest peak of the huge Sella Group (Gruppo del Sella) that looks like a fortress when you see it from the surrounding valleys. The picture above shows how the Sella Group looks from the summit of Marmolada, this is from my climb more than 12 years ago. Piz Boè raises from the high plateau as the pyramid in the middle-right.
There are several attractive passes around the massive. These include Pordoi Pass and Sella Pass on the south-west and west sides, Campolongo Pass on the east side, and on the north is one of the most beautiful passes in the Alps, Passo Gardena. I have visited them all. There are roads around so you can drive around the whole massive. This all area is also a paradise for cyclists.
Below you can see how the huge Sella Group plateau looks. What you see in the picture is an area with more than 2800 meters (9186 ft) of elevation. So the views here are truly breathtaking.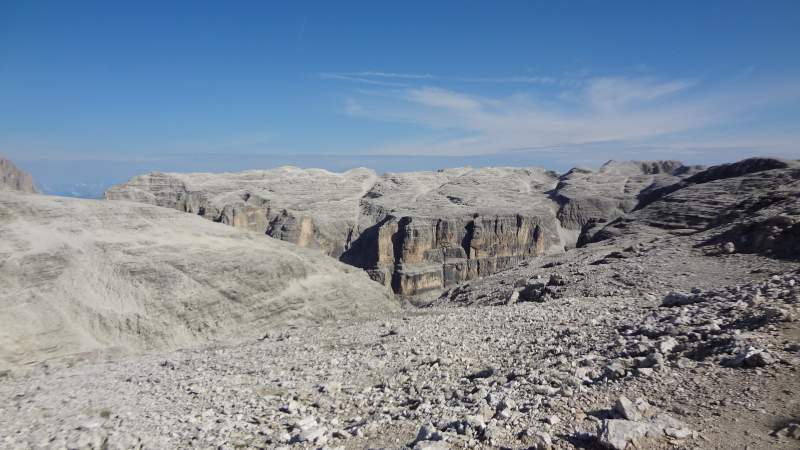 ---
Piz Boè – access roads & details
Here are some data you might need if you decide to go there:
Coordinates, latitude and longitude: 46.5098° N, 11.8292° E.
Elevation: 3152 m (10341 ft).
Highest car access point: Pordoi Pass 2239 m (7346 ft).
Huts: Forcella Pordoi, Capana Piz Fassa, Rifugio Boè.
Closest places for supplies and accommodation: Canazei, Arabba.
Map: Val di Fassa e Dolomiti Fassane, 06, Tabacco, 1:25000.
Below you have an interactive Google map, it is zoomable so you can see details about access roads:
I have added a few lines in different colors, they represent different segments of the route that I did. Here is the explanation:
Yellow line – access route Pordoi Pass to Forcella Pordoi hut.
Blue line – route from Forcella Pordoi hut to the summit of Piz Boè and Capana Piz Fassa.
Red line – route from the summit to Rifugio Boè.
Green line – route from Rifugio Boè to Forcella Pordoi.
Orange line – route from Forcella Pordoi hut to the summit of Sass Pordoi and lift station.
---
Why climbing Piz Boè
I would say that Piz Boè is the most popular of all the mountains I have climbed in the Italian Alps. There are several major reasons for this:
Access from an attractive high mountain pass. 
Presence of a lift that takes you to almost 3000 meters (9842 ft) of elevation.
The mountain group itself looks incredibly attractive. 
This is a part of Dolomites mountains which is one of the most beautiful areas in the Alps.
So when you combine all these reasons, you can imagine that this is not a place to go if you want to enjoy mountains in solitude. 
However, if you go early, and this means far before the lift starts to operate, you will a chance to enjoy the mountain in its beauty and in solitude.
I mentioned the Pordoi Pass. So when you start from there, your direction should be the narrow passage through the rock wall which you see in the picture: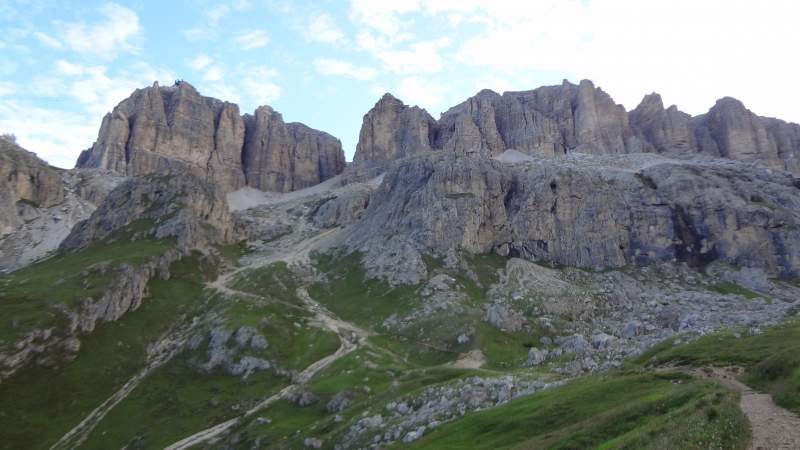 Below you see the Pordoi Pass from the lower part of the route below Forcella Pordoi hut. You can also see Marmolada on the left. Just one day before this tour, there was a tragedy there as reported in my separate text.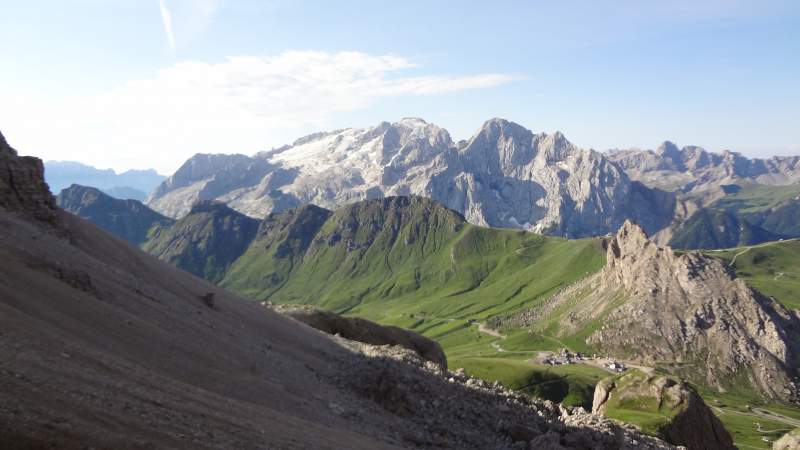 From the details related to the popularity mentioned above, you might get some idea of why to climb the mountain. But there is more to that.
There are three huts on the Sella Group plateau. So you can make a round tour on a very high elevation which is in the range of around 2800 – 3152 meters (9186 – 10341 ft), and visit them all.
The first hut that will face you after you climb from the Pordoi Pass towards the passage shown previously is this – Forcella Pordoi (2848 m, 9344 ft):
Apart from climbing Piz Boè, at the end of the mentioned round tour, you can climb the nearby Sass Pordoi (2950 m, 9678 ft) and book two peaks in the same tour.
Note that when you get to Sass Pordoi, you can get back to the car parking by a lift. I have seen tourists in slippers arriving and walking around the large and comfortable lift station.
After you get to the Forcella Pordoi hut, you can continue to the right (west direction) and you will see Piz Boè high above you. So just keep going, the route is first flat and then you start zig-zagging up towards the summit.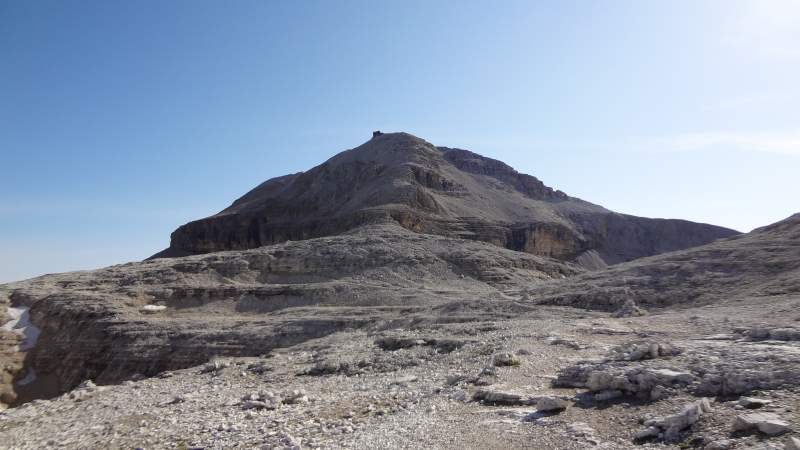 There are a few places with fixed cables, but this is not a ferrata route. The route follows the ridge in the middle visible in the picture above.
The picture below shows the hut Capana Piz Fassa that is exactly on the summit of Piz Boè.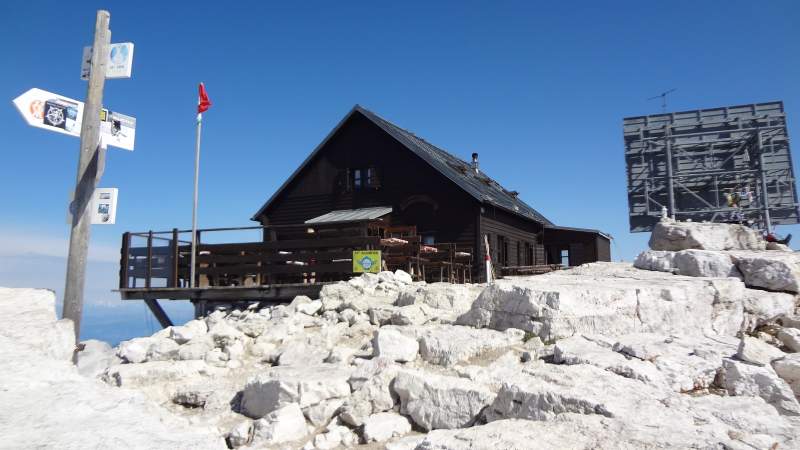 From the summit, there is a path that goes towards Rifugio Boè (Boè hut) which is shown in the picture below. This hut is at an elevation of 2873 meters (9426 ft), so you have to descend 279 m (915 ft) and this is a lot. The route is again simple walk down.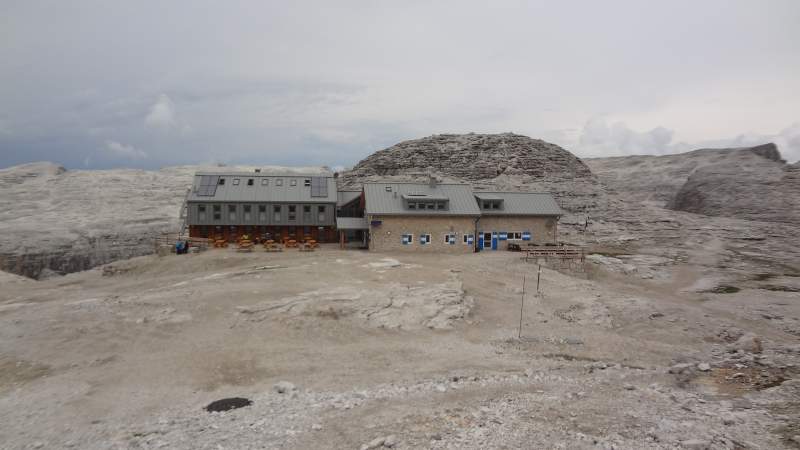 So this is the third hut on this round route. This is the largest of the three huts and very modern. Note that you can do the route in clockwise direction as well, this is completely up to you. From this point you follow the signs towards Forcella Pordoi hut.
---
My climb & timing
I started from the Pordoi Pass at around 6:20 AM, and I was at Forcella Pordoi two hours later. So it took me more than what I expected.
Then I continued towards the summit and arrived there at 9:50 AM. This makes 3 and a half hours in total from the car parking. There was nobody around, only below the summit I met a few people descending. They spent the night in Rifugio Boè. 
But there was a helicopter, it came and went back at least 20 times in this walk from Forcella Pordoi to the summit. Those people told me that there was a film crew on the summit, and they were filming some scenes.
When I arrived there, I saw them around. It seems some scenes were filmed on the cliffs below the hut on its north side. They were using drones for shooting as well.
So this was a very noisy morning after all. You can see the helicopter here, this is not a zoomed view: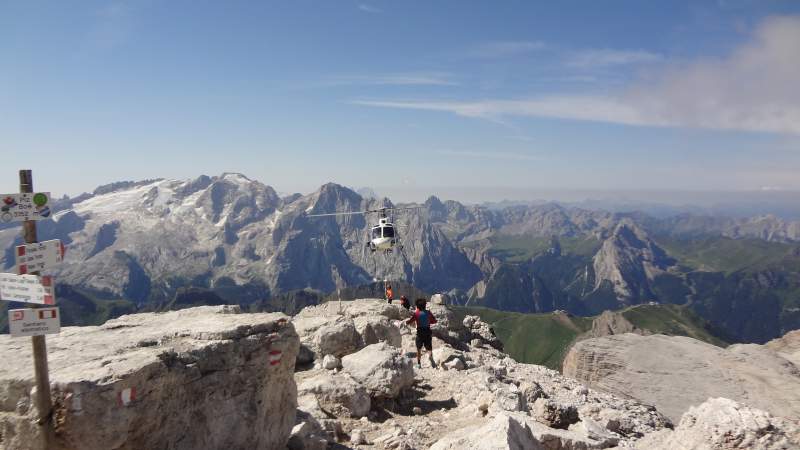 And yes, one more here: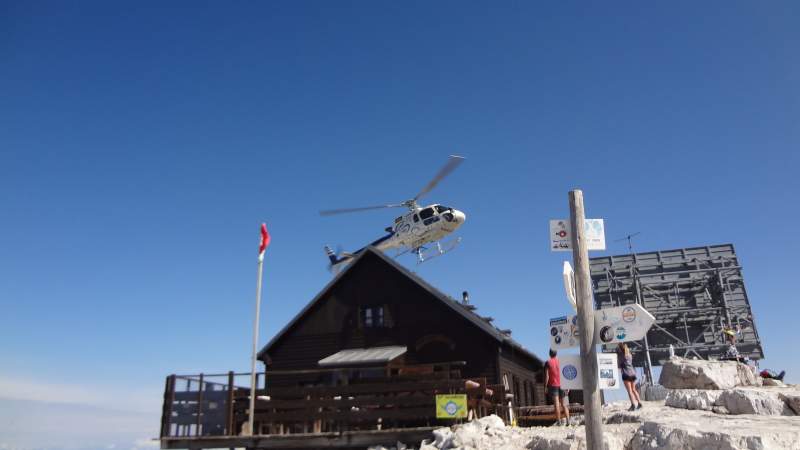 Normally, I have my morning coffee on the summit. For this I carry my MSR Pocket Rocket stove and a coffee pot. But this time I skipped it, it was too noisy.
So I took a short rest on the summit and then descended in the opposite direction towards Rifugio Boè. Did not stop there, just made a few photos and continued.
Many people were coming from the Forcella Pordoi direction, I would say in hundreds. So it seems this is the favorite direction of people that arrive by using the lift. This is understandable, the terrain is so inviting and flat.
The weather was changing, it started raining, but I decided to get to the summit of Sass Pordoi. Here is the photo of the Piz Boè from the summit, close to the lift station: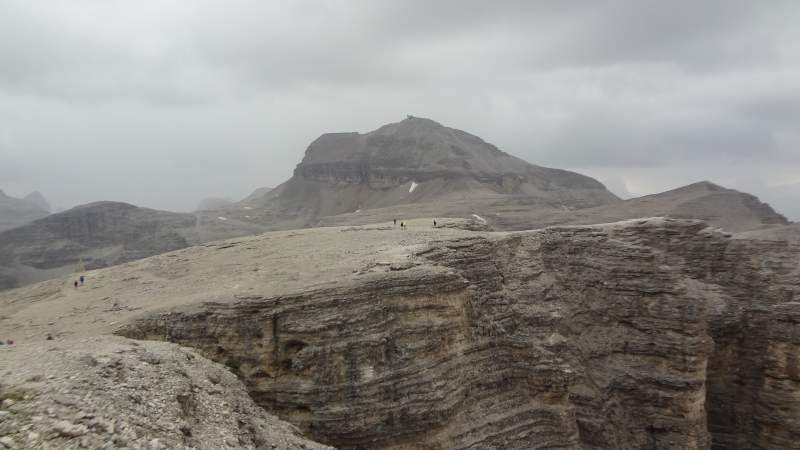 Observe the cliffs, these are the walls of this massive that create such a large plateau that you see here. Its diameter is roughly 4 kilometers or so. Piz Boè sits on top of it as you realize from the photo.
It was a bit tempting to take a lift, but I had all rain gear with me so I put it on and descended the same way. It was raining heavily all the way down, but I was fine. There was only one person in front of me, could not see anybody behind.
---
Essential equipment & accommodation
This mountain requires no special gear, so have a pair of good hiking boots, and rain gear just in case. I have such stuff always in my pack. This includes waterproof pants, a rain jacket, a poncho, and waterproof boots.
In fact, I was using the same gear used two days earlier in my climb of Tofana di Rozes. This includes my Salomon Quest Prime GTX boots, and Osprey Stratos 24 pack.  
You have seen the huts, so you can get everything there, and this means water, food, and accommodation, this is up to you. 
Accommodation: This is a very popular area with many options to rent an apartment, to choose a hotel, or you can go to any of the camping spots around. You can check at Booking.com. I used the same company for my accommodation in Arabba.
---
Final thoughts
So this was my report from climbing Piz Boè, the area that was in my list from the moment I saw it first from Marmolada many years ago. You can climb this mountain the way I did, but you can also use the lift as most people do. I have included this mountain in my list of best mountains to climb in Dolomites without special equipment.
This lift option may be a nice opportunity for families with kids who cannot and should not walk all the way up. So you can easily get to a very high elevation and then enjoy the day by making walks on a terrain that is more or less flat and accessible by anybody. 
This is an exceptionally beautiful area, I hope I was able to show this in the photos above. Orientation is never a problem, you are on a high plateau, the routes are marked and the most important points (the lift station, Piz Boè summit) are in sight most of the time.
But do be prepared for weather changes and do not underestimate the nature, this is a very high area. When I started the sky was clear, but around noon it started raining heavily and I have seen many people totally soaked and without proper clothing and boots. Note that the weather is almost always more stable in the morning than in afternoon, so plan your day accordingly.
Please look around in the section Italian Alps, you have many mountains described from my previous tours. These are all mountains that I climbed myself. Check in particular my text about the nearby Sasso Piatto. 
Let me know if you have questions, there is a comment box below. Thank you for reading.