---
This Salomon Men's Quest Prime GTX Backpacking Boot review is about my new ultralight and ultra-comfortable hiking boots with out-of-the-box comfort and zero break-in time.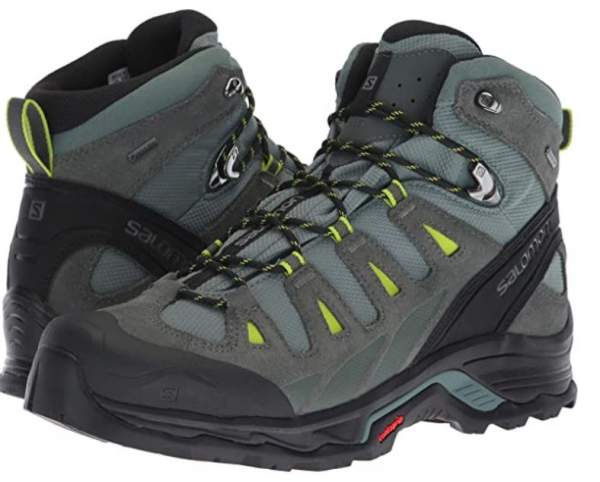 ---
Key features & benefits
Fully waterproof.
No break-in time.
Very comfortable.
Great ankle support.
Very light boots.
---
Why I have bought these Salomon Quest Prime GTX Backpacking Boots
In fact, I always wanted to buy these boots, simply because I liked them so much. The only reason I did not buy them earlier was their size, I felt they were a bit too wide for my feet and I was hesitant. I could not find the half/size between the numbers, it seems they do not make them that way.
So last time I bought Lowa Renegade GTX Mid Hiking boots and I loved them. But due to some strange reasons, it seems I lost them last summer when I was in the mountains. I do not have any idea how this happened, I was moving from place to place by car, and it seems I left them somewhere. The last time I used them was on my tour to Cima di Piazzi.
Now, the size of the Lowa Renegade boots was the same, my feet were in between their two sizes, but I have never had any issues with blisters. So I thought, OK, I may try with these Solomon botts with the same number. I would say this was the right choice.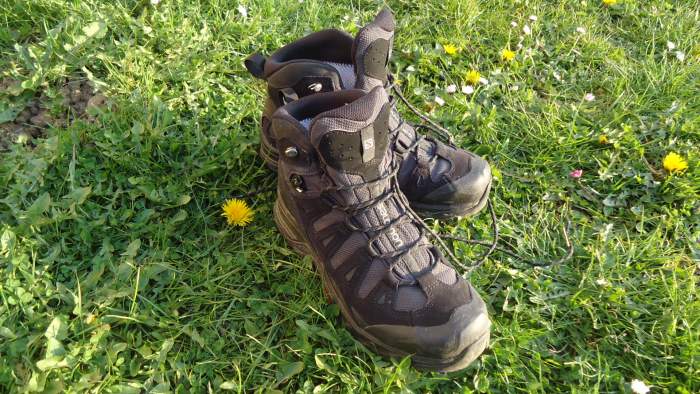 ---
Overview
Here you have mid-cut boots, and I must say they offer excellent ankle support. I do not think I would ever need more. They look bulky, but they are really super light for such a type. The official weight per pair is 1140 grams. Note that Lowa Renegade boots are very close to this with 1130 grams.
To continue with numbers, the heel stack height is 22 mm and at the forefoot you have 10 mm, so this is a 12 mm drop. The sole is rubber and the upper part is a combination of textile and split suede leather. But there is lots of rubber on the front and on the heels, see the picture below.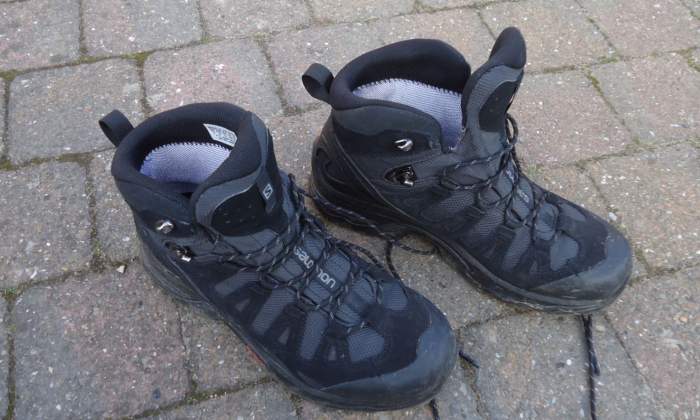 The lacing is with 4 pairs of textile loops and two pairs of metal hooks higher around the ankle, you can see this all in the picture above. You can realize how this all works great when you tighten the laces, assuming that the boot is a proper fit and not too wide on the front.
The lower pair of the metal hooks is with a lace lock design, and it works as they describe it. In fact, sometimes, I find it a bit difficult to unlock the lace on one side, so I am worried I might break the metal hook. I think I have seen somewhere people complaining about broken hooks, perhaps that was the reason. The lace-lock hooks are the second from the top, see the picture: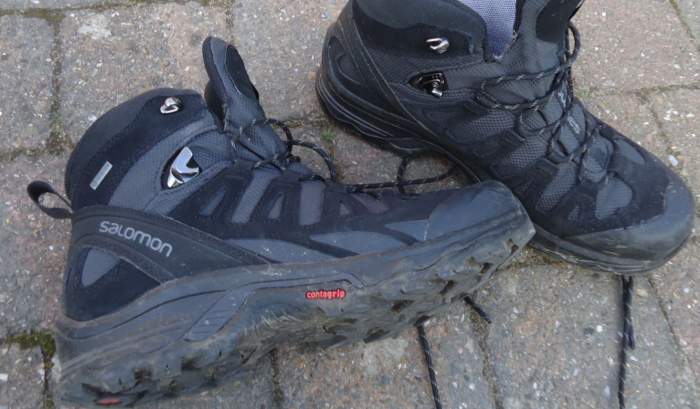 In my case, the boots feel wide on the front but as mentioned above, I did not have an option to choose differently. But learning from the experience with my previous hiking boots, this is not so bad as I can use really thick socks (in fact I always have one thin and one thick).
Perhaps you have experienced it, feet become larger during long walks. I guess this is swelling caused by the accumulation of body liquid. So having more space on the forefeet helps in such a situation.
I can add some extra insole, but I really do not want to do this simply because the existing OrthoLite footbeds and dual-density EVA midsoles work great. See below how this looks: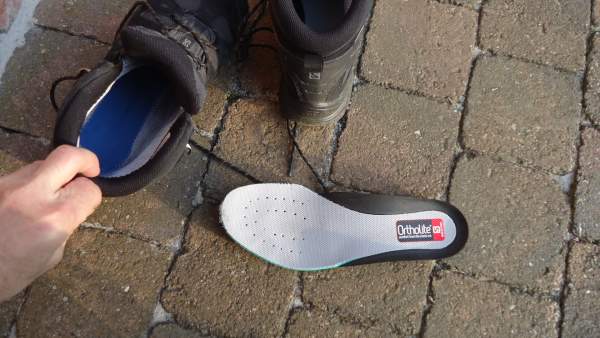 These boots offer nice shock absorption and comfort. There is a GORE-TEX inside with seams sealed, at least this is what they claim, but there is no way to know how this all looks. Here you can see the rubber sole at the moment when the boots arrived: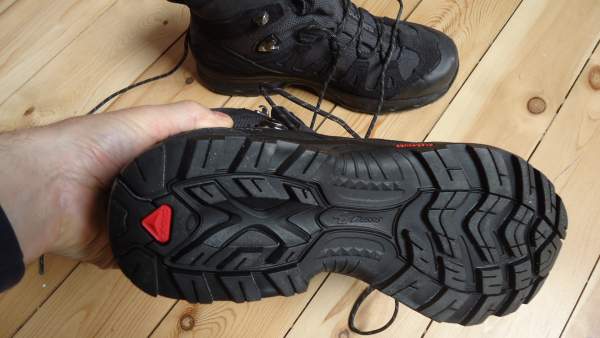 Below you can see them after 70 km of walk through the woods: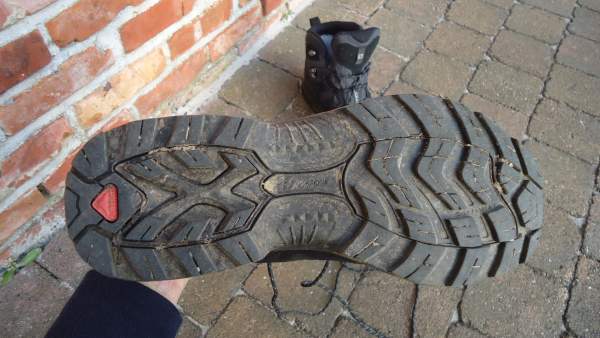 They use what they call the Sensifit system that cradles the foot from the midsole to the lacing system, providing a secure, snug customized fit. But if the boot is too wide, my trick is to tighten them in the middle so that the heel is fixed. This prevents the foot from moving a lot.
What I do is the following (one variant, I have them more):
Make an overhand knot after the 4th pair of eyelets/loops.
Then continue to the top hooks.
Go back with the laces to the lock hooks and tighten the laces firmly.
With this, my heel is fixed in position and the foot will not move much.
---
My testing
I started with my usual water test. So I submerged each of the boots in water for several minutes to check for leaks. It turns out that they have so much water-repellent stuff on the surface so they cannot possibly get wet.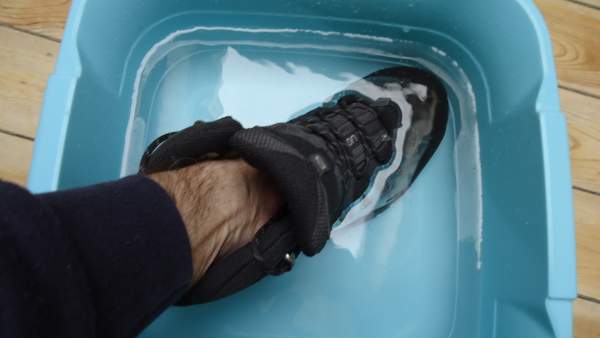 In other words, yes they are fully waterproof at this initial stage. But as you surely know, real issues with waterproofness start later when this initial surface treatment is worn out. Only then you can see how the GORE-TeX membrane inside really works. Based on my decades of experience with hiking boots and shoes, I would not expect too much, but see more below.
Then I continued with taking long walks, and I must say I am simply delighted. I knew they were described as boots with an out-of-box comfort and that they required no break-in time.
Nevertheless, it was great to really experience this. I would dare to claim that they are more comfortable than my previous Lowa Renegade. The main difference is in the ankle collar. It is very soft but supportive here, I do see a difference between them and Lowa boots. These Salomon boots fit my ankle shape better.

Testing in mountains
I had a short pre-season trip to the Slovenian Alps, and decided to use these Salomon boots. So with them I climbed Spik, then had a 2-day tour of Skrtlatica, went to Luca Vuerich refuge, and climbed Goitan ferrata on Jof Fuart. I must say I am totally impressed with these boots.
I decided to use them on purpose, because this was a combination with my Camp Frost crampons that are strap-on type and fit nicely to such boots. The picture below shows the moment when I first attached crampons to them, this was on Spik that was my first climb on that trip. I must admit, I was concerned that the boots would be damaged in such a harsh environment.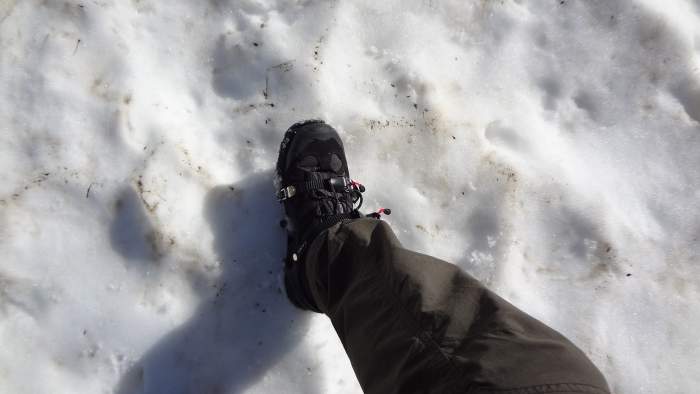 This was the last week of June and mountains were under snow. This means that I had lots of walks on snow, and these boots were indeed fully waterproof.
On the rock, I would say I have never had boots that work better. When you see the lugs, you realize they are not big, so it is hard to explain why these boots stick so nicely to the rock. This was so both on dry and wet rocks.
If you have ever visited Slovenian Alps, then you know how tough they are. So my initial thought was that these boots were not really for such environment, and the only reason for using them was to test the mentioned crampons. But I am pleasantly surprised. After 4 long tours, the boots look great, and I sure I shall use them again.
I did not have any slightest sign of a blister or anything similar. They have totally passed the test. The picture below shows them on the summit of Spik, I took them off just to take the picture and to check my socks and feet.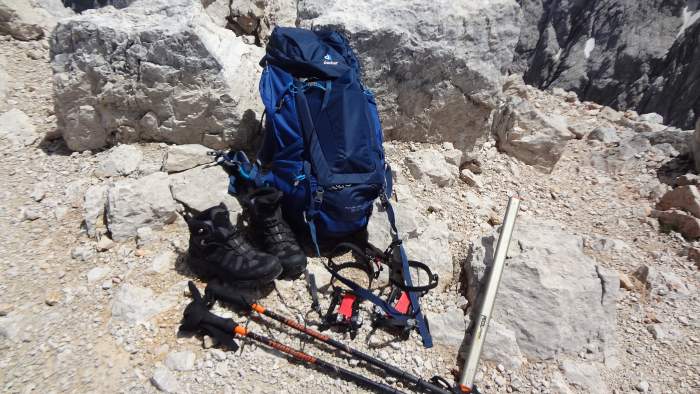 Here are my impressions about these boots from a recent climb in the Dolomites, Italy:
---
Final thoughts, rating, pros & cons
So this was my Salomon Men's Quest Prime GTX Backpacking Boot review. In short, I am happy with these boots. They may look bulky but they feel incredibly light and they are very comfortable, with great ankle support.
Note that they are not hard mountaineering boots, they are not built for such a purpose. These are designed as hiking boots for not too harsh conditions. I have much stronger boots for mountaineering, see my La Sportiva Nepal Extreme and Scarpa Triolet GTX boots to see what I mean.
But you have seen what I wrote about their performance in real mountains. So in any case, fully recommended.
Please see how I rate these boots against my usual set of criteria:
If you need more options, please check under the category Men's Footwear. See also my my comparison Lowa vs Salomon hiking boots. Thank you for reading. There is a comment box below so let me know if you have questions or comments. Have a nice day.