---
If you plan to climb Foronon del Buinc and visit Bivacco Luca Vuerich, here you have my first-hand report about this extraordinary place. Keep reading.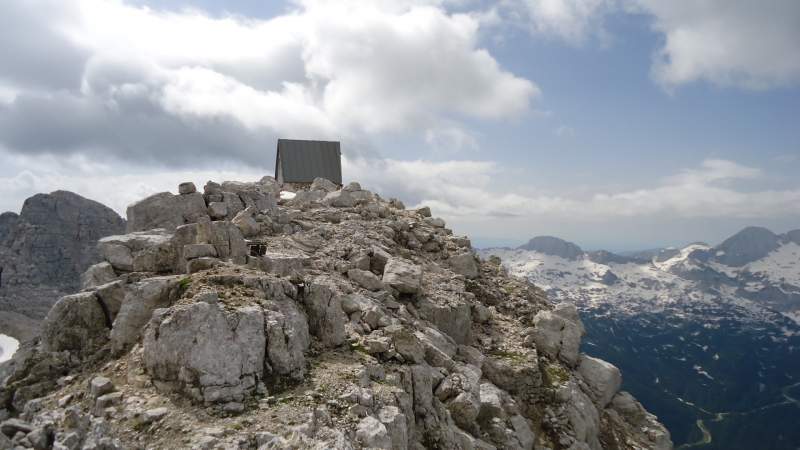 ---
Basic data
The name(s):
– In Italian: Foronon del Buinz, also Foronon del Buinc.
– In Slovenian: Spik nad Nosom.
Coordinates (Lat/Lon): 46.41703°N / 13.46306°E.
Route type: walk up, scramble & ferrata.
Elevation: 8304 ft (2531 m).
The height difference from the parking: around 3317 ft (1011 m). But there are some ups and downs, so add around 200 meters to this.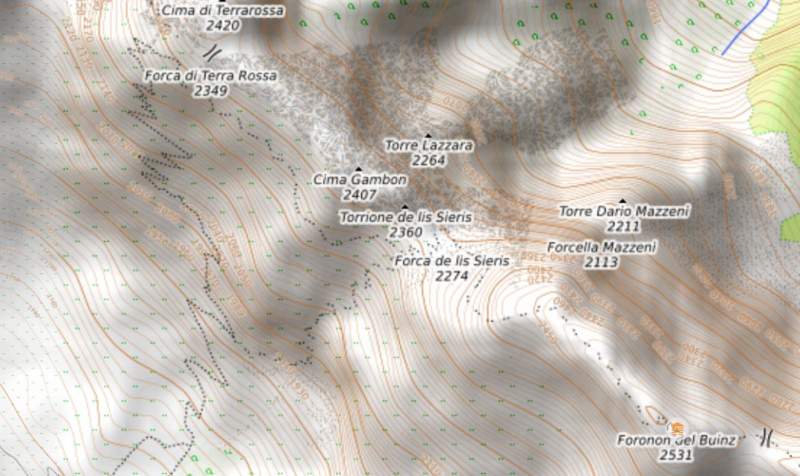 ---
So what this place is about
Foronon del Buinc (2531 m) is a mountain between Jof di Montasio (Montaz) and Jof Fuart, both are a bit higher and more popular. But here you have the refuge on the true summit of the mountain, see the pictures, the Bivacco Luca Vuerich. The shelter is named after Luca Vuerich, an Italian climber who was killed in an ice avalanche on a nearby mountain.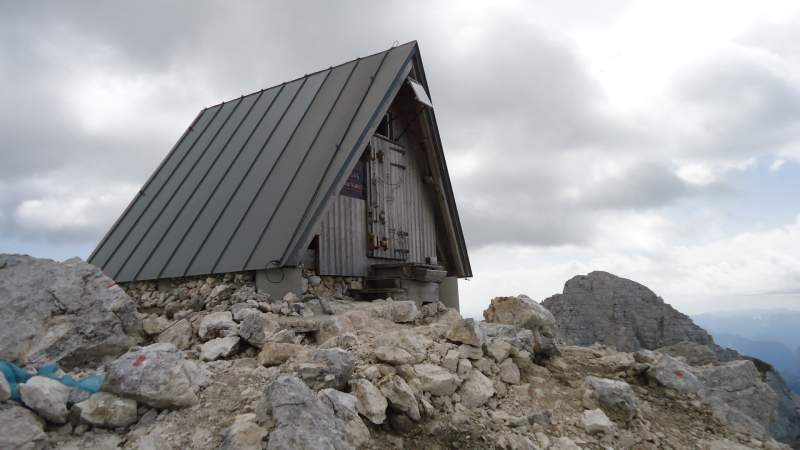 This is a new and modern shelter built in 2012 with beds for 8 people, equipped with mattresses and beddings, with an area of around 16 square meters. There is no stove inside. But you have thick mattresses with pillows and blankets.
The picture below shows how it looks from inside when I was there recently. The roof is very steep and the whole pleasant building is made of wood.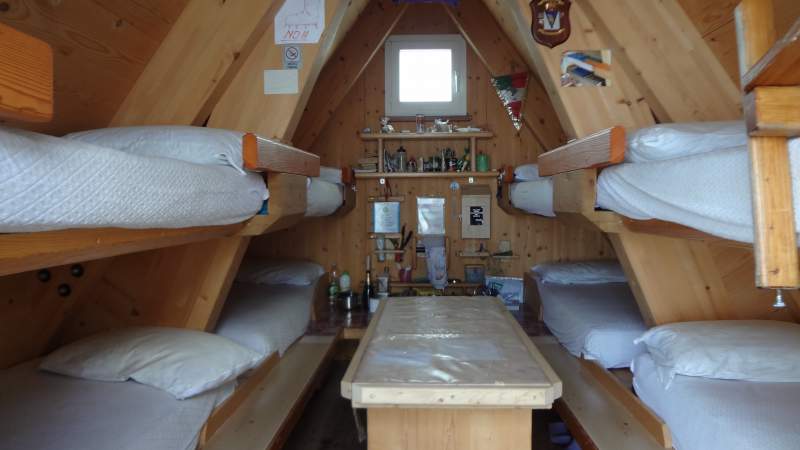 My understanding is that the shelter is, at least partly, commissioned by the family of Luca Vuerich. The picture of the late climber is on the wall.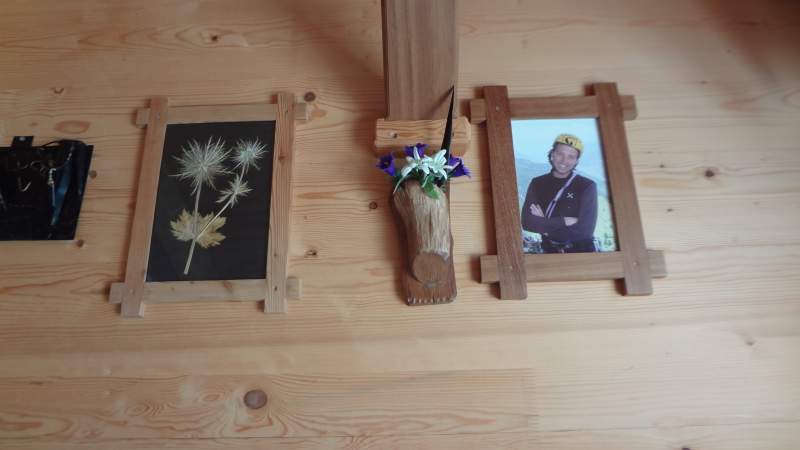 There is an inscription inside in which they ask visitors not to enter with crampons because they damage the spruce wood floor. Unfortunately, it appears that many do not pay attention to this and the floor is already full of holes created by crampons.
There is a toilet outside, see below how it looks, it is on the edge of a cliff so there is a fence on the exposed side.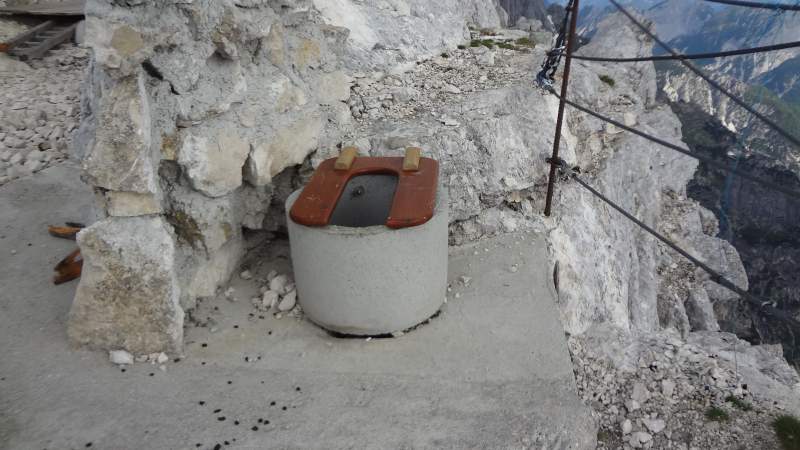 There are many goats on the summit, it is simply incredible that they are able to come here. Humans need 10 sections of ferrata cables to get there but for goats, this is clearly not a challenge. They are used to people and if you spend a night in the shelter no doubt you will have them around all the time.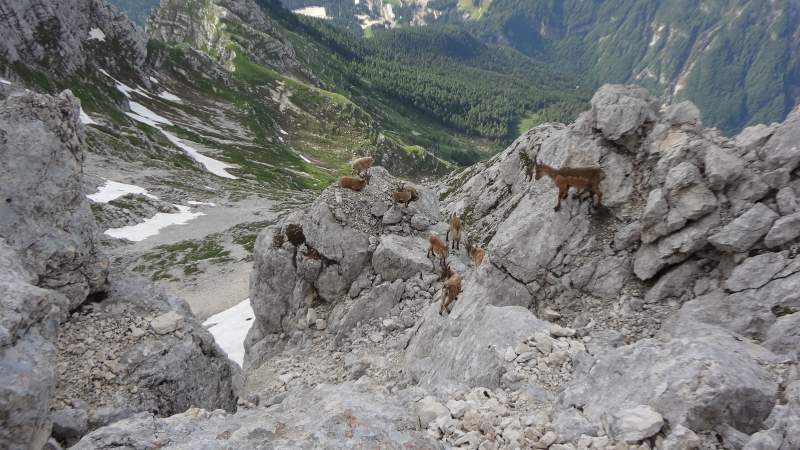 ---
How to get there
When you come by car from any direction, your destination should be Sella Nevea Pass (3904 ft, 1190 m). The closest places on the northeast Italian side from which I came are Cave del Predil and Tarvisio.
After getting to Sella Nevea you will see a narrow road that goes to the Piani del Montasio (4987 ft, 1520 m), it is on the first big U-turn on the west side of the pass, see the zoomable map below. The road is very steep at some places, most likely more than 18-20% inclination.
You have around 6 km to the car parking. At some places, the road is damaged and narrow, but this is asphalt and quite doable for any car.
Below is a zoomable map so you can see the access roads. Zoom in to see the route. Note that this is a Google's map and for some glitch in their system, it shows the Bivacco Luca Vuerich at two positions. This is not so important, once you are there, everything becomes obvious.
If you know where to look, you will be able to see Luca Vuerich hut already from the parking. The picture below I took after descending the mountain, and I made a very rough sketch of the route. There are many more zig-zags on the way up. The steep section is the area with 10 ferrata cables. The arrow shows the approximate place where you might be able to see the hut.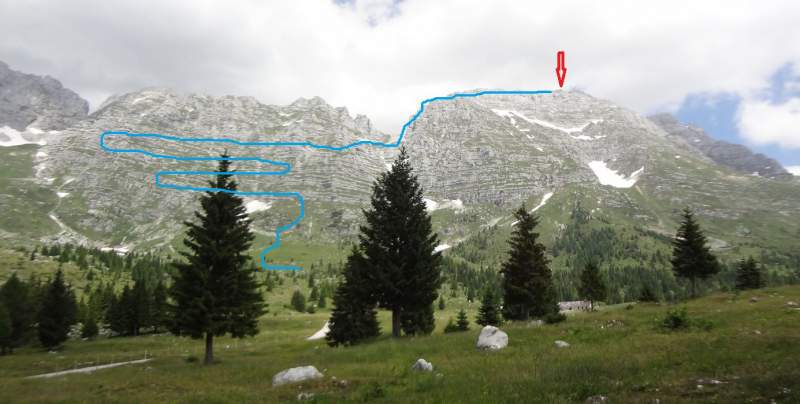 ---
The routes and my climb
I followed the route from the Rifugio Brazza side that goes first to the north in the direction of Cima Terrarossa.
From what I know, there is probably yet another option to go directly to Forca de lis Sieris saddle, but do not go there unless you know the route or have a guide.
There is yet another approach from the Sella Nevea pass, I have seen it when I was on my tour to Jof Fuart. In other words, you can make a round tour that is known under the name Ferrata Ceria Merlone. But I have not walked this part myself and cannot say much about it.
I arrived from Kranjska Gora in Slovenia, and I was at the parking around 5 am. After 20 minutes I passed the Rifugio Brazza that looked closed. So from there you just follow the direction of Cima di Terrarossa that is directly above in the north direction. The picture shows some information.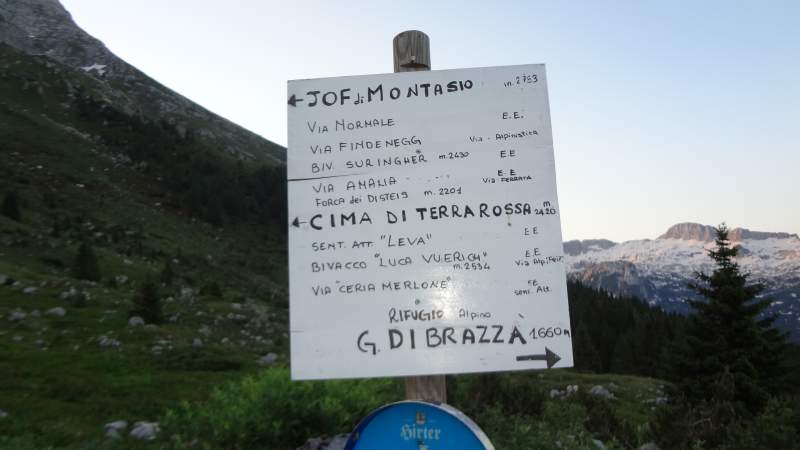 So just keep walking, you will follow a path that zig-zags up the mountain by following pleasant natural ledges, see the picture below. There are signs for Cima Terrarosa and Ceria Merlone path.
At one point you will see the sign for the Bivacco Luca Vuerich. You will have views of the car parking all the time, and the Visoki Kanin (Mount Canin) massif is on the opposite side of the valley, this is the border between Italy and Slovenia.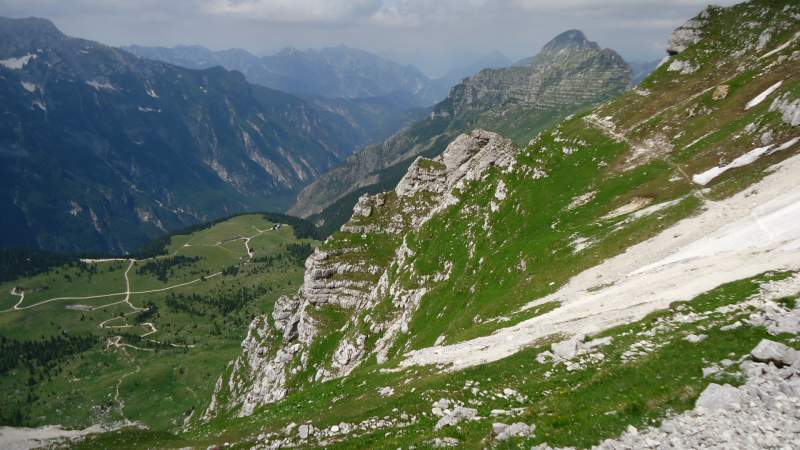 If you go early in the season, you will have several passages with snow, so be ready for this, they may be steep and slippery.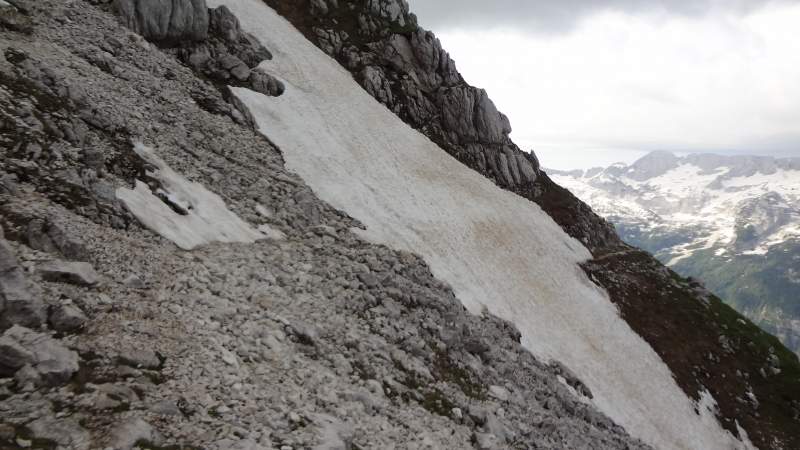 After some time you will see a mountain saddle in front of you, the picture below, this is the Forca de lis Sieris (7461 ft, 2274 m) on the map above. This is the place where you can take a rest and visit some man-made fortifications from WWI, this used to be a front line.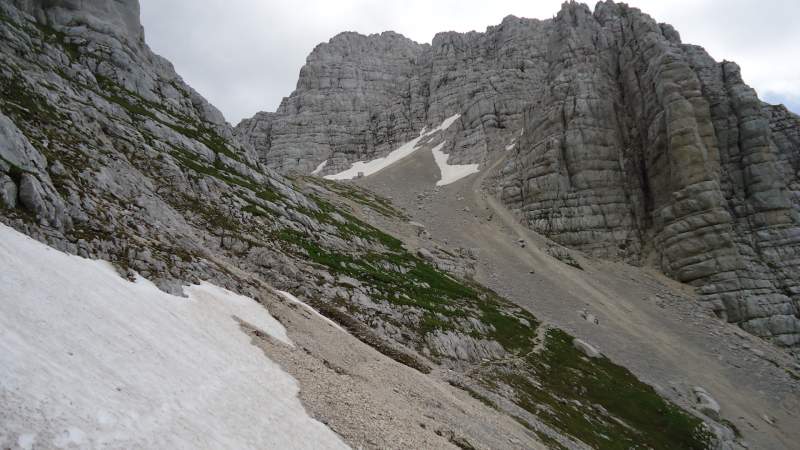 From this point, you have a ferrata part with 9 steel cables, and one 10th section far above close to the shelter. This is a mild ferrata, doable by anybody and it was in a good state when I was there. I had ferrata equipment and I used it. I would say it is doable without equipment but it is best to have it and to use it.
I met 4 Italians that were descending from Bivaco after spending the night there. I was watching them crossing a snow section, they did not have crampons. This passage may look mild in the picture but you would not want to lose balance at this place.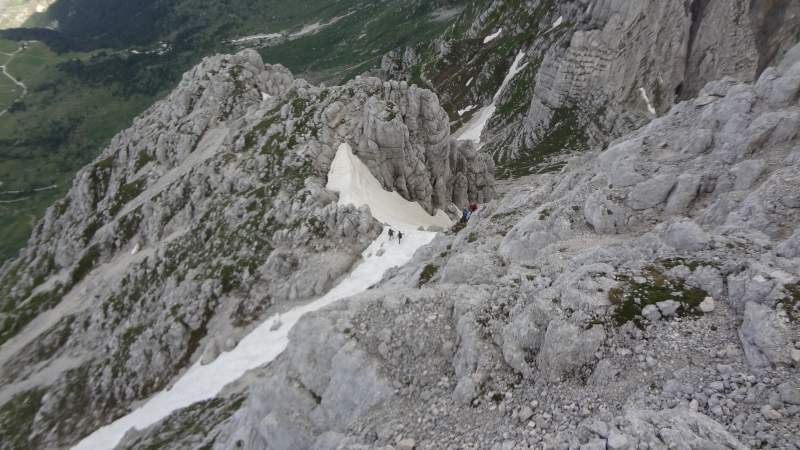 The final meters are very pleasant and you will see the roof of the Bivaco from the distance. See how it looks, the Mount Canin is far behind in the background: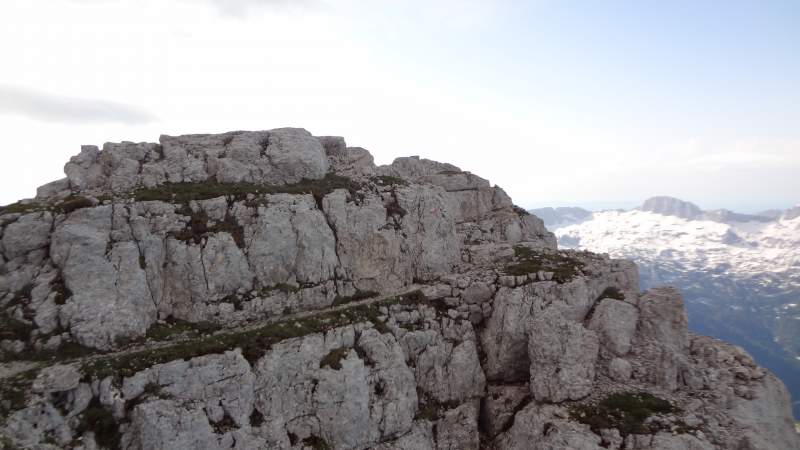 My timing
I was at the summit in under 4 hours. I had plenty of time and did not push. Snow passages took some time as I was putting on crampons every time. So plan 3-4 hours to the summit.
Water
There is no water on the route. If Refugio Brazza is open, you can have everything there. I had 3 liters and this was more than enough.
Food
I did not have any. The reason – I forgot my lunch box in Slovenia. But I was carrying my coffee equipment and I did have a coffee in the refuge. Found a package of beans in the refuge that you can see in the picture, the Illy can was empty, but I had my own coffee with me.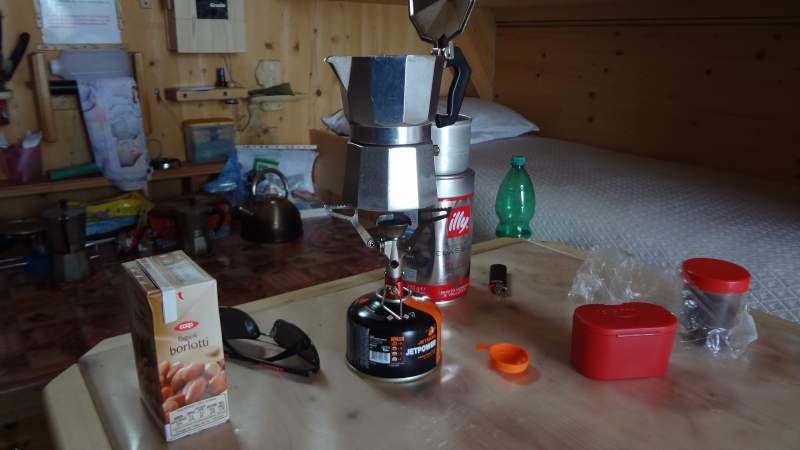 What you see in the picture are my MSR Pocket Rocket 2 stove and a small Jetboil fuel canister. These things I carry with me all the time.
Equipment
Any mountaineering/hiking boots or shoes will do. I used my Salomon Quest Prime GTX boots and they were excellent for this tour. If you go early in the season, you will have snow, so I strongly advise being prepared for this. This is what I used:
Camp Frost 6-point crampons. This is good enough for such a tour, easy to use, and light. Most importantly, they fit any type of shoes/boots, so you can combine them with some light boots that are good enough for such a climb.
Petzl piolet, see the picture below. This is a classic-shaped standard non-technical axe, you will absolutely want to have it with you on the mentioned steep snow passages.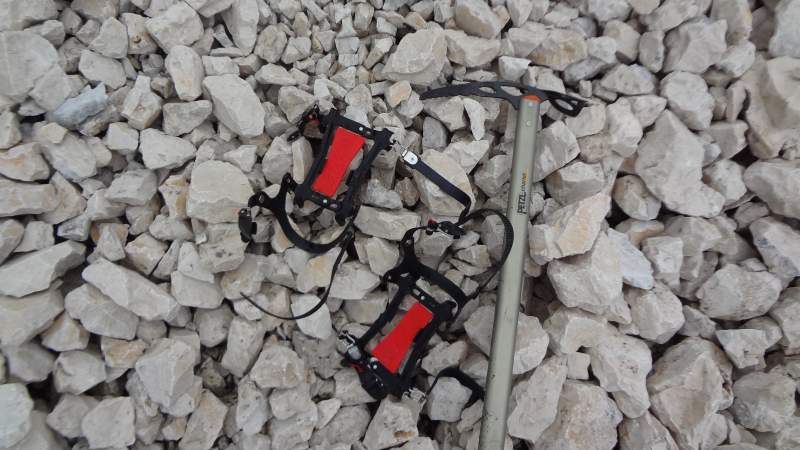 Other pieces that you need are:
A climbing helmet. I used my old Petzl Elios helmet, see the picture. I shall never need anything better.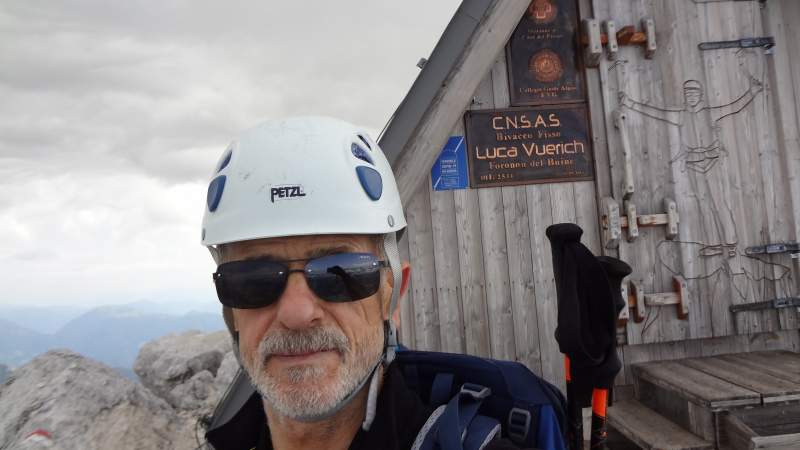 A climbing harness. I had a Black Diamond piece that I normally always use.
A Y-laniard. This is a standard piece I always have with me when I expect ferrata sections.
Although this was a relatively short tour, I used my Deuter Futura Vario 50+10 pack. This is simply because the other pack I had in the car was too small.
These are essential pieces of equipment. The rest is up to you. I recommend having sunglasses, a hat, trekking poles (I used a pair of very reliable Komperdell poles visible in the picture above).
---
The mountains around
There are other mountains to climb around when you are in the area. I would mention Jof di Montasio (2754 m) that I climbed a number of years ago, see the picture below, where you also have a refuge on a very spectacular position, the Bivacco Suringar. It is in the northwest direction from the Bivacco Luca Vuerich.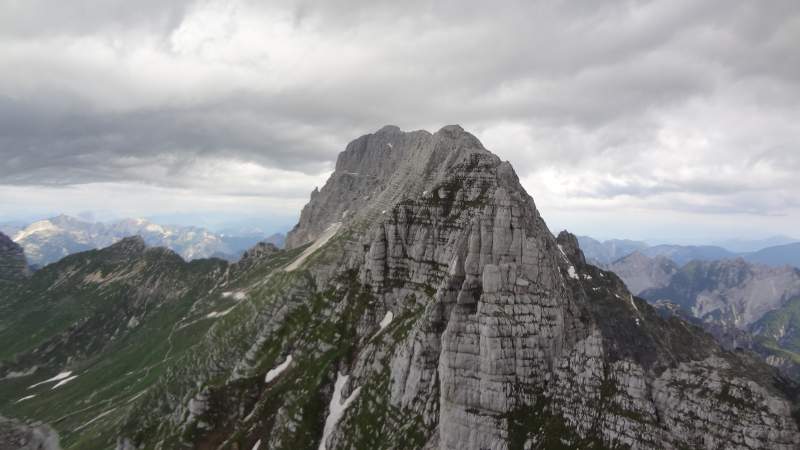 Note that the starting place for this climb is the same car parking mentioned above. I would say that Foronon del Buinc is a bit harder to climb than Jof di Montasio, although the latter is higher.
Yet another great mountain close here is Jof Fuart (Viš in Slovenian, and Wischberg in German, 2666 m), the picture below shows it in the northeast direction from the shelter. There are several routes that go there but they all converge to one single route that goes to the summit. This mountain is harder than the other two.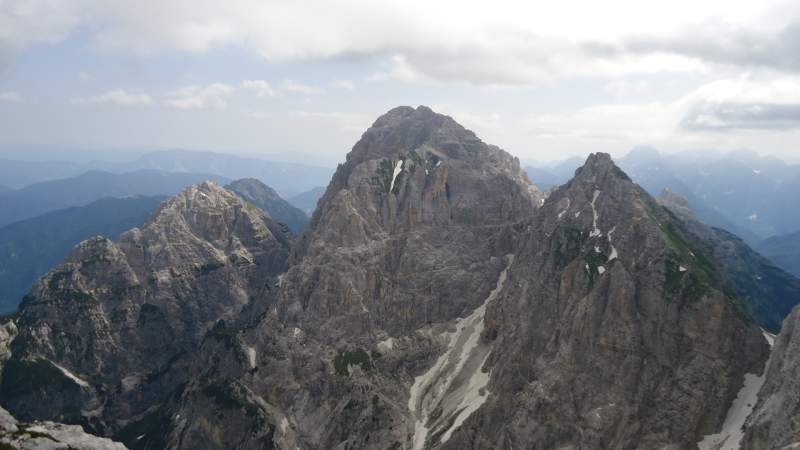 ---
Final thoughts
So this was my report from climbing Foronon del Buinc and visiting Bivacco Luca Vuerich. This is a beautiful place with a tragic story behind it. But if you want to spend a night in solitude on the top of a mountain, you will want to consider this place.
It is always open, it is free, but there is a box where you can leave your contribution if you stay there. I can fully recommend this place to anybody with normal physical conditions and a bit of experience in mountaineering and scrambling.
Below the summit, there are exposed places that are not aided, so if you suffer from vertigo this is not a place for you. The most difficult passages are equipped with cables and bolts.
Let me know if you have questions, there is a comment box below. Subscribe to my weekly newsletter and stay informed. Check also my text about some other shelters in the Italian Alps where you can stay for free. Thank you for reading.