---
In this MSR PocketRocket 2 Stove review, you can read about the new version of the celebrated MSR tool. It is a bit lighter but with the same burn time and boiling efficiency.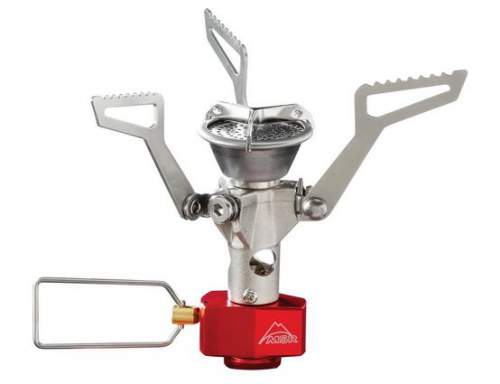 This new version replaces the previous PocketRocket and the MicroRocket stoves, those are now discontinued. The new PocketRocket 2 Stove combines the best of the two mentioned stoves.
What is new in the new model
Here is the list:
The weight is shaved a bit, down to 2.6 oz (73 g) as compared to 3 oz (80 g) in the previous version. I would not stress much about it.
It is much more compact. The support arms are redesigned and they are able to accommodate a wider range of pot sizes. They fold completely differently now; you rotate them, then fold, and then turn in. So when folded, the new PocketRocket 2 is practically the same size as the MicroRocket.
Improved stability due to redesigned arms. It is better than on both the MicroRocket and the original PocketRocket. Now you can use pots with a smaller diameter. The support arms are with more teeth and they are longer than in any of the previous two models, so the contact with a pot is far better.
The carry case is changed now, not triangular as it used to be in the previous PocketRocket Stove. I must say, the previous looks better to me.
There is around $5 price difference. So the new PocketRocket 2 is in between the original PocketRocket and the MicroRocket.
Description
I would start from the most important part, the burner, so just like in the previous version, you have three direction windscreen on the burner. This helps in cooking because at least one side will be party protected from the wind. The support arms are with just proper retention, and you open them and close easily.
The stove has an excellent simmer control. This is due to MSR's award-winning DragonFly system with a fully adjustable flame, which makes simmering a breeze. But it is loud, as the name says, this is a pocket-rocket. If you have ever tried it you will know, but this is not an issue for me, in fact, I love it, it sounds so powerful.

The flame is easily regulated by the shaped wire visible in pictures, which folds away when not used, similar to the support arms. According to the specifications, the boil time is around 3.5 minutes for one liter, the same as in the previous model, but you will usually need more time. Note that this stove does not have an integrated ignition source, but the same is with the previous version. So you will have to carry matches or whatever you normally use.
Here is a short promotion video by MSR, please have a look:
In this video you can see how the support arms open and close:
I find the carry case too big and too heavy, it is 47 g, as compared with the stove alone which is 73 g. Try to put it in your pocket, and then check the same with the old model. The lid on the box is attached to the box in such a way that it does not look it will stay there for a long time. So I am not impressed with this side of the new tool.
But there is a good side of it; you can put your lighter in the box together with the stove, you will need it because there is no ignition system here, see one of my own in the picture.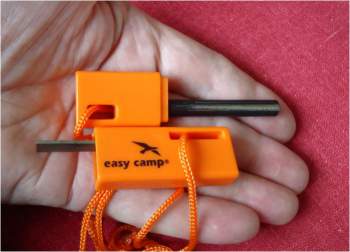 The arms will support pots as small as 3 inches, they work well, but the stability would be better with 4 arms.
The flame is similar to the previous version, so some have complained about it being focused too much in the center. But you know what, there is a good side to it. This is not bad if you are using this stove with some of those silicone pots that are becoming very popular recently, and with all good reasons. You can see this Sea To Summit X Kettle or Sea to Summit X Pot.
They have a metal bottom and silicone walls, so the flame shouldn't go around and touch the walls. So the MSR PocketRocket 2 Stove is a perfect tool for the pots of that type.
Specifications
Minimum weight: 2.6 oz (73 g).
Packed weight: 4.2 oz (120 g) – this is the weight together with its carry case.
Burn time (MSR IsoPro) per 227 g (8 oz canister): 60 minutes.
Water boiled (MSR IsoPro) per 227 g canister: 16 liters.
Water boiled (MSR IsoPro) per 1 oz. of fuel: 2 liters.
Boil time (MSR IsoPro) of 1 liter: 3.5 minutes.
Folding pot supports pack exceptionally small, fitting into an MSR Titan or Insulated Mug.
Robust pot supports offer excellent stability.
Wind-Resistant: WindClip wind protection and focused burner pushes a persistent, solid flame.
Included: hard-shell carry case.
For best results with canister fuel, use MSR IsoPro fuel.
Made in Korea.
MSR IsoPro Fuel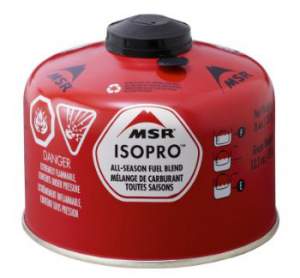 They recommend using their own IsoPro canisters which are 80/20 blend of isobutane and propane. This combination maintains higher internal pressure at lower temperatures than standard butane/propane mixtures. They claim it delivers a superior cold-weather performance and more consistent output over the life of the canister as compared with other combinations.
They sell canisters in several sizes:
16 oz (450 g)
8 oz  (227 g)
3.9 oz (110 g).
However, this stove will work with any isobutane canisters with a screw-on valve, like those from JetBoil, Primus, Snow Peak.
I live in EU and such canisters are available here as well. My own canister which I just bought today is Edelrid, 460 ml (230 g), and I paid it 6.5 Euro. It is a mixture 30%, 30%, 40% of propane, i-butane, and n-butane.
They also offer what they call MSR PocketRocket Stove Kit which includes several useful pieces together with the stove, see the picture: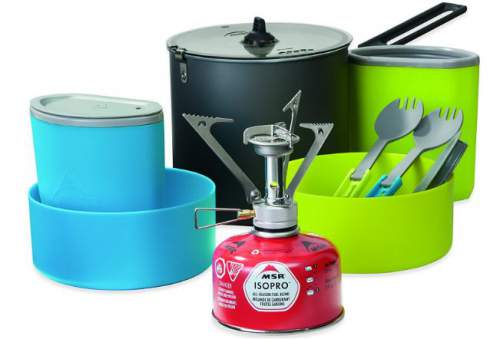 Comparison: MSR PocketRocket 2 vs Etekcity Stove
See how MSR PocketRocket Stove 2 compares with yet another great stove of the same type:
| | | |
| --- | --- | --- |
| | PocketRocket 2 | Etekcity Stove  |
| Weight, oz (g) | 2.6 (73) | 3.2 (91) |
| Support arms | 3 | 4 |
| Built-in ignition | no | yes |
It is hard to find a match for Etekcity with respect to the price. It is no surprise that this tool is so popular, see more here.
My own PocketRocket 2 Stove
I was lucky enough to get this stove in our local outdoor shop in Belgium for less than 35 Euro. I am just preparing for my tour to the Austrian Alps, plan to go to Similaun area. So here is it, ready for the tour. As you see I am somehow able to put the ignitor into the box:
This is an addition, after my trip to the Alps. I was in the Slovenian Alps and I was using the stove. See the stove in action, my Bialetti coffee pot was with me as usual: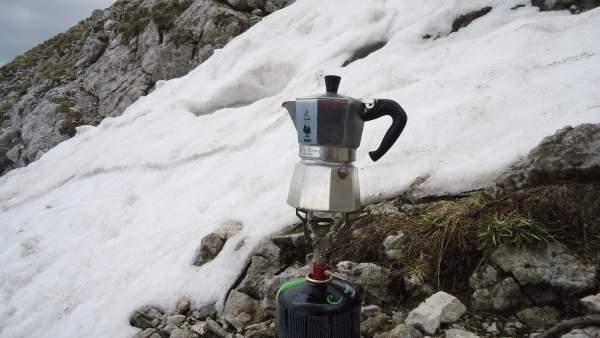 About MSR
You might want to know what behind this tool is. So MSR began in 1969 as a newsletter committed to improving mountaineering safety, founded by Larry Penberthy, an engineer, professional inventor and lifelong mountaineer who dedicated himself to making the backcountry safer.
He spent more than eighteen months testing outdoor stuff like stove fuels, ropes, the holding power of pitons, the strength of ice axes, etc. After realizing that he could not do all alone, he formed Mountain Safety Research, Inc, with climbers participating in testing. The goal was to make the best information and gear available to climbers, and if no one was making it, Penberthy would do this. Many of the products were developed by himself. In all these years the MSR has been on the forefront in outdoor research and industry. There are many items from this company reviewed in this site.
Summary & rating
To conclude this MSR PocketRocket 2 Stove review, this is a nice small tool suitable for any outdoor activity, in particular for backpacking and hiking. This is an excellent stove, but you know what, the same holds for the previous award-winning version.
I am sure this stove is well worth the money, no need to recommend it to you, you surely know that MSR is a reliable brand. But if you already have the previous PocketRocket, no need to spend money on the new one, the old will serve you for many more years, this is a great tool in both versions.
I have the latest one, and I am really happy with it. It is a great feeling to have such a reliable tool in the backpack when you are preparing for a tour. Please see below how I rate it.
Thank you for reading, I hope this text has been useful. Please let me know if you have any question or comment, there is a comment box below. Have a nice day.