---
Bivacco Del Piero (Refuge Del Piero) is a typical alpine refuge, one of many in the Italian Alps. Here is my report about it, with some basic data which you might need.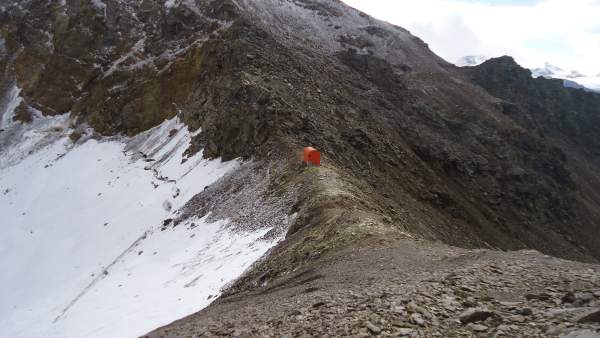 ---
Where is it
Coordinates & timing:
Longitude: 46.44825 N.
Lattitude: 10.51179 E.
Altitude: 3166 m.
Timing: you will need around 3 hours from the Forni parking to the refuge.
The altitude difference is around 1020 meters.
This is about Monte Confinale (3370 m); the refuge is very close to the summit. You can see its position on the map:
What is it
Bivacco del Piero is a very typical Alpine refuge; in the Italian part of the Alps, they are in orange or red color, usually built in the same style. I have seen quite a few, and know that they usually have mattresses and blankets. You can see them in my texts about Jof di Montasio and Bivacco Suringar, and Punta Terrarosa. If you ever get caught in a storm on such an altitude you will learn to appreciate the existence of such shelters.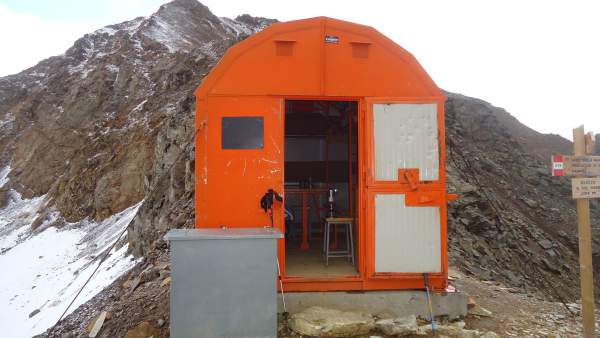 In this case, you have 9 beds inside, you will see this in pictures. Foam mattresses are available as well as foam pillows. There are many blankets, did not count how many precisely but definitely at least one per bed. If the refuge is full, one blanket will not be enough, and as you can never know how many people might be there, it is best to carry your sleeping bag if you plan to spend a night there.
It can be terribly cold in such an object; this is a simple steel construction without insulation as usual, far from pleasant when it is cold (and it is always cold there, take my word for this). But even like this, it will save your life if you are in trouble, and if you are alone or with just a few people all those blankets will make your stay there reasonably bearable.
There are several chairs and benches available, see the pictures, and quite a number of pots, caps, and other stuff. You should know that a gas cooker is available with several burners, and the gas bottles are outside, shown in the picture above. One was connected to the stove and I could smell the gas when I checked the box outside. I did not use it, had my own MSR PocketRocket2 stove with me, I was carrying it because did not have information about the stove. You are lucky, you have it now.
There is no water directly at the refuge, plenty of it is below the final slope, and on the other side of the pass there is a small glacier, quite close as you can see from the pictures, so you can melt the snow and ice. I did not carry a lot of water, instead, I had my Pure2Go filter/purifier.
Such shelters are always open, they are there to save your life. It is important to keep them clean, and I must say this refuge is perfectly clean, not a single piece of trash to be seen around, it was great to see this.
---
How to get there
In the map above you can see the route from the Forni refuge, this is the route I used, but this is not the only one. There are other approaches from the Santa Caterina valley, but they all converge to the same point at the Manzina lake (Lago della Manzina) below, at 2790 meters above the sea.
There is a route from the north as well but I did not pass it and cannot say more about it. Clearly, it passes the small glacier which is visible in the picture above. If you have any first-hand information about it, please let us know, I shall be happy to add it here.
I started from the parking at Rifugio Forni (2144 m), so the altitude difference is big, around 1020 meters. Do not underestimate it, those are high altitudes. The amount of oxygen in the air at the shelter is only 70 % of its value at the sea level, and you will fill it, see more here. So if you plan to stay there overnight, it is essential to have a torch or headlamp, just in case if you develop very strong altitude sickness symptoms; if this happens you have to descend and this can be during the night.
The route above the parking is through the pine woods and you will feel the pleasant smell of the trees. After that you are above the tree line and you follow a path which goes flat for a couple of kilometers. But you do not get over 3000 meters by going horizontal, so indeed later you will see the signs for the Manzina lake pointing to the right, up the mountain, and this is your direction.
If you are lucky and have a clear sky, you will have Pizzo Tresero visible in all its beauty across the Santa Caterina valley, Monte Sobretta, and all the Gavia pass road as well. I climbed them all so please follow these links to see more.
There is a sign for Monte Confinale at the Manzina lake, so follow the path to the left as it shows. The refuge is never in sight until you get a few hundred meters under it. You will see it as an orange dot on the ridge. At this moment you still have water running around you, so collect some if you need, you will not have it higher up.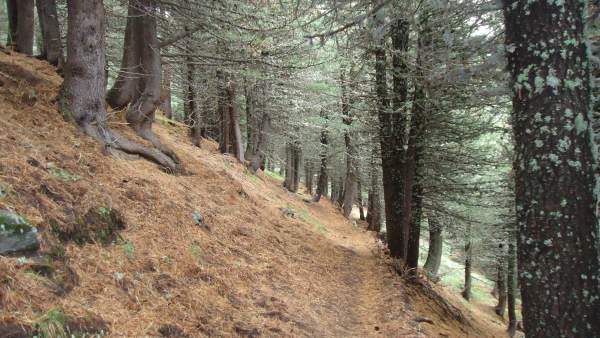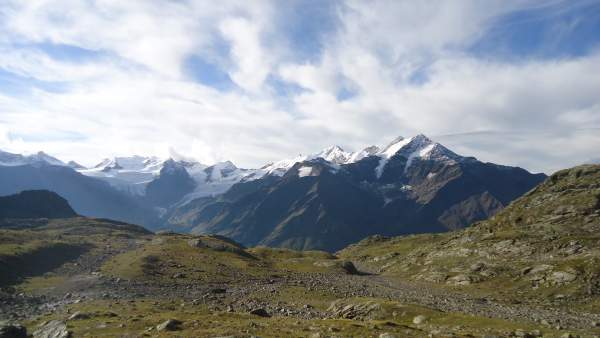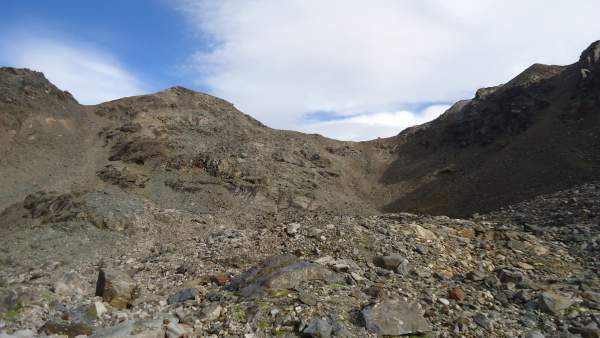 ---
Equipment
Here is my short equipment summary:
---
Symmary
To conclude this report about the Bivacco Del Piero (Refuge Del Piero), visiting this shelter can be a tour for itself, you will be rewarded with the extraordinary views and you will enjoy the beauty of the Italian Alps. But the summit of the Monte Confinale is also very close and you should not miss to climb it.
On my way back, I have met many groups of people walking towards the Manzina lake; they were in shorts, wearing ordinary running shoes, and with umbrellas. I could not believe my eyes. They were caught by the hail storm and they were rushing back. But this is pointless, the valley is far below and you will not have a shelter in such situations.
So do not make such mistakes, be prepared and go there dressed properly. The weather can change in minutes, literally. I have seen this exactly here, as well as at many other places in the Alps. See more about clothing in my separate text.
There are many hotels and camps around, and you can find many online. I have a very good experience with Booking. com. They also offer fully furnished apartments and houses. I have used their services many times in the past and can fully recommend them.
Thank you for reading. There is a comment box below, so please let me know if you have any question or comment.