---
Climbing Monte Confinale was my plan when I saw it for the first time from my tours around the Gavia Pass. So I did it recently and here is my report.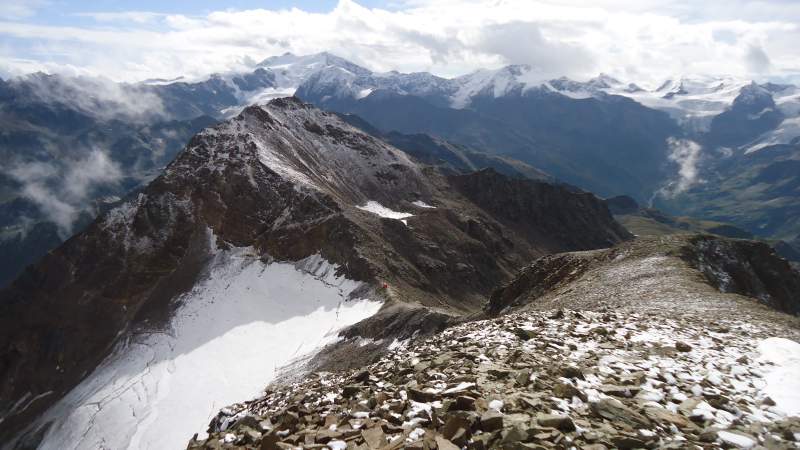 ---
Monte Confinale – where is it
Location: the Stelvio National Park in the Italian Alto Adige (South Tyrol, Südtirol) area, Sondrio province.
Elevation: 11056 ft (3370 m).
Region: Ortler Alps.
Latitude: 46.449218.
Longitude: 10.504893.
Difficulty: walk up.
Nearest huts: Rifugio Forni (2144 m), Rifugio Pizzini-Frattola (2706 m), Bivacco del Piero (3166 m).
Nearest cities: Santa Caterina Valfurva, Bormio.
---
First climbs & geography
The first documented climbs were in the 1860s by a German climber led by the guide Janiger and later in 1864 by two English mountaineers led by Swiss guides Christian Michel and Franz Biner.
The mountain is lower than its mighty neighbors, but this is a huge massif which is surrounded by several rather low valleys from all its sides except from the East where you have a long ridge with peaks over 3000 meters that connects it to Gran Zebru (Konigspitze) massif. So you have Cima della Manzina (3318 m), and then three Cime dei Forni (Cima del Forno Occidentale, 3227 m), Cima Central (3240 m), and Cima Orientale (3247 m).
This high and long ridge was a borderline in the past, so the name of the mountain comes from the Italian word confine which means border. If you continue along the ridge towards Passi dello Zebru you will realize that this was a true front line during the WWI. There are barbwires and military trenches and fortifications all along the ridge.
There are some small glaciers on the north side while the south slopes are completely without snow and ice in the summertime.
---
How to get there
I have been in the area many times and described the approach roads in my texts about Monte Sobretta, Pizzo Tresero, Gavia Pass, Bivacco del Piero, Pizzini hut. So here just to stress that this is the Bormio area and you will be able to see it if you zoom out the map below.
If you start from Rifugio Forni, you will drive from Santa Caterina di Valfurva up a narrow and steep mountain road for some 7 kilometers or so. There is a fee for the parking, you cannot miss the place, it is far below in the flat area of the valley. The Rifugio Forni is a mountain hotel so this could be a place to stay.
So here is the map of the area, I have added rough positions of the start point, the lake Manzina, the shelter del Piero, and the summit. It is clickable, so zoom out to see the area.
So from this, you realize that climbing Monte Confinale implies a couple of attractions.
The lake Manzina is a popular place for tourists at the elevation of 2790 meters, and if the weather is great you might see them in large groups. Many come directly from the valley, there are a couple of routes from there and they all merge at the point where the red line in the map turns directly to the North.
One of these routes starts at the Rifugio Stella Alpina (2061 m) on the road in the Val dei Forni, at a point which is four kilometers east of Santa Caterina. I did not pass its lowest short section from the road through the woods, so cannot say anything about it.
But after the lake, most likely you will be alone, not many people will continue up towards the Bivacco which I described in my another text. So this is a great place to spend the day at a very high altitude and in solitude. The Bivacco del Piero will offer you a shelter if the weather turns bad, it is always open and a very clean and tidy place. Keep it that way, this is only I would add here.
The other attraction is the Bivacco del Piero, which is on the narrow saddle below the summit, at the altitude of 3166 m. Read about it here.
This is a typical Alpine environment so the water is running around at many places, and if you use some water filter or purifier, you do not have to carry it from the valley. No doubt the water is clean and safe to drink even without a filter, but I have a habit of using a filter on my all tours. This time I had my Pure2Go which is both filter and purifier, an excellent tool which I warmly recommend, this is a totally unique system.
---
My tour 
I set off at 6:20 AM from the car parking and started walking by taking a narrow path that goes directly from the Forni hotel through a nice pine forest. It was quiet after a long night with rain, the peaks around were covered with the fresh snow from the last night although it was mid-August; there is no real summer in the Alps, so be prepared for it, take a look in my text about clothing for the Alps.
I knew I had only a few hours of nice weather so although I enjoyed the perfect views, I did not make any breaks and walked steadily towards the summit. So I passed the Bivacco at 9 AM, and at 9:50 I reached the summit. There was nobody around all the time, so it was a perfect solo tour and I had all the beauty around for me only.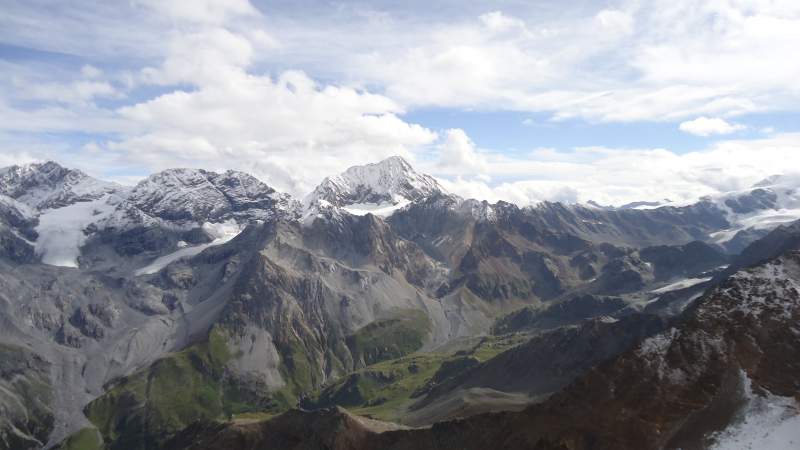 As you realize, it took me 3 and a half hours in total, just to know if you are short in time. If you are in a better shape than me (and I know that many of you are), you can do it faster for sure.
In fact, there was one who did it much faster. When I was on the summit taking photos and having my breakfast, one person arrived almost running up the mountain. So my best regards to Paolo (Paul) from Italy who came there and we stayed on the summit for a few minutes together. I left soon and it was his turn to enjoy the beauty in solitude.
On my way back, the weather changed, there was a snow, hail, and then rain, in the given order. But this did not prevent me from stopping at the refuge and having my morning coffee there. You can see it here.
---
Equipment
Here is my short equipment summary:
---
Final thoughts
As I mentioned in the beginning, I always wanted to climb Monte Confinale, and when I did it, I can say it was totally worth it. But as you probably know, it usually is worth it, this is why mountains are there, to give us those precious moments when we feel so close to Nature and weak at the same time. This is why I go, to remind myself of my own weaknesses and the grandeur of the Mother Nature.
Thank you for reading. Let me know if you have anything to share about this mountain or any other mountain. I have an open invitation for guest authors, you can see it here. There is a comment box below, please use it.
---