---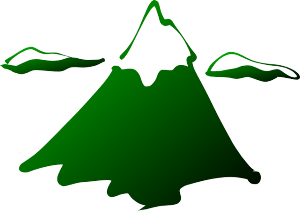 High altitude sickness can happen to anybody regardless of age and physical condition. In this post, I provide some facts and advice on how to deal with it.
In summer 2014, I performed a simple experiment in mountains. I was at a peak a bit above 3000 meters and had an empty plastic juice bottle with me. It was intact, I opened it and then closed firmly. That was all I did.
Later in Belgium (at just a few tens of meters above the sea level), I took the bottle from my rucksack, and it was in the shape which you may see on this picture. 
---
So what happened with the bottle?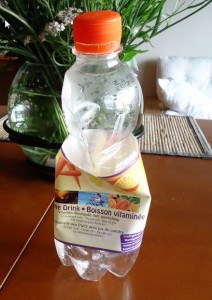 When I closed it at 3000 meters, the pressure from outside was the same as the pressure inside, the bottle was intact. When I went home, nearly at sea level, the outside pressure was by almost 30 percent higher.
So the necessity for the balance of pressures outside and inside caused the shape of the bottle as it is on the picture. The balance was established and the bottle became crushed.
---
Why was this happening?
Do you still remember from school the famous experiment with Magdeburg hemispheres? In short, two empty hemispheres were just put together, the air was pumped out, so there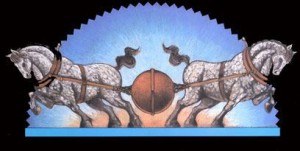 was a vacuum inside and only the atmospheric pressure kept them together. But they were so well-kept that several teams of horses, pulling in opposite direction, were not able to split them away. That is the power of pressure.
Now back to my bottle. The pressure with altitude changes by following the well-known barometric formula. It decreases exponentially. So when I closed the bottle at the mountain top, I fixed its inside pressure. As I was descending, the outside pressure was becoming higher, the body of the bottle could not resist it, and it was becoming more and more crashed, getting its final shape as seen in the picture.
Now imagine that I was going to the Dead Sea shore in Israel, which is 429 meters below the world sea level. The pressure there is around 790  mmHg, which is higher than the average 760 mmHg (this is called 1 atmosphere) at the world sea level. Obviously, the bottle would be far more crashed.
---
This demonstrates the effects of decreased air density with altitude. The air is a mixture of various molecules. The amount of oxygen in the air is about 21 percent, and this relative ratio remains nearly the same with altitude. This is why people have the problem with breathing at higher altitudes, and this may develop in what is known as acute mountain sickness (AMS).
Normally you do not feel this in an airplane because it is artificially pressurized to the level which is roughly similar to conditions on a mountain of around 2000-2500 meters. This is usually good enough because of minimal movement we perform on a board of a plane, but if you would start exercising you would feel the difference immediately.
---
More serious levels of altitude sickness are known as high altitude cerebral edema (HACE), and high-altitude pulmonary edema (HAPE).
HACE is the excess of fluid in the brain, resulting in confusion, laziness, and emotional behavior. It can be fatal. I have read that about 1% of people ascending above 3000 meters get HACE, and it can develop even at around 2100 m, such cases have been reported. In general, the faster you go up, the more likely it is that HACE will happen.
HAPE is a build-up of fluid in the lungs that prevents the air spaces from opening up and filling with fresh air with each breath. This can be fatal within hours. HAPE usually develops after 2 or 3 days at altitudes above 2500 m. People suffering from HAPE are breathless, they cough and this is accompanied by a pink frothy sputum, heart rate is faster, the lips are blue, the temperature is high.
There is no clear formula which would determine at which altitude the sickness happens, or how to avoid it. Typically, in the literature, you may see that symptoms may develop above 2400 meters. I myself have been above 4000 meters and did not have any particular problems except for slight dizziness. However, already above 2000 meters, I can feel some slight difference, as if something is missing when I breathe, and this sometimes accompanied by slight heart arrhythmia.
So in general, the symptoms are totally individual, and they may appear with anybody, regardless if you are a trained sportsman or not. Fitness or gender plays no role at all.
The most common symptoms of AMS are:
Headache
Lack of need to eat
Vomiting
Lethargy
General weakness
Dizziness.
In more serious cases lungs and brain are affected, the sick person cannot walk, the lips are gray, heavy breath.
---
What to do in the case of AMS?
Here one simple sentence only: descending immediately, there is no alternative.
---
How to avoid altitude sickness?
Give your body time to acclimatize and gain altitude slowly if you are on a several-day trek, like climbing Kilimanjaro. It may take weeks to acclimatize if you go really high. The golden rule is well known, climb high and sleep low. It is recommended that above 3000 m you should do no more than 300 m per day, and this in such a way that you rest one day every third day.
But I do not believe many people obey such rules. For typical altitudes in the Alps, you may speak about one week of proper acclimatization.
Here are a few data showing the change of oxygen with altitude:
2000 meters – 80 percents (%)
3000 m – 71 %
4000 m – 63 %
5000 m – 55 %
6000 m – 49 %
7000 – 43 %
8800 -33 %.
Just to put this into a perspective, here are some mountains so you may see how much oxygen you may expect once you climb them: Lagginhorn is 4010 m, Mont Blanc is 4807 m, Kilimanjaro is 5895 m,  Mount McKinley 6,194 m, Aconcagua (6962m), Mount Everest 8.850 m.
Knowing these facts, one can only be astonished by what R. Messner has achieved by climbing all 8000-ers without oxygen. This man has obviously moved boundaries of human capabilities.
---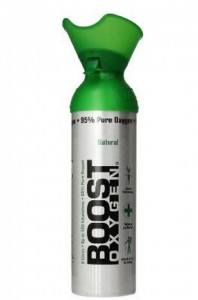 When I was climbing Mount Fuji in Japan, I have seen some elderly people using personal oxygen bottle, like the one on the picture. Obviously, some people need it, and if so it is good to have it in your equipment.
I missed doing an inverse experiment, to close a bottle at low altitude and to carry it closed to the summit of some high mountain. I guess it should explode. This I am going to do soon on Teide, which is here at hand on Tenerife island.
---
I would conclude this review by saying that it is quite normal to feel tired when you are close to 3000 meters in the Alps, every step you make there is heavy. It may also be normal to feel some slight dizziness in such an environment, in my case sometimes this is partly due to the fact that I do night climbing, and I am simply tired.
But if you feel more than these symptoms, then it is best that you descend. The situation can hardly improve if you stay at the same altitude.
I shall be happy to read your comments on this text.