---
This Scarpa Triolet GTX Boots for Men review is about my new boots from this renown brand, waterproof and breathable technical suede and synthetic construction with excellent ankle support for heavy loads and for crampon use.
---
Key features & benefits
Boots for technical mountaineering, via ferrata, and high alpine tours.
Suitable for heavy loads.
Gore-Tex membrane.
Suede & synthetic upper.
Made in Italy.
---
Where to buy
I purchased my boots in a local shop but they are also available on Amazon. They operate globally as you know, so follow the link and check the shipping conditions for your location.
---
What type of boots is this
Recently, I improved my collection of boots. After buying a pair of Lowa Renegade GTX boots for standard hiking and mountaineering, I purchased these Scarpa Triolet GTX Boots, and also a pair of insulated La Sportiva Nepal Extreme boots. So here is a bit about the Scarpa boots.
As you realize from the picture above, this is a hybrid-type with respect to crampons, with welts on the heel but not on the toe, see the picture below. I needed them for my LeverLock type Petzl crampons.
The manufacturer describes them as boots for classic technical mountaineering, via ferrata, alpine hiking, and for heavy loads. I can confirm that this is a very accurate description. These are boots with a rigid bottom and high and stiff collar, suitable for the harshest high-alpine rock tours and for glacier walks. With some thick wool socks, these boots are suitable for any high mountain in the Alps.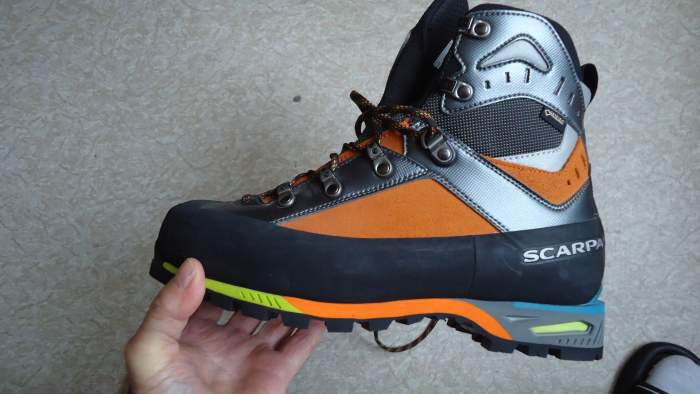 With such soles and collars, you will not feel sharp objects underneath your feet, and ankles are with excellent stability and protection. On the other hand, such rigid soles will work well on ferrata tours. On exposed passages you will not have enough space to put the whole foot on the rock.
So there is a "climbing zone" in the toe area on the sole with a sharp edge (you will see the picture below) which is useful on tiny and very narrow ledges on the rock. This design will allow you to get support and feel stable even if you have just a few centimeters of space to put your foot. I used them on such a tour recently on Monte Canin.

---
Overview of features
Here is an overview of the features going from the top to the bottom.
Ankle support & lacing
The boots are 7.87 inches (20 cm) high from the ground to the top of the collar.
This is the measure of my #42 size. So this is higher than what I have in my Lowa boots, and this is expected from such boots designed for heavy loads. So the feeling of support is excellent.
There are 7 pairs of eyelets, and the two on the top are hooks. The lower part of the system with 4 eyelets and loops is standard but the fifth pair of loops are lace-locking. So when you pull and tighten laces, you will hear clicks and this means that the laces are locked. You can see in the picture below how it looks when the lace is locked.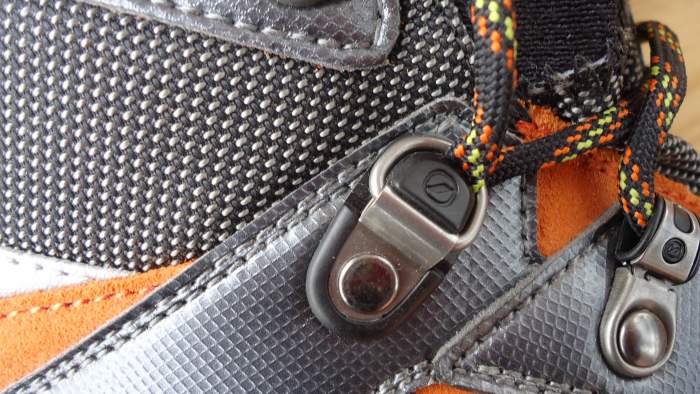 This feature allows for different tightening in the lower and upper lacing area and no doubt it is there for good reasons. When you continue tightening the lace after this locking point, as soon as you pull the lace, the lock closes. So the tension is preserved in the lower section of the lace, and then you can continue progressively with the remaining two hooks on the top.
With this you do not have to make the usual double overhand knot in the middle when you want to achieve the mentioned tension difference. Besides, the trick with the double overhand does not work as well as this system here. I did not have this in my previous Meindl boots. This appears to be a standard feature in many boots now, have it also in the mentioned La Sportiva boots.
The upper & lining
Here you have a combination of suede leather and synthetic overlays. The area directly above the sole is protected with a rubber overlay, and a bit more of it is on the toe section, see the picture below. Suede is the orange area that you see in the picture.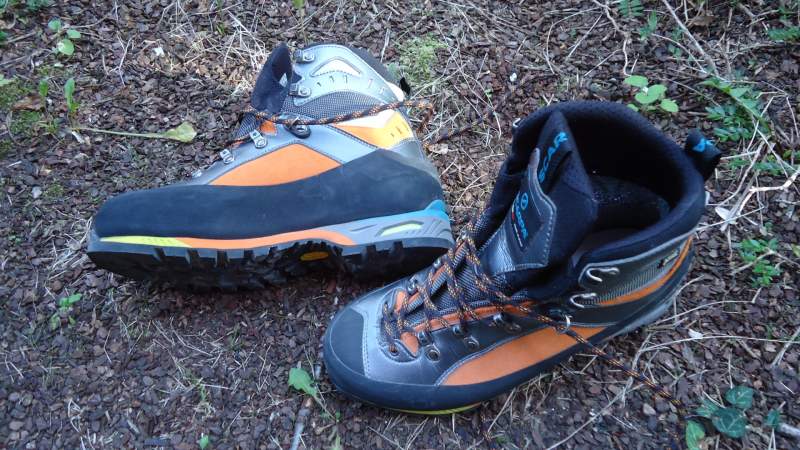 Inside, there should be a waterproof GORE-TEX membrane, it must be behind the inner lining and padding. As you can imagine there is no way to know. But I did submerge them in the water when I bought them, and it appears that there is such a membrane after all.
The sole & inner sole
The insole is Pro-Fiber XT 20 ergonomic insole where they use polypropylene and fiberglass with differentiated thicknesses and rigidities, and with upper EVA coating. Apparently, this provides good anti-torsional efficiency. Whatever they use, the bottom is almost completely rigid, though not as rigid as in my La Sportiva insulated mountaineering boots.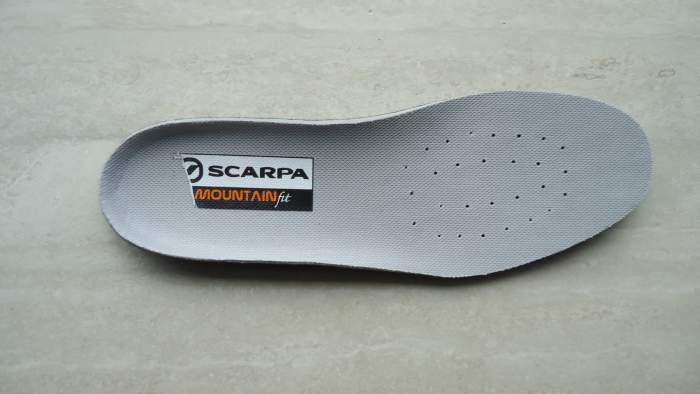 I can say that the boots fit like a glove when you put them on for the first time. But make no mistake, these are hard boots and they do need lots of break-in walk.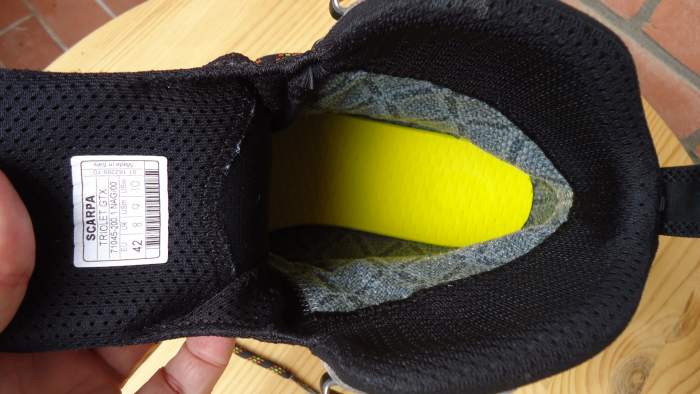 The bottom is Vibram Mont rubber compound which ensures stability and durability, see the picture below. The lugs are around 6 mm deep according to my own measurement. Observe the previously mentioned wide areas with sharp edges on the toe zone.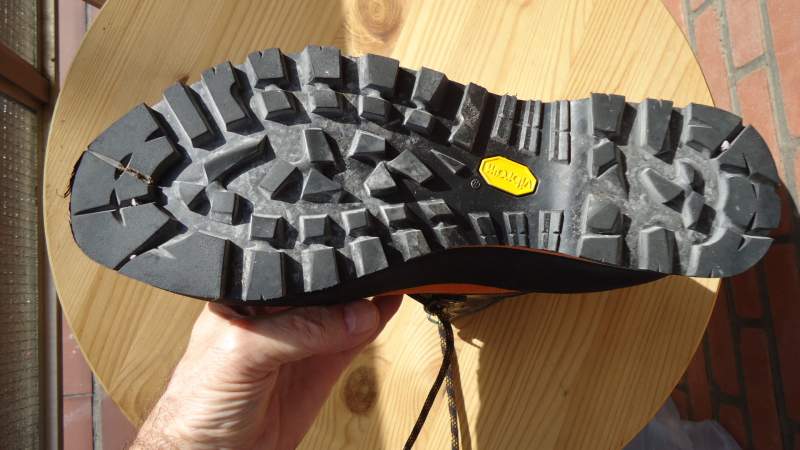 The official weight is 815 grams per boot (for the number 42). I checked this myself because this is the number I have, and I get 829 grams. Note also that they have the version for women as well, you will see them below.
---
So how they feel on feet – my testing
When I bought these boots, I started my usual 6 km walking in the evening, and I did it many times before going to the mountains. The feeling around the feet is great, did not have any issue, the size is exactly what I need.
My main issue in the process of breaking these boots is with collars. They are high and after 30-40 minutes of walk, I would start feeling pain. So I tried to fold the socks back creating two layers in the critical area around the top of the collar. This helped a lot.
After walking around 50 km in total, I took them to the Slovenian Alps. I knew well they needed much more time to break in, so I did not risk. Used them only on my tour to Kanin (2587 m). This was a relatively short tour from the Station C to the summit, some 5 hours in both directions, pure rock and a few ferrata passages. Two days before that I was testing my another much lighter Lowa boots on my tour to Bavski Grintavec.
I would say that such strong and stiff boots are a bit of an overkill for such a tour. But this was on purpose for testing because the tour was relatively short and I wanted to avoid eventual blisters. As expected, the problem was with collars again.
Have not used them in the high Alps yet, and with crampons. But I am going to the mountains soon and these boots will be with me, so I shall add a few lines later. So stay tuned.
How about breathability
I have several new boots, and have been testing them one pair after another, so it was interesting to compare. My feeling is that I have less sweating in these boots than in Lowa boots which are all-leather type and with Gore-Tex.
But there is sweating in any case, this cannot be avoided with such high and heavy boots. I have no objective measure to say how breathable they are. They do not provide such information on their site.
---
Made in Italy
In case you did not know, Scarpa is an Italian brand that has been making such boots in the past 70 years or so. This pair of Scarpa Triolet GTX Boots for Men is made in Italy, and you can see this in the picture below. So this is a great Italian design, and this is not my first Italian boots/shoes. I must say I love the design of these boots.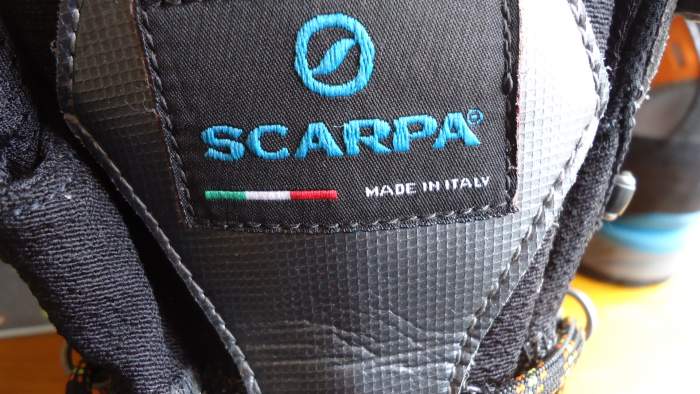 ---
Final thoughts, rating, pros & cons
So this was my Scarpa Triolet GTX Boots for Men review. I am really impressed with these boots, paid a lot but I am convinced this was the right choice. They have been on the market for many years already, and I can see the reasons why this is so.
As mentioned above, I shall add a bit more later when I use them with crampons, plan to go to the Austrian Alps soon. In any case, fully recommended. But if you need insulated boots, check the mentioned La Sportiva Nepal Extreme Mountaineering Boots.
The prices are different at different places on the EU and market. In shops like Decathlon, this is where I bought my pair, you might get them for 270 Euros or so, but this changes all the time. On the US market, the price is given here in the links. In any case, this looks steep but this is normal for such a top-notch product. I am sure they will serve me for many years. Please see how I rate these Scarpa Triolet GTX Boots for Men:
Note that I have no business relationship with this brand, and this was not a sponsored or paid text. I purchased these boots myself and for my own use, I am an active mountaineer and need such equipment for places where I go. This is my unbiased review.
Please let me know what you think. Have you used these boots already? There is a comment box below.