---
This La Sportiva Nepal Extreme Mountaineering Boots for Men review is about a pair of impressive boots I purchased recently. These are rigid and insulated leather boots for high Alpine conditions.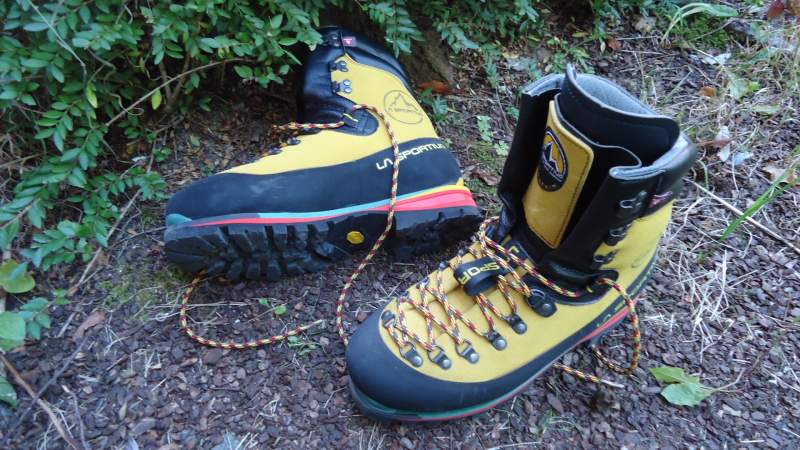 ---
Key features & benefits
Rigid sole.
Insulated.
Extremely durable.
All-leather boots.
For high Alpine conditions.
---
Where to buy
There are many sellers for such top-notch boots. But I noticed that recently they disappeared from Amazon-US where they currently only have Nepal EVO version with Gore-Tex membrane. I shall follow the situation and shall let you know.
But it is available on their Amazon-UK store and also on Amazon-De, as well as on La Sportiva site. It seems that there are two versions on the market, one with a full black rubber overlay around the boot shown in my photo above, and the other which you can see in the picture below.
---
Why I bought them
Initially, my idea was to buy only Scarpa Triolet GTX Boots. So I did my job, read about them and located them in our local shop at a very good price. Went there to buy but…
There were these yellow things on the shelf next to the Scarpa boots, and I became mesmerized with them and could not decide. I knew about them from earlier of course. These boots have been on the market for a long time and I have seen people using them in the Alps, you cannot miss noticing them.
But I did not really know much about them from the technical side. Being so undecided I decided to buy both boots and you can read about the mentioned Scarpa pair if you follow the link given above. This was an investment for me, but both boots were with really great prices and I know that now I have boots for any occasion and for many years.
---
What type of boots is this
These La Sportiva Nepal Extreme boots are an iconic model from the brand that has been around ever since 1928. If you did not know, La Sportiva was started by Narciso Delladio in the Dolomites, Italy. By the way, I was there just a couple of months ago, but not with these boots. The manufacturer describes them as technical boots for high altitude terrain and ice. So indeed all their features are related to this.
These are incredibly strong and rigid boots. In fact, the most rigid I have ever had. I mentioned above that those are my new boots, but they have been on the market for almost a decade or so. This is for all good reasons, they really look indestructible and people were buying them.
The picture above shows the important features related to their welts; you have them on both sides, on the heel, and on the toe. This implies also that you can use them with all types of crampons.
The material & structure
The trademark yellow leather upper is a water-repellent Idro-Perwanger leather. In case you did not know, the Perwanger brand located in Bolzano, Italy, has an incredibly long history. They have been in the leather industry ever since 1780. Yes, you are reading correctly, and I have never heard of a brand with a longer history.
There is no usual sewn-in tongue here. In fact, the whole upper is a single piece and you realize this from the picture: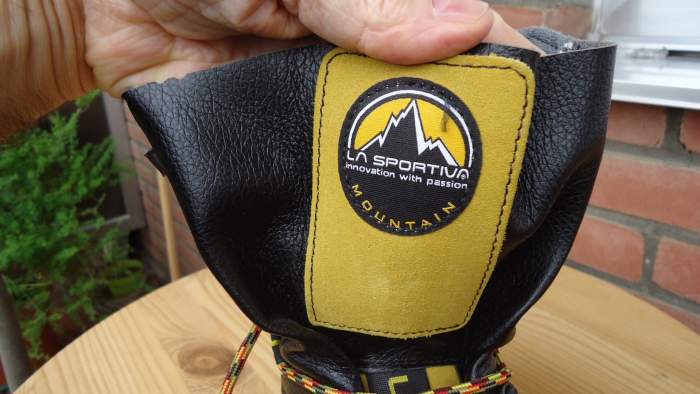 But there is a removable insert that attaches with a Velcro inside of the boot. This is for some extra protection and warmth. They call it EZ FLEX tongue (patent pending) and it is supposed to give a personalized option of adjusting the fit. So far I have not used the boots without it, see the picture: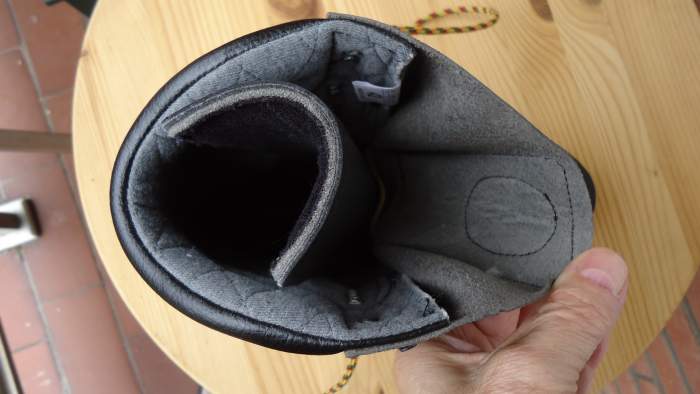 This all makes the collar very supportive but also very stiff. However, I was surprised how comfortable such a rigid and tall collar was after walking in these boots for the first time. In fact, they were more comfortable than my Scarpa boots. I think I realize why this is so and you can see it in the picture below: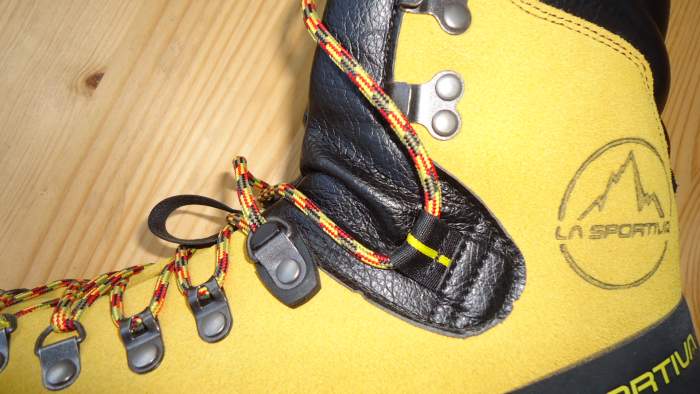 So both collar and the soles are very stiff, but there is this area with the dark leather which allows the boot to break-in easily in this segment only. What you see above is the boot after just a couple of walks in an urban area when I was doing my usual break-in walks.
Lacing system
Yet another feature which you can see in the picture above is the locking system which is on the 6th pair of those lower eyelets. So when you tighten the lace, it will become pressed with the D-shaped ring visible above. This is what they call the EZ OUT pull loop (patent pending).
Then you can lace the upper part as you wish, the tension is preserved in the lower section where it is necessary. The same system is in my Scarpa boots.
So you have 6 lower metal pairs, one webbing pair visible in the picture above, and then another 3 pairs of metal hooks on the collar.
Insulated boots
These are technically what is described as single layer boots. So you do not have a removable inner boot as in some of the heaviest mountaineering boots on the market. But these are insulated boots with a triple Thermal Synergy lining and an underfoot with insulating Ibi-Thermo 9 mm.
There is a pad sewn-in on the top which indicates that this is Prima Loft which is the top-notch synthetic insulation material. This is supposed to give exceptional insulation from the cold, but I have not been in the situation yet to test it in high Alpine conditions.
Some numbers
The weight: They build these boots in sizes 37 – 48. Official weight is 2250 g per pair for the size 42. This is my own size so I am able to check. Surprisingly, after checking the two boots separately, I realize that there is a weight difference, the left one is 1022 and the right one 1037 grams. Assuming that my scale is accurate, this would give 2059 grams.
So I am a bit confused with this, but in any case, these are not lightweight boots, but they are not built to be.
The height: As you can see from the pictures, the boot is with a different height on the front and on the back, so you have 25 and 21 cm from the ground to the top, respectively. The inner height on the back is around 16 cm, so the heel and the inner sole are around 5 cm thick.
The lugs are some 6-7 mm deep, see the picture below, and the heel is quite high and prominent and it should work great on descent. The sole is a Vibram Impact Brake System and it is suitable for step-in crampons. There is a wide protective rubber rand that goes around and it protects the leather from abrasion and it keeps the lower area of the boot snow-free.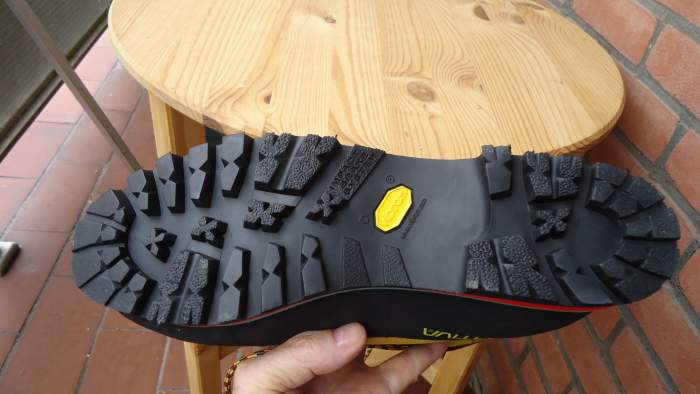 Waterproof or not
La Sportiva Nepal Extreme boots are without a Gore-Tex, so the leather is supposed to be waterproof itself. I did my usual submerge test, kept them in water for up to 5 minutes, and did not notice any leak, see the picture. So far I only walked in them in rain and no issues with water. Shall add a few lines later if needed, after I use them on glaciers.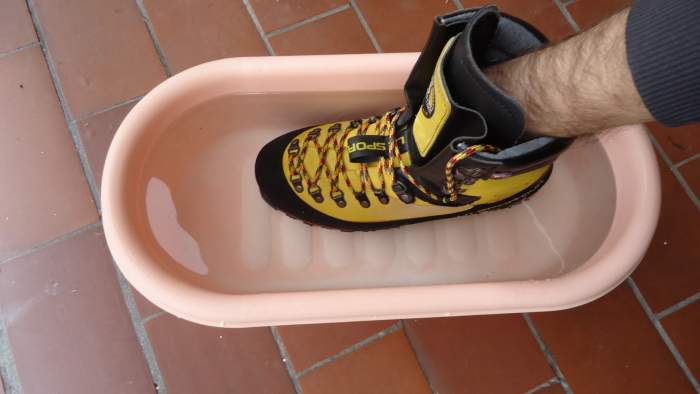 ---
Final thoughts, rating, pros & cons
So this was my preliminary La Sportiva Nepal Extreme Mountaineering Boots for Men review. I have been in the mountains after buying them but did not have a chance to test them in a proper environment. Those were relatively lower mountains, and I was busy with my other two new pairs Lowa Renegade and Scarpa Triolet.
Not sure if I shall a chance to get to the mountains again in this season, but in any case, there will be at least some addition to this text later, so you might want to bookmark it and check.
For now, all I can say is that I am impressed. These are excellent technical boots for cold weather mountaineering, ice, and snow. They are deep and offer fantastic support, and they are rigid but surprisingly comfortable for such a design. Fully recommended.
This is an addition a few months later: Recently, I was indeed on glaciers with these boots, you can see them in one picture in my text about Punta Degli Spiriti (Geisterspitze) in the Italian Alps. I was really happy with my boots, no more no less.
Please see how I rate these extraordinary boots:
BEST PLACEs TO BUY
This is not a sponsored text, and I am not paid by the brand. I purchased these boots myself and I am writing this review as a pleasure. Thank you for reading. Please use the comment box below in the case of questions or comments.