---
I needed new boots and this Lowa Renegade GTX Mid Hiking Boots for Men review is about my new pair. They are comfortable out of the box, a bit surprising for all-leather boots.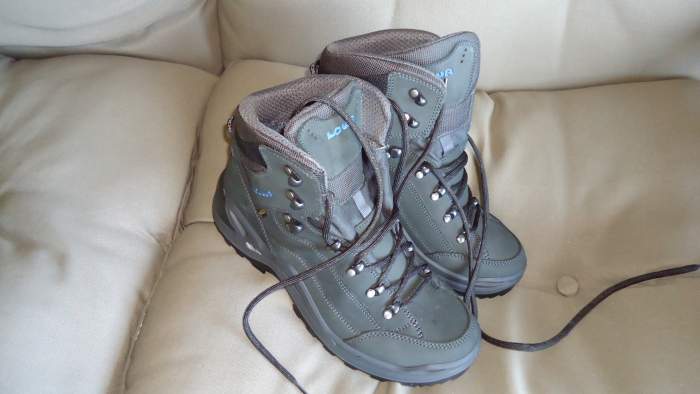 ---
Key features & benefits
All-leather.
Gore-Tex membrane.
Three options – medium, wide, & narrow width.
Great ankle support.
Supportive sole.
---
So what this is about
These Lowa Renegade GTX Mid Hiking Boots for men have been on the market for many years, at least 6 years as far as I know. They build them for women as well. This is an awarded design and for all good reasons.
These are all-leather boots, so you have nubuck leather everywhere, only some narrow sections in the tongue area are synthetic. They have a Gore-Tex membrane inside, somewhere behind the inner lining I guess. Only after buying them, I realized that these boots are made in Europe, and this is a respected German brand which has been around since 1923. Perhaps some of you might want to know this, here is what I found in the box: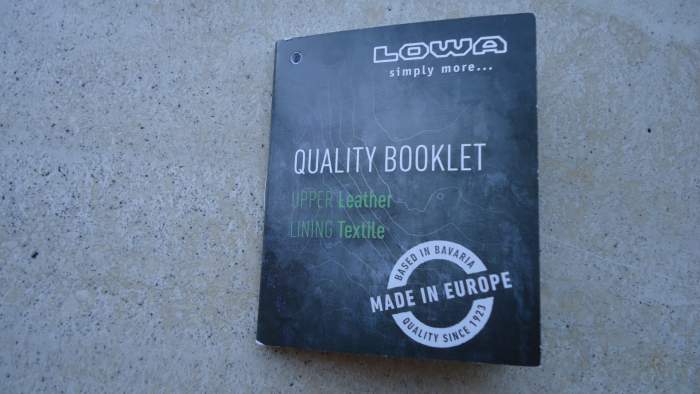 ---
Some technical details – what I like most
These boots are clearly multi-purpose type. They are very light for all-leader type, and what I instantly noticed was the pleasant stiffness of their sole. I was trying many of them in the shops around, and this right amount of sole rigidity was one of the reasons for buying them.
For example, I was trying them side by side with Timberland Men Chocorua Trail Gore-Tex mid hiking boots which are excellent boots and much softer. But there is a big difference in the sole which is much more flexible in the Timberland boots, and this makes them less suitable for rock tours in the mountains.
But these Lowa boots do not look like heavy mountaineering boots, you should see my Scarpa Triolet or La Sportiva Nepal Extreme boots and compare. So when you put your pants over the collar, you can walk in them in an urban environment and you will not look strange to anybody. This is what I did with my initial testing, and I think this did not look strange to anybody.
The upper body is all leader with some overlays, and a synthetic padding on the back of the collar. The weight is officially 2.5 lb (1.13 kg) for the size 9 for pair. I did not have a very precise scale at hand, but the one I had in the kitchen was showing me 1.2 kg for the size 9.5, and this seems pretty close.

Measured from the bottom to the highest point on the collar, my pair is 18.5 cm (7.3 inches) tall. So this seems similar to what you have on Amazon where they give the height from the arch. I wish to stress that the collar gives very good ankle support, and this is good enough for most of the normal hiking routes in the Alps where I normally go. But I have several pairs of much stronger mountaineering tours, you will see some in my other texts.
The lacing system is what is normally described as an Alpine lacing system, so you have 7 metal pairs of eyelets; the three top pairs are hooks. More about hiking boots lacing in general you can read in my separate text.
The midsole is what Lowa describes as MonoWrap Support Frame which is there for torsional stability and rigidity. The frame wraps the boot all the way around and you can see it from outside, see the picture: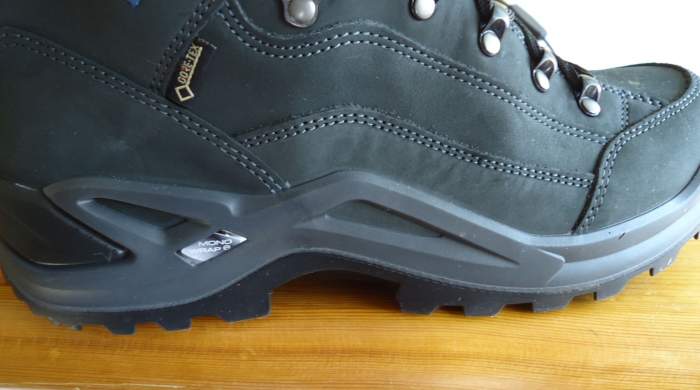 Inside you have an inner underfoot stabilizer in the midsole which is what they describe as Double Injection DuraPU. Do not ask me what this all means, but I can tell you that this together with the mentioned MonoWrap frame is the best part of these boots. This makes them different from many other boots of this type which I was trying. If you ever try them, you will know what I am talking about. When you walk, it gives just the right amount of rigidity and you feel that your feet are well protected from below.
The outsole is VIBRAM EVO with deep multidirectional lugs and a moderate size heel, see the picture. These lugs are around 4 mm deep.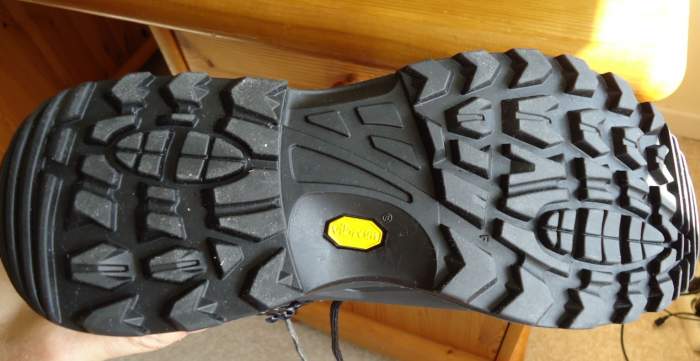 ---
My testing
The first thing to do when I came home from the shop was to test them in the bathroom. Here is what I did: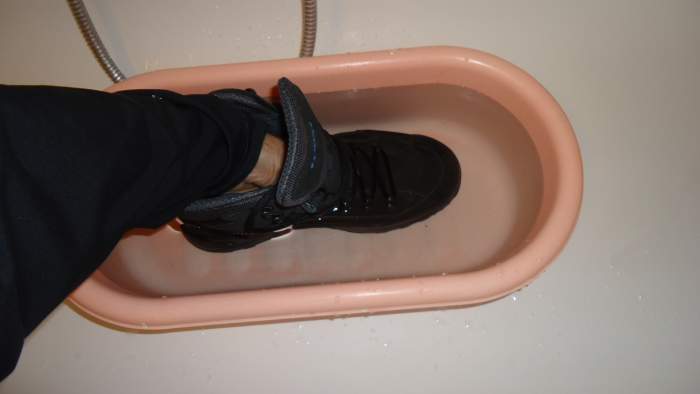 So I submerged them up to the 4th pair of those metal eyelets and kept 4-5 minutes and there was no water inside. Equally important, the leader was dry after that. Clearly, impregnation works and the same holds for the Gore-Tex membrane. I was happy with this.
Next test – walking
It was time for a walk. So this is what I was doing for a few evenings, to get some feeling about the boots. What I realized was that they really did not need any break-in time. You know the phrase 'out-of-the-box comfort', so this is what you have here. This was my experience, but do not rely on it, try and test your boots to avoid blisters and unpleasant surprises, there is no way to predict such things.
I used them with very thin socks first, and this was on purpose. In view of their all-leather structure, I was expecting to see some pressure spots if not blisters. After one hour walk, there was nothing. So I was totally happy.
I repeated this with normal thick hiking socks which I use together with thin short socks, and it was even better. Having a thin layer which sticks to the feet is good because of the following. There is always friction between the thick socks and the feet.
But when you add thin socks, they will move with the feet as they expand or move in the boot when you walk. This means that friction will be between this thin layer and the thicker sock. This is one way to prevent blisters and irritation of the skin.
Next test – mountains
I was then in the Slovenian Alps, used my old Meindl boots for climbing Razor because I expected a very rough terrain and did not want to take a risk.
After that I climbed Bavski Grintavec, and then Monte Canin. So the Bavski Grintavec climb was a whole day long tour with more than 1800 meters elevation difference. But this is not a particularly rough terrain, most of it is through the woods, and only the last quarter or so is a pure rock.
So I was expecting that such light Lowa boots will be good enough. It was a warm day and you can read more if you follow the link above. In the evening I was back without blisters.
Addition – 5 months later
I was using these Lowa Renegade GTX Boots in my recent tours on El Teide. So I climbed the mountain twice within one week, and those were my 7th and 8th climbs of El Teide.
This is a long walk with almost 1500 meters of elevation difference in the harshest volcanic environment, see the picture. I must say I am impressed with the boots. There were no blisters or pressure spots anywhere on the feet, the sole was rigid enough for the lava rocks, and ankle support was just perfect.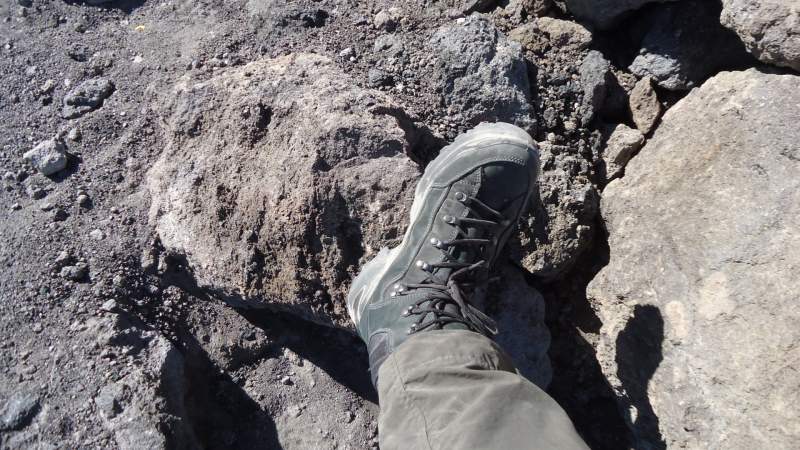 You might want to see what the manufacturer has to say about these boots:
---
How to condition and waterproof the leather
My boots are still new and I did not need to do anything yet. But from what I have gathered it is best to use silicone because vax will change the color. I contacted the manufacturer as well and here are instructions from them:
The boots come pre-treated with their WaterStop Pro and Active Crème. This is supposed to last 6 months.
They recommend using LOWA Boots branded maintenance products as they are chemically proper and will not damage or hurt the boots. This is about silicon-based maintenance.
They do not recommend using animal, petroleum or wax-based products. I am stressing this after seeing some video where somebody was using vax and the color was changed as well as the structure of the leather. This is because such products hinder the breathability and durability of the boots.
Before applying any product to the boots, they suggest washing them thoroughly with warm, soapy water. I must say I was surprised when I read this. This is all leather, so imagine. After that allow to air-dry slowly. This will prevent any shrinkage of the leather. They write to stuff inside some dry newspaper to aid in maintaining the structure and shape of the boot while allowing them to partially dry.
Apply products while slightly damp. This is because it will soak into the leather better after a thorough cleaning.
After the WaterStop Pro has partially dried, they recommend applying Lowa Active Cream with a clean dry cloth. Use enough to cover the whole boot and allow ample time to dry. The water repellency will return.
Repeat this method every 6 months or before long hikes, as needed.
If you cannot find their Lowa branded boot care products, they recommend Nikwax. Strangely enough, contrary to the name, apparently their products are water-based, and this means safe for Lowa boots.
I shall see how this all works when the time comes. Have to find the items they recommend.
---
Final thoughts, rating, pros & cons
So this was my Lowa Renegade GTX Mid Hiking Boots for Men review. From my experience so far I can see why these boots are so popular. They have been around for many years already, tried and tested, and they are popular for all good reasons.
These are versatile hiking boots, and I think this word describes them best. You can use them also in your daily life, they are so low profile. The ankle support and the sole are good enough for a moderately heavy pack. I have tested them in the harshest volcanic Tenerife environment. Fully recommended.
On the US market, the price range is incredible, anywhere in the range of $190 – 400 or so, but this changes all the time. There are many sellers, no surprise because these are very popular boots. On the EU market, you can expect some 200 – 220 Euros. I had a discount and got them for 180 Euros.
From what I see on Amazon, customers are pretty happy with these boots and the average rating is very high and this is based on hundreds of reports. But as I said, there are many sellers and many customers, not all are happy. Here is my own rating and follow the links to check for the price updates:
You might want to read also my review of yet another great pair of boots, the Salomon Men's Quest Prime GTX Backpacking Boots built in the same style, and my comparison Lowa vs Salomon hiking boots.
Note that these are not boots for some heavy mountaineering, it would be a pity to destroy them in such a use. I have different boots for high Alpine conditions, check my Scarpa Triolet GTX Boots for Men and La Sportiva Nepal Extreme Mountaineering Boots to see what I mean.
Note that I am not paid by the brand, I purchased these boots myself, and this is not a sponsored text. I love to hear from you, so please use the comment box below and let me know what you think and if you have any questions.