---
Here you have my Lowa vs Salomon hiking boots comparison, being a user of these excellent boots I thought you might want to hear what I have to say about them.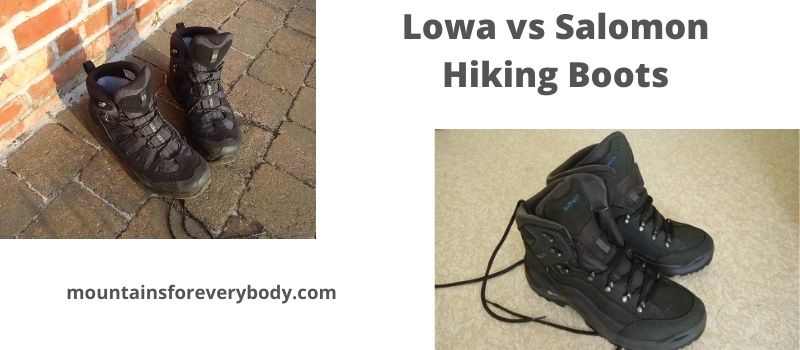 Why this comparison?
From a personal perspective the answer is simple, I own boots of both brands, and from my own first-hand experience I can say these are among the most comfortable boots I have ever had. 
On the other hand, Lowa and Salomon are big brands with tens of different shoes and boots on the market. So you cannot make a general comparison, it would not make much sense. The only way is by taking similar examples from both sides and then compare.
So in this particular text, this is about Lowa Renegade GTX Mid Hiking Boots for Men and Salomon Men's Quest Prime GTX Backpacking Boot. The focus is on boots for men, but they have them for women as well, and the conclusions should be more or less the same. You can read in detail about my experience with them in my Lowa Renegade Boots review and also in my Salomon Boots review. 
Now, why these specific boots? I already mentioned, I use them myself, so I know what they represent. But more importantly, they are in the same class, and this means lightweight hiking and backpacking boots with a very similar ankle support.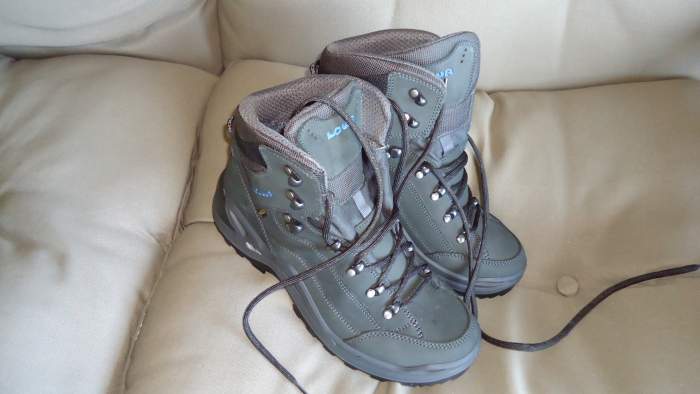 Materials
I would say this is the biggest difference. The Lowa Renegade GTX Mid Hiking Boots are all-leather, and more specifically this means you have nubuck leather everywhere. 
In the case of Salomon Men's Quest Prime GTX Backpacking Boots you have a great combination of synthetic and split suede leather. 
I did not notice any substantial difference regarding breathability, you will sweat in any case. But both models are with a Gore-Tex membrane which seems to work here, who would say.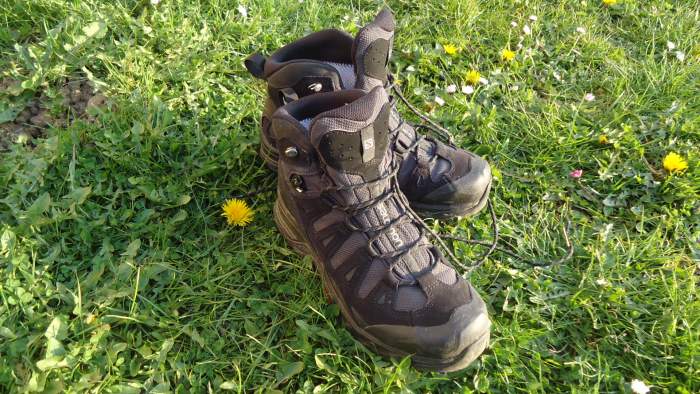 Out of the box comfort, is this real?
I guess you have already seen this phrase in past, so can you rely on it? In the case if these two boots, I can definitely confirm that this is so. Of course, this can be individual, and it is best not to take this as granted because we are all differently built. 
I certainly did not go into the mountains with these boots without testing them at home, I would not recommend anybody to do so. But I have never had any single issue with them, and this applies to the phase of testing during long walks close to home, and later in the mountains as well.
If you follow the links given above, you will be able to read about some particular demanding tours which I did in these boots. They performed excellently.
So who are these boots for?
These are not mountaineering boots, but it turned out that I was using them that way. So, with the Lowa boots, I did a few lighter tours in the Slovenian Alps. Later, I climbed El Teide twice within one week period. If you follow the link, you will see them there. This was a rough volcanic environment and I did manage to damage them a bit. But I can tell you, they worked incredibly well.
With Salomon Boots I was in Slovenian Alps and did quite a number of tours there. It was an early season with lots of snow, so I even used them with some light crampons. No blister ever, and no problems at all.
So, Lowa Renegade vs Salomon Quest Prime – which is better?
I do not think I could say which is better. They are perfect and very similar. Both provide a great ankle support, and they are truly waterproof. I would say that my main problem with Lowa boots was that they were a bit too big for me and a bit too wide. I could not find a half-size smaller pair.
In such situations the feet tend to move a lot inside, and this can cause blisters. But I have never had any. If you are in the same situation, make sure that you fix the feet by making a knot in the middle, so that the heel cannot move forward. 
There is something in Lowa's soles that I like more, hard to describe, but they feel slightly stiffer than the soles of Salomon. 
On the other hand, if I would have to choose, I would say that I like more the design of the Salomon boots. In particular the combination of leather and synthetic looks really cool, and the collar is very comfortable. 
Thank you for reading. Let me know if you have any question or just if you want to say something about these boots, there is a comment boc below.