---
I visited Tenerife again and this was a chance to climb El Teide (3718 m). So I did it twice within one week and those were my fastest ascents of the mountain.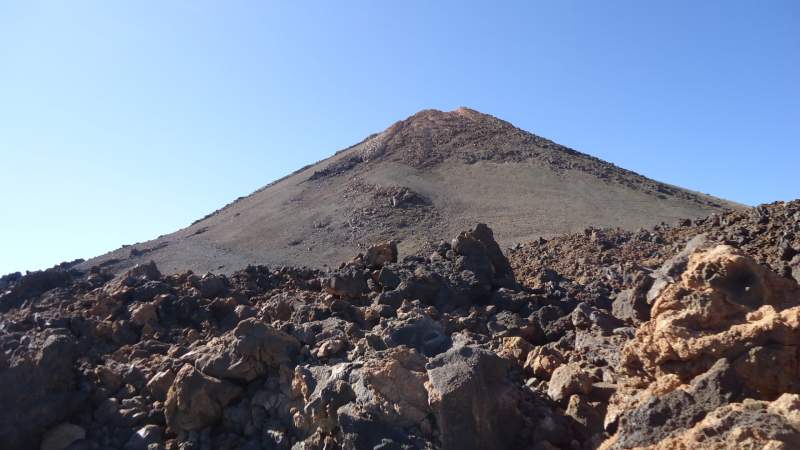 In the past, I have climbed El Teide 6 times. So there is nothing new to show you or to tell you about this great mountain. It is always the same and magnificent, a sort of pilgrimage for me. You can read about one of my previous tours in my separate text and in a few others. You will realize that my typical ascent time to the mountain was in the range of 5-6 hours. But this time it was quite different.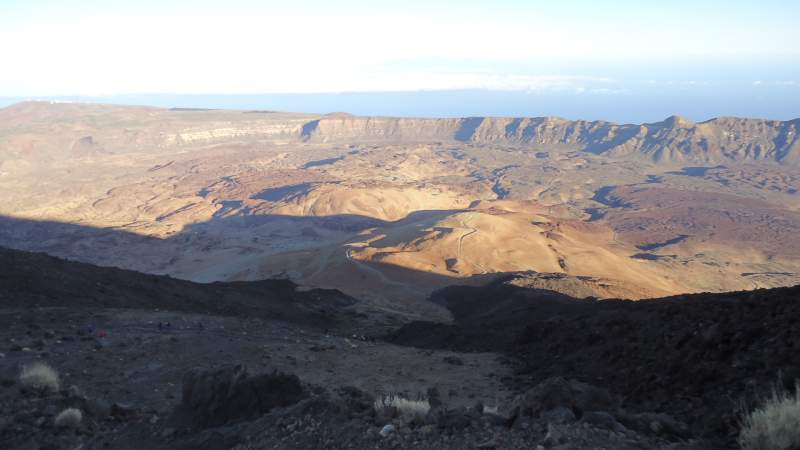 These two latest climbs were my 7th and 8th, and you realized from the title why I am writing about them. But there is some background about this. Both of the climbs were in the afternoon. I did not have a permit, so my plan was to get up when the guards go home with the last gondola which should be around 5 pm.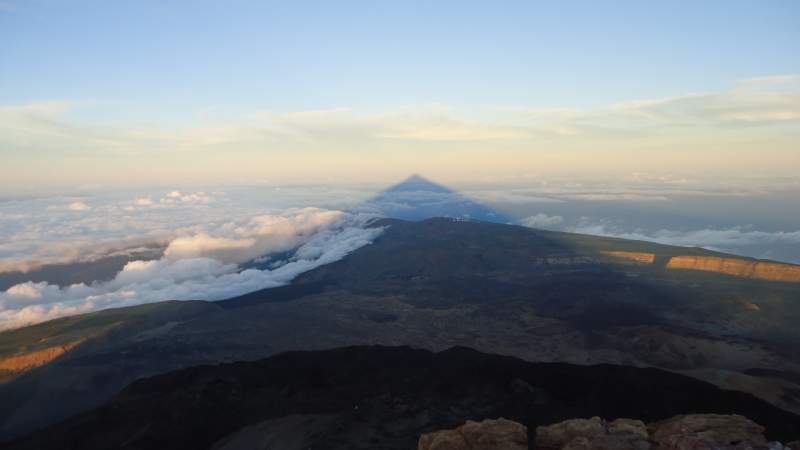 On the first climb, when driving to the start point, I realized that the lift (Teleferico) did not work due to strong wind. This meant that I could pass the checkpoint and continue to the summit whenever I get there, the guards would not be there in any case.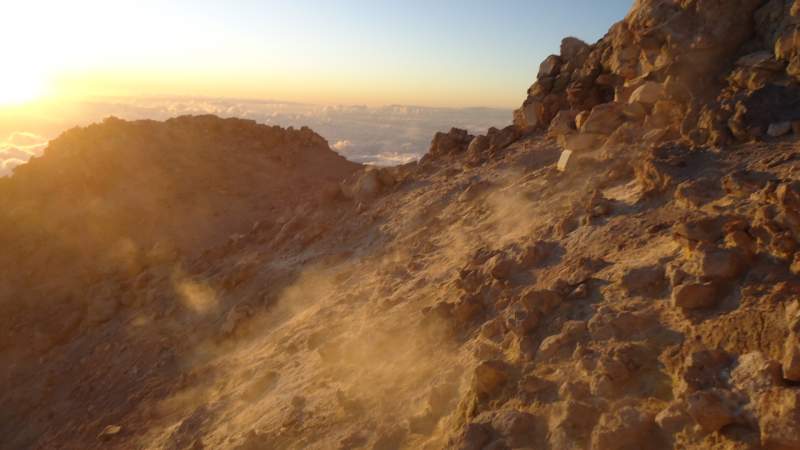 I have been on a specific diet in the past several months. Strictly speaking, I have never been really fat, but it was obvious that my weight was increasing with age. Both were becoming substantial, I mean the weight and the age. Obviously, there was nothing I could do about the latter, but I did something about the former.
So during this diet, I reduced the weight quite a lot. I felt very light but also quite weak due to the loss of some amount of muscle mass as well. This is why I did not try to push hard. Yet, surprisingly, I was on the summit in 3 hours and 40 minutes.
I was really delighted and puzzled, the last time I climbed the mountain 4 years before and I needed much more time although I was very fit. Naturally, I did not become younger in time. So I decided to go again and to test myself. Hence, one week later I was on my way to Teide, the same plan and the same start point, an afternoon climb. I tried to go faster than the previous time and indeed I was on the summit in 3 hours and 15 minutes. Not bad for an old horse like me.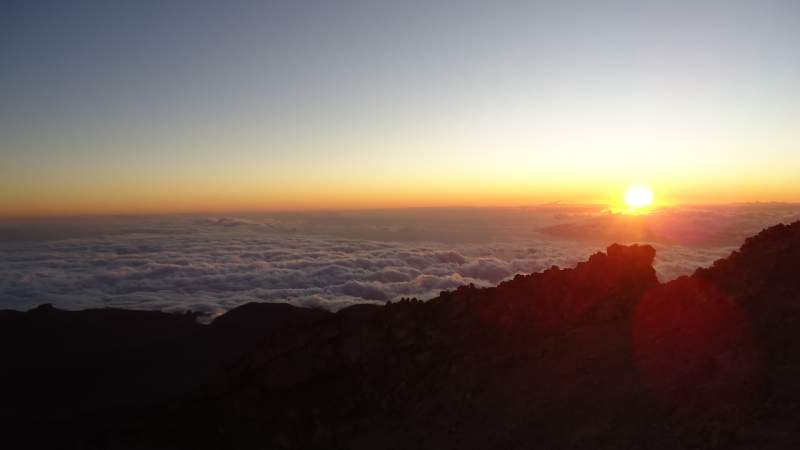 Climbing a mountain is never easy, this is so in particular with such high mountains. But if you are really struggling and ask yourself how it is possible that other people are able to move so fast up, you might want to check your weight.
What I noticed with such a reduced weight was also the fact that I did not need much liquid. In both of these climbs, I needed two liters only. Note, those were long tours, I was descending the same way so this would add a few hours more. The liquid includes one liter of pure orange juice which is my secret ingredient when I am exposed to such hard tests, plus one liter of water.
Yet another thing that puzzles me is that I did not have any altitude sickness effect. This thing is unpredictable of course, but I did have it four years earlier when I climbed the mountain for the 6th time. It was so bad that I hardly managed to get to the summit, although I have never had it in the previous 5 climbs of the mountain before that. I had it a few times also in my more recent tours in the high Alps, you can read more about one in my tour in Otzal Alps.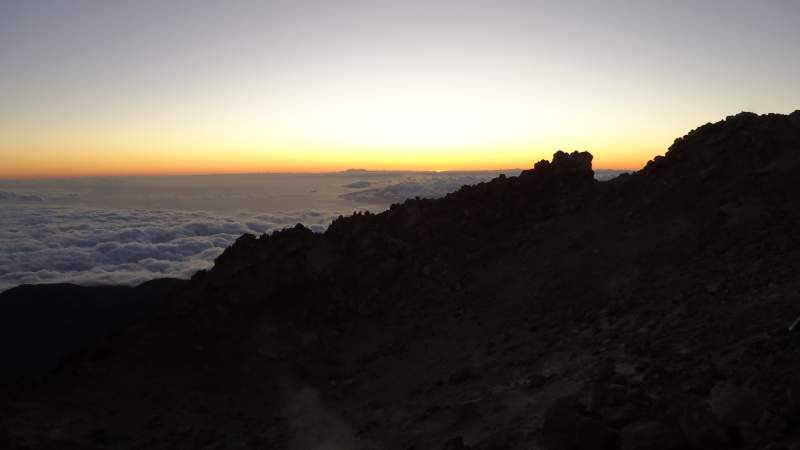 The point of the story (for myself) is this. When I take a weight equivalent to what I have lost in the diet and put it in my backpack and try to walk around, or to go upstairs, I realize how terrible it was earlier when this combined weight was equal to my own body weight. I start asking myself how I have climbed all those mountains in the past. I know now that it is not so hard to reduce weight in a natural way without any artificial stuff and exercises.
Back to the Teide climb story, this was a chance also to put my new Lowa Renegade GTX boots to the harshest possible test. Can tell you, I was pleasantly surprised by their performance, excellent boots indeed. See the picture.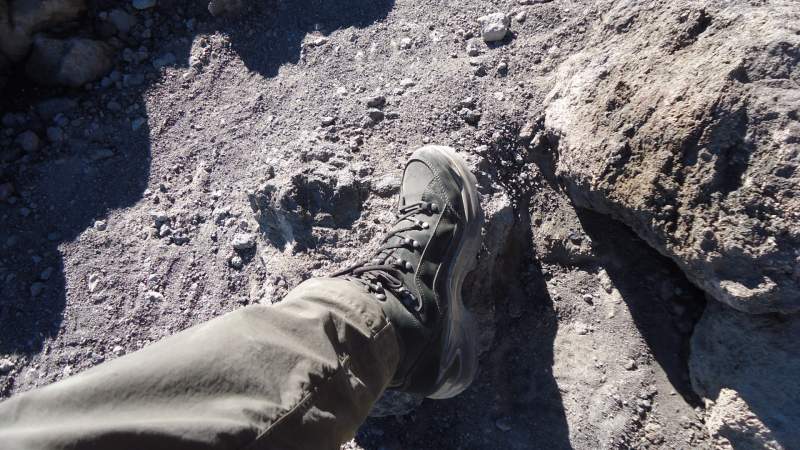 On the first climb, the wind was incredibly strong on the summit, and I was there alone. I did make a few photos but they were not of great quality. It was too early for the sunset and after staying on the summit some 10 minutes or so, I descended the same way.
But during the second climb, the weather was calm, without wind on the summit at all. So I stayed on the summit long on purpose waiting for the sunset. I was alone all the time again, and it was worth it. The picture below is my selfie, and you see the Teide shadow appearing in the distance. Most of the photos here are from that second climb, or to be specific, from my 8th El Teide climb.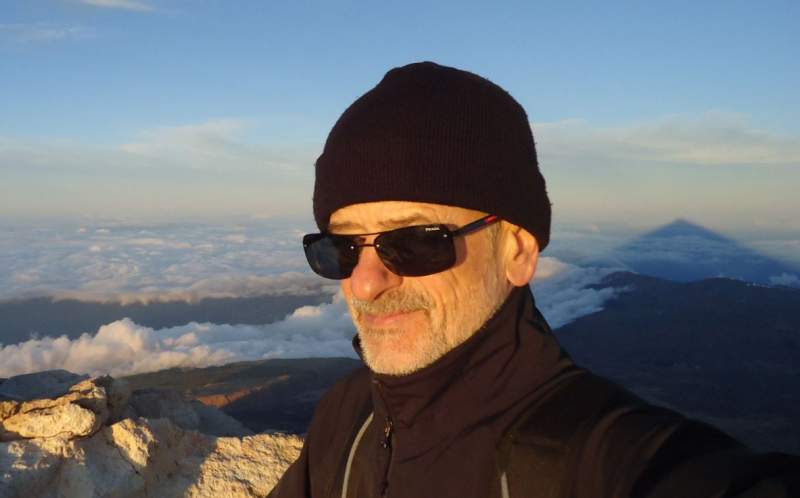 After the sunset, I descended in the dark, but this was not a problem, I had my Black Diamond Cosmo headlamp, and I knew the route well after so many climbs.
If you plan to go there, just to know that we did our accommodation reservation through Booking.com. I have used their services many times in the past and can fully recommend them.
Thank you for reading. Let me know if you have questions or comments, there is a comment box below.