---
If you are in the process of breaking in your new boots or you have any light wound you might want to read about my experience with hydrocolloid bandage for blister, I used the Compeed Blister Care plasters and they helped a lot.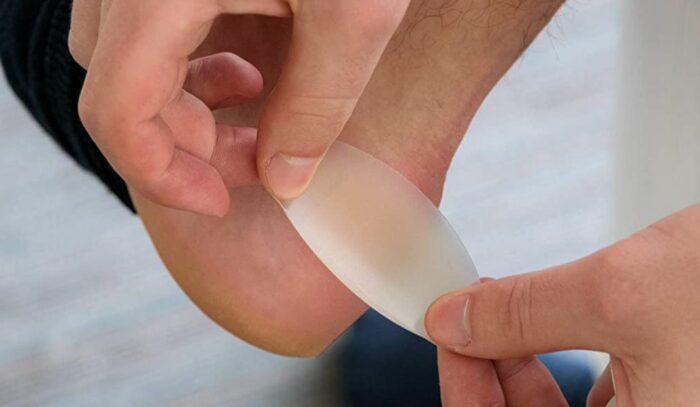 Why I started using hydrocolloid bandages for blisters
This is about my trouble with blisters during recent climbs in the Italian Alps. I was using my new Scarpa Triolet GTX Boots and this was the stage of breaking them in. As you know, in such situations you have to be careful and pay attention to what is happening. When you start feeling some pain, it may already be too late. This was my case. After decades of mountaineering and changing boots, I should have known better.
In any case, this was my tour to Monte Vioz. Somewhere close to the summit I realized I had a problem. But this was a long tour and you can read more if you follow the link. So when I got back to the car parking in the village of Peio and changed the socks and replaced the boots with light shoes, I realized that I had a bad blister on the right heel.
So while driving back down the valley I noticed a pharmacy shop and somehow managed to explain what my problem was, I am not fluent in Italian but I truly love this language. So the pharmacist offered me a package with 5 pieces inside and I had no idea what it was. She said this was the best. It turned out to be the Compeed Advanced Blister Care Cushions. It was a bit expensive, if I remember correctly it was around 11 Euro. The size of each of the plasters in the package is shown in the picture: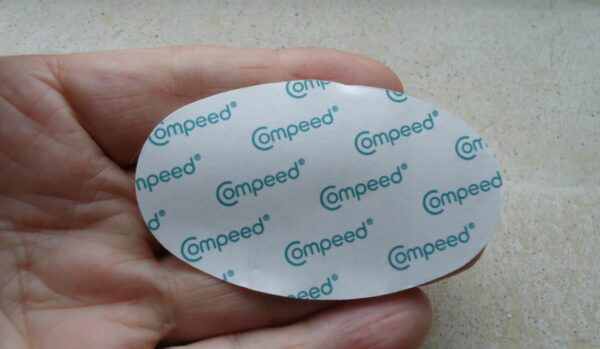 Later in the apartment, I washed the feet and put the plaster on. It was translucent and when it was in place it was almost invisible, and it adhered to the skin incredibly well.
The next morning I was shocked when I realized how it looked, see the picture. So I removed it, and only then I realized that the wound underneath it was completely dry. On the other hand, the plaster was full of wound exudate, but the wet stuff was inside, it absorbed everything. In other words, by removing it, I wasted one plaster without reason.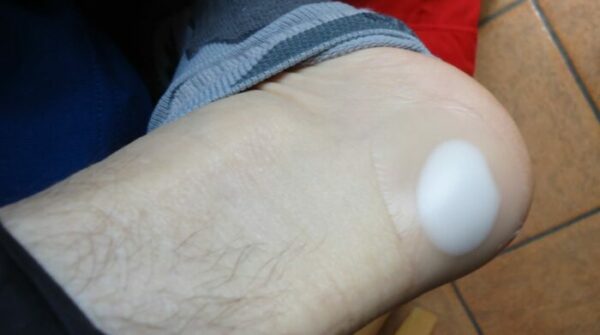 Only after reading a bit about it on Wikipedia, I learned that it absorbs body liquid from the wound and swells forming a gel. So I put another plaster in place and did not touch it for days. I could normally take shower, and all the time it would stay firmly in place. From what I have learned, such hydrocolloid dressing plasters are biodegradable and breathable, this explains why the skin underneath it was completely dry.
Did it really help?
From what I could see, this plaster absorbs the exudate and the gel spreads, as mentioned above, what you see in the picture is the next morning after I put the plaster on the wound. The gell area was spreading even more the day after that because I was doing long walks and even did some climbs. I only removed it when the gell area came to the edge of the plaster, I thought it would not have a place to absorb more body liquid.
The main point is the following: I was able to continue and I did a few long tours in the days after that, read about Cima di Piazzi, this was with the plaster on the heel. So the annoying blister did not ruin my plans at all.
Note that when the gel is formed, you cannot see through it and you will not know what the situation is underneath it. So you can do what I did, remove and check and then use a new one, but no need for this. Just keep it in place, you can continue that way for several days even if you continue with your outdoor activity.
So whoever invented this thing, they did a great job and made a really useful product. This thing works perfectly. Instead of a summary, here are the essential tips:
Note that this Compeed Advanced Blister Plaster and similar products are not built to prevent blisters, so you should not plan it for such a use.
On the other hand, it seems to work best with blisters without a roof, this was my case. When I was back from Monte Vioz in the village, the skin on the blister was already off, it was hanging on a small segment only, so I removed it.
It works best for light wounds that are not very weepy.
Keep it in place for several days, no need to focus on it once you put it in place, trust me on this.
From my experience, the edges never rolled up, they would stay as in the picture above, for days. But if this happens, you might use some blister tape to fix the edges in place.
They write about instant pain relief and this is indeed so.
Here is a bit more, please have a look:
I searched a bit and realized that there were several more brands that make such hydrocolloid blister plasters, you can see some of them here. Thank you for reading, I shall be happy to answer any question you have, there is a comment box below.