---
If you plan climbing Sasso Piatto from Sella Pass by following its normal route, here you have my first-hand report, with all the details you need. So keep reading.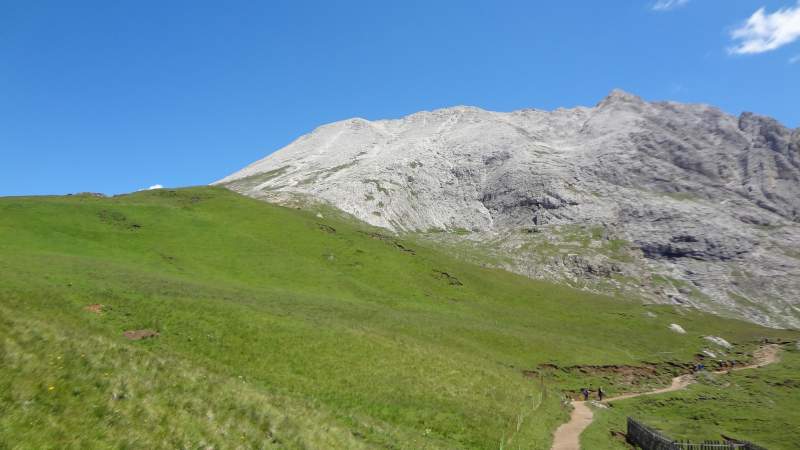 The picture above shows the summit half-way up from the Sasso Piatto hut. The actual slope looks much steeper in reality but this is still a simple walk up.
---
Sasso Piatto basic data
The name: Sasso Piatto, Sassopiatto, Saspiat, Plattkofel.
Elevation: 2958 m (9705 ft).
Location, latitude and longitude: 46.51696° N, 11.71118° E.
Normal route type: walk-up.
The highest car access place: Sella Pass (2218 m, 7277 ft).
Closest place for supplies and accommodation: Canazei.
Map: Val di Fassa e Dolomiti Fassane, 06, Tabacco, 1:25000.
This mountain belongs to the Sassolungo group that includes several peaks, and they create a chain forming a U-shape configuration which you can see in the interactive map below.
There are two main routes to the summit. One of them is via ferrata Shuster that starts on the north-east side of the mountain. So you can climb the mountain by following the ferrata route and then descend following the route that goes towards the Sasso Piatto hut.
Here is a Google interactive map, it is zoomable so you can see lots of details, including the route from the Sella Pass:
---
About normal route
When I was climbing Piz Boe two days earlier, I thought this was the busiest mountain I have ever visited. But after going to Sasso Piatto, I have to change my mind.
It is not about the mountain itself, but it is about the access route, more precisely the lower part or half of it. When you start from Sella Pass, you will follow a path known as Sentiero Friedrich August. It has some ups and downs but it is largely flat. The picture below shows one of its typical sections.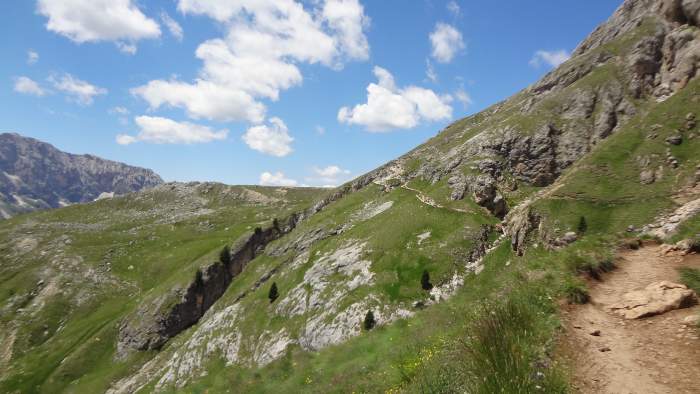 In this relatively flatter part you will pass 5-6 buildings with the word rifugio (hut) in the name. I am not sure if all of them are true huts, some look more like mountain restaurants, and at least one of them is a farm that provides accommodation and food.
So the presence of such an attractive mountain pass that allows for a high access by car, and all these "huts" as great places for day excursions, make the area very popular.
On my way to the mountain there was nobody around, only one Italian passed me when I was on the final summit slope. Then we passed each other a few times and eventually he was before me on the summit. There were two more people in front of us, they clearly started from the hut below. So there were only four of us on the summit for more than half an hour or so.
However, on the way back, the lower part of the route was incredibly crowded, and I would say the number of people was close to four figure.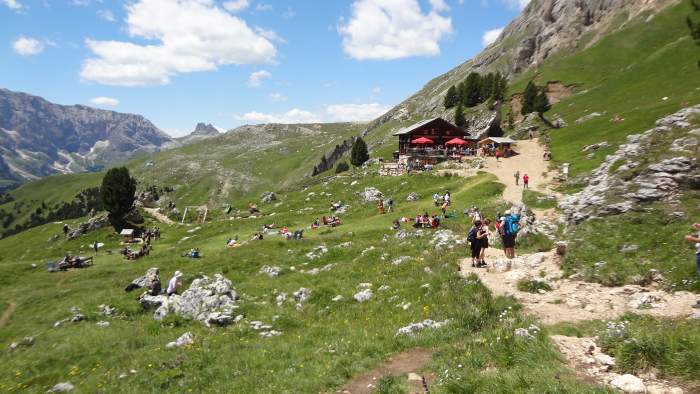 So the point is, on your way back, you will not avoid crowd in this part, but the summit is a different story. If you go early, you will be able to enjoy it in solitude.
Huts
I have already mentioned that there are many places to stay. But the last hut before the summit is probably the only one worth mentioning here. This because it is the best place to stay if you want to get to the summit before sunrise. I am talking about Rifugio Sasso Piatto (2300 m, 7546 ft) shown in the photo below.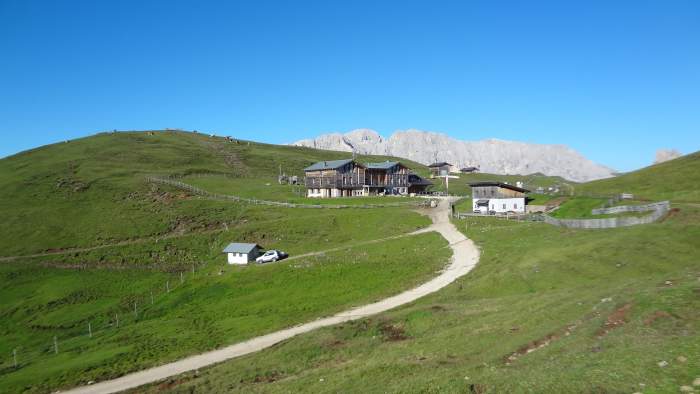 There is also Rifugio Vicenza as the best starting point if you approach this area from the north-west and take the ferrata Shuster as your route. But I have not been there and cannot say more about it.
---
My climb
Initially, I was thinking about the ferrata Oskar Shuster, with the idea to make a round tour. But I did not know the situation about eventual snow on that side of the mountain.
Based on my previous bad experience, I knew that this can ruin the day, and my time was limited. This is why I decided to go clockwise by following the Friedrich August route till the Sasso Piatto hut, and then to get to the summit.
So I was on the Sella Pass at 6:30 AM and parked directly at the pass where I found some free parking space. There is a shortcut from there to the route, no need to walk down to the area around the lift station where the route starts.
There were no people around at all, I have not seen anybody till the Sasso Piatto hut where I arrived at 8 AM. So this is 90 minutes of walk almost without gaining elevation, quite annoying. But the area is beautiful and it was worth it. I had great views of Sella Group with Piz Boè which I climbed two days earlier.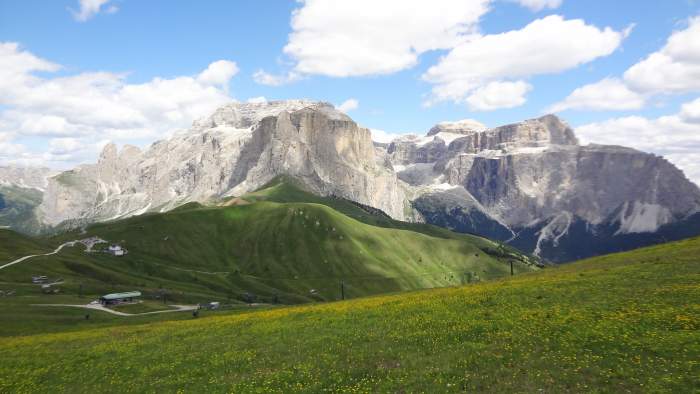 From the hut I just continued to the summit, the route zig-zags but you move generally in the north-east direction. All the time this is just a walk up, with quite a lot of lose rock, see how it looks: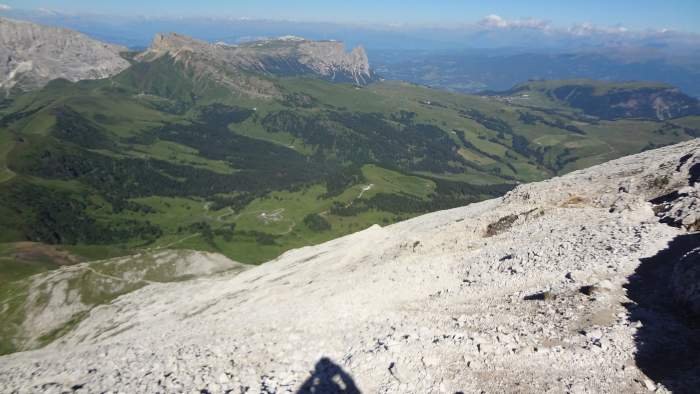 The picture below shows the summit cross as it appeared in front of me, I was there at 9:40 AM. This makes 3 hours and 10 minutes from the Sella Pass.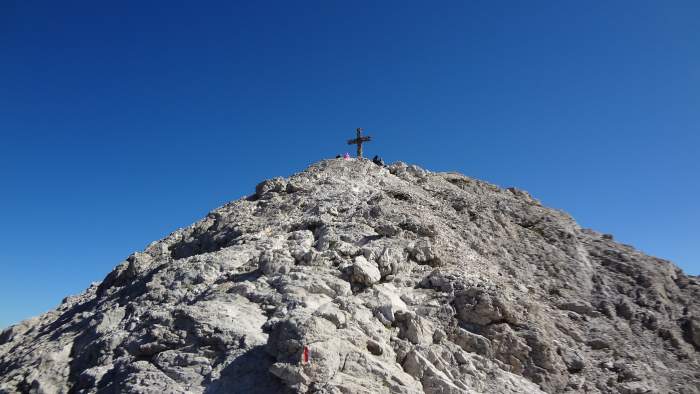 I spent probably one hour on the summit. The day was still young and I did not have any reason to rush. The Italian whom I met on the way up was preparing to go back, so he came to say goodbye and found me preparing my coffee, you can see my tools in the picture: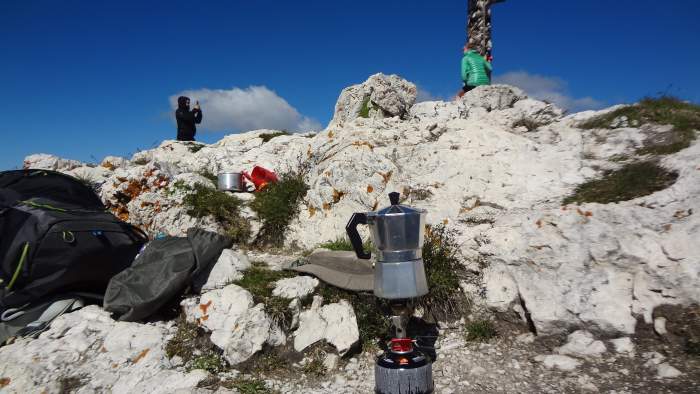 Compared to the other peaks in the group, Sasso Piatto is a really mild peak, at least from the south-west side which I climbed. But see the picture below that shows a part of the group with its vertical cliffs: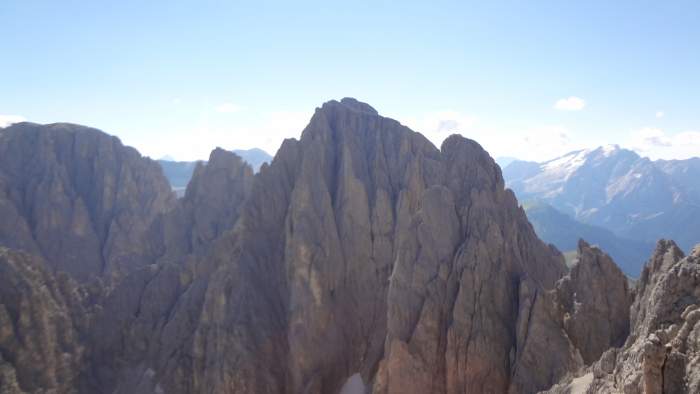 I already mentioned the ferrata route which I did not take, but here is a nice video about it, please have a look. It seems they climbed it later in the season and the route was free of snow.
---
Essential equipment & accommodation
For the normal route described here you do not need any special equipment. I used my Salomon Quest Prime GTX boots, and Osprey Stratos 24 pack.
I was smart enough to forget my glasses in the car, but luckily I had a 19 years old hut which I bought in 2003 while climbing Mt Fuji in Japan. I also used trekking poles, and carried water and food. As mentioned above, you do not have to carry such stuff, you can have everything in the huts.
This is a popular area but there are many options to rent an apartment, you can check at Booking.com. I myself was using the same link to rent a small flat in Arabba.
---
Final thoughts
So this was my report about climbing Sasso Piatto from Sella Pass, this is a simple tour doable by anybody with normal physical conditions, and you do not need any special equipment.
Even if you do not go to the summit, you can still have a great day in this area by making a long walk all the way to the Sasso Piatto hut and back.
You might want to read also my tour of Tofana di Roses which is yet another attractive mountain in Dolomites, and also about climbing Piz La Varella from Capana Alpina.
Thank you for reading, let me know if you have questions or comments, there is a comment box below. Have a nice day.