---
The Sella Pass in Dolomites Italy is one out of four passes around Sella Group mountains in the most beautiful area of the Italian Alps. This is a great area for mountaineers, hikers, bicycle riders, and also for skiing.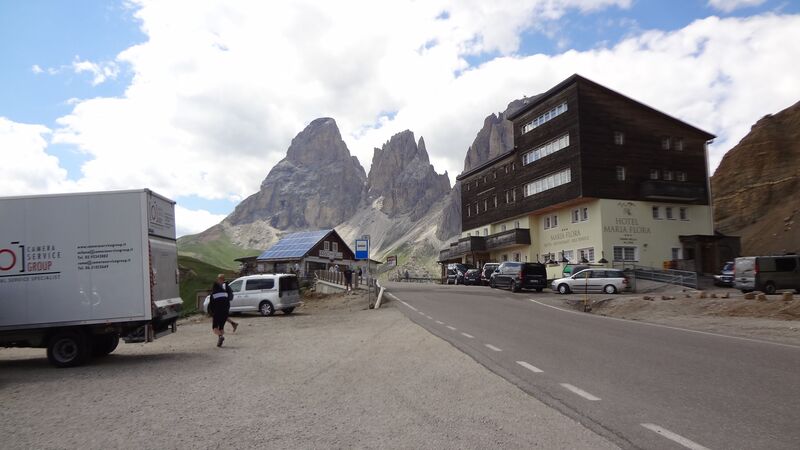 Where is Sella Pass
When I was writing this text I realized that there was yet another place with a similar name, i.e., Sela Pass in India. So make sure you do not mix these two. The Italian Sella Pass is with two letters 'l' in the name.
The Pass coordinates and some other data are summarized below:
Sella Pass (Passo Sella) elevation: 2218 m (7277 ft).
Location: South Tyrol, Trentino, Italy.
Coordinates: 46°30′31″N, 11°45′46″E.
How do I get to Passo Sella?
The Google map below shows its exact location. You can zoom in to see more details and also zoom out to find access roads:
The nearest places are Arabba on the east side, and Canazei on the south side, the roads from these two places join below the pass.
On the north side, there are two roads that join at Plan de Gralba, and from there you have the north access to the pass.
In this video you can see how it looks driving over the Sella Pass:
So Passo Sella is on the west side of the famous Sella Group. This is one the most beautiful mountain group in the Dolomites, and the cliffs are indeed at a stone throw from the pass, see the picture below. It was taken in an early morning when I started my tour to
Sasso Piatto
.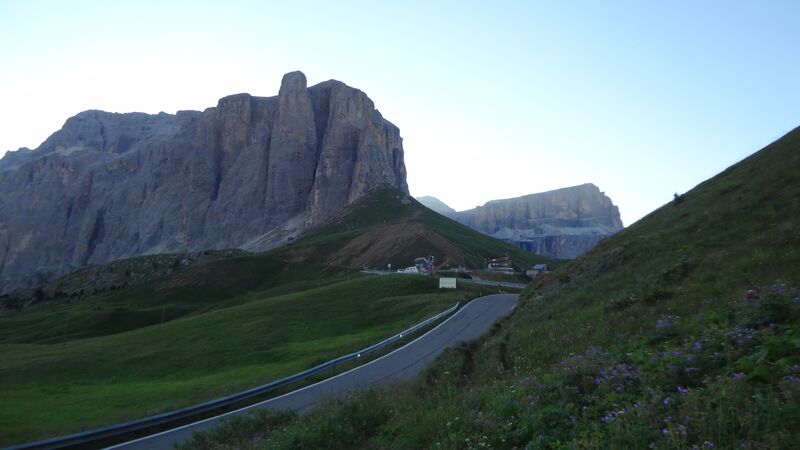 But if you plan to go to Piz Boe in the Sella Group, it is better that you get to the nearby Pordoi Pass. It is very close, the picture below shows how you can see it from the Sella Pass. The Pordoi Pass is the saddle in the distance in the middle of the picture.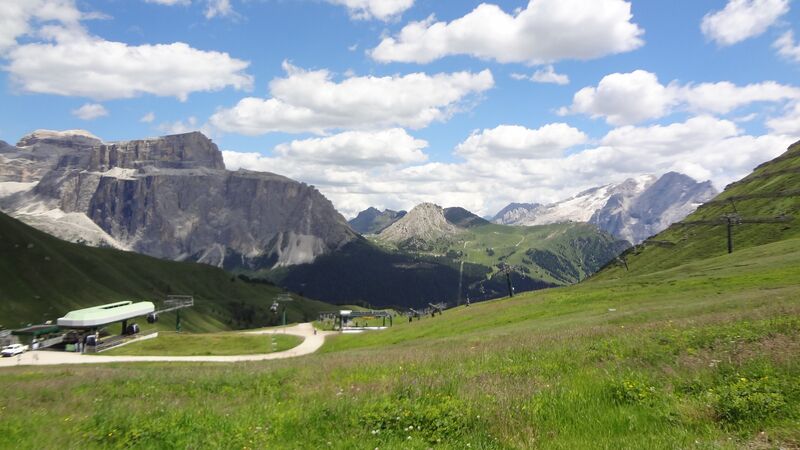 But Sella Pass is on a saddle with Sassolungo group on its west side. These mountains are visible in the top picture given above. The pass is a perfect start point to explore this mountain group and you have endless hiking routes everywhere around.
This is a paradise for off-road bicycle riders as well as for road cyclists. Note that you have several other passes around. These include Gardena Pass, Campolongo Pass, the mentioned Pordoi Pass, and also Fedaia Pass under Marmolada mountain.
What to do at Sella Pass
For me, Sella Pass was a start point for my tour to Sasso Piatto so please follow the link to read more about it.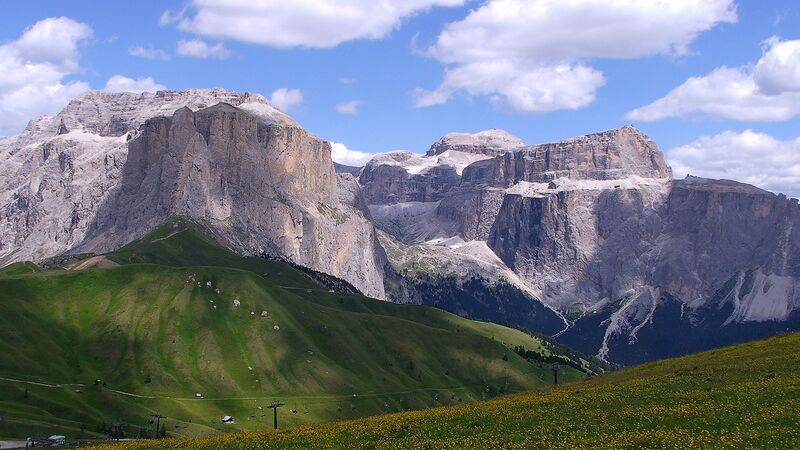 But this is also an area where you can enjoy some ferrata climbing very close to the pass. Here is one video showing the ferrata Forcella Sassolungo:
You can also take a cable car and get to the rifugio Toni Demetz (Forcella Sassolungo) which is at 2685 meters of elevation, check the interactive map given above. See how it looks:
From the hut you have more than 20 climbing routes to explore the massif.
Did you hear about Sassolungo circuit tour? You can start it from the Sella Pass, and here is the map to follow:
Note that you can also walk around the whole massif. This would be much longer than the Circuit shown above, but you have less to climb, the route is flatter.
But also this breathtaking drone video of the pass:
Is Sella Pass open in winter?
Yes, Sella Pass is always open as this is also a very popular area for skiing in winter months.
Accommodation in the area
There are a few hotels on the pass itself. But if you walk a bit along the Friedrich August hiking route, you will see many small hotels and mountain huts.
So this is a very popular area in all seasons, and there are many options for accommodations on and around the Pass, as well as in the deep valleys around.
I would warmly suggest booking reservations through Booking.com, this is a company I use myself whenever I go to the mountains.
---
In summary, the Sella Pass in Dolomites Italy is an attractive area, and I have mentioned just a few options of what to do when you get there. But even getting there is an adventure regardless of how you do this, by a car, by a motorbike, or by a bicycle.
Even if you do not plan any of the activities mentioned above, this is a pleasant grassy area for endless walks around. This is why it is so crowded in summer time. No need to carry food and water, you can get everything there. Fully recommended.
Let me know if you have questions, I have been there and I am familiar with the area, there is a comment box below. Check also my texts about nearby Pordoi Pass and about climbing Piz Boe. Thank you for reading.