---
In this MSR Guardian Purifier review you can read about an impressive new award-winning tool that is able to remove from water everything above the size of 0.02 microns.
No other tool on the market is a match for the Guardian. This is an ideal tool for international travel and for any outdoor activity.
Key benefits – quite a list

It treats 2.5 liters per minute.
The lifetime of the filter is more than 10000 liters; yes you are reading correctly, this is a ton of water.
Self-cleaning system; no clogging, no cleaning and flushing ever.
Removes everything above 0.02 microns, including practically all viruses.
Withstands freezing temperatures.
Durable construction: it survives drop-testing from 6 feet to concrete.
Environmental and financial; no need to buy bottled water ever when you travel.
---
MSR Guardian Purifier – Description
The MSR Guardian Purifier is described as an ultimate tool which can be used to purify water practically anywhere on Earth. This is a completely innovative system that has received a huge number of awards as you can see below: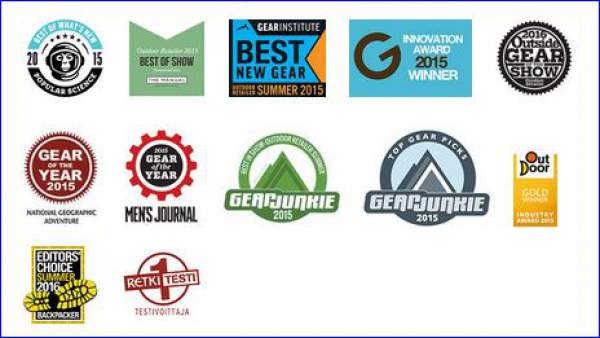 ---
How does MSR Guardian's filter work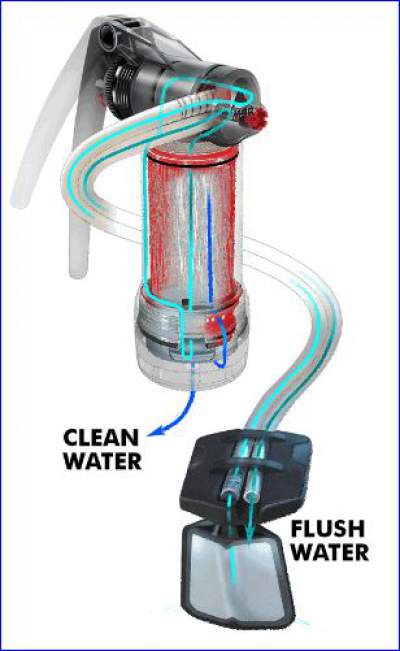 This is a technology developed by MSR on the request of the U.S. military. What you have here is the product of 6 years of research, a medical-grade hollow fiber technology that blocks even viruses. These fibers are US-made, very durable, and they are not damaged even at freezing temperatures.
You have a self-cleaning mechanism here: on each stroke, it uses some 10% of the water to flush contaminants from its filter and further releasing them through a separate water outlet.
You can see this in the picture here, with the two hoses used for taking water in and flush it out.  So you never need to scrub it or to flush it, it is done automatically every time you use it.
In other words, the Guardian purifier never becomes clogged, as you can expect with all other water filters on the market.
The pump comes with a unique pre-filter, which is there to remove larger particulates in the water. You will see it in action in the video below.
You have a rather large handle which allows you to pump around 2.5 liters per minute. The output section is protected by a cap. When you remove it you have a port that fits a Nalgene bottle. So you can attach it to the bottle very easily and without contamination. The other option is to attach your water hose to the element on the bottom and pump directly into your water bladder.
This purifier meets the criteria used in the US military, and it has been tested in the harshest possible conditions:
It was tested even at freezing temperatures.
It was subject to drop-testing on concrete from 6 feet height.
The water used for testing was more contaminated than what you have in a sewage, and they claim that no virus, bacteria, or protozoa have ever passed through, see the video below.
---
Lifetime of the filter cartridge

According to specifications, this tool will purify more than 10000 liters of water for you. So let us see what this means. In practical terms, assuming that
you use 3 liters per day,
you use the tool 90 days per year,
it will serve you for 37 years,
or it will serve 4 people for more than 9 years.
This is pretty impressive regardless of how you look at it. When you realize all this, it is easier to swallow the price tag which you can see in the text. Indeed, you have a tool for your own lifetime.
Filters are sold separately as well, just to know.
---
MSR Guardian in practical situations – used by its designers
See this video from a trip to South America, by people from MSR who actually designed the Guardian purifier:
---
About terminology: is this a purifier or a filter?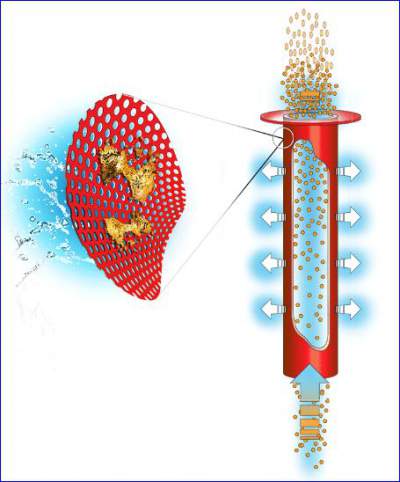 The name of this tool suggests that this is a purifier. When I first saw this I was rather suspicious; it looked to me like yet another filter.
Apparently, it physically removes:
Viruses: like Hepatitis A, Norovirus, and Rotavirus.
Bacteria: like E. coli, Shigella, Salmonella, Cholera.
Protozoa: like Giardia, Cryptosporidium, Amoebae.
Particulates: sediment, silt, dirt.
Note that Hepatitis A virus can survive for months in fresh and salt water, so having a tool which is able to remove it is essential.
♦ I wish to stress that viruses are typically in the size range from 20 to 400 nanometers,  and there are some much larger as well. So in microns, their size is in the range from 0.02 to 0.4 microns. But the smallest virus known so far is the Porcine circovirus type 1 with a diameter of only 0.017 microns.
♦ Protozoa like giardia and cryptosporidium are bigger, the former around 10 microns, and the latter around 4-6 microns.
♦ Bacteria like Escherichia coli are in the range 0.25 – 1 micron diameter. The smallest bacteria are above o.2 microns.
Now, as mentioned above, the pores on the MSR Guardian Purifier are 0.02 microns. So indeed, almost all viruses and all bacteria can be filtered out.

It is therefore fair to say that:
MSR Guardian is both a filter and a purifier.
With possibly only one exception, as mentioned above, you could be sure it will protect you against viruses as well.
However, if you are still skeptical, or should I say reasonable, bear in mind boiling as the proven method for purifying a water. But note that you should be careful with boiling as well; at high altitudes, the boiling point can be well below 100 degrees Celsius (212 degrees F), so boiling may be inefficient as well. Read more about this in my separate text.
---
What the Guardian cannot remove
Yeah, there are things this tool cannot remove, and these include:
Chemicals.
Heavy metals.
Radioactive substances.
---
How to avoid contamination
In this video you can see the same guys from MSR explaining the procedure of using the pump correctly to avoid contamination, please have a look:
---
Pros & Cons
Here is my list:
 Pros
 Cons

Very good quality.
Durable materials.
Reliable.
Self-cleaning.
Lifetime tool.
This is a new tool, introduced in 2016, and the number of reports by customers is still rather limited, but I am sure this purifier is here to stay. I must say, when I first saw it I was skeptical. After putting some numbers and doing some thorough research, I am not any longer.
Yes, it is a bit heavy, but this is below the weight of a half-liter bottle. It does not have ceramic cylinder inside, so the weight of the purifier is the result of the durable materials used in the construction. As for the price, I already pointed out: this is a lifetime tool, definitely worth the investment.
There are very good reasons for all those awards which you have seen above. So far, the Guardian has received excellent reviews at Amazon as well, with 4.8/5 average rate.
---
Specifications
Weight: 1 lbs 1.3 oz (490 g).
Dimensions: 8.2 x 4.7 x 3.5 inches.
Filter: advanced hollow fiber.
Pore size (microns): 0.02.
Housing material: polyurethane.
Pump force: 4 pounds.
Pump strokes per liter: 35.
Capacity: 2.5 liters per minute.
Cartridge life: 10,000+ liters.
Field cleanable and maintainable.
Self-cleaning with each stroke, no need to ever back flush or filter-scrub.
Water bottle adapter.
Withstands heavy use, freezing and extreme environments.
Impact resistant.
Warranty: limited lifetime.
---
How MSR Guardian stands against the competition
From the technical point of view, MSR Guardian is indeed without a match. No other tool on the market can come close to it. See some basic features in the table, to see more please follow the links, they are all described in the site:
It is interesting to compare the Sawyer Mini with the price of $21 and the filter which is with pores that are only 5 times larger than those in the MSR Guardian, which costs 16 times more and it is more than 8 times heavier. So if viruses are not your concern and you plan to deal with them separately, the Sawyer Mini is the best possible alternative choice.
Obviously, all other models (which are in fact the top in this industry) are far below the level of the MSR Guardian.
---
Conclusions
I would summarize this MSR Guardian Purifier review in the following way:
Is MSR Guardian a great tool? Absolutely.
Does it provide a total protection against viruses? Pretty much so.
Does it remove bacteria and protozoa? Definitely so.
Can any other tool on the market match the MSR Guardian? No.
You might want to compare the Guardian with some other tools that come under the name 'purifiers', which work by using UV light. Those mostly do not kill viruses but affect their reproduction capabilities. So indeed you take them alive into your body. With the Guardian this is not the case, those micro-organisms are physically removed.
The Guardian is a great tool for Doomsday Preppers, for emergencies in case of natural disasters, for travel anywhere in the world, and for any outdoor activity. If you need something smaller and less expensive, please see the new 2017 filter from the same brand, the MSR TrailShot.
Thank you for reading. If the text has been useful to you, please share it with others. I wish you a pleasant day.