---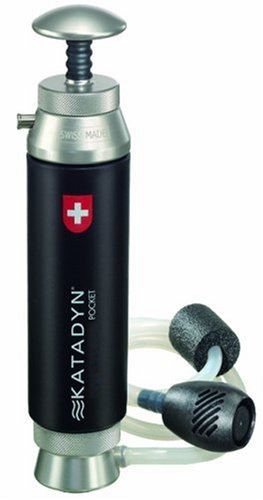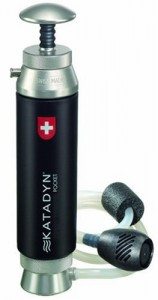 This Katadyn Pocket review is about the most reliable water microfilter on the market. Contrary to what you may see with other plastic models, in the case of Katadyn Pocket water filters all moving parts are made of metal.
So this is a tool designed to last, and indeed it has been used by the military throughout the world.
Buying a Katadyn Pocket is quite an investment. But the best description of this tool which I have seen from a user reads: This thing you can trust. True experts will tell you that this tool is simply beyond comparison with anything else.
This is a field-maintainable, heavy-duty and sturdy construction and you feel it. This seems to be the impression of everybody who has been using this tool.
The upper piston part and the lower valve part are both metal (aluminum), and the central cylinder is a strong PVC.  The PVC is in fact used for the purpose; this is where you hold the tool when you pump the water. It is with a pleasant touch, so you will not feel cold. The piston rod inside the cylinder is steel.
---
The main filter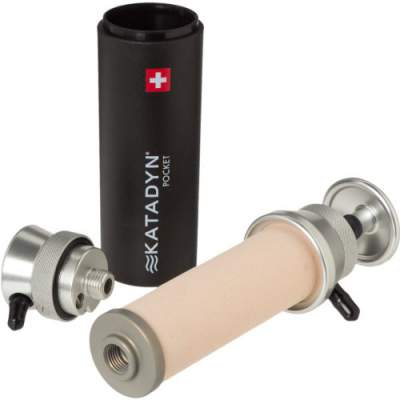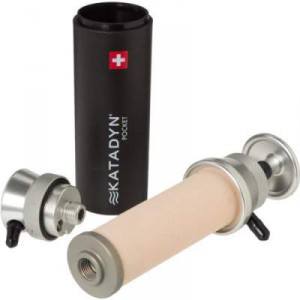 The filter of this tool is a silver-impregnated ceramic. This is done in order to prevent bacteria growth. Some features and advantages of ceramic filters I have mentioned in my previous post about ways to purify water for drinking.
The main filter will keep everything above 0.2 microns (0.0002 mm). Good enough? Most likely so. The majority of those dangerous creatures are of the size 5 microns and bigger.
So it will eliminate many types of bacteria, algae, spores, protozoa,  cysts, even some viruses (some of them are with the diameter over 0.3 microns), and also sediments. This is is thus in agreement with the U.S. EPA standards for filters.
But indeed there are smaller bacteria, mycoplasma type, which are of the size o.3 microns or even smaller. Did you hear about Escherichia coli? A very bad one. This creature is in the range of 0.25 – 1 micron diameter. So can it really be stopped? I am not convinced, going to boil my water. I am joking of course. Well, not completely.
For comparison, human hair diameter is roughly in the range 50-150 microns.
---
About some other parts
The intake hose has an adjustable floater attached on it, and a 130-micron pre-filter which prevents larger impurities from getting into the system.
The output hose has its own plastic package to keep it clean, and it comes with an all-purpose clip to attach it to the bottle when you pump the water. You will distinguish the two hoses by length, the intake hose is far longer, about 3 feet long in total.
You will notice that both inlet and output barbs, where you attach hoses, are metal as well. So here definitely you will not have problems reported with some other Katadyn water filters.
The kit comes with a measuring device (the filter gauge), to show you when your filter has run out. Normally you will use a scrubby pad to clean it, and this is how it wears off in time.
But no worry, this is not going to happen anytime soon: you will be able to pump some 50 thousand liters of water through this tool before the cylinder ceramic filter runs out.
Let us do some maths: if you use 2 liters of water per day, this water filter will serve you another 68 years. Convincing enough for me.
---
About Katadyn
Katadyn is a Swiss brand with a very long history, established in 1928. So with this tool, you buy decades of experience with products of this type.
See how this filter works:
---
Technical specifications & summary of features
Weight: 550 g.
Size: 24 x 6 cm.
Filter type: 0.2-micron ceramic.
Output: 1 L/min.
Filter life: 13000 gallons (50000 liters).
Removes: giardia, cryptosporidium, bacteria, algae, sediments, particles, taste.
Effective in dirty and cold water.
20 years guaranty for the filter steel bomb.
Completely field maintainable.
The kit includes a ceramic filter, prefilter, bottle adapter, a very nice carry bag, a silicon lubricant, a scrubby pad to clean the filter.
---
User experience with the Katadyn Pocket water filter is exceptionally good. So I am not going to write about the pros, they are obvious.
Cons:
See the price.
It is rather heavy, but there are good and justified reasons for this.
I do not know how it behaves at subzero temperatures. Obviously, if it is left wet, the ceramic may crack.
The output hose is a bit too short in my view.
---
Summary
To conclude this Katadyn Pocket review, this tool is made of the best possible materials and with the highest quality standards. This is the longest-lasting tool of this kind on the market. For the price update, please follow the Amazon links.
Please check under the category Water Filters if you need more options.
Thank you for reading, I hope to have some comment from you in the comment box below.