---
I received Diercon Tactical Water Micro Filter TW01 in the beginning of January 2017, and I liked it immediately. It was a wow moment for me.  When you see these images you might feel the same.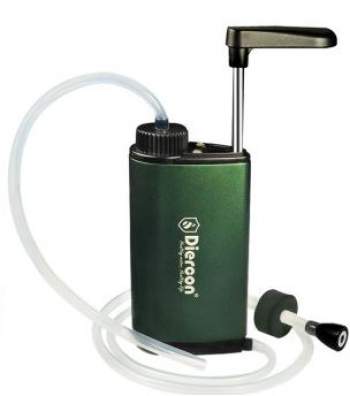 What you perhaps cannot realize from the photos is how solid it feels, this is an all-metal construction, see more about this below. But not everything is in the design and shape. I have serious issues with this tool, so keep reading.
---
Some facts about the Diercon Tactical filter

It looks very durable and sturdy tool, with an aluminum shell and a steel piston rod.
There is a three-stages filtration system.
They claim that it comes with incredibly small pores of 0.01 microns. This size is smaller than the smallest of viruses.
---
Where to buy – if you wish to buy

Diercon Tactical Water Micro Filter is currently available at Amazon, please follow the link to check for the latest price. At the moment of writing this text, the price was $57.87.
---
My first impressions

Sturdy and robust, these are the first words that come to mind when you get this filter in your hands. It definitely does not look cheap and the design is simply excellent, with an ergonomic handle and a water-drop-shape cross section. Everybody in my family liked its design and structure.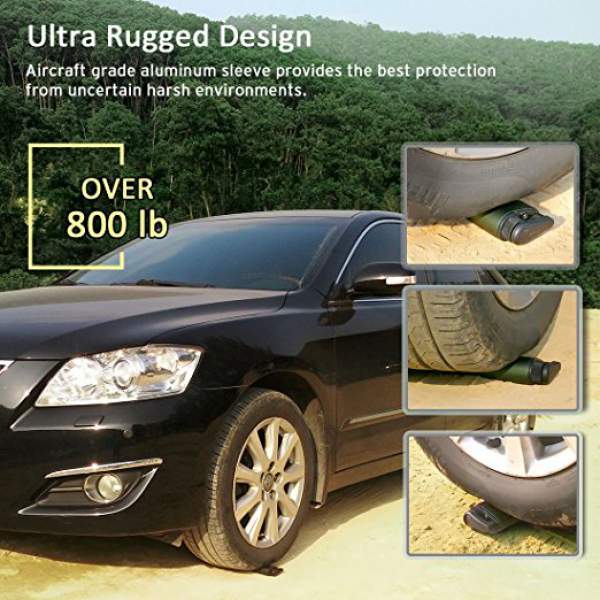 ---
What is in the box
The photo below is the first one I took when the filter arrived, so you can get some idea about its size and what the package contains.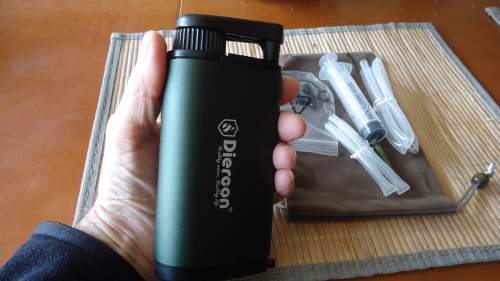 Here is the list:
You have the filter itself, assembled and ready to use, as you see in the photo.
A nice carry bag with a drawstring.
A syringe, device for backwash. This is important to have, it prolongs the life of the filter. So you should use it to clean filter periodically or after you are forced to use particularly dirty water.
One inlet and one outlet hose.
A small plastic bag with spare O-rings, 2 small and 2 big. The former is for the piston and the latter for the filter tube inside the main body.
You also have a pre-filter which should be attached at the entrance of the inlet hose.
A round Float piece, to attach to the inlet hose. This prevents the inlet sinking to the bottom, so you avoid dirt which would clog the pre-filter.
A short manual.
---
Filtration system
A triple system is in place here:
Pre-filter. It should be mounted on the entrance of the inlet hose. There are no indications regarding its lifetime and pores.
Internal activated carbon filter. This is a coconut shell activated carbon filter, highly efficient in filtering out organic micro-pollutants and it improves the taste and quality of water. No indication about lifetime and pores. Its purpose is to improve taste and reduce odor. To understand why it is efficient, you should know that 100 grams of activated carbon have an effective surface of over 3000 m2 (32,000 sq ft). This is due to an enormously porous structure of its tiny grains.

Internal micro-filter with 0.01 pores. The capacity is 3000 liters. It meets WHO the highest standard of bacteria removal, filters out 99.9999% malignant bacteria such as E.coli, legionella,  staphylococcus aureus, etc., and more than 99.99% of cysts. With such numbers, it surpasses EPA standards for water filters.  
The company provides details about independent testing of this tool. This is not so frequent to see nowadays, and it adds a lot of value to this tool.
---
Pros & Cons, users' experience

I am a user myself, and so far I am very unhappy with this filter. I have noticed that on Amazon, this tool has received an incredible average rating 4.9/5. This is something rarely seen with any outdoor product. So if you accept this, fine, go for it. But see below about my own testing.
Here is my summary of pros and cons:
 

Pros

 

Cons

Great design and color.
Very sturdy construction.
Reasonable price.

Lacks of some technical details.
Relatively short filter lifetime.
From my experience, it does not work.
Some minor comments. One of the first things I have noticed is that the inlet hose is a bit short. Presently, it is around 70 cm, I think it should be at least 1 meter long, a few extra grams might serve the purpose when you are in the process of pumping water from a river or lake with a mud around or with a difficult access in general.
The same holds for the outlet hose, it is only around 35 cm. They are both rather thin and get twisted easily, quite a contrast to such a robust and sturdy construction of the filter in general.
Although they provide a lot of details, some are still missing, as indicated in the text.
As for the filter lifetime, 3000 liters is less than what you may see in competitors. But let's put this into perspective. If you use this filter 2 or 3 months a year and filter 3 liters of water per day, this would mean that you have a tool for 17 years or 11 years, respectively. So is this short? I shall leave it to you to decide.
---
Filter or purifier?
This is one thing which remains unclear to me, but only from a formal side, see why in my testing below.
According to the pores mentioned in specifications, this tool should be able to remove all viruses and bacteria, see more about sizes of these micro-organisms in my another text. So, this would make it a true purifier.
But they use the word 'filter' in the name. I remain puzzled about this.
---
Specifications
Weight: 245 g.
Output: 600 ml/minute.
Color: Olives.
Dimensions: 72 x 38 x 148 mm.
Filter capacity: 3000 L.
Filter Material:
– 0.01 micron ultra-filtration membrane.
– Activated carbon filter.
Material:
– Sturdy aluminum alloy shell. This is their official statement, and I can say it really feels sturdy.
– Steel piston.
Warranty: 5 years.
---
Comparison with competitors
Here I compare the Diercon Tactical Water Micro Filter with two other tools on the market and give a few basic data for each of them, so see how it stands:
MSR
Guardian
Survivor
Filter PRO
Diercon
Tactical
Weight (g)
490
227

245

Pores (microns)
0.02
0.01

0.01

Height (cm)
20.8
16.5

14.8

Body
polyurethane
plastic
aluminum

Filter capacity (L)
10000
100000

3000

Speed (L/min)
2.5
0.5

0.6

$Price*
350
60
58

Triple filtration
yes
yes

yes

Backwash
yes
yes

yes
*This is at the moment of writing this text, please check the links for updates.
---
Spare parts
The filters are replaceable and can be ordered separately, presently on Amazon, you have the following:
---
My testing
♦ When I received the filter, I tried it by pumping tap water at home. It worked only partly, there were moments when the piston rod would simply drop down when I press it. Another thing I noticed, sometimes when I pull the piston up, it appears the vacuum is created inside the piston barrel, and it just pulls the piston back.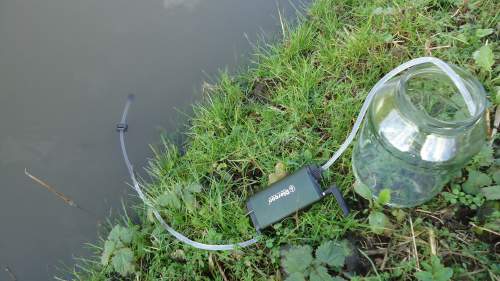 ♦ I went outdoor and tried to pump water from a river which obviously looked dirty, the pictures above and below show this. I wanted to put the tool to a serious test, and yet in a more or less controlled situation, better so than when I get to the Alps later. For that reason, I was also drinking the filtered water. But the piston hardly ever worked. Nevertheless, I managed to collect an amount of water, see the picture below. It looked crystal clear.
♦ As I said, I was drinking the filtered water. This was on Saturday, and on Tuesday next week, my problems with stomach started. The third day after that was the worst, I had to run to the toilet sometimes every 5-10 minutes. The problems lasted over a week, I was taking some pills. Eventually, I was OK.
♦ Later at home, to be sure about my conclusions, I removed all filters so that the issue of clogging was definitely out of the picture. So, I used only the inlet hose, and I could watch from above in the barrel where the microfilter was normally placed. Hardly any water was coming out. The piston was behaving the same way as described above. It was useless.
---
Conclusion
So, what more to say about the Diercon Tactical Water Micro Filter TW01? I must admit, I am impressed with how it looks, presently there is nothing on the market comparable to it. But this tool simply did not work.
I allow for the possibility that it was my bad luck, and that the malfunctioning piston is perhaps not a general issue. I simply do not know.

I also allow for the possibility that my stomach issues may be from food. I do not know for sure, I was eating at home, all the usual stuff.
But, put yourself in my shoes. Would you trust this tool? Cannot say anything for you, but I am not going to use this filter ever again.
The Diercon Tactical filter is available on Amazon and you can see it here. The rest is up to you. Note that I have many water filters and purifiers reviewed in this site. See here the list of 5 filters in the case if you are planning a trip to India. Many models are available in this separate page.
Thank you for reading. I hope you find this text useful, and if this is so please share it with others. In the case of questions or comments, please use the comment box below. I wish you a pleasant day.
Disclosure: I have received this water filter for free to review. This did not affect my judgment and conclusions.
---