---
My reasons for writing about the Sawyer Mini water filtration system are the following: this is an extremely lightweight, and one of the smallest and the least expensive water filtration products on the market.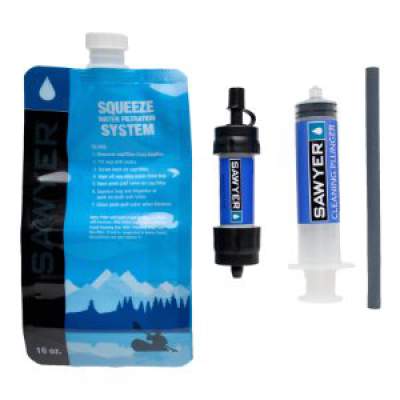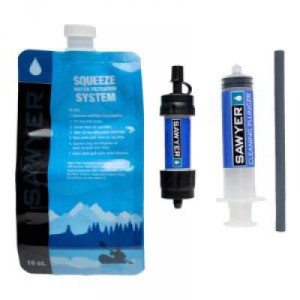 At the same time, this is one of the most effective water filters. It will remove from water everything above o.1 microns, which is above 0.0001 millimeters.
Description
You have seen above what this filter removes. Can you imagine such an efficiency with a tool that is only 2 oz (57 grams)! So the word ultra-lightweight used in the description of this tool should really be taken literally.
In technical specifications on the Sawyer site, you may see that it removes some 99.99999% of all harmful creatures that you may find in the water. This is due to its exceptionally fine synthetic filter.
In my another post I gave a review of several kinds of filters. So you may see that typically synthetic filters are less effective than ceramic filters. The latter removes everything above 0.2 microns. But the Sawyer Mini water microfilter is indeed an exception. It is more effective than ceramic filters.
Sawyer's filter technology is currently used in more than 70 countries in the world, by governments and non-profit relief agencies.
Here is a promotion video by Sawyer, have a look:
---
Comparison of Sawyer MINI with other water filtering systems
Now, to put this into perspective, in the following table I give a few models for comparison. These are all top models available on the market and described within this site. You will realize how nicely Sawyer Mini performs in comparison with far more expensive and much heavier models. So please have a look here:
Sawyer Mini
Katadyn Pocket
Katadyn Hiker PRO
Weight, oz (g)

2 (57)

20 (550)
11 (312)
Size, inches (cm)
1 x 5
(2.54 x 12.7)
2.4 x 9.4
(6 x 24)
2.4 x 6.5
(6 x 16.5)
Filter material
fiberglass
ceramic
fiberglass
Filter quality in microns

0.1

0.2
0.3
Filter life, gal (liters)
100000 (380000)
13000 (50000)
303 (1150)
*Please check links for updates.
The number for the filter life of the Sawyer Mini filter looks incredible. Such a life is achieved due to its back-washing capability, which extends its life dramatically. You realize this is several times longer than an average person's lifetime.
---
Filtering out micro-organisms
So the data shown above look fascinating. Here is a bit more. This time it is about the filter quality. Can it really protect you against those microorganisms? See their usual diameters (in microns, μm):
Salmonella: 0.7 – 1.5 μm.
E. coli: 0.25 – 1 μm.
Protozoa: above 5 μm.
Giardia and cysts: above 5-7 microns.
Cryptosporidium: above 1-micron size.
Cholera bacteria: above 1 micron.
Typhoid bacteria: above 1 micron.
So with this filter of 0.1 μm you should be safe. Will you be safe against viruses? Well some of them are big, over o.5 μm, and they can be stopped, but the majority will pass. So the answer is NO. The same holds for some mycoplasma bacteria, they can be below the filter pores size.
So, to be completely sure you might want to boil your water. But remember that boiling may be ineffective at high altitude, see more in my another text. One alternative to boiling are UV purifiers.
The filter does not remove chemicals and dissolved solids.
---
More about Sawyer MINI Water Filtration System

The kit includes:
Sawyer MINI Water Filter with tip cap.
16 oz reusable plastic water bladder. It folds down to a small volume when not used.
7 inches long flexible drinking straw.
Plastic cleaning plunger (syringe). This is what you will use to extend the life of the filter to those incredible 100000 gallons mentioned in the table above.
Maintenance instructions.
Why is Sawyer MINI filtration so effective?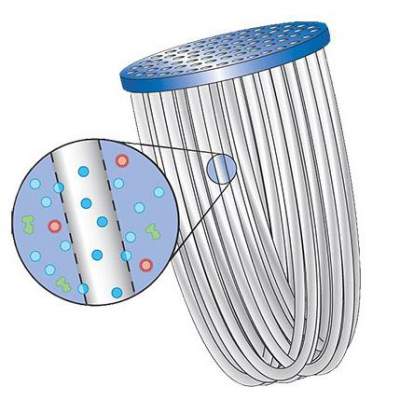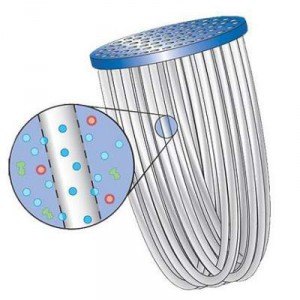 The filter is comprised of tiny 'U' shaped micro-tubes. The water enters into their core through tiny micropores. Essential for the filtration is the high number of these tubes and their surface. This allows for a very fast water flow.
When you buy a filter make sure that it has a label 'absolute pore size' and then the given number, instead of 'nominal pore size'. The former guarantees that there are no pores larger than the given number (0.1 microns in the present case).
So when we speak about Sawyer Mini water filtration system, you should know that it is certified for absolute 0.1 microns.
Filter testing is expensive. But according to the declaration, Sawyer filters are tested by independent qualified laboratories. They thus remove 99.99999% of bacteria and 99.9999% of protozoa. These numbers exceed by far US EPA standards.
How to use Sawyer MINI?
You fill the water bladder and attach the filter directly on it.  There is an arrow on the filter showing in which direction the water should flow. So you squeeze it into your water bottle or anywhere else, like for example into your backpack bladder, or you attach the drinking straw on the other end and drink directly through it.
The picture below show some ways of using this filter:
---
How to backflush and clean the filter?    
In the case of a lot of sediments in the filter, you will feel it because it may become more difficult to squeeze the water. So occasionally you will use the cleaning plunger and squeeze the water in the opposite direction. As simple as that.
---
The filter attaches to water bottles with standard 28 mm thread, and to hydration packs.
Sawyer Mini comes in 6 colors: blue, pink, black, green, orange, and camo. You can see them all in the picture: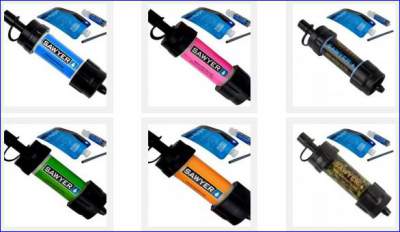 About Sawyer: Sawyer Products have been on the market since 1984, offering various products like protection against sun and bugs, and very innovative water filters. The one you are reading about right now, is a great example of that kind.
---
Summary
So to conclude this review about Sawyer Mini water filtration system. You have seen many obvious facts, the promotion video, some complaints of users, and you can investigate further and read more than 1900 reviews of users who gave 5/5 rate to this tool.
You might want to compare this tool with the MSR Guardian Purifier, which is able to physically remove even viruses.
All water filter tools presented within this site have received a small percentage of negative comments, so Sawyer MINI is not an exception. But this is a great tool. Thank you for reading. Have a nice day.