---
If you want to see the most unique microfilter currently available on the market, this MSR TrailShot review is a right place. This amazing 142 g (5 oz) filter is with a pump and yet without piston and handle.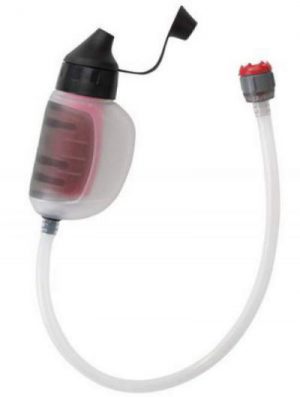 ---
Key benefits
This is something new, unique, and very practical.
No moving parts, so nothing can be broken.
Lightweight.
Very packable.
Great water output.
---
MSR TrailShot Microfilter – description
As the name suggests, this is a microfilter in a true sense, with pores 0.2 microns. In the description, they write 'clean water all day without the weight' and indeed this is so, 142 grams is hardly a weight you will notice in your pocket or in the backpack. It is so tiny that it fits in any pocket in your jacket and you can deploy it easily.
This filter you can use with one hand only, and you can have one liter of clean water in a minute. They describe it as the ultimate filter for fast-paced adventurers like trail runners, hikers, and mountain bikers. I fully agree with such a description.
Unpacking
When you order the filter, this is what you get:
Filter body.
Silicone hose with a prefilter at the entrance point.
A rubber band. This helps you to keep the hose tightly packed with the filter when you transport it in the pack or in the pocket.
Instructions manual. They give very detailed instructions on how to use and how to maintain the filter. I have not seen many filters with so detailed instructions.
The most important parts
Filter body with several elements which include: clean side cover with a spout, umbrella valve, cap, filter cartridge, clip and bulb, nozzle.
Inlet silicone hose with several valves.
Prefilter.
What you can do with the 

TrailShot filter
It lets you drink directly from sources along the trail.
You can fill your bottles and your hydration sleeve.
This tiny tool is far better than any of those that allow you to drink, but not to store the water. Filling bottles is essential, you do not have water all the time along the trail. Even in the Alps where I normally go, it may look like water streams are everywhere (but I would not drink from them without filters), yet you actually have to carry a certain amount of water with you all the time.
How it works
There are no pistons and handles here. You put the prefilter in the water and start pressing the soft bulb, see the picture above. You will have to press a few times before water fills the hose and the bulb space. After that, the water starts flowing out through the spout, so you can collect it in a bottle or drink directly.

See how this person uses the MSR TrailShot for trail running:
What I find the most important in the MSR TrailShot
One thing I already pointed out: the possibility to store the filtered clean water. But there is another equally important thing which I want to point out.
If you are reading this, then you have probably searched a bit and no doubt you have seen various concepts of filters with pumps or without pumps. Those that are the LifeStraw type or water bottle type filters, are surely very reliable tools, but they have a major problem. You have to come very close to the water. So you drink directly, but you cannot collect water.
On the other hand, have you seen pictures of people kneeling by a river and drinking with such tools? This looks great in pictures, but remember, your hands and knees become contaminated in the process. See also this example. People who show how those tools work, simply forget that they are dealing with a water which is supposed to be contaminated (otherwise you would not filter it, wouldn't you), so your hands and the tool itself should remain clean, all the time.
Back to the point: the concept of this TrailShot's system is as clean and safe as it can be. You basically do not touch the water, only one part of the hose and the prefilter are in contact with potentially contaminated water. This is essential and this is the number one reason for me to recommend this tool.
Of course, there are other tools that allow you the same, but they are either much heavier or much more expensive. See for example a perfect tool MSR Guardian, or Katadyn Hiker PRO, and a few other filters available here.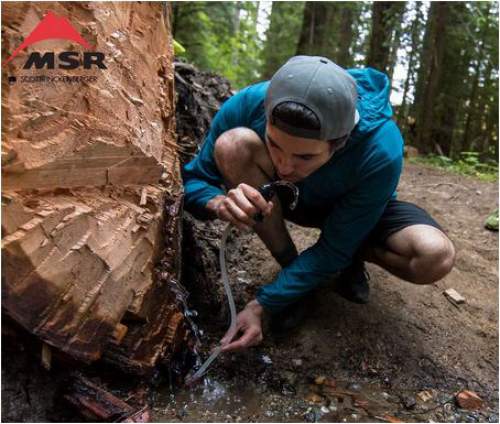 (Self) Cleaning & field maintenance
The MSR TrailShot is simple to clean in the field. They recommend to shake it for some 20 seconds from time to time to restore the flow rates. With this, you wash out dirt from the microfilter cartridge and this reduces the chance of clogging. No extra tools are required.
Make sure not to freeze the filter, this can damage the microfibers walls.
Please see how it is done:
What the TrailShot filter can remove from water
According to specifications, this tool is tested and it meets U.S. EPA drinking water standards and NSF protocol P231 for removal of bacteria (99.9999%), protozoa (99.9%), and particulates.
To put things into perspective, see these numbers:
♦ Protozoa like giardia and cryptosporidium are around 10 microns, and 4-6 microns, respectively.
♦ Bacteria like Escherichia coli are in the range 0.25 – 1 micron diameter. The smallest bacteria are practically always above 0.2 microns.
So I would take their statement as granted, this should be a safe tool regarding the micro-organisms, for most of the situations on the trail.
What it cannot remove
In their specifications, they write: "You are responsible for your own safety and the safety of those in your group. Please use good judgment."
This filter will not protect you from chemicals or heavy metal contamination. Avoid water sources such as mining tailing ponds or those near agricultural operations.
It cannot remove salt from seawater. It does not remove radioactive materials or particles smaller than 0.2 microns.
How about viruses? Viruses are typically in the size range 0.02 to 0.4 microns. The smallest virus known so far is the Porcine circovirus type 1, with a diameter of only 0.017 microns.
So this filter is not designed to remove viruses, use the MSR Guardian if you need to deal with viruses in water.
The Hepatitis A virus can survive for months in fresh and saltwater, bear this in mind. But most of them need living creatures to survive and reproduce, so they are not expected to be in most waters you can have on the trail or in general.
How about bioterrorism
Here again to stress, you are safe with this tool from all harmful microorganisms that are 0.2 microns or larger. The first thing that comes to mind regarding bioterrorism is anthrax bacteria. This is about 8 microns size, so it will be removed.
Where you can use the MSR TrailShot
International travel. There are many high-risk areas with poor water quality, so put this tool into your bag, it can save you from troubles.
Hiking, camping, hunting, fishing, biking. Drink directly where you see some water, and collect if you continue your journey.
Preparedness and emergency situations. This is a mechanical tool, no batteries are needed for it to work. The lifetime of the filter is also great, see in the specifications.
See more in this short video:
Specifications & summary of features
Meets U.S. EPA drinking water standards and NSF protocol P231 for removal of bacteria (99.9999%), protozoa (99.9%), and particulates.
Weight: 5 oz (142 g).
Width: 2.4 in (6.1 cm).
Length: 6 in (15.3 cm).
Made in the USA.
Capacity: 1 liter per minute.
Microfilter capacity: 2000 liters of filtered water, replaceable.
Limited warranty.
Backwash by shaking.
---
Summary & rating
I do not have much more to add to this MSR TrailShot review except to point out again my main reasons why I like the concept of this tool so much:
The possibility to store filtered water.
The fact that you can filter water in a clean and safe way.
I find the price very reasonable, and above all, I trust the brand behind this product. This is not like dealing with shoes or with a pack, so they may fit nicely or not, but this is not so essential. With filters this is different, this is about safety, you must have a reliable tool or don't have it at all.
Unlike many other brands on the market, MSR never makes strong and irresponsible statements regarding their filters, and you can realize this in the case of this TrailShot as well as with their Guardian. What they claim is based on facts and reasonable. Obviously, they are aware of the gravity of this whole issue. This is what makes them a great brand.
The inlet hose is a bit short, but the reason for this is probably to save time. When you start pressing the bulb, it takes some time before both the hose and the bulb are filled with water. A longer hose would make life easier if you cannot approach the water easily but it would take more time to get water out of the filter.
Some filters on the market have carbon filters as well, they reduce odor and remove bad taste. You do not have this here, but you know what, this is not essential. Activated carbon can reduce some pesticides, but you are not safe in any case.
Please see how I rate it:
If you need something different, please visit this page with many great purifiers and filters presented, in particular, this new and completely unique Pure2Go Purifier.
Thank you for reading. I hope the text has been useful, please share it with others if you can. Let me know what you think, there is a comment box below. Have a nice day.