---
What is Katadyn MyBottle? This is a question I had recently by somebody who was reading my series of reviews about water filters and purifiers. So here I give its description and compare this tool with some other water filters from Katadyn and from other brands.
---
About design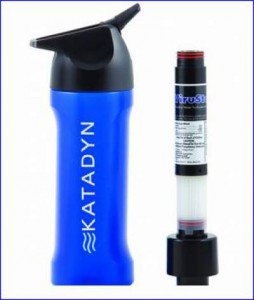 This is a tool with a microfilter inside the bottle. It is declared as suitable for any outdoor activity. The system is verified by EPA as a filtering system for water.
The microfiber filter has pores of 0.2 microns. As you see, this is improved as compared with some other water filter systems described here within the site, like Katadyn Hiker and Hiker PRO water filters.
So what makes it additionally different? Well, here you have the filter directly in the bottle. There are no hoses outside, for intake or outcome water, no mechanical pump.
This is just a water bottle made of a soft plastic material that you squeeze to push the water through the filter. This, in short, describes how this tool works. You may read more in this pdf from Katadyn.
All in all, this is a clever design. But I have some concerns about it, you will find more below.
With the filter, you can squeeze in total around 26 gallons of water, or around 100 liters. This is not so much really, in particular, if you follow the given Amazon link and check for the price of the filter alone. You might want to compare this tool with MSR water filters, and with Sawyer MINI, where the lifetime of the filter may be as long as your own lifetime.
The MyBottle kit includes:
the polyethylene bottle,
a straw for drinking,
a replaceable microfilter,
a replaceable pre-filter with a carbon core inside,
a lid of the bottle with a drinking spout.
A few more technical specifications:
Weight: 260 g.
Length: 26.5 cm.
Water capacity: 800 ml (560 ml with filter).
Water capacity: 0.2 L/min.
Filter: glass fiber, carbon. ViruPur medium.
You can clip this tool to your backpack through a hook on the lid. This all looks compact and it does not take any extra space; you would normally have a water bottle in your equipment so here it is. You do not have to add any bottle extra. So from this perspective, this is a great idea and a great design.
---
About the filter
This is a 3-level filter, you can see it in the picture above. It has the following elements:
Pre-filter with carbon, aimed at removing odors and improving the taste.
Fiberglass filter to remove protozoa, giardia,  and other microorganisms with the size greater than 0.2 microns.
ViruPur medium which adsorbs viruses.
---
How ViruPur filter works?
You should know that there are no chemicals used here to destroy viruses.  Instead, here you have a 3-layer filter medium which adsorbs viruses and minute particles. The physical principle used here is so-called electrokinetic in-depth filtration, based on the difference in the electric charges of various materials.
So, the aluminum-coated fibers of the ViruPur filter have a very high positive electrical charge. On the other hand, the charge of viruses, bacteria, cysts, and other particles is "either far lower or negative". The rest is supposed to be the effect of the electric field force which effectively attracts contaminants and they do not pass. Instead, they are retained on the ViruPur filter surface. This is how it is described in the manual.
One detail remains worrying to me: the electric force will attract only the opposite charges. But in the manual, they imply that it is enough that viruses have a different but positive charge, and it will be attracted. This statement cannot be correct, or I should throw away my PhD diploma in Physics. Charges of the same sign cannot attract each other. So it is plausible that negatively charged particles and viruses may be stopped, but any other will pass.
---
Some cons
•Some aspects of this tool surely work. But I already pointed out the possible flaw with respect to the virus filter. There is more.
This tool may work nicely in perfect conditions. By this I mean the following: you fill the bottle from the tap without actually spilling the water on the outside of the bottle. Now you put the filter carefully in the bottle, taking care that the excess water displaced by the filter does not go out (you remember the Archimedes law from the school days?). Why such a care?
Well, this is supposed to be a contaminated water. So you should not contaminate the bottle from outside, and your hands should remain clean. You get the point.
But what when you are outdoor, and you are supposed to grab the water from some lake, river, or from any other source? You will do it by hands. So the bottle and the hands will become wet and contaminated.
More importantly, you have to do this frequently. Why? This because you cannot squeeze the bottle much: remember there is a huge filter inside, in the middle of the bottle. See the picture above to realize its relative size with respect to the bottle. So you squeeze a little to get the water, you open the lid and refill, now you close with your wet hands, squeeze again, and so on. Everything will become contaminated immediately.
•The filter has a limited lifetime. To keep track about how many times you have used it, there is a Cartridge Life Counter – a manual counting mechanism integrated in the lid. You simply turn it each time you add the water into the bottle. Not so practical solution in my view.
So what is Katadyn MyBottle in the end? My opinion: I would not use this as a safe tool to get clean drinking water. For me, it cannot work in practice.
So this time I am not going to present you the opinions of users as I usually do. I have my opinion about it, but you can follow the Amazon link above and see what users think. I do not believe in this tool, so it is up to you.
---
If viruses in the water are a true issue for you, I would suggest using some of SteriPEN UV purifiers, eventually combined with the Sawyer MINI filter. The difference in the price for such two tools combined is not big as compared with the price of Katadyn MyBottle water filter. This in particular in view of the very limited lifetime of the MyBottle filter, and its price of some $35 or so.
Thank you for reading, I hope this was useful, and if this is so please share it with others.
I shall be happy to see some comments from you, there is a comment box below. Have a nice day.