---
Katadyn Vario water microfilter is an exceptionally great lightweight and compact design which combines both fiberglass and ceramic filters.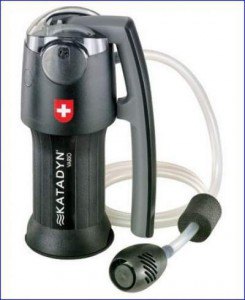 This is a water filter tool that very effectively removes bacteria and cysts from water. It is ideal for backpackers, hikers, mountaineers, and travelers.
---
General description
In my another post about 5 ways to purify water for drinking, I have mentioned Katadyn Vario as one great example of filters that combine both ceramic and fiberglass filters. You can see the internal structure of this tool in the picture on the right.
A standout feature of the Katadyn Vario is a rather high water flow output. This is because of the clever dual action pumping system design. The water is pumped both on the upstroke and the downstroke.
Another dual system is related to the two filters incorporated in the system. So here you can choose which filter you are going to use.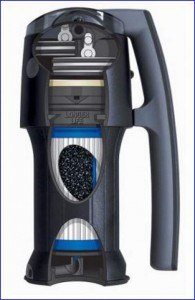 The ceramic filter is disk-shaped. It is easily cleanable and much more durable than a fiberglass filter. But ceramic flow output is lower than in the case of the fiber due to 0.2-micron pore size. So the ceramic filter's role is essential in case of very dirty water.
So the actual water output is either 1 or 2 quarts of water per minute, dependent on the filter you use.
You have also granular activated carbon incorporated here, used to remove eventually unpleasant taste of the water, and it can also reduce some chemicals as well. The carbon in the filter is, in fact, replaceable.
The way of choosing the filter in any moment is simple, just by turning the upper part of the tool to point for example to 'faster flow'. In this case, the system will use the fiberglass filter together with the carbon core inside. This option is perfect if you are using water from some relatively clean mountain stream, a great option indeed for my tours in the Alps.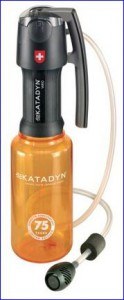 If you are dealing with dirty water you will turn the upper part to point to the mark 'longer life'. In this position, the water will be pumped through the ceramic filter. The meaning of the term 'longer life' is simply prolonging the usability life of the fiberglass filter.
It should be said also that the design of Katadyn Vario is such that it screws into the top of most 32 oz water bottles. You can see this in the picture here.
Here is a video by Katadyn about this tool, please have a look:
---
Technical specifications & summary of features
Weight: 15 oz (425 g).
Length: 6.5 in (16.5 cm).
Cartridge life expectancy: up to 530 gal (2000 l).
Use: backpacking, camping, traveling.
Removes:
– giardia, cryptosporidium
– 99.99% of bacteria
– 99.90% of cysts
– 99.90% of protozoa
– spores
– bad taste
– sediments.
Filters:
– 0.2 micron ceramic
– 0.3 micron fiberglass.
Flow rate: 0.53 gal/min (2 l/min).
Package includes:
– pump/housing,
– ceramic prefilter disc,
– microfilter cartridge,
– intake hose with modular prefilter which you put into the water source,
– carry bag,
– output hose with bottle clip,
– cleaning pad,
– silicone lubricant,
– operating instructions,
– hard cap that fits over the bottom of the gadget; you can attach the water bottle directly to this hard cap.
The material of construction: ABS plastic.
---
Users' experience
Katadyn Vario water microfilter is a very popular tool and you may get some idea about it from the number of reviews by users on Amazon. But there are also some complaints, though not many.
---
Summary
So to conclude this Katadyn Vario water microfilter review, this is a great tool that is very effective in what it is designed for. Some truly innovative features you will find here. It may be a bit bulky and heavy, especially if you compare it with some other types of tools, like
UV water purifiers presented in my another text
. It is even more expensive than some of those UV models. But you do not need batteries for the Katadyn Vario, this is something to bear in mind if you are on some extended tours.
For updates regarding the price please follow the links given above. You might get free shipping as well.
Thank you for reading. Please share your opinion if you have experience with this tool. There is a comment box below. Have a nice day.