---
In this text I present my list of 9 best waterproof jackets for women, all very popular, highly rated by customers, jackets that have stood the test of time.  
Why this text
Since you are reading this text, then you surely know how difficult it may be to choose a good rain shell jacket. There are many models on the market, customers' reports are available on various sites, but those reports are frequently contradictory, and it is really hard to know what to choose.
I have reviewed quite a number of quality waterproof jackets in the site, and there is also a number of texts where I have presented the properties of materials used in the construction of these jackets. So I thought it would be good to have them in one place with some basic details, and if you want to see more you can then follow the links to my full reviews.
When you finish reading this text, and with the help of links given here, I am sure you will have a more clear picture about:
what to expect from a rain shell jacket,
which jacket you should choose for yourself.
---
So here is my list of the jackets ordered alphabetically:
---
1. Marmot Minimalist Rain Jacket For Women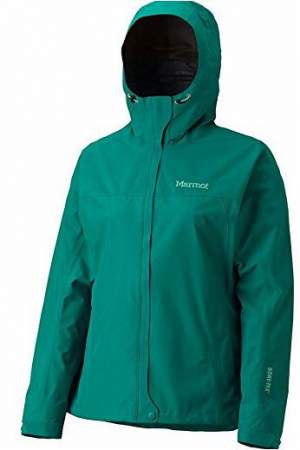 You may be surprised to see how many great features this Minimalist jacket has, so the name might be quite misleading. The fabric is polyester 3.6 oz/yd with the 2.5-layer Gore-Tex Packlite membrane, and all seams are taped, so this is a completely waterproof, windproof, and breathable item. The jacket is moderate regarding the weight so you have 14.4 oz (408 g).
Its design is such that it allows for layering and you can add a fleece or anything similar and use it throughout the year. The jacket is with what they call the Angel-Wing design, which implies a complete freedom of movement during your activity.
The hood is adjustable and with a brim on the front, but you can not roll it away. The main front zipper is with an external storm flap and with a snap button on the hem. Note that you have pit zips for extra ventilation. Please read more in my full review.

---
2. Marmot PreCip Rain Jacket For Women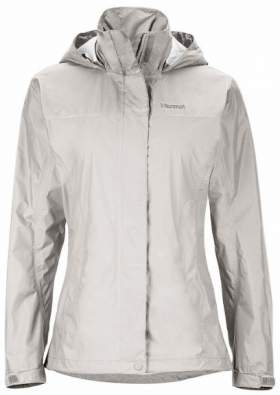 This is a famous jacket by Marmot and it has been on the market for 17 years already. The material has been improved so what you have now is the most advanced 2.5 layer NanoPro waterproof and breathable membrane.
The features of this material are impressive so you have waterproofness 10000 mm, breathability 17000 gm/24h with the Hohenstein RET 5.0 to 5.4. The external fabric is 100% nylon ripstop 2.2 oz/yd.
Similar to the Minimalist jacket, here too you have the Angel-Wing design. You have two hand-pockets and the jacket can be stored in one of them, this is convenient because you pack it to such a small volume and zip in with the zipper that is on the pocket.
The hood can be rolled away into the collar and it is not removable. It is fully adjustable and helmet compatible.
You also have very long pit zips so this together with the high breathability makes this jacket suitable for very hard physical activities. Note that it is available in several great colors.

---
3. Outdoor Research Aspire Jacket For Women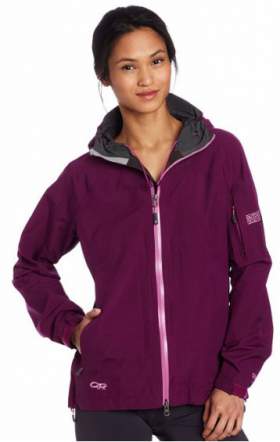 This is quite a technical and award-winning waterproof and breathable jacket. It includes what they call the TorsoFlo ventilation design. It implies long zippers on both sides from the hem to the armpit and partly also along the arm. This means that when you open these zippers completely the jacket behaves like a poncho and you have the best possible ventilation coming from below. But you can also open them only partly and use as the usual pit zips.
Yet another application of this great design is that you can pass the hip belt of your backpack under the jacket. So with this, you still have an optimal ventilation while being protected.
The jacket is highly waterproof and breathable 2-layer Paclite Gore-Tex piece, and the fabric is 100% polyester 50D.
You have two side pockets plus one pocket on the left bicep. Note that the jacket stows into one of its side pockets. the hood is with adjustability on all sides, and you have a piece of fabric which you pass over it and roll it away. The front zipper is the two-way type, so this is again a useful feature for ventilation and for situations when you have a climbing harness on or the hip belt from the pack.

---
4. Outdoor Research Helium II Jacket For Women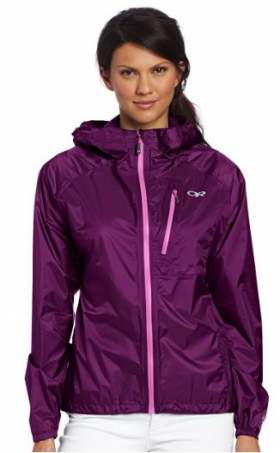 If you need something extraordinary lightweight for backpacking and hiking, this Helium II is the item to consider. You have only 5.5 oz (156 g), yet this is a fully waterproof and breathable rain jacket built from a 30D nylon. The meaning of the Ripstop is that if damaged, the damage will not spread through the material.
The membrane is a 2.5 layer Pertex Shield and the meaning of this 0.5 is that you have a screen of a half-layer imprinted on the membrane from inside, while from outside you have the mentioned nylon.
You have a totally impressive breathability of 20000 g/m2 as well as waterproofness which is 20000 mm.
The jacket is also exceptionally packable and you can stow it in its own internal pocket.
You have one external chest pocket, there is no adjustability on cuffs, and the hood is with adjustability on the back only.

---
5. Outdoor Research Interstellar jacket for women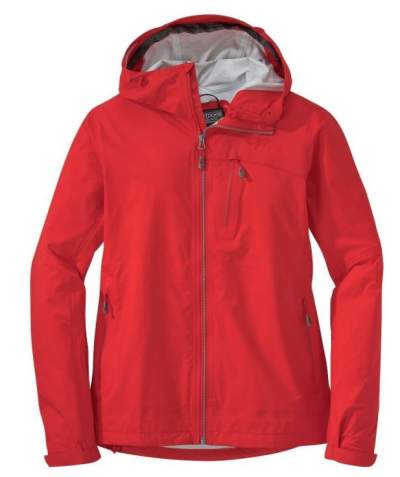 The Interstellar is a hard shell 3-layer jacket, so this is an exceptional quality item. In spite of such a structure, it is very lightweight and very packable. In fact, it packs into its own left-hand side pocket.
Here you have a rather special AscentShell membrane sandwiched between the outer ripstop nylon, but this is also a stretch material, quite unusual for a hard shell piece. The jacket is very breathable, fully waterproof and yet air-permeable. So it is very suitable for all sorts of very aerobic activities.
There are 3 external pockets, all with the top quality YKK AquaGuard waterproof zippers. The hood is fully adjustable and helmet compatible. The jacket may look expensive, but in fact this is one of the most affordable hard shell jackets on the market.
The mentioned AscentShell membrane is an electrospun laminate, thinner and more stretchy than any other hardshell membrane on the market. This is a relatively new material and you will not find it in many jackets around. It is softer and quieter than Gore-Tex Pro.

---
6. Outdoor Research Optimizer jacket for women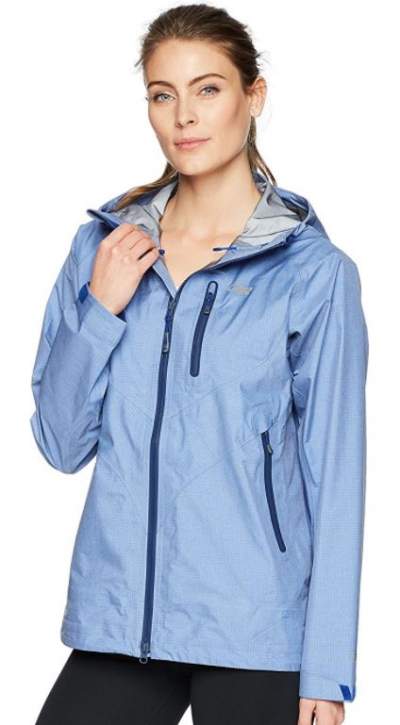 The Optimizer jacket for women is yet another hard shell model here in the list. But here you have the Gore-Tex Active membrane, so this is a 3-layer construction with the external fabric which is a blend of nylon and polyester, then follows the mentioned fully waterproof but very breathable membrane, and then a 20D inner polyester backer.
So as you see, this is the top stuff here, the word Active in the name of the membrane implies that this is a piece for very aerobic activities, very breathable but fully waterproof. It is also very lightweight for a hard shell jacket, though slightly heavier than the OR Interstellar jacket shown above; but this is mainly due to the thicker inner backer fabric.
The jacket has 4 pockets; 3 are external and one is inside. As you may see from the picture, the hand pockets are positioned quite high, so you can use them even when you have a climbing harness, or when you have the hip belt of your backpack around your waist.
The outer pockets are with YKK AquaGuard waterproof zippers. The hood is adjustable and helmet compatible, and with a wire in the brim.

---
7. Patagonia Torrentshell jacket for women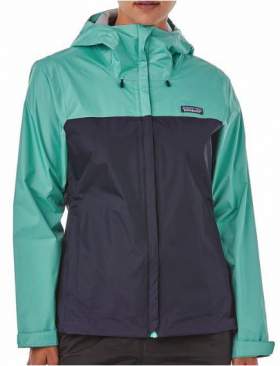 If you are concerned about the environment, you would want to know that this 2.5-layer H2No waterproof and breathable jacket is built 100% from recycled materials. This is a lightweight 50D ripstop nylon, quite sturdy and durable, but the weight is only 10.6 oz (300 g). This is a great piece, most suitable for hikers, backpackers, and mountaineers, but you will enjoy using it also in your daily life.
Although the material is very breathable, they have added large pit zips for an increased ventilation. The jacket is with a regular fit so you have lots of space for layering and you can use it in all seasons.
The hood is the roll-away type, helmet-compatible, adjustable, and equipped with a brim. You have two hand-pockets and the jacket stows in one of them.

---
8. The North Face Resolve Jacket For Women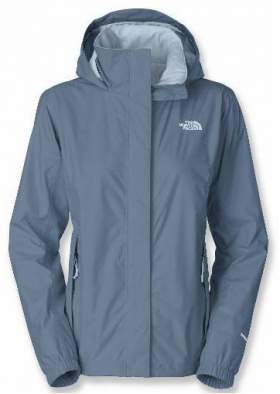 The fabric you have here is 70D 105 g/m² (3.1 oz/yd²) nylon ripstop and the membrane is 2-layer Dryvent with the impressive waterproof rating of 25 PSI which is equivalent to over 17600 mm.
But breathability is far less impressive, only 750-800 g/m²/24 hours average. So this is a jacket for a casual use and for less aerobic outdoor activities, but if you need something to keep you dry this is it.
I love the fact that it comes with an additional mesh layer underneath the shell. The hood is helmet-compatible and with adjustability on the sides, and you also have a small brim. It rolls up into the collar. Note that you have only two external hand-pockets but they are nicely designed and with storm flaps.
You might want to know that this popular jacket s available in more than 40 colors, and it is very affordable, around $80 or so.

---
9. The North Face Venture Jacket For Women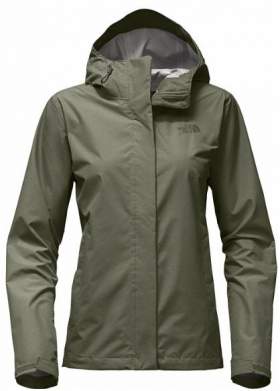 Here you have a jacket with 2.5 layers, and this includes the outer nylon ripstop plus a waterproof membrane which is protected with an extra thin screen. The material is lightweight 40D 85 g/m² and the jacket itself is mid-weight 340 g (11.99 oz).
The breathability is not so great but you have pit-zips which will help. But this jacket is more suitable for an outdoor use than the Resolve jacket presented above.
The hood is with three points of adjustability and helmet-compatible. You have only two external hand-pockets, and the jacket can be stowed in one of them. Note that there are around 40 color combinations for this jacket, so it is not surprising that it is so popular.

---
So, how to choose
If you want to dig deep into the types of waterproof materials, and to read about their possible categorization, I warmly suggest reading my another text about waterproof jackets. In the same text, you can read what to expect regarding the breathability. Not all of them are equally breathable, this all depends on several factors.
But if you do not have time for that, then just to know: not every waterproof and breathable jacket is suitable for every activity. Some jackets are more waterproof but less breathable, and you can have it just the other way around in others.
Now, back to the list above, to see what you can expect from those models:
If this is about more technical and dynamic activities, and you need a perfect ventilation, then you should go for the Outdoor Research Aspire jacket. This is an award-winning piece of garment. It has long zips all the way from the hem to the armpit and partly along the sleeve as well. No other jacket will give you more ventilation.
Do you want something exceptionally packable and lightweight? Then think about the OR Helium II jacket. It is only 156 grams, and it packs into its own pocket. See more in the link above.
But what if you definitely need hand pockets (well, who wouldn't)? Then surely avoid the OR Helium II jacket, this jacket has no hand pockets.
You do not want to spend much? Then certainly avoid the Outdoor Research Aspire. Instead, think about The North Face Venture and Resolve jackets.
Are colors very important for you? If yes, then check the Resolve jacket; you have more than 40 different colors available.
Do you want to have a mesh lining inside the jacket? I love to have it. Such a mesh liner gives volume and warmth, it is also rather pleasant to have in combination with a t-shirt. Some of the rain jackets are with the rubbery waterproof membrane inside, and it is not always pleasant to touch, so this is one extra reason to have a liner. The North Face Resolve jacket comes with a pleasant mesh lining. Note, no other jacket in the list has this feature.
How about the hood? As you know, most of the rain jackets come with the hood stowable into the collar. But there are exceptions, The North Face Venture is one of them, and the same is with the OR Helium II, and with the Marmot Minimalist. The OR Aspire jacket is something in between: you have a velcro tab behind the head to keep the hood in place when not used. The North Face Resolve and Marmot PreCip are with a proper roll-away hood design.
How about pit zips? I already mentioned the Aspire jacket which is a champion in this regard. But, both Marmot jackets also have pit zips, and the same holds for the North Face Venture. However, the OR Helium II jacket and the North Face Resolve have no pit zips. So, are pit zips essential? I do not think so, in particular, if the jacket is well breathable and if it is more for a casual use.
Here are a few more features to bear in mind:
Some of the jackets can be packed into their own hand pocket. These are: The North Face Venture, Marmot PreCip, OR Helium II, OR Aspire. The remaining two (The North Face Resolve and Marmot Minimalist) do not have this feature.
Internal pocket: only OR Helium II has one.
The OR Aspire is the only jacket with 3 external pockets; all other jackets are with 2 external hand pockets, except the Helium II.
---
Casual or outdoor use
I think in this regard the choice is not so complicated:
The remaining models are somewhere in between.
---
Conclusion
So to summarize, here you have the best waterproof jackets for women, all the models are rather different and with different specifications. It is important to understand that there is no universal multipurpose jacket, but if you insist, I would say that the
Outdoor Research Aspire
is the closest candidate to this. It is stylish, with a nice design, so definitely suitable as a casual jacket, but at the same time, this is a quite technical tool with excellent specifications and features.
Thank you for reading. If you need something similar for men, please check my separate text with great models. If you find the text useful, please share it with others. In the case of questions and comments, please use the comment box below. I wish you a pleasant day.
---