---
Here you have my selection of best mountains to climb in Italy in one day, more precisely in the Italian Alps, those that I have climbed myself so you have first-hand information here. Keep reading.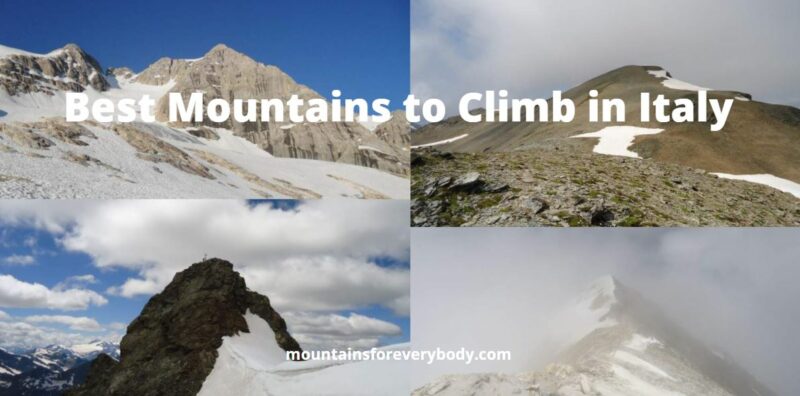 Italy has many great and high mountain passes with car access to very high elevations. I would mention the Gavia Pass (2652 m) and Stelvio Pass (2757 m) as the best-known examples. There are many high mountains around them, but the presence of such high passes allows you to climb many of the mountains as day tours from the roads.
But you always have mountain huts around so it is up to you how you will organize your stay there. At high elevations, I normally sleep in the car, have spent quite a number of nights on the two mentioned passes. In the valleys around you have numerous camping places where you can take longer rests and buy food and other stuff that you need.
Italy is also full of shelters without guardians where you can stay overnight, see for example this exceptional place called the Bivacco Battaglione Ortles built from the materials left after WWI. Read also about Bivacco Suringar on the route to Jof di Montasio, etc.
---
My list of best mountains to climb in the Italian Alps
Below you have my list, I include mountains with a variety of difficulties regarding the normal routes, some just simple walks at high elevations, some are rock scramble, and some are glacier tours. All of them can be climbed in one day.
---
1. Monte Breva (Piz la Stretta)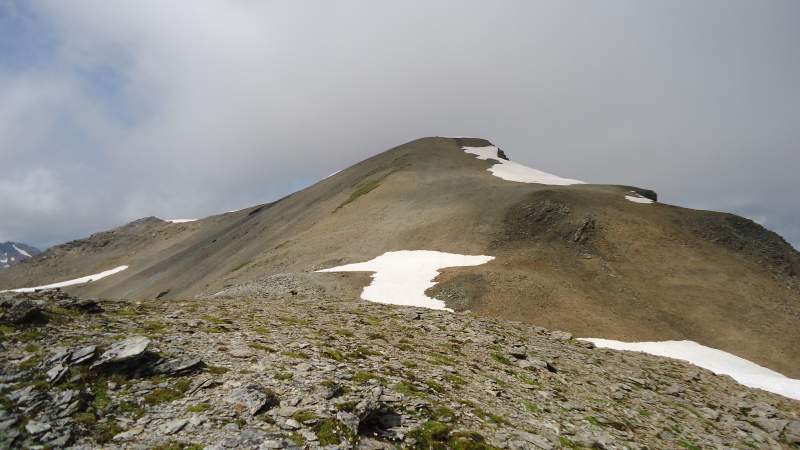 There are several great reasons for adding this mountain that is "only" 3104 meters high. This is for those who love to spend a day at high elevation and without hanging on cliffs and steep walls. So here you will feel a great mountain under your feet, with beautiful views everywhere around. The picture above shows what you see when you approach the summit, it is so pleasant and inviting.
You can (but you do not have to) start from Forcola Pass and this saves you from a couple of hours of walk. Swiss-Italian border is at the summit, and you have a few attractions on the way up, like the Lago del Monte (2606 m) and a nice stone refuge at the lake. We stayed there for several hours because of rain, had a fire inside, and make coffee that was available there. Left a few euros in the box to compensate those that maintain the refuge.
Finding the route is easy, the summit is broad and pleasant, once you get there you will not want to go back. Read more in my separate text.
---
2. Jof di Motasio (Montaz)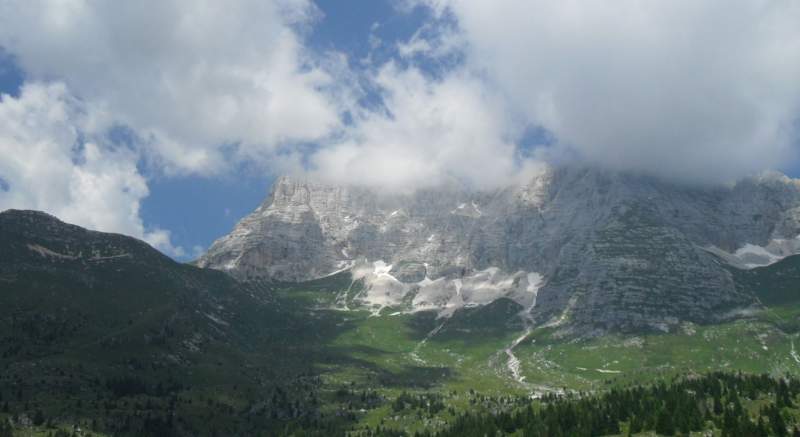 Jof di Montasio (2754 m) is a completely different surrounding, and this is also geographically distant from the previous mountain, it belongs to the Julian Alps. There are many alpinist routes around, but I have passed the normal route that goes close to Bivacco Suringar.
Here too you have a moderately high car access and the remaining part you can climb in 5 hours. The upper part of the route is a simple scramble and you do not need any equipment. Rifugio Brazza is not far from the car parking. One attraction on the route is the 60 meters long Pipan ladder. I descended that way. I climbed the mountain solo. If you want to read more, please see my full text.
---
3. Gran Pilastro (Hochfeiler)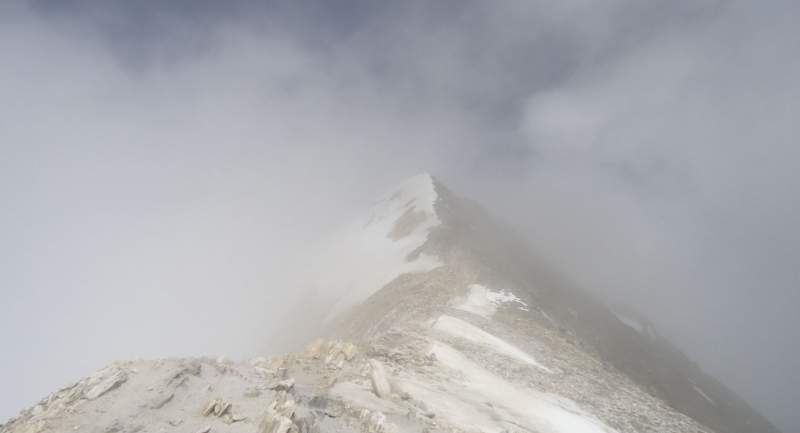 Gran Pilastro (Hochfeiler) 3510 m is yet another mountain at the border, hence the two names, but this time it is the Italian-Austrian border, and the normal route which I followed is from the south Italian side. The route from the north is a long glacier approach. So if you climb the mountain solo, as I did, the south approach is the best option.
This is a high mountain but the car access is at a moderately high elevation of 1700 meters above the sea. The mountain can be climbed in one day and this is how I did it. But you can do this easier and stay in the Hochfeiler hut which is 2710 meters above the sea.
It took me around 10 hours up and down. In the summertime, the normal south route is a simple walk but at a high elevation. Normally it is without ice and snow or you can have it only close to the summit but you can do this without crampons. Perfect mountain for a solo tour read more here. 
---
4. Monte Vioz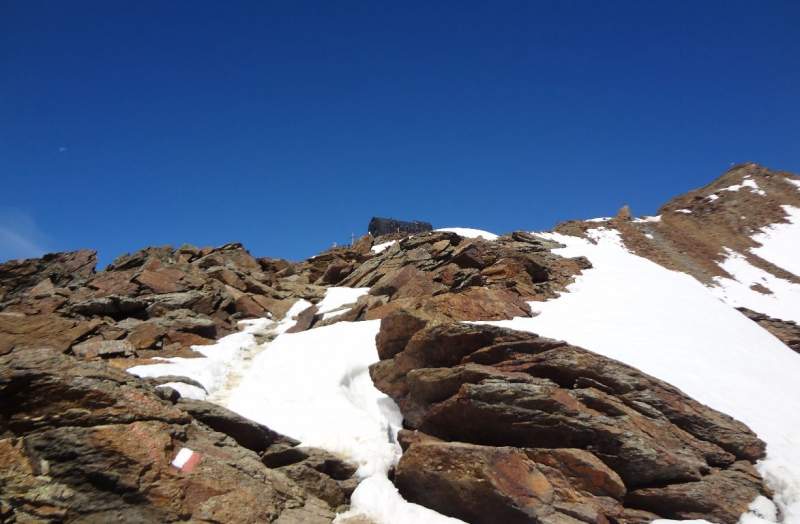 This is a high mountain with its 3645 m of elevation, but the south side route from the village of Peio is almost completely snow-free in the summertime. The elevation difference from the car parking is huge, you have 2045 m (6709 ft). 
Orientation is never an issue, you will have the Rifugio Mantova de Vioz (3535 m) most of the time in sight. You can see it also in the picture above. This is one of the highest huts in the Alps and it is only some 20 minutes or so walk below the summit.
Only the section above the hut is with some snow in summer but you do not need crampons for this. It took me less than 6 hours to the summit. I climbed the mountain solo. Please follow this link to read more.
---
5. Marmolada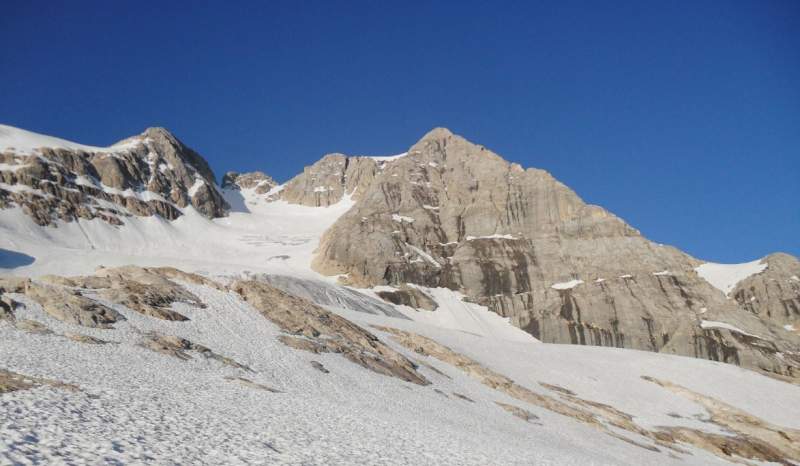 Marmolada (3343 m) is the highest in the Dolomites and its normal route goes over the glacier shown in the picture above. The route starts at Fedaia Pass (2057 m) where you can leave the car. On the way up you will pass by Pian dei Fiacconi hut (2626 m), and then follows a glacier, one ferrata section, and then snow closer to the summit.
So for this mountain, you need all equipment for glacier walks and ferratas. I climbed it solo (more details here), did not feel safe on the glacier that was covered with deep snow, so it is better if you have a partner.
---
6. Tresero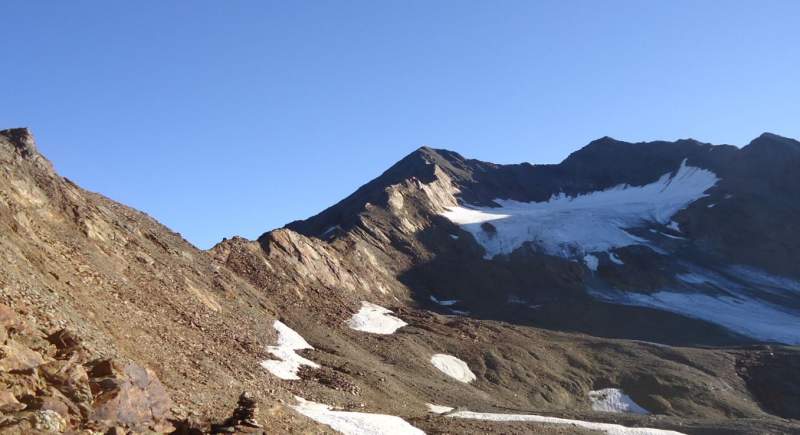 With its 3594 meters, Tresero (or Pizzo Tresero) is a high mountain, but the start point of the normal route is below the Gavia Pass, more precisely from the Berni hut (2541 m), which is on the road below the pass. So the elevation difference is not particularly huge but you have to descend a bit before the route turns up towards the mountain.
In any case, it can be climbed in some 4 hours from the road. Note that there is a refuge Bivacco Seveso on the rock below the summit so you can stay there during the night for acclimatization and for meditation. It is a bit visible as a tiny orange dot on the ridge in the picture above. 
The route goes over the glacier and there are a few wide crevasses, if you are early in the season they will be covered by snow and this makes them even more dangerous. A fixed rope is under the summit so you will need a bit of scramble there. I did it solo and my report is available here, but it is always better if you have a partner.
---
7. Cima di Piazzi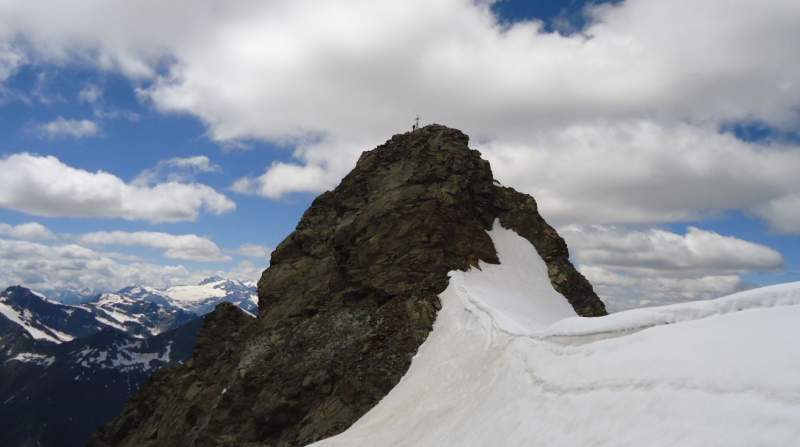 With 3439 meters of altitude, Cima di Piazzi is not the highest here in the list but I find it demanding primarily because of the long access walk before you get to Passo di Verva (Verva Pass, 2301 m). There is no car access here but if you have a mountain bike this is the road where you can use it. Note also that there are no huts on this mountain, only one alpinists' refuge is on the opposite side of the mountain.
There are sections with loose rocks and with steep scrambles, so it is good to have a helmet and it is best not to have people above you when you are in such places. But my impression is that this is quite a lonely mountain.
You will probably have lots of snow on the upper part of the route and this is where you might need crampons. Also, directly under the summit there are several fixed chains. So it is best to have your ferrata stuff here. I climbed the mountain solo and did not have anything of such equipment, but this was because I came totally unprepared, and this is how people become news in the mountain, simply stupid. Anyhow, you can read more here.
---
So this was my selection of very attractive mountains to climb in Italy, all of them are doable by any mountaineer with a bit of experience and with some basic equipment. As you surely know, Italy has many great mountains so it is impossible to present a list that would be for everybody's taste. But I have an open invitation for guest authors, so send me something and I shall be happy to publish it here in the site. 
You might want also to read about some relatively easy 4000 meters mountains in the Swiss Alps. I warmly suggest that you read about appropriate clothing for summer in the Alps to avoid trouble, you can have a snowstorm on any summer day in the Alps. This is why it is essential to be prepared, I am old school and I rather go with too much stuff than with too little.
There is a comment section below so please let me know if you have questions or comments. Have a nice day.