---
Here you have my selection of Swiss Alps Tours to some relatively easy 4000 meters high mountains to climb in one or two days. I climbed these mountains myself so keep reading.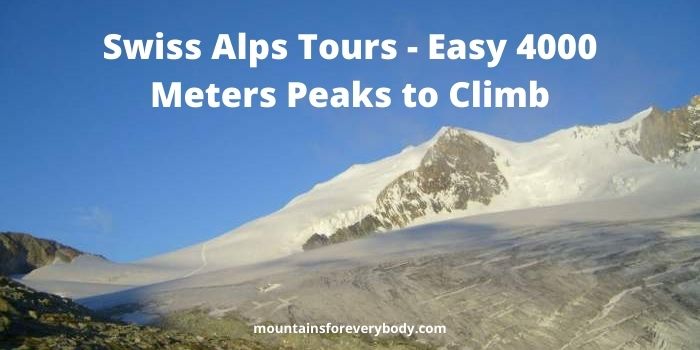 ---
Easy & 4000 meters elevation, is there such a thing?
The answer to the question is easy: there isn't. If you have ever been at such elevations you know how this can be. But if you have not experienced it, such altitudes are described by some as very high altitudes and by some as medium-high. No matter how you call them, the oxygen level at 4000 meters above the sea is reduced to 60% of its value at the sea level. In such an environment you can have high altitude sickness and it is essential that you pay attention to this.
So these are hard tours, but this is all a matter of comparison. The mountains listed below can indeed be climbed by anybody in normal physical conditions, you do not need a guide for this, and they can be climbed solo, this is how I climbed them. 
---
Easy 4000ers in the Swiss Alps
So here is my list with mountains ordered alphabetically:
---
1. Bishorn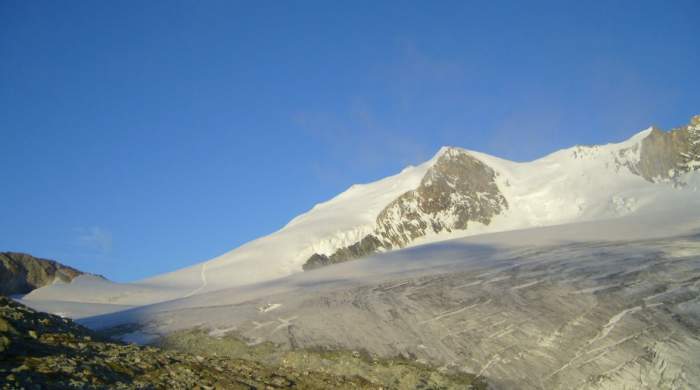 Compared to other mountains here in the list, the summit of Bishorn (4135 m; 13566 ft) is a bit distant and you can make this a 2-days tour. There is the Tracuit hut (3256 m) on the way up so this is where you can stay the night. But this is a popular mountain so make sure you have a reservation. I did not have it, but luckily they found a place because somebody with a reservation did not appear.
I have climbed Bishorn solo, but this is a glacier walk above the hut, so if you have a partner this is the best way to do it, use a rope in this case. The glacier is with crevasses, and as usual, many of them are closed by snow in the early season. You will need crampons for this mountain. Please see more in my detailed tour description.
---
2. Breithorn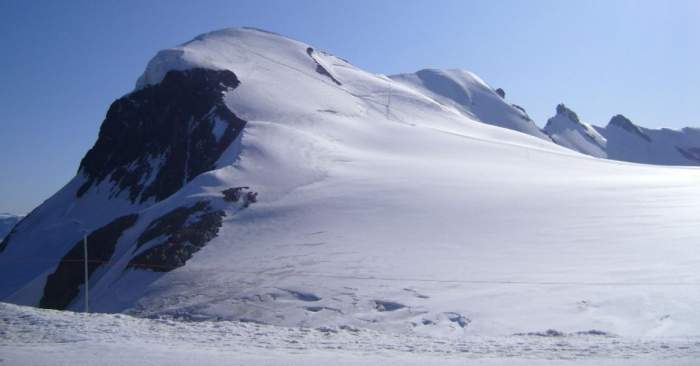 Breithorn (4164 m; 13661 ft) is a high mountain, but the vicinity of a ski area even in summer makes it easy if you use the lift. In this case, you can be at the summit in a few hours. 
The picture above shows what to expect, so this is a simple glacier walk and you will need crampons. I did it solo but it is best to be roped on the glacier which is full of crevasses and they are visible late in the season. You are not aware of them if you are in the early season there, they are covered by the snow.
You can approach the summit from two main sides, but as you see from the picture, with crampons and an ice axe you can approach it in any way you want. Please read more here.
---
3. Lagginhorn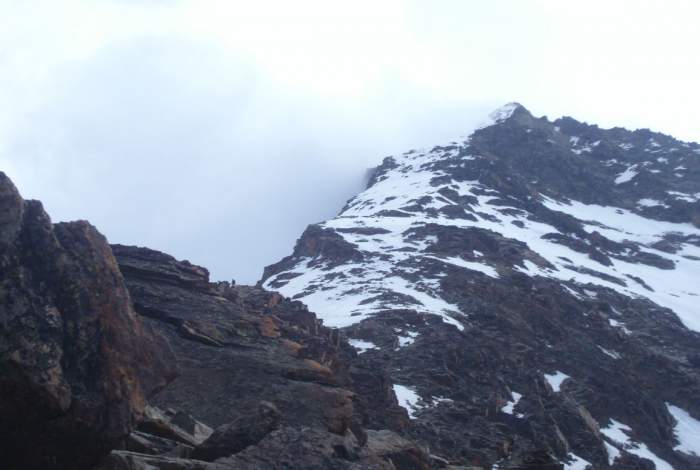 Lagginhorn (4010 m; 13156 ft) is with the simplest access to the summit. The reason is that most of the time you can see the summit directly. There is a small glacier to pass, but you can avoid it if you take a ridge route after the Weissmies hut.
The picture above shows the final part of the summit ridge. You can expect snow and ice here all year, and you should not go without crampons.
I climbed the mountain directly from Saas Grund, so the elevation difference in this case is huge but clearly, this is doable. If you do not want to go that way, you can stay the night in the mentioned Weissmies hut. You can read more in my separate text where this tour is described in detail.
---
4. Weissmies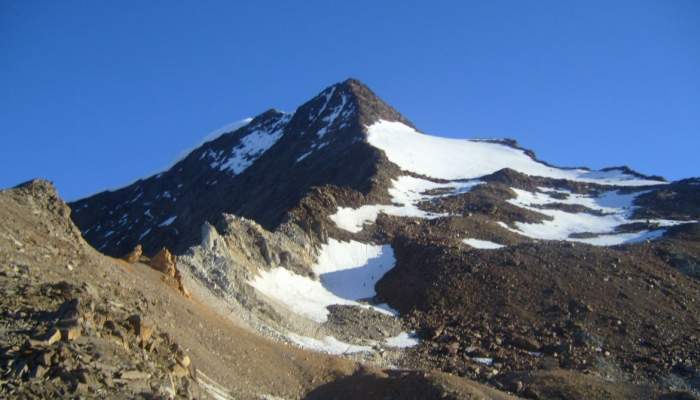 Weissmies (4023 m; 13199 ft) has two very different normal routes. The picture above shows the southeast side route which I climbed solo, this is the view towards the summit from an area close to the Zwischbergenpass (3250 m). This was an obvious choice for me because the other side is a long glacier walk with many crevasses so this was not an option for a solo climb.
From this southeast side, you have a nicely positioned Almageller hut (at 2894 m), and you can climb the mountains in two days. But I have climbed it directly from the valley, started from Saas Almagell. Read more in my separate text.
The other mentioned normal route from the Swiss side starts in Saas Grund. If you are not a purist, here you have an option to take a lift and then you can choose two different points (altitudes) to start your climbs. There are two huts at the corresponding lift stations.
---
So this was my selection of some "easy" Swiss Alps tours that you can do to get to the summits of some of their popular 4000 meters high mountains. Never underestimate these mountains, they are tough and stronger than you, so do not go to 'conquer' but to enjoy. You have seen Lagginhorn, it may look like a simple and straightforward tour but several people died there a few years after my climb.  
You might want to read about the best mountains to climb in Slovenia and also about one-day tours in the Italian Alps.
Thank you for reading. Bookmark this site and come again, I add texts here regularly. Let me know if you have questions, I shall be happy to help, there is a comment box below.