---
Here you have my list of best mountains to climb in the Slovenian Alps, I share my first-hand experience from the peaks that I climbed myself.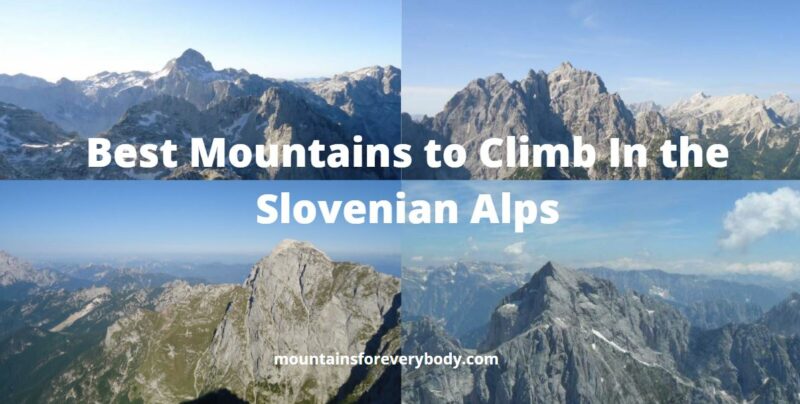 ---
So what is included
As mentioned, these are all the mountains that I climbed in the past, some of my climbs are very recent but some are distant past. For example, Triglav I climbed for the first time 35 years ago, so do not have photos from the routes.
Mountaineering is a beautiful activity, but the truth is it can be dangerous. Therefore, I feel responsible, and this is why I am only adding mountains that I know well and share my own personal experience. In other words, I have climbed these mountains myself, and I did it solo. 
---
Slovenian Alps – best mountains to climb
So here is my list, this is a selection of the most interesting tours and I ordered them more or less from less demanding to more demanding. All these mountains have a variety of routes, but I am talking about the routes that I climbed.
---
1. Mangart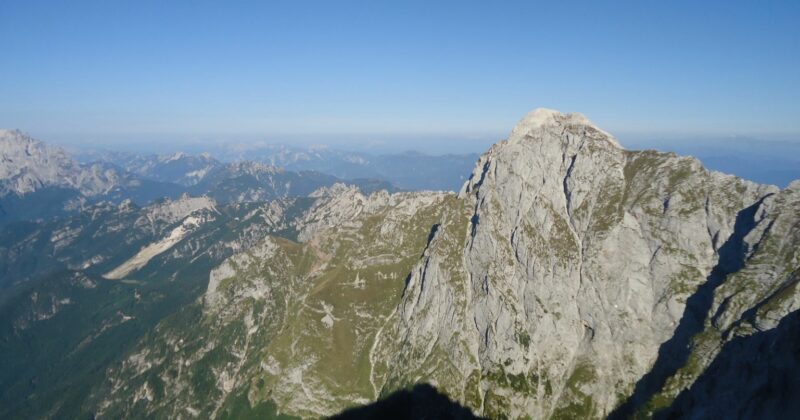 Mangart (2678 m, 8786 ft) is a magnificent mountain with plenty of true alpinist routes and ferratas, and its walls at several sides are nearly vertical. Yet, I put Mangart as the first here because of its normal route which is indeed very easy, a simple walk-up.
The reason is that here you have the highest car access point in the Slovenian Alps, and this is Mangart Saddle (2055 m). From there you can take an attractive ferrata from the Slovenian side, or take a far easier walk-up route that approaches the summit from the Italian side. Plan up to 3 hours from the Saddle to the summit.
As mentioned the Slovenian-Italian border is there and you will be crossing from one to another country on the route. But no worry, you do not need a passport. You can read more about this in my separate text.
---
2. Prisojnik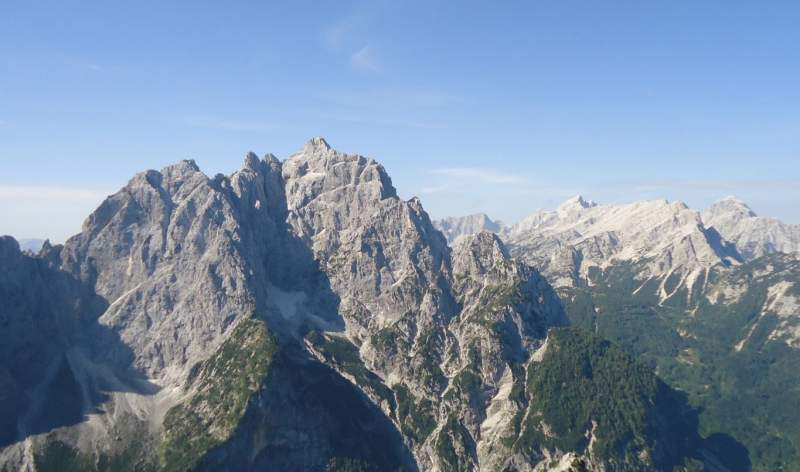 Prisojnik (Prisank, 2547 m, 8356 ft) is yet another mountain where you have a relatively high access by car, and this is Vrsic Pass. So the easiest and the shortest route starts there. But here again, there are numerous routes from nearby valleys, I have walked a number of them at least partly.
The access from the Pass is attractive also because of Okno (Window), a natural opening in the rock, and one variant of the route goes directly through it. But this is a ferrata route, so if you do not have such equipment, you have yet another great option which is described in detail in my text here.
In this case, most of the time you have a simple walk-up with a few exposed sections and a couple of passages with fixed cables, doable by anybody. Although the Pass is so close and the start point is at a high elevation, you will need around 5 hours to the summit even for this easiest approach.
---
3. Spik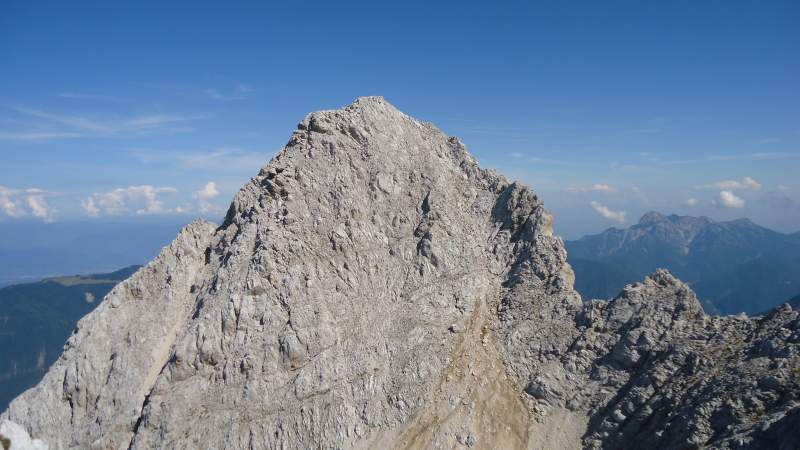 When you watch Spik (Špik, 2472 m) from Kranjska Gora side, it looks so sharp that you might think it is not for ordinary mortals. So indeed this is a true alpinist paradise.
But there are two normal routes to the summit that converge to one under the final summit push, and both are easily done. In fact, you do not even need any special equipment for this, and you can climb this mountain in one day.
There is a pleasant hut in the valley so you can stay there if you wish, this is a beautiful area and you will not regret it. Please follow this link to read more.
---
4. Razor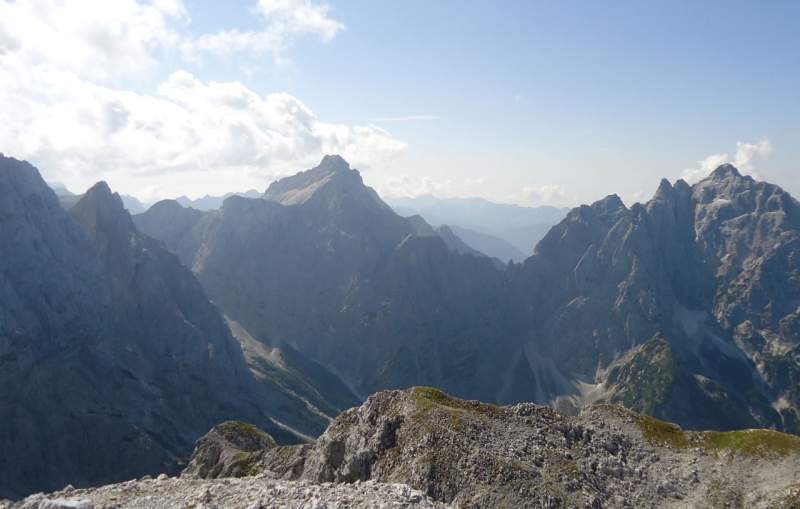 For Razor (2601 m, 8533 ft), shown in the picture above on the left, you will need two days, although it might be doable in one (very long) day as well. The mountain is next to Prisojnik (which is on the right in the picture above), but the most popular routes are from very deep valleys on the other sides. But you can climb it from the previously mentioned Vrsic Pass as well.
I climbed it from the south-west side and stayed a night in the Pogacnikov Dom hut, you can find all the details here. There is no snow on the route in summer. This and several other routes that I walked in the past are simple walks-up except under the summit where you have a short vertical ferrata. This part you can do without equipment, there is a fixed steel cable and steel bolts in place. But I have used a Y-rope and my climbing harness. 
---
5. Skrlatica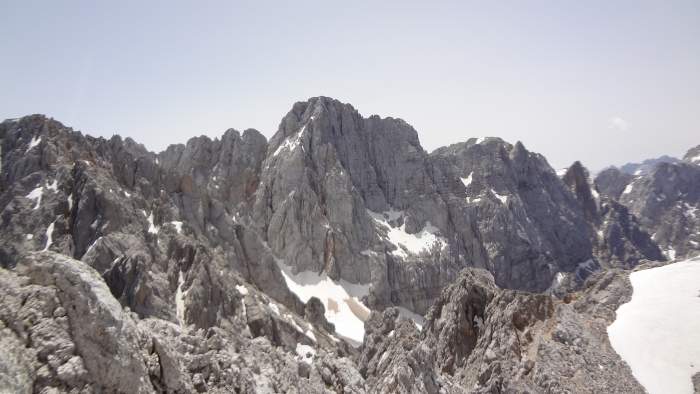 I have a separate text where I compare Triglav and Skrlatica, and my conclusion is that Triglav is harder to climb. Skrlatica is far less crowded although this is the second highest mountain in Slovenia. It is 2740 meters high. One reason is simply that the nearby Triglav is too attractive. 
The second is that there is no hut on the route, you only have a basic refuge, so either climb in one day or stay in the refuge without water and food. In other words, you have to carry all stuff, including a sleeping bag of course.
So although many describe Skrlatica as the queen of the Slovenian mountains, this is quite a lonely queen I must say. If you want to avoid crowd, this is the mountain for you.
Most of the route is a simple walk up. Only under the summit you have several fixed cables, so this is a moderate to hard ferrata section climb.
---
6. Triglav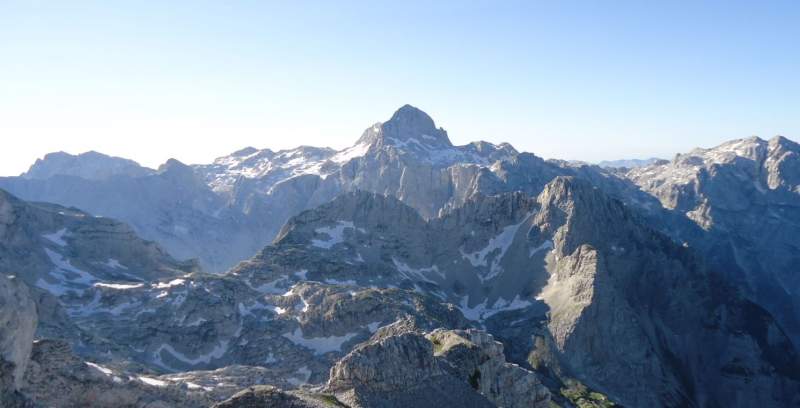 As mentioned above, I climbed Triglav a few times in the distant past, so it is time to go again. This is the highest mountain in the Slovenian Alps and there are numerous routes from all sides and from very deep valleys around. You will need two days for any approach. Though, 34 years ago I climbed it (up and down) in one day and then continued driving for several hundred kilometers after that.
There are many mountain huts on all the sides of the mountain so no worry, you will have a place to sleep. But bear in mind this is a popular mountain and huts may be crowded. The routes are long and you will have long and exposed ferratas on all of them.
The most attractive routes are from the north and you have several long valleys that converge towards Kredarica Hut. Vrata (this means Door) valley is one of the three north valleys and here you have no less than 3 normal routes to the summit. All are attractive and in a breathtaking environment.
The easiest of these three from Vrata? Well, there is no such thing as an easy route to Triglav, but I would say the Prag route is less exposed than any other from the Vrata valley. I have walked all of them, one way or another. Tominskova pot (route) is the most attractive, and Plemenice (Bamberg) route is probably the most difficult.
Note that this Plemenice route goes directly to the summit so you can get to the mentioned Kredarica hut only after reaching the summit and descending a few hundred meters.
The final summit route section (after Kredarica hut) is with many exposed passages so you need ferrata equipment, but it is doable even without it. I did it that way in 1986, without anything for protection; some say that God takes care of idiots. A bit more in my separate text.
---
7. Jalovec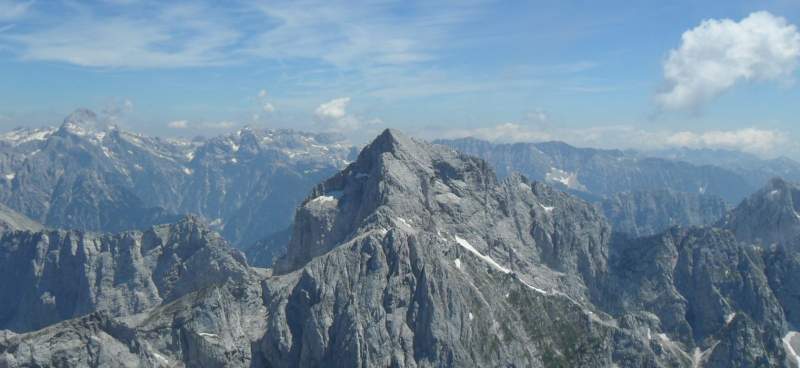 I guess this is my favorite, do not ask me why, the reasons are numerous. This is a great mountain with no easy route. It looks simply perfect from every side, and you have several normal routes from the deep valleys around. The easiest approach is from Vrsic Pass simply because the starting point is at the highest elevation, but this is a long approach through the woods, and then you have rock scrambles with exposed ferrata sections.
The mountain can be climbed in one day from the Pass and this is how I did it, read about my climb here, and read also the text submitted by Martin Olsen here. But you can also make it more pleasant and climb in two days and stay in the Zavetište pod Špičkom hut (2064 m). 
---
So this was my selection of the best mountains to climb in Slovenia. If you want to climb in much higher mountains, read about some relatively easy 4000 meters mountains in the Swiss Alps.  Thank you for reading. Bookmark this site or this post, there will be more Slovenian mountains included here, so stay in touch.
Let me know if you have questions about these or other nearby mountains, this is an area where I have been many times and I hope I shall be able to help if you have questions. Comments are also welcome, there is a comment box below.