---
Breithorn (4164 m) is one of the giants in the Zermatt area in Wallis, Switzerland. Nowadays, climbing Breithorn is just a simple glacier walk from Klein Matterhorn lift station. This route is described here.
[Beethoven: Moonlight Sonata, 1st Movement]
Breithorn Zermatt is a 4000er for every respect. It is completely covered with ice and glaciers from every side. Its summit is a huge glacier dome, but with a relatively easy access from the southwest side, which is still inside the Swiss territory.
But when you are on the glacier you will be walking practically along the Swiss-Italian border if you approach the summit of Breithorn by making an anti-clockwise direction loop.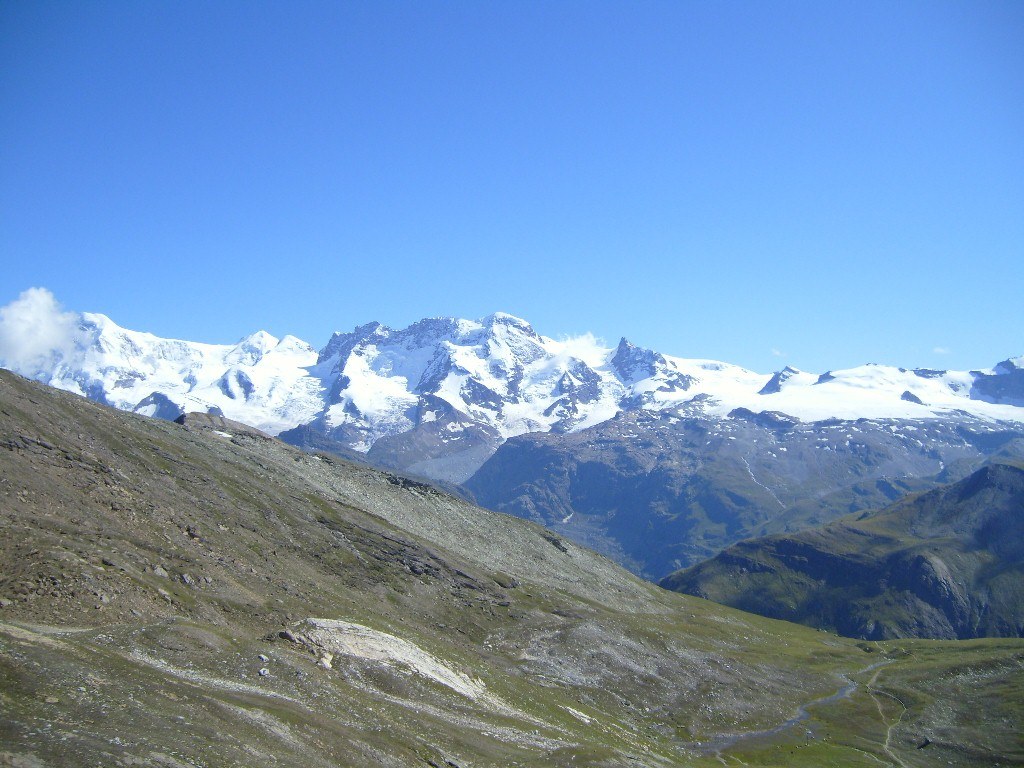 The coordinates of the mountain are:
Longitude: 7.73333
Lattitude: 45.9333
---
Climbing Breithorn
Thanks to the lift from the Swiss side, you will get very easily to the altitude of around 3800 meters. But you will pay a lot for this, in 2009 the ticket was no less than 50 Euro. And the lift is always full.
There is a restaurant at the upper end of the line and the area behind the upper station is a ski paradise all year-round. You can thus enjoy skiing at around 4000 meters even in the summertime.
So if you use the lift, there will be no much of a climb when you start your journey from Klein Matterhorn station, it is just a long walk. You will make a big loop along the glacier, first walking in the south direction along the ski runs, and then turn to the southeast and to the north in the end. The reason for this are crevasses which you will see on your left side.
The mountain is crowded and this is of course due to the lift. If people would have to climb it from Zermatt, this would be a completely different story.
In the present circumstances, you will have to manage only around 350 meters of the height difference and to walk around 2 and a half kilometers over the glacier.
The final slope is probably around 35-40 degrees. So you will definitely need crampons, and if you are in a group you will use a rope. The approach from the east follows a rather sharp crest before the summit.
But do not underestimate the climb, this is a very high altitude and you will feel it in every step you make there.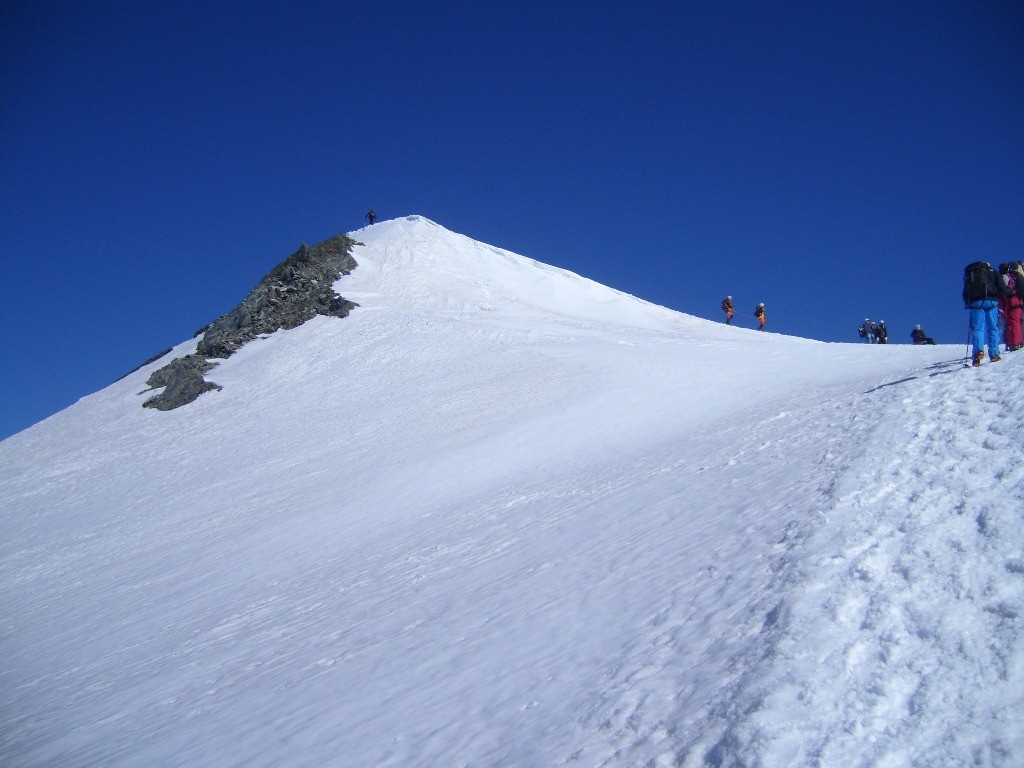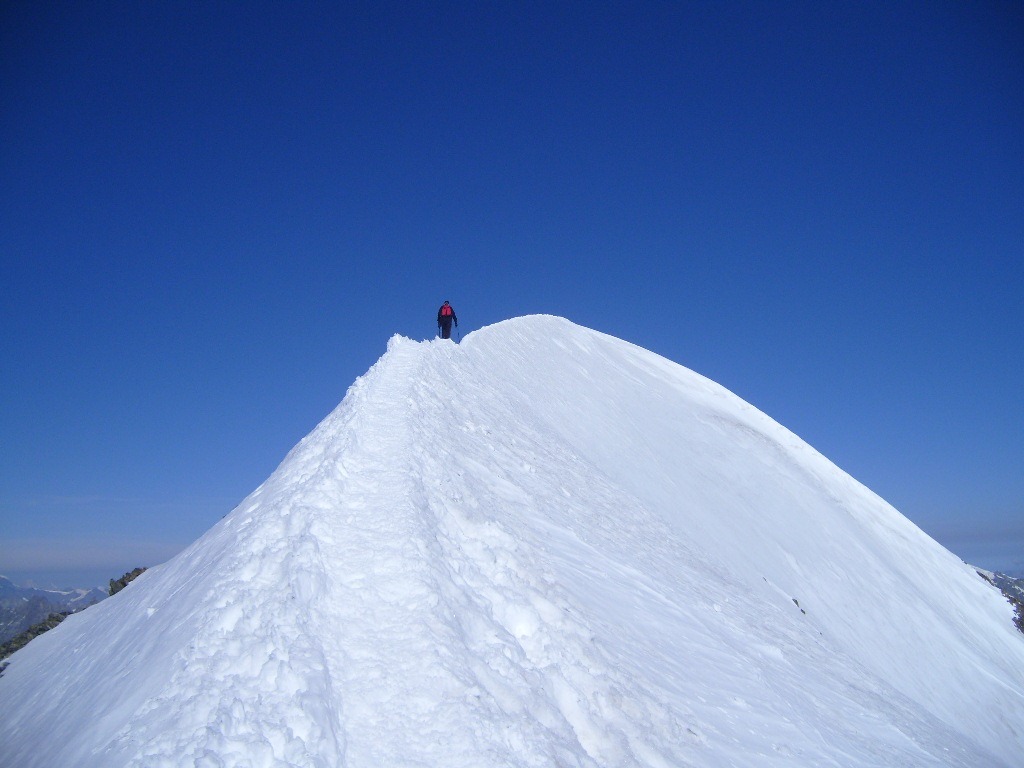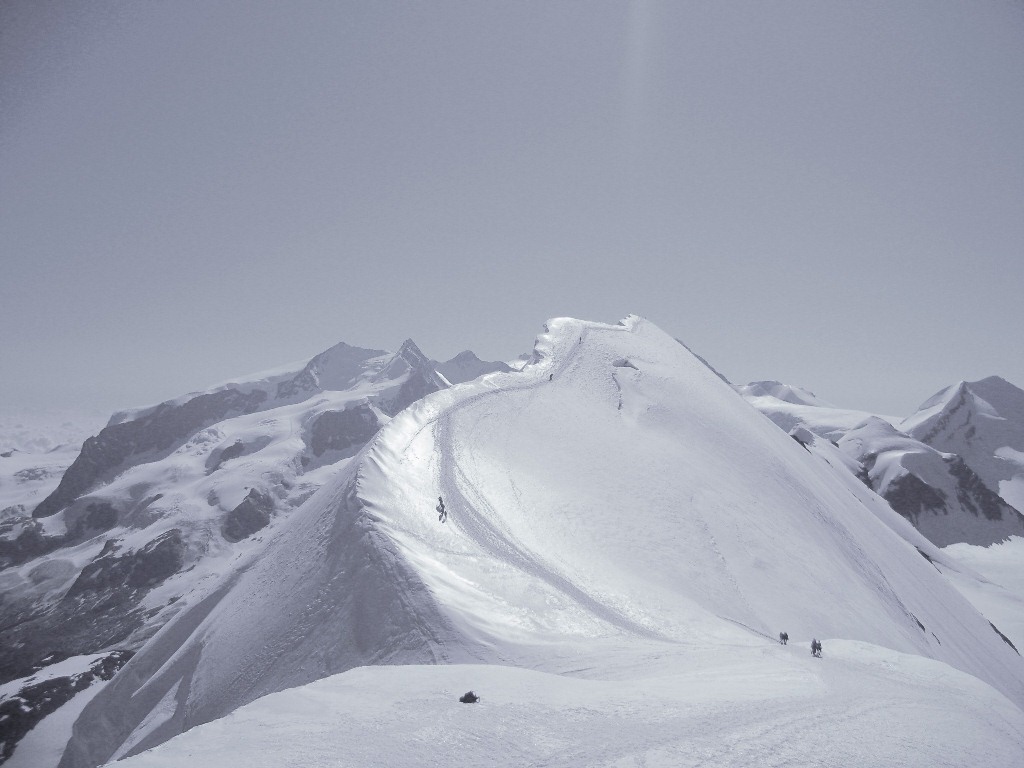 ---
About the necessary equipment
Note, the type of boots depends on the type of crampons, read more in my separate text.
---
My Breithorn Climb
Breithorn Zermatt is the only mountain where I used the lift. Yes, I admit this, and I am far from proud of it. Reasons: lack of time, and a bit related to this, a lack of confidence. Normally, I walk from valleys, you may read about similar mountains where I did just that, Weissmies and Lagginhorn.
But in the case of Breithorn, the access route from Zermatt is far longer. This is because it represents a long loop, it goes first to the south, totally behind the massif of Klein Matterhorn and Breithorn, over Plateau Rosa and Breithorn plateau, and then to the north toward the summit (see the map provided above). And the height difference is more than 2550 meters; but see at which altitudes, from around 1600 m in Zermatt to 4164 m at the summit.
So, I was not sure if I could manage it in one day even if I would not sleep, like in the cases of my climbs to Weismiess and Lagginhorn (and many other mountains, in fact, see for example my pages about Teide, Fletschhorn, and Fuji).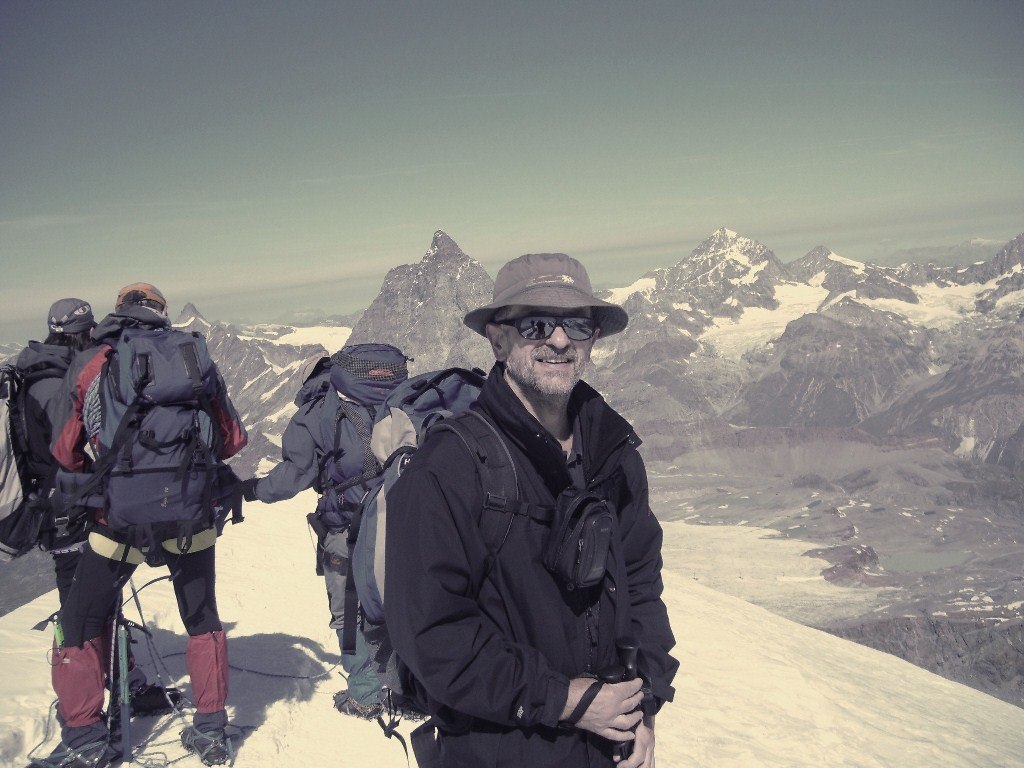 Due to these reasons, in summer 2009, I took the first lift in the morning from Zermatt and after some 20 minutes, I was at the Breithorn plateau. The photos above depict what I saw that morning. I put crampons and started my tour.
I approached the summit from the east and walked the sharp crest which you may see above. There were already many people on the summit. The magnificent Matterhorn was at a stone throw, and it did not look so high from there.
After about 20 minutes or so, I started descending along the other, west route. Many groups were on their way up so at some places I had to step aside the route to let them pass.
This is an example of mass mountain tourism. If you want to experience solitude in mountains, this is not a place for you. Some groups were of 12-15 people, so tightly roped that they hardly had enough space in between them to make longer steps. It looked really ridiculous to me, and it seems the same feeling had the guide of one of the groups. But he was making good money, so everything was good for him.
But one guide was working hard: he had only one customer, obviously with a deep pocket, a rather heavy woman who simply could not walk. Instead of leaning forward, which is normal when you go up, she was actually leaning backward. So the guide was really earning his money that day; he and the rope between them were the only things that kept her from falling back. It was a tugging in the real sense.
---
To summarize, if you disregard these details related to the crowd, climbing Breithorn is still a great experience. Do not try to go without crampons. If you go solo, stay on trails. Crevasses are there even if they are not visible all the time.
If you are in the area and want to play it safe and hire a guide, please follow this link, they will find you somebody from the local area who will take you safely to any of the summits around.
As for accommodation, I myself have been renting apartments through Booking.com. They have plenty of options with fully equipped apartments, houses, and hotels. You can save a lot through their loyalty program.
Comments will be greatly appreciated. I shall be happy to answer any question.
---
Below you have a few YouTube videos about Breithorn:
---
---