---
Bivacco Battaglione Ortles (the full name sometimes seen on the Internet is Bivacco Battaglione Skiatori Ortles, or Bivacco Battaglione Monte Ortles), is at 3122 m above the sea level. This is a truly unique place in the Alps because of its history and position where it has been built.
[La Pobrecita]
By climbing to this refuge, you will not only enjoy a breathtaking scenery of the Italian Ortler Alps, this will also be a travel back to the bloody past of Europe from the time of World War I.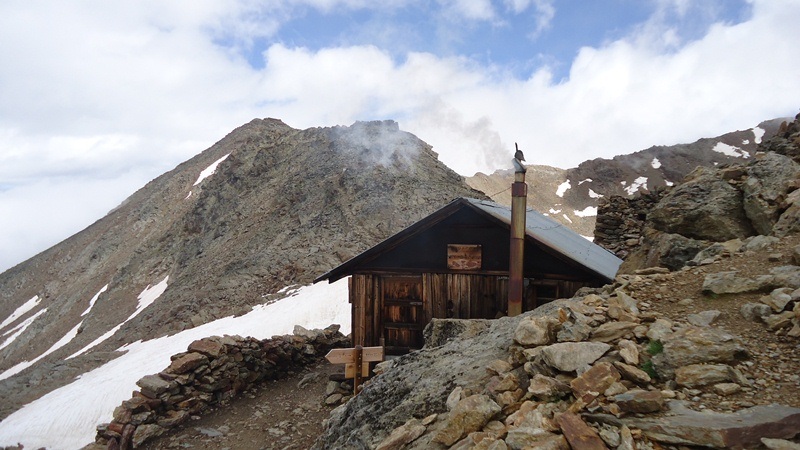 You may not believe it, but these 3000 meters of altitude were an actual front-line during the war. And you will see this immediately; military trenches and fortifications are everywhere around, kilometers long, together with 100 years old barbwire which stretches along the ridge.
If you come from the north, thus from the countries that were at war with Italy in those times, you will realize that you practically did not see any border on your way there. Nobody was checking your passport at any point. You will then understand the true magnitude of what the European nations have achieved in the recent decades.
---
How to get to Gavia pass?
The refuge basic data are:
Latitude :  46.363265
Longitude : 10.540761
Access route : from Berni hut below the Gavia pass, 3 hours.
Place for sleeping : 6, blankets available
Water : from the melted snow
Stove : for wood (to be collected from 100 years old military fortifications around.
Dishes :  a few pots available.
---
The access roads to the Gavia pass (2652 m) may be seen in the map below:
The south access road from Ponte di Legno is very narrow and not for fainthearted. The north road from S. Caterina is fairly good, narrow only at some places. This is an area with many great peaks around, like Corno dei Tre Signori (3360 m), Punta S. Matteo (3678 m), Pizzo Tresero (3594 m), Punta Pedranzini (3599 m), Cima Dosegu (3560 m),  M. Mantello (3517 m), Pizzo V. Umbrina (3438 m).
The climbing route to the Bivacco from the Berni hut at the road below the Gavia pass is marked on the map below, courtesy of © OpenStreetMap:
---
Route from Gavia pass
The starting point is the Berni hut (2541 m) at the road to Gavia pass. The cars are usually parked at the monument on the left side of the road. One option is to follow the sign towards the bridge (Ponte dell'amicizia) and the Tresero (route 25). At the bridge do not cross; just continue along the right (south) side of the water stream which comes from Dosegu glacier.
You may follow the stream for a while gaining the altitude. At some point you will see the path on your right, this is the alternative route also coming from the Berni hut. This second route (number 42) starts from the same point at the road, with the sign to Bivacco. It goes high above the bridge and descends at least 50 meters before continuing up and joining your route. So there is no point of using it when you have to descend at one point.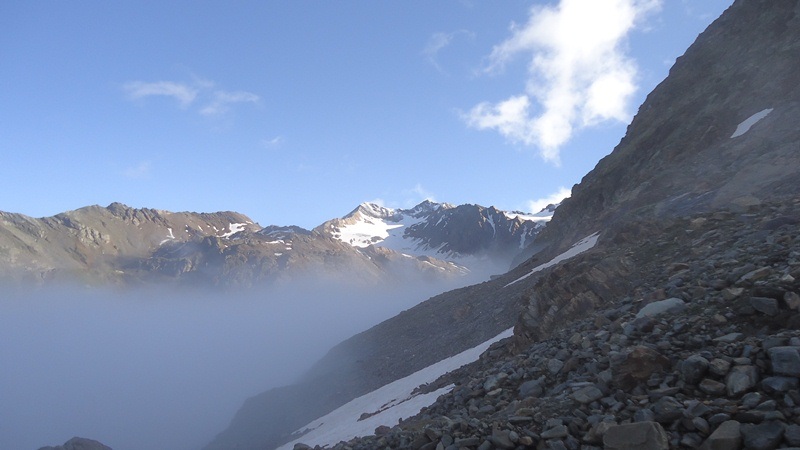 After this, the route zigzags up a steep and unstable terrain, generally in the east direction. You will pass water streams at a few places. Higher up, the terrain flattens-up a bit and you will arrive at a lake. It can be passed on both sides, the left side is over snow and with a possibility of sliding into the called water, so it is better to go along the right side.
The massif of Cima Valumbrina is above you on your left side, it looks impassable from that perspective, but bear in mind: the top of the mountain was a front line. At some point, you will be able to see the Bivacco high on the ridge above you.
There are some passages with snow and yet another lake a few tens of meters below on the right. Your route is now mainly in the north direction. You will be delighted when the Bivacco suddenly appears in front of you. The Bivacco is built by volunteers, and they used the material of the nearby military barracks from WWI.
Inside, there are 6 beds with blankets, a wood-stove is there as well. As for wood, you will collect it around from the military objects; there are rotten planks, props, and wood joists everywhere.  People usually collect and leave it by the stove to dry a bit, so you do the same when you leave; others who come after you will be grateful.
Starting a fire with a wet wood can be very difficult. Be ready for a lot of smoke in the refuge. The place is cold, so having a fire is essential if you stay the night there. Normally there should be matches, but the place is rather wet as well, so you'd better have your own dry matches with you. For water simply collect the snow in a large pot which is there.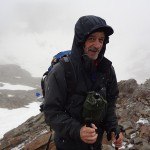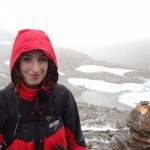 This all area is sacred for Italians and with good reasons. They are proud of this part of their history. Many soldiers died along these trenches at over 3000 meters.
Bodies of some of them are still around, somewhere in the ice of the nearby Dosegu glacier.  Note, the hut Berni at the road is named after captain Berni whose body is yet to be found.
Glaciers are melting, and indeed from time to time bodies have been found in that area of the Italian Alps. There is a bell above the hut, you may pull it for the souls of dead soldiers.
Equipment
In the summer time, you do not need any special equipment to do this route. A lot depends on the weather conditions, you realize this from our experience described in the text. Here is a list of with some recommended stuff:
To see more about clothing, please check my another text.
---
Our climb to Bivacco Battaglione Ortles
We climbed as a group of four people, my daughter Ivana and her boyfriend Iani, my friend Mitsuo from Tokyo and me.  Regarding the age, the youngest was 24 and the oldest 70, but we did it successfully. We started driving very early from Livigno, better to say Iani volunteered and the rest of us used the chance to take some sleep during the long drive.
The weather was far from perfect. We were in clouds most of the time, no views at all.  It was mid-August 2014, yet the temperature at Bivacco Battaglione Ortles was around zero or below. After making fire (with a lot of difficulties), we stayed in the refuge for more than two hours, made soup and coffee by melting snow in a large pot which was there. It was cold inside and wet, far from pleasant.
Two Italian couples arrived separately while we were at Bivacco. They all greeted us heartily. They were obviously happy to see us foreigners at such a sacred place. Around noon, hail started falling and we decided to move back. As we descended instead of hail there was snow, and much later it became rain.
We were back at the road at 15:30, totally soaked but with a great feeling of satisfaction.  Later in Livigno, after a good shower and a pizza in town (they really make huge ones) we could not be more happy, talking about what we did that day and making plans for our next adventures.
---
So, this was our story from the route to Bivacco Battaglione Ortles. I hope you have liked it, we shall be happy to have your comments in the box below. If you have been there, give us your impressions, it will be great to read about your experience there.
There are many great places to visit around like:
As for accommodation, there are many hotels around, and you can find them online. I have a very good experience with Booking. com. They also offer fully furnished apartments and houses. I have used their services many times in the past and can fully recommend them.
---
Here I give some great YouTube videos of the route by Rudi Bianch:
---