---
The Skyline is a completely new series of technical hiking packs, and this Exped Skyline 25 Daypack review is about the bigger of the two packs presently available. This is a completely unique and innovative design.
---
Unique and standout features & key benefits
Switchback suspension system.
Rain cover.
Extra front access.
Internal side pockets.
Extra-large external side pockets.
Extra-large hip belt pockets.
---
Exped Skyline 25 backpack – description
The Exped Skyline 25 pack is a part of a completely new series launched recently. This is a panel-type pack with a long horseshoe-shaped zipper that runs around the sides and the top of the pack. But apart from this, you have an extra smaller zippered entrance on the front, it is shown in the picture above.
This pack is hydration compatible and you have an internal sleeve and a Velcro hunger above it. The pass-through for the water tube is right behind the hanger. This structure is seen in one of the pictures below.
The pack is nicely built, with quality zippers and with glow-in-the-dark elements on all zippers' pulls, so it gives some extra visibility in the dark. They have thought of everything here.
The Skyline 25 comes with its bonus rain cover stored in the zippered pocket completely on the bottom. The cover is with its pull string, so you can fix it around the pack and it will be safe in the case of wind and rain together. But note also that the fabric of the pack is PU coated and with 1500 mm waterproofness rating. Compare this with an umbrella which is typically around 500 mm.
The suspension system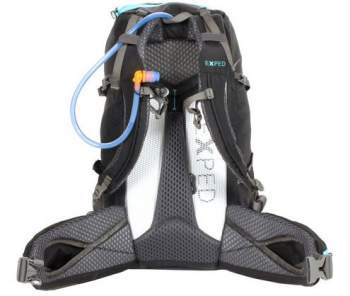 I mentioned above its Switchback suspension system. It works in two different settings. So you have:
The Contact mode implies that the back surface of the pack is in full contact with your body, for an ergonomic close fit and for superb load control.
So this is something typical for most of the packs in this category. The padding is there all over the surface, and you have four major padding areas, two vertical on the sides, one top padding which gives support and cushioning behind the shoulders, and one in the lumbar padding zone. This is visible in the picture.
A pleasant mesh covers all this padding, and you have some ventilation channels as well, but as usual, you should not expect much of the ventilation in such a setup.
The Air mode is a setting where you create a lot of space between your back and the pack, for a superb ventilation. Both modes are shown in these two pictures:
To switch from the Contact mode to the Air mode, you undo the velcro connection for the particular centrally positioned segment on the back. You press the pack from above to create tension in its spring steel frame, and then reposition the velcro connection so that when you release the pack, the tension is created in this central stripe. See the picture below which shows the central stripe.
In this state, the back panel becomes curved, the backpack gets separated from the body and there is a free airflow between the body and the pack.
Note that you still have the contact in the lumbar zone and in the upper zone, so only the side padding is effectively separated from the body and you have air escape routes to the sides. This is what you normally have in standard tensioned mesh designs, see for example Deuter Futura 22, Osprey Stratos 24, and Gregory Zulu 30 pack.
So this system is fully adjustable for the individual comfort, and you have an airy 3D mesh on the contact points on shoulders and on the waist belt.

The shoulder straps' padding is very pleasant and covered with a breathable mesh. The hip belt is with the same materials, but there is a bit more to it. You have a split structure in the belt, there is a quite wide opening on the sides. This allows for some extra ventilation in this zone which is normally always most heated.
On the other hand, this structure allows for a perfect fit around your sides. This split system simply hugs your hips. This is something I have seen and mentioned in the description of some other packs, like the Teton Sports Talus 2700 backpack, and Teton Sports Mountain Adventurer 4000 Backpack. But as you realize, these are larger packs and you usually do not have such a structure in smaller packs. Well, you have it here, and it is visible in the picture below.
The load lifters are available, as well as an adjustable sternum strap. So all great elements are in place here, and all looks very impressive. But note, you do not have the torso length adjustment.
Pockets
This is where the pack stands out. It is surprising to see so many of them. On the hip belt, you have two unusually large zippered pockets. They are larger than in most of the other packs.
On the sides, you have two pockets, again very large and expandable; when you undo the compression straps that run over them, you have a huge storage area in those pockets. Note, these side pockets are not stretch, quite appropriate if you store some heavy objects in there.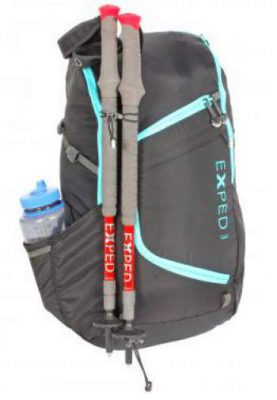 Inside the main compartment, you have two internal side stretch mesh pockets, this is something rarely found in any pack. One very large zippered mesh pocket is on the front panel, from inside, and you have access to it when you open the front panel.
Yet another mesh zippered pocket is on the inside of the extra front access; here again, you have access to it when you unzip this extra entrance. If this is not enough, one small external zippered pocket is also on the face of this extra front entrance.
So this is 9 pockets in total, quite impressive.
Attachment points
There is a pair of bungee cords on the left side, one on the bottom and one on the top-side, and you can attach trekking poles here. Dual compression straps are on the sides. So whatever you store in those huge side pockets, you can fix it in place.
A few comments about the features
As you have seen the pack has an extra front access. It looks cool, but for a pack of this size, I did not find this necessary. But on the other hand, there are packs of this size or even smaller, which have an extra bottom compartment and therefore an extra access. So this extra access is instead of a classic bottom compartment.
Another good thing about this feature is that there is a mesh pocket on the inside of this entrance, so when you unzip the external zipper, you have a direct access to this small internal zippered pocket. But these two zippers add weight (and features, as usual).
The switchback suspension also looks cool but the question is if you really need this. The philosophy of this hybrid design is to regulate ventilation dependent on the load. But the narrow tensioned strap, which you have in the Air mode, goes along the spine, so this is along the zone where the sweating is normally the biggest. It would be better to have them two, one on each side.
Or it would be better to have just a normal tensioned mesh system with perfect ventilation and with proper support. You can see it in numerous packs in the site. This tensioned mesh system was introduced by Deuter several decades ago, and in recent years, you have more and more packs from other brands with such a system. Nothing else can provide better ventilation, I have been using packs with such a system in the past 15 years.
---
Specifications
Best use: hiking, mountaineering, travel.
Volume: 25 l (1525 cu in).
Weight: 1080 g (2 lbs 6.1 oz).
Size: 52 × 26 × 24 cm (20.5 x 10.2 x 9.4 in).
Torso fir range: 42 – 52 cm (16.5 – 20.5 in).
Carry capacity: 12 kg (26 lb 7 oz).
Panel loading.
Product No.: 7640147768185.
Materials:
– Body: 210 D Robic HD Ripstop nylon, PU coated, 1500 mm.
– Oeko-Tex 100 certified.
– Frame: HDPE frame sheet with spring steel reinforcement.
Rain cover included.
Warranty 5 years.
Hydration compatible.
Switchback suspension.
Extra front access.
Two side pockets.
Two internal mesh pockets.
Two internal side pockets.
Dual hip-belt zippered pockets.
Trekking pole attachments.
---
Summary, rating, pros & cons
To conclude this Exped Skyline 25 Daypack review, the item you have here is clearly an advanced tool with plenty of very useful features. I argue that some of them are perhaps not necessary, but on the whole, this design represents a kind of shifting of boundaries and setting new trends and standards. The price is excellent and all in all I can fully recommend this pack. It is truly impressive. Please see below how I rate it.
If you need a smaller pack, please check this Skyline 15 pack from the same series.
You might want to compare this Exped Skyline 25 pack with this new Gregory's Citro 25 pack from their 2017 series and with this unique Ultimate Direction Fastpack 25. Check also this Osprey Hikelite 26 pack.
Thank you for reading. I hope you find the text useful, and if this is so please share it with others. I shall be happy to hear from you, so do use the comment box below. I wish you a nice day.