---
Exped Skyline 15 Daypack is a pack from a completely new series of technical hiking packs launched recently. It offers a completely unique and innovative design and plenty of features.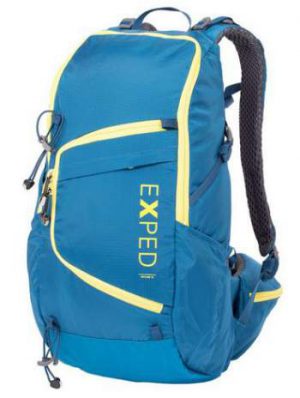 ---
Unique features and benefits
Switchback suspension system, completely unique.
Extra front access.
Internal side pockets.
Extra large external side pockets.
Extra large hip belt pockets.
Rain cover as an obvious bonus.

---
Exped

Skyline 15 backpack – description
First about the number in the name. Such numbers usually give the volume in liters, so here you have 15. But in fact, in the specifications of this pack, even in the site of the Exped brand, you will see 17 liters volume. No idea why have decided to use 15. Just to know.
The Exped Skyline 15 pack is a panel-loading type, so it comes without the traditional lid. Instead, you have a long horseshoe-shaped zipper that runs around the sides and the top of the pack. Apart from this main access, you have an additional smaller zippered entrance on the front. This allows you to get quickly to the things that are on the bottom of the pack. These zippers are visible in the picture above.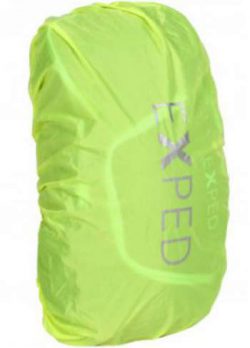 This is a small pack, for very quick and light hiking day tours. But the pack offers a lot for such a size. There is a lot of organization in the main compartment, see below. Here just to mention that the pack is hydration compatible, so the water bladder sleeve is in the main compartment, and you have a Velcro hunger above it. The pass-through for the water tube is in the middle, right behind the hanger. You can see all this in the pictures.
Being a panel loading pack, you have many zippers around and those are quality zippers with glow-in-the-dark elements on all pulls. This is very useful and it gives some extra visibility in the dark. Not many packs on the market have such a feature (well, I am going to use this sentence below again, this is a unique design in several ways).
The pack comes with an integrated bonus rain cover which you will find stored in a zippered pocket completely on the bottom. The cover has its own pull string, so you can fasten it around the pack and make secure in the case of wind.
You should know also that the fabric of the pack is PU coated, so you have rain protection up to 1500 mm. This is around three times the value you have in a typical umbrella.
The Switchback suspension system
Obviously, the suspension is one of the most unique things here, you will not see it in any other pack on the market, so it needs to be mentioned in a separate section. This is what they call the Switchback suspension system. The meaning of this term is that you have two different settings or modes:
The Contact mode
This is a setting is similar to what you have in most of the packs of this size. So the back surface is more or less flat and you have the usual padding with some ventilation channels. In such a configuration, the pack is more close to the body, and they claim this is better so in order to have a good load control. See this mode in the picture above.
The padding in such a configuration is very generous and you can see it in pictures. So you have two padded surfaces running vertically on the sides, one padded surface is on the top, behind the shoulders, and one large surface is below in the lumbar zone. This is visible in the pictures. A very pleasant mesh covers all this padding.
The Air mode
This is a very peculiar setting. In this mode, you create a space between your back and the pack, for a superb ventilation.
There is a centrally positioned stripe with Velcro connection, so you undo the Velcro and press the pack from above to create tension in its spring steel frame, and after that just reposition the Velcro connection so that, when you release the pack, the tension is created in this central stripe.
In this mode, the back panel becomes curved, see the picture above, the mentioned two padded sections on the sides get separated from your back and there is a free air flow between your body and the pack. Only the central stripe remains in contact with your back, and you still have the lumbar support, and the contact zone on the top, behind the shoulders, is still there.
So this system is fully adjustable for the individual comfort, and you can change it depending on weather conditions. When it is hot or when you are climbing up and sweating a lot, you get to the Air mode and have a better ventilation. In descending a mountain you will likely be using the Contact setup. In this case, just the release the Velcro and the pack's back will become flat again.


The hip belt and shoulder straps are padded and covered with a breathable mesh. There is a split structure in the belt, with a quite wide opening on the sides. This design is there to allow for extra ventilation in this most heated zone. This structure also allows for a perfect fit around your sides because the split system simply hugs your hips. This is something available in bigger packs like the Teton Sports Talus 2700 backpack, and Teton Sports Mountain Adventurer 4000 Backpack and it is not so frequent in packs of this size.
You also have load lifters and an adjustable sternum strap. This is a small pack and its torso length is fixed, there is no length adjustment except for what you can get from the load lifters and shoulder straps adjustments. But this is a small pack, not a big deal in any case.
Pockets
This pack comes with an impressive set of pockets, no less than 9 in total.
You have two very large hip belt zippered pockets, not many packs have them so big and this holds also for big packs. Dual pockets are on the side, but those are again very large and expandable; when you undo the compression straps which you have there, you have a huge storage area in those pockets. They are not stretch, so they can carry quite heavy objects, and they expand toward outside so they do not take space from the main compartment.
There are two internal side stretch mesh pockets in the main compartment, quite unusual to find them there, but they are very functional and useful for internal organization. You can see one in the picture below.
One very large zippered mesh pocket is on the inside of the front panel, so you have a direct access to it when you open the front panel. Yet another mesh zippered pocket is on the inside of the additional front opening, so here again, you have an access to it when you unzip this additional entrance.
There is one small zippered external pocket on the front, exactly on the front access panel.
Attachment points
You have dual compression straps on the sides, the lower are on the side pockets, and the upper you can use to cinch the pack or to fix things stored in the side pockets. This adds a lot of extra carrying volume to this tiny pack.
On the front, there is a pair of bungee cords on the left side, one on the bottom and one on the top-side, so you can attach trekking poles.
---
Specifications
Best use: hiking, mountaineering, travel.
Volume: 17 l (1037 cu in).
Weight: 1050 g (2 lbs 5 oz).
Size: 52 × 26 × 16 cm (20.5 x 10.2 x 6.3 in).
Torso fit range: 42 – 52 cm (16.5 – 20.5 in).
Carry capacity: 12 kg (26 lb 7 oz).
Panel loading.
Product No.: 7640147768161.
Materials:
– Body: 210 D Robic HD Ripstop nylon, PU coated, 1500 mm.
– Oeko-Tex 100 certified.
– Frame: HDPE frame sheet with spring steel reinforcement.
Rain cover included.
Warranty 5 years.
Hydration compatible.
Switchback suspension.
Extra front access.
Two side pockets.
Two internal mesh pockets.
Two internal side pockets.
Dual hip-belt zippered pockets.
Trekking pole attachments.
---
Pros and cons
Here is my short summary:
  Good

  Less good

Bonus rain cover.
Many pockets.
Very wide-open access.
Extra front access.
Very advanced design.

Some unnecessary features.

No bottom straps.
As you have seen the pack has an extra front access. It looks cool, but for a pack of this size, I do not find this necessary.
The switchback suspension also looks cool but the question is if you really need this. You have understood the philosophy of this hybrid design, this is all about ventilation, and it is used dependent on the load. But this is a really small pack, and this is not so essential. I would love to have this in some considerably bigger packs.
Note also that the narrow tensioned strap, which you have in the Air mode, goes along the spine, which means along the zone where the sweating is normally the biggest. So this is not optimal, to say the least.
---
Comparison with competitors
I compare the Exped Skyline 15 backpack with a very new model from Kelty, from a completely new 2017 series, the Riot 15 pack. The reason for choosing this pack is because they are formally similar (both panel-loading type) but in the same time so drastically different, just to know what you can expect when you go to another extreme, so have a look:
Exped Skyline 15

Kelty Riot 15
Weight (kg)

1.05

0.48
Volume (l)
17

*

15
Loading

panel

panel
Hydration compatible

yes

yes
Rain cover

yes

no
Internal frame

yes

no
Harness adjustable

no

no
Belt pockets

yes

no
*Remember what I said above about the volume?
The prices at the moment of writing this text are $129 and $70, respectively. Yeah, as always, nobody can match Kelty when it comes to the price and quality combination.
The volume-to-weight ratio for the Riot 15 is almost twice as big as the ratio for the Skyline 15, but see the difference in some basic features. To see more about the Kelty's pack, please follow the link, it has some extra features in spite of those missing in the table above.
---
The rating of Exped Skyline 15 daypack
Volume to weight ratio -

7.6/10

Features and bonuses -

9.6/10

Comfort -

9.4/10

Price -

8.2/10
Summary
The Skyline 15 shines in features and bonuses. But it is a bit expensive for a pack of this size, and its volume to weight ratio is around 16 (in liters per kilogram units), which is not so great. But the absolute weight is still not huge, and also bear in mind that this is a sturdy construction, and the weight reflects this.
---
Summary
In conclusion of this text to stress again that the Exped Skyline 15 Daypack is an advanced outdoor tool with a sturdy and strong construction, with a unique design, with plenty of very useful features, and perhaps with some that are not necessary. This is a reliable pack from a very renown brand. In the past, Exped has received awards for their outdoor tools.
If you want something unique and with exceptional features, this is the pack for you. I can fully recommend this pack to anybody. Note that this Skyline series includes also a larger Skyline 25 pack.

Thank you for reading. I hope you find the text useful, and if this is so please share it with others. I shall be happy to hear from you, so do use the comment box below. I wish you a nice day.
---