---
In this Ultimate Direction Fastpack 25 Review you can read about one of the packs from the new series, with an ultra-lightweight, minimalist, and yet very functional design.
---
Key features & benefits
Very lightweight.
Roll-top entrance to the main compartment.
Quite unique InfiKnit construction.
A lot of storage space on the shoulder straps.
---
Who is it for
By size, this is a great daypack for quick and light hiking tours. But it is so flexible and great for trail running, for biking, skiing. If you do not have a lot of stuff in the main compartment, you can cinch the pack a lot, there are side straps for this purpose, one on each side.
---
Description
The Ultimate Direction Fastpack 25 is a minimalist design with respect to its backpack features but it incorporates a lot of the design from running vests from this brand. So you have a lot of storage area on both shoulder straps. 
The number 25 in its name should indicate the volume, so indeed this is the secured volume, but there is some 5 liters of volume available in its pockets without zippers. So the total volume is 1782 cubic inches (29 liters). 
The materials are very lightweight, so you have 100D Robic Triple-Ripstop and Power Span Stretch mesh. The back of the pack is a unique InfiKnit construction which implies a seamless piece of fabric all over the shoulder straps and the back panel, see the picture below. This all is very flexible of course because there is no frame here except for some foam on the back.
You have two sliding sternum straps, highly adjustable in both directions. Note that they build the pack with two chest sizes, Small/Medium and Medium/Large.
One of a bit peculiar details is the entrance to the main compartment where you have a roll-top closure, see it below. This is very functional because it allows for extension and also to cinch it down in the case of less load. Note that the roll-top straps and the side straps are connected, this is visible above.
On each side, you have one compression strap. These are indeed there for compression but they are constructed in such a way that you can use them to fix gear in the side pockets.
You have attachment elements on the front, so here you have very long dual daisy chains, and also dual attachment loops on the bottom, paired with dual bungee tie-offs higher on the pack. Here you can attach trekking poles and ice axes.
The pack is hydration compatible, with a sleeve inside the main compartment, shown above.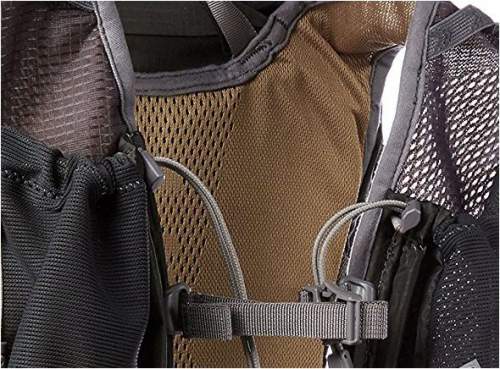 Pockets
Pockets design is interesting and unusual. So you have a very deep and large elastic shove-it pocket on the front, located between the mentioned dual daisy chains. Above it, you have yet another zippered pocket. The usual dual mesh pockets are on the sides, for water bottles or for small gear.

The most interesting part is the design of the shoulder straps pockets, see below. So on the chest, you have two upper very big mesh pockets with cinch cords, big enough for water bottles. Below these top pockets, you have zippered pockets, one on each shoulder strap, asymmetric in design, one with vertical zipper and one with horizontal.
The new 2017 Ultimate Direction Fastpack series
This new series includes backpacks of 15, 25, 35, and 45 liters. So do not mix some of these with the previous packs of 20 and 30 liters. This is a new series with more packs. Here is a short video about it, please have a look:
---
Specifications
Gender: unisex.
Weight: 19.43 oz (555 g).
Volume:
– Secured volume: 24 L (1465 in³).
– Unsecured volume: 5.2 L (317 in³).
– Total volume: 29.2 L (1782 in³).
Dimensions: 27.6 x 11 x 8.3 in (70 x 28 x 21 cm).
Chest sizes: 2, S/M and M/L.
– S/M chest fit: 64 – 102 cm (25 – 40 in).
– M/L chest fit: 76 – 122 cm (30 – 48 in).
Two sliding rail sternum straps.
Two trekking pole loops.
Dual daisy chains.
Dual bungee tie-offs.
Two large mesh side pockets.
Materials:
– MonoRip Mesh: breathable, non-stretch, and hydrophobic, ideal for bounce-free load carrying.
– 100D Robic Triple-Ripstop: high-tenacity nylon for strength and durability.
– Power Span Stretch Mesh: high-strength, durable stretch mesh.
---
Summary & rating
To conclude this Ultimate Direction Fastpack 25 Review, this pack is full of unusual features, but some are missing as well. The design is quite unique and functional, in particular, numerous storage elements on the shoulder straps. But it lacks a frame and padding. The price is steep, but this is the matter of preference and purpose; if you like this style and need a pack for fast trail adventures then this might be the pack for you.
As usual, the lack of weight implies that things are missing, so you do not have zippered pockets on the pack, there is no rain cover, no hip belt, materials are thin. In view of this, the weight of 555 grams is not a surprise.
But the shoulders straps with all those pockets are very useful and many people like them. You should know that the already existing packs of 20 and 30 liters (from another very similar series) have been rated very high by users. Most likely this new series will also be very popular.
The InfiKnit design is fine, but you will have no ventilation here. Observe also that the shoulder straps are without any padding, they are transparent.
This pack is without the hip belt. So again, this is a running vest design. Instead, you have two sternum straps. In other words, all load is carried on your shoulders. This may be fine for a small load but it is far from optimal when the pack is full. See below how I rate this pack:
Ultimate Direction Fastpack 25
Pros
Unusual roll-top entrance.
A lot of volume.
Ultra lightweight. InfiKnit seamless construction.
Unique shoulder straps design with storage elements.
Cons
No rain cover.
No hip belt.
Not adjustable harness.
Thin materials.
No padding on the shoulder straps.
No ventilation.
If you need a bigger pack from this series, please check my texts about the 35 liters and 45 liters. The smaller 15 liters pack from this series is described here.
Thank you for reading. Note that many daypacks are available in this site, so please visit this page if you need something different. There is a comment box below, just to know in the case of questions and comments.