---
This Ultimate Direction Fastpack 15 Review is about an ultra-lightweight day pack with a hybrid design, a mixture of a trail running vest and a pack.

---
Key features & benefits
Ultra-lightweight.
A lot of storage space on the shoulder straps.
Roll-top entrance to the main compartment.
Zippered front entrance to the main compartment.
---
Who is it for
The Ultimate Direction Fastpack 15 backpack is a small and unique hydration pack for light and fast day tours. It combines features of a running vest and a light hiking pack. They have managed to make a really specific hybrid pack that might be suitable for both trail running and day hiking.
Its shoulder harness with all storage elements is really impressive and this is its best part. But there are features which I dislike. See more in the description below.
---
What is this about
The Ultimate Direction Fastpack 15 backpack is a part of a new 2017 series which includes this 15 liters pack and also the packs of 25, 35, and 45 liters. The three larger packs share almost the same features, but this smallest pack in the series is quite different in many details.
These are all packs without a frame or padding, some are without a hip belt as well (this, and the 25 liters pack). So I am highly skeptical about a true purpose of the larger packs, and you can see this in my Fastpack 45 backpack review. But I am quite sold on this smallest pack. Such a design makes sense for packs of this type and size.
Yet, I cannot miss noticing this. In the description of this pack, the company writes "Designated no-bounce laptop pocket with cord storage securely inside". You will even see this in the video below.
Now, who on Earth is going on trail running with a laptop in such a pack which is completely in the style of a running vest? Oh, by the way, the guy in the video did not bother to mention that this internal sleeve is also meant to be used for a water bladder. Who cares about water during a trail running? Yeah, it is the laptop that you should think about.
So indeed, after seeing this whole new series I feel totally confused and wonder who was in charge of all this crap. Here you have this trail running 15 liters (in fact 21 liters) pack which is supposed to carry laptop (see the picture below), and in their 45 liters version (which is in fact 47 liters) you have a complete trail running design in a huge pack without any frame and without any padding whatsoever.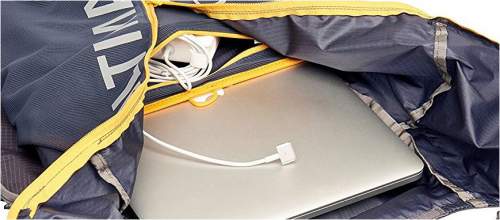 ---
Description
All mentioned above aside, this pack truly looks great. Its design is quite different from the bigger packs in this series. To start from the top and front; here you have the roll-top entrance, the common feature in this series. But you also have a very long centrally positioned zipper which opens the pack like a suitcase.
I cannot miss saying something nasty here again: this is a very small pack and yet it has this totally unnecessary extra front entrance. But this same feature is missing in all larger packs in the series, i.e., in the packs where it would truly be useful.

Back to this pack – you have two very deep and useful stretch mesh front pockets, one on each side of the mentioned redundant zipper. There is nothing more on the front.
Inside of the main compartment, you have the already mentioned sleeve for laptop, pardon, for a water sleeve, and there is an opening for the water hose (assuming you do not need it for the laptop's power cable perhaps?) in the middle.
See this short video by the company, where they describe this Ultimate Direction Fastpack 15 pack. The guy is running with a laptop:
The shoulder harness and suspension
This is the best and the worst part of this pack.
First about "the worst". This is because you do not have any real frame or padding on the back. The pack sits close to the body and you do not have any ventilation. Needless to say that its whole weight is totally on your shoulders. The shoulder straps are as thin as a paper, no padding of any kind, and it is totally transparent.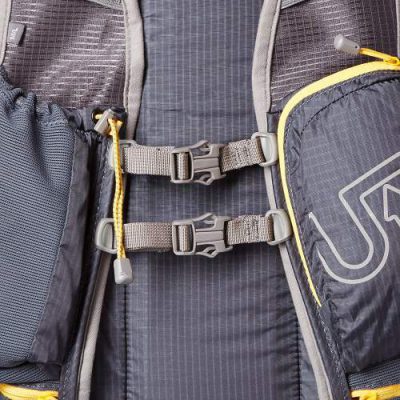 You do not have any hip belt. Instead, they have added an extra chest strap, so you have them two, nicely designed and very useful, see them above. This is the same for all packs in the series.
About "the best" now. This is the shoulder harness system where you have no less than 5 pockets. Three of them are with zippers (see the picture below), one is a water bottle holster with a cinch cord, and one is a pass-through pocket behind the two zippered pockets on the left shoulder strap. This design is a bit different from the bigger packs in the series where you have even more features.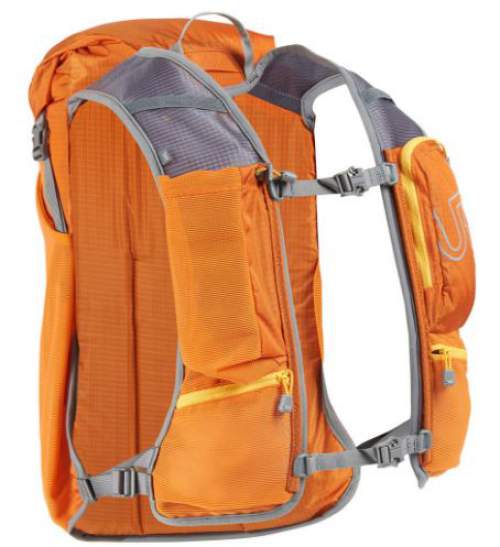 ---
Specifications
Gender: unisex.
Weight: 17.5 oz (500 g).
Volume:
– Secured volume: 15 L (915 in³).
– Unsecured volume: 6 L (366 in³).
– Total volume: 21 L (1281 in³).
Dimensions: 18.5 x 10.2 x 7.5 in (47 x 26x 19 cm).
Chest sizes: 2, S/M and M/L.
– S/M chest fit: 64 – 102 cm (25 – 40 in).
– M/L chest fit: 76 – 122 cm (30 – 48 in).
Two sliding rail sternum straps.
Designated no-bounce internal laptop pocket.
Two large stretchy mesh front pockets.
Long vertical front zippered entrance to the main compartment.
Roll top entrance to the main compartment.
Materials:
– MonoRip Mesh: breathable, non-stretch, and hydrophobic, ideal for bounce-free load carrying.
– 100D Robic Triple-Ripstop: high-tenacity nylon for strength and durability.
– Power Span Stretch Mesh: high-strength, durable stretch mesh.
Colors: 2, see the pictures.
---
Summary & rating
To conclude this Ultimate Direction Fastpack 15 Review, if you look this whole series of 4 packs, this pack is the most appropriate for its design. It is small enough to be used by fast-moving adventurers even though it is without any padding and frame.
If you disregard that statement about the laptop, you really have a hydration pack suitable for quick and ultra-light day adventures, with plenty of useful features. But do not load it too much, and do not run up Mt Teide (or any similar mountain beauty, e.g., Mount Fuji) if it is fully loaded; remember, you need to breathe and the air is thin out there, and in this design, all weight is on your shoulders.
In view of the long list of cons shown below, one may ask who would want such a pack. But look it from the other point of view. You may not need a rain cover, you may not need an adjustable torso length. You have two chest straps instead of the hip belt. The padding may not be so critical in the case of a small load, the shoulder straps are quite wide and this may compensate for the absence of padding. Ventilation? You are supposed to sweat in the activities which this pack is designed for.
The pack looks great, and I love all that I see on its shoulder straps. See how I rate it:
Ultimate Direction Fastpack 15
Pros
Roll-top entrance.
Ultra lightweight.
Unique shoulder straps design with storage elements.
Cons
No rain cover.
No hip belt.
Not adjustable torso length.
No padding on the shoulder straps.
No padding on the back.
No ventilation.
Nevertheless, if you need a more standard daypack for hiking tours, please check my page with packs below 35 liters, there are many great packs presented there.
Thank you for reading. Please let me know what you think about this pack, I love to hear from you; there is a comment box below. Have a nice day.