---
This Ultimate Direction Fastpack 45 Review is about a unique pack with a hybrid design featuring train running elements in a pack large enough for overnight and weekend tours. But its true purpose remains unclear to me.

---
Key features & benefits
Very lightweight.
Roll-top closure for the main compartment.
Unique InfiKnit back construction.
Impressive storage space on the shoulder straps.
Dual sternum straps.
But, …

---
What is it – who is it for
The Fastpack 45 backpack is the largest in the new 2017 series which includes packs of 15, 25, 35, and 45 liters. It is built in the style of their trail running vests. In view of this, you have a lot of features on the shoulder harness, see more about this below.
This is a close-fit design, which means it is completely flexible and rides close to the body. But to put it bluntly, this means you do not have any real frame here, no padding, no ventilation, no real hip belt to support the load.
The number 45 in the name indicates its volume, but the real volume is a bit bigger, you have around 47 liters in total, see more in specifications below. So now imagine 47 liters of volume and all the weight riding mainly on the shoulders.
So this is a relatively large pack, big enough for overnight tours or light weekend tours. If you need something for day tours, you might consider the 35 liters version from this series.
Now back to its running vest style design, I wonder who would run with such a big pack unless you have a bear chasing you? But I do love its all features on the shoulder harness; if only this all would be supported by a real frame.
So yes this is a unique design, and I see people so excited about it. But then ask yourself, why have all other brands been building packs in the past decades with all padding, frames, and massive hip belts? There is the reason for all this, and this reason is missing in this Ultimate Direction Fastpack 45. I have been using such relatively heavy padded packs with external and internal frames in the past 3 decades. If you carry a heavy load, you need a strong and supportive pack, not a vest.
---
A bit more – description
Now after my small rant, I still want to say more about this pack, it really looks great in many ways, and has so many unique features.
This is a top loader of a specific kind, with a roll-top entrance to the main compartment, see it below. This system is not unique but it is a bit rare, you can see it in Kelty PK 50 and Kelty Ruckus 28. So you do not have the classic lid with pockets, yet this is an effective system which allows for expansion and extra load (if you can carry it without a real frame, yeah me again with objections, I am acting as a split-personality).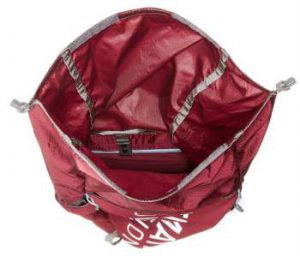 The pack is hydration compatible and you have a sleeve in the main compartment. The water hose port is in the middle, behind the neck.
The front of the pack is with a large stretch mesh pocket, and with yet another zippered pocket on the top, practically inside this mesh pocket.
You have dual daisy chain, low-profile but effective, dual attachment loops on the bottom, paired with dual bungee tie-offs. This is for ice axe attachment or for trekking poles. This all is visible in the picture on the top.
On each side you have one very large stretch mesh pocket, and one compression strap, they are shown below. Both are useful, you can store things here and fix them with the strap, or you can use the strap only to stabilize the load. This is all you have here.
The suspension system
Frankly, you do not have much suspension here. The back side is what they call the InfiKnit system, a continuous seamless fabric which is in the same style on the underside of shoulder straps and on the tiny hip belt. It is visible in the picture below.
So yes, this pack has a fixed hip belt, quite wide but without any padding, and this is different from the 35 liters version where the hip belt is just a removable strap. Note, the smaller 15 and 25-liter packs do not have any hip belt.
The back "panel" is just with a bit of foam, no frame, and no rigid shape. They claim this is to have it stable and close to the body when you run (with 47 liters of volume!). The shoulder straps are wide but again without any padding. So you do not have any ventilation here and the load is mainly carried on shoulders.
You have two chest straps, so this is a nice design; they are very adjustable on their rails, see them below: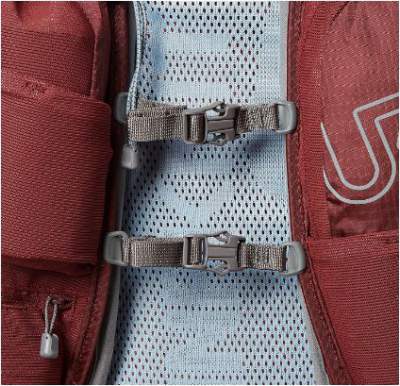 The best part
But the best part of this pack is what you see in the picture below. So let me say what you have here. There are no less than 6 pockets on the shoulder harness. Two of them are zippered, three are without zippers but one of those has a cinch cord, and one is a pass-through pocket on the left shoulder strap.
In addition to this, you have two bungee cords on each shoulder strap, and you see them in the picture used for attaching the trekking poles. So, if we put aside my rants above, these are impressive features.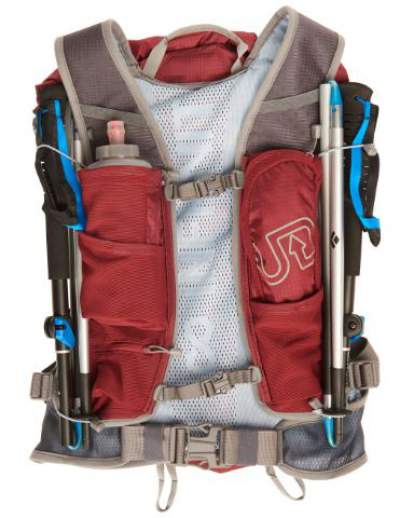 Two sizes
In the specifications, you will see about the two sizes, but this is only about the chest circumference, nothing to do with the torso size or pack size. So there are two ranges S/M and M/L, you will see the numbers below.
Volume
The volume is bigger than what the name says, I already mentioned this. So the total volume is 46.8 liters (2856 in³), and this includes what they call secured and unsecured volume (in pockets without zippers); so here again this is about running and possibility to lose items in the process if they are not secured…
---
Here is a short video about this 45 liters pack:
---
Pros & Cons
Here is my summary:
 

Good & Cool

 

Less good

Impressive shoulder straps storage elements.
Roll-top entrance.
Dual sternum straps.
Ultra lightweight.
InfiKnit seamless construction.

No rain cover.
No frame.
Not adjustable torso length.
Thin materials.
No padding on the shoulder straps.
No padding on the hip belt.
No ventilation.
Tiny hip belt.
Expensive.
The excitement about this packs' series reminds me about the story of Emperor's new clothes. From the text above you have realized why; the whole concept simply makes no sense (at least for such big packs). But as I already said, I love many of its features.
Yeah, this sounds contradictory I know. But, I am going to the Alps in a few weeks time. I shall be doing some overnight tours and shall go well above 3000 meters. So, I would not carry my load in thin air in such a pack. You have to breathe, and you cannot if the load is on your shoulders.
Nevertheless, below you can see that I rate this pack reasonably well, but this is the average rate from several parameters, and this is from a hiking pack perspective. But is there any other? Would you really run with this pack? Please let me know.
My rating breakdown of the Ultimate Direction Fastpack 45 backpack
Volume to weight ratio -

10/10

Features and bonuses -

7.5/10

Comfort -

6.5/10

Price -

7.4/10
Here is yet another video about the whole new 2017 Fastpack series (though, they missed to mention the 15 liters pack):
---
Specifications
Gender: unisex.
Type: weekend or overnight pack.
Best use: hard to say.
Weight: 26.43 oz (755 g).
Dimensions: 28.3 x 11  x 11  (72 x 28  x 28 cm).
Volume:
– Secured volume: 39 L (2380 in³).
– Unsecured volume: 7.8 L (476 in³).
– Total volume: 46.8 L (2856 in³).
Two chest sizes:
– S/M: 26 – 44 in (66 –  112 cm).
– M/L: 30 – 50 in (76 – 127 cm).
No torso length adjustment.
Roll top entrance.
Dual front daisy chains.
Two large side mesh pockets.
Dual sliding rail sternum straps.
Dual front trekking pole loops & bungee tie-offs.
Dual harness bungee attachment cords.
Large front mesh stretch front pocket.
Zippered front pocket.
Fixed waist belt.
Patented lnfiKnit mesh seamless back panel and shoulder straps system.
Materials:
– MonoRip Mesh, breathable, non-stretch, and hydrophobic.
– 100D Robic Triple-Ripstop.
– Power Span Stretch Mesh.
---
Ultimate Direction Fastpack 45 pack vs competitors
I see this pack as a hiking pack by its volume, so in view of this, it is appropriate to compare it with hiking packs. See how it looks when compared with two top-notch tools:
Ultimate Direction Fastpack 45

Gregory
Paragon 48
Osprey
Kestrel 48

Weight (kg)

0.755

1.45

1.67

Volume (l)

47

48

48

Loading

top

top

top, side

Frame

no

aluminum

aluminum

Padded harness

no

yes

yes

Padded hip belt

no

yes

yes

Rain cover

no

yes

yes

Torso adjustable
no

yes

yes

Side zippered pockets

no

no

1

Bottom access

no

yes

yes

Bottom straps

no

yes

yes

Bladder sleeve

internal

internal

external

Top pockets

no

2

2

Hip belt pockets

no

2

2

Price* $

200

180

180
*This is at the moment of writing this text. Please follow the links for updates.
So you see some features listed here which I find important. Some may not be important for you, but in any case, you realize how many are missing in the Ultimate Direction Fastpack 45 backpack.
But to be fair, the other two packs do not have all those multiple pockets on the shoulder straps (yet they have some other features there, please follow the links to see them). Also, this pack does not have the usual hip belt pockets but it has them many on the shoulder harness.
---
Summary
To conclude this Ultimate Direction Fastpack 45 Review, I love the style, design, and many of the features of this pack. But many essential features are missing. So my main issue is that I cannot see its true purpose. If you can, and if you can afford it, then you will have a nice pack, I really mean this. Observe also the smaller versions in this series, they are more appropriate for trail running, and almost all the features are the same except for the hip belt.

Thank you for reading. If this pack is not for you, please have a look in my page with many packs from the range 35 – 55 liters, you might find something for you.  In the case of comments please use the comment box below. Have a nice day.
---