---
The Gregory Facet 45 Pack for Women is incredibly light and nicely ventilated, built in 3 sub-sizes, suitable for hikers and backpackers.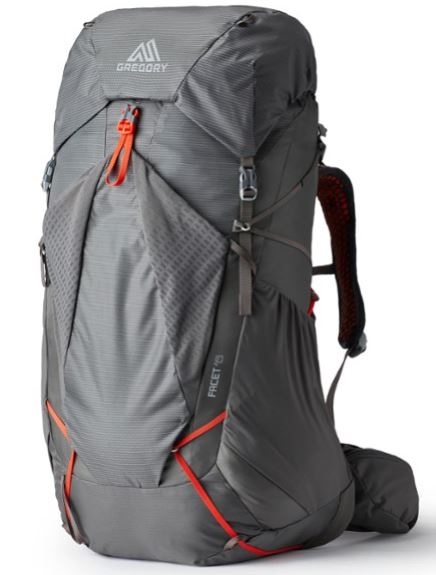 ---
Key features & benefits
Top loading pack with a removable lid.
Excellent ventilation.
3 Sub-sizes.
Ultralight.
---
What this Gregory Facet 45 Pack is about
They build the Facet series in two nominal sizes as Facet 45 and Facet 55 packs, but each of them is also available in three sib-sizes XS, S, and M. This is a gender-specific series for women, but they also have Focal 48 and Focal 58 packs for men.
You have a classic top loading design with a lid which is removable. They have included a flap that you can use to close the pack when used without the lid.
The pack is hydration compatible so you have an internal hydration sleeve with their SpeedClip hydration hanger, see the picture, that is compatible with Gregory 3D Hydro reservoirs (not included). Note that there is no separate bottom compartment here, and the pack is without a rain cover.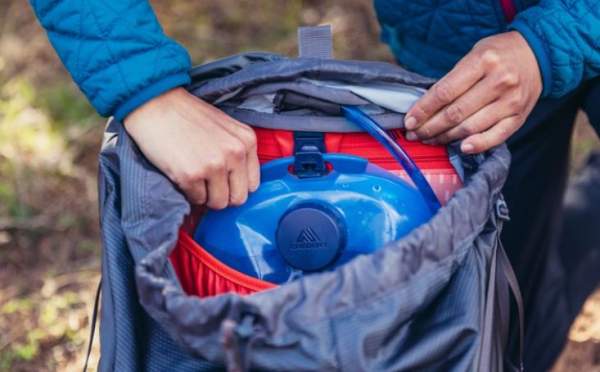 Suspension system
The pack is supported by an internal ultralight, perimeter aluminum frame and a fiberglass anti-barreling cross-stay. They create a superior lightweight load capacity. The overall structure you can see in the picture:
The frame is there to provide tension to its incredibly nicely designed trampoline-style back panel. The picture below shows how it looks, as you see it separates the pack from the body completely. So this is an excellent design if you want maximum ventilation. This is a trend they are using in their new packs, you can see it also in their Gregory Kalmia 50 backpack for women.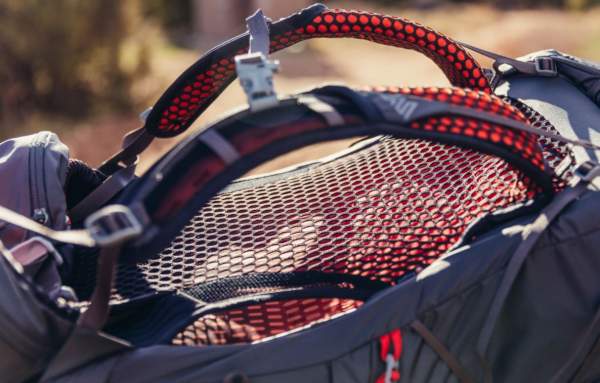 The shoulder straps and the hip belt are nicely padded and covered with a very breathable and pleasant mesh. You can see this in the pictures.

This is what they call the Gregory FreeFloat dynamic ComfortCradle lower back system for a dynamic fit and a superb hotspot-free comfort. The back panel has Polygiene Stays Fresh Technology that helps prevent the growth of odor-causing microbes in the fabric. 
But note that the torso length is not adjustable. This is why they build the packs in 3 sub-sizes so you can always choose the range that fits you perfect. You will see the numbers below.
The pack is equipped with the usual load lifter straps, and you have an adjustable sternum strap with an integrated whistle. 
Pockets
You have a full set of 7 pockets and these include:
Two pockets are in the lid, one from the outside and one underneath the lid.
There are two large hip belt pockets, see one in the picture.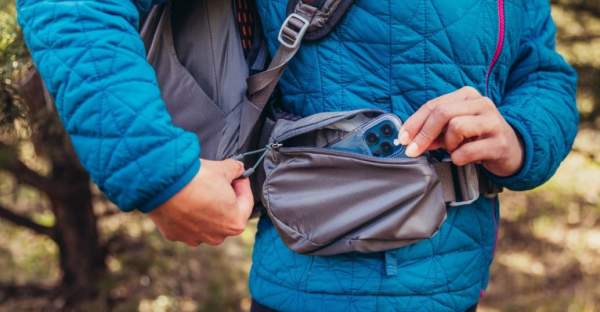 One very large front pocket is for things that you may use on the go. It is equipped with a top buckle.
You also have two side stretch mesh pockets. One is shown below. As you see, it offers dual access.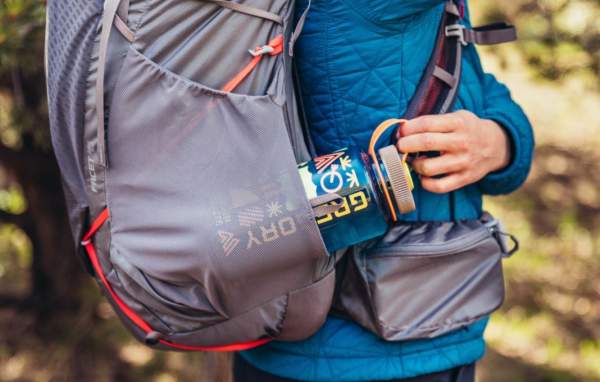 Compression straps & attachment elements
You have the usual compression straps on the sides. But they are very narrow and quite uniquely designed. The lower straps can go through the side pockets as you see in the picture above. They continue to the bottom so they act also as the bottom straps.
The upper are V-shaped as you see from the picture. With this you can fix in place elongated items that you put into the side pockets. It includes a reflective lower loop and upper shock lock for attaching trekking poles or an ice axe. Included interior toggles let you connect the Gregory Nano 14 daypack (not included). Reflective webbing front attachment loops let you clip on extra gear.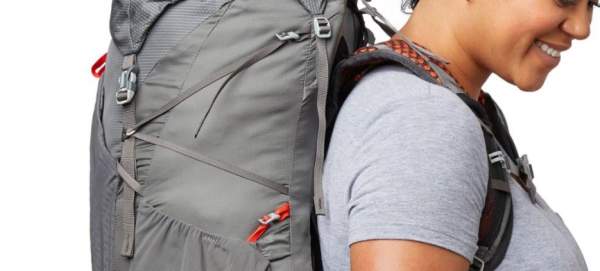 Materials
I already mentioned about the frame. As for the fabric, this is nylon, and they have done their best with respect to sustainability. This all is summarized in the picture: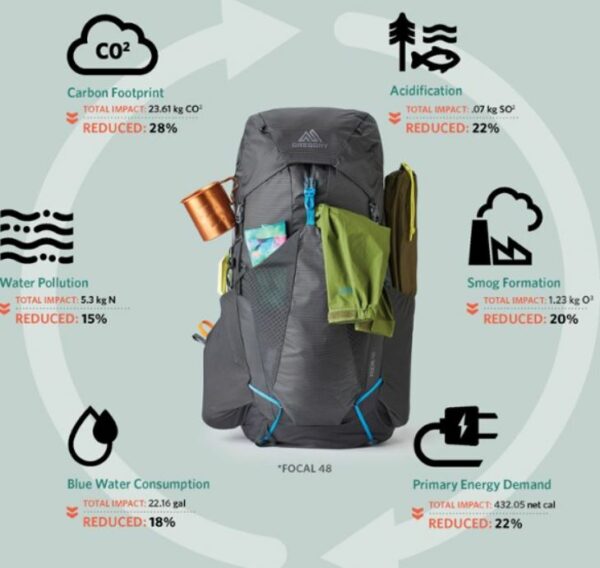 Other features:
The included ultralight weather flap stows in a quick-access zippered pocket on the underside of the top lid.
The main compartment opening has a quick-pull drawcord closure and top webbing compression.
Custom ComfortGrip molded zipper pulls are easy to operate.
Lifetime Guarantee: Gregory guarantees that this product will be free from defects in workmanship and materials for as long as you own it.
---
Who is this Gregory Facet 45 Pack for
You have already seen this is a gender-specific design for women. But this is an ultralight backpack with the volume/weight ratio of around 40 liters/kg. It still has plenty of attachment elements and pockets, and with such a volume it is large enough for weekend tours or several day tours.
Please see more in this short video:
---
Specifications
Sizes: XS, S, M.
Volume:
– XS: 2563 in³ (42 l).
– S: 2746 in³ (45 l).
– M: 2929 in³ (48).
Weight:
– XS: 2 lb 6.1 oz (1.08 kg).
– S: 2 lb 8 oz (1.13 kg).
– M: 2 lb 9.9 oz (1.19 kg).
Fits torso:
– XS: 14-16 in (36-41 cm).
– S: 16-18 in (41-46 cm).
– M: 18-20 in (46-51 cm).
Fits waist/hips:
– XS: 26-45 in (66-114 cm).
– S: 27-45 in (69-114 cm).
– M: 28-48 in (71-122 cm).
Dimensions:
– XS: 25 x 14 x 12 in (64 x 36 x 30 cm).
– S: 27 x 14 x 12 in (69 x 36 x 30 cm).
– M: 29 x 14 x 12 in (74 x 36 x 30 cm).
---
Final thoughts & rating
In summary, this Gregory Facet 45 Pack for Women is ultralight, a bit minimalist by the design, but still with plenty of great features. If ventilation is of essential importance for you, this is the pack to choose. I wanted to include it in my list of best backpacking packs for women but it is a bit small for backpacking. In any case, fully recommended.
Below you can see how I rate it against my usual rating criteria so that you can easily compare it with other items of this type:
BEST PLACEs TO BUY
For more options, please check under the category Mid-size packs. Check also my text about Gregory Focal 48 pack for men. Bookmark this site and come again, this will keep you informed because I add texts here regularly. Let me know if you have questions or comments, there is a comment box below. Have a nice day.