---
This Merrell Men's Moab 2 GTX Hiking Shoe Review is about my new pair of excellent hiking and walking waterproof and breathable versatile shoes. Keep reading.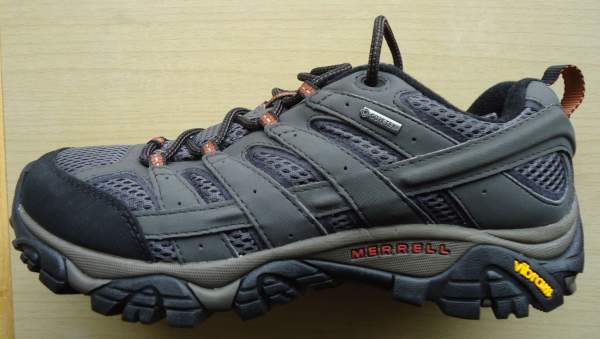 ---
Key features & benefits
Waterproof & breathable shoes.
Gore-TeX membrane.
Very comfortable.
Very durable.
---
My previous experience with Merrell Moab hiking shoes for men
I have been using Merrel Moab waterproof shoes for many years. This was only for around-town use and for daily life because I live in a country with frequent rain so having such shoes is essential.
The only time I used them in the mountains was on my tour to Kreuzspitze in the Austrian Alps. This was a very fast and light tour and the terrain was such that using low-cut shoes was reasonably appropriate. Though, it is not my practice to use such footwear for mountaineering. I have much stronger boots with ankle support. Currently, I am using Lowa Renegade GTX, La Sportiva Nepal Extreme, and Scarpa Triolet GTX boots.
So as you realize, I purchased these Merrell shoes again, but this is version 2 as you see from the name. I do not see much difference from the previous pair.
---
So what this is about
I ordered these shoes about a month ago and have been using them all the time. In view of my previous experience with them, I feel I am entitled to say something about them.
The manufacturer describes them as the shoes with out-of-the-box comfort and this is definitely so. They are also very durable, a combination of leather and synthetic. I have heard that Moab is an acronym for "mother of all boots". Not sure if the manufacturer really had this in mind when choosing the name but these are not boots, here you have low-cut shoes. But they have them in mid-cut version as boots and you can see them here.
I am writing this text in the period when the temperature in the area where I live is in the range 2-8 degrees C, and I use them daily. They feel thick and warm enough and I do not feel cold at all. The picture below shows the top view and you might get some idea about their structure. Note that the tongues are very thick and well padded.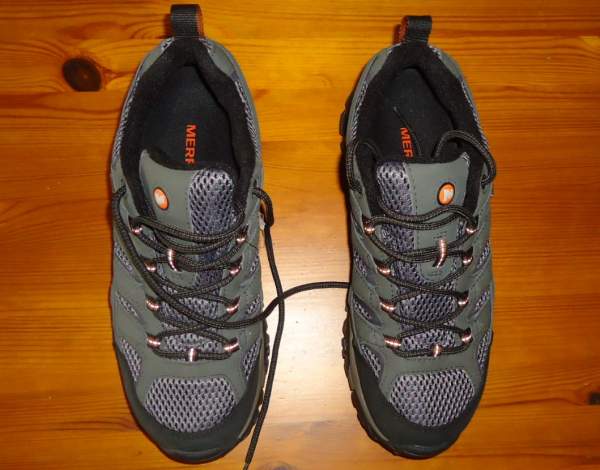 These shoes have been on the market for many years. My first pair was from 2007. The manufacturer writes that they have sold around 20 million pairs of them, I am not surprised, two of these are my own.
In the specifications, they write that the shoes weigh 2 lb 1 oz (940 g) per pair. I have checked my own, and they are very close to this value for the size 7.5 which I use.

Waterproof & breathable upper
They call the technology used here M Select DRY. So this is a suede leather and a breathable mesh with a Gore-Tex membrane inside. They describe it as the extreme-weather rain-proof gear. This is a moisture-wicking technology with comfortable breathability. A bit more you can see in this short video:
The sole
What you have here is a Vibram TC5+ sole, and the picture below shows how it looks. These lugs are 5 mm deep, and this is surprising for such light low-cut shoes. I can tell you the grip is excellent.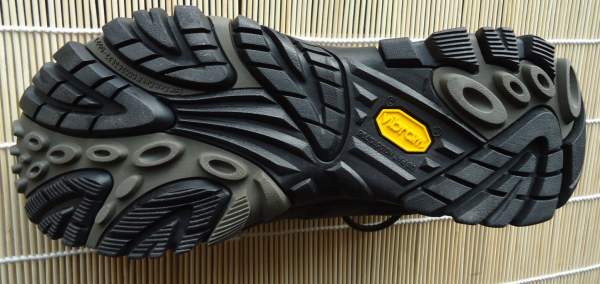 Vibram has been around for 70 years already. They make high-performance rubber soles for outdoor footwear. The soles which you have here are designed to provide power and stability on any terrain.
Above the sole you have a molded nylon arch shank. I have seen some users complaining about insufficient arch support, I do not have such a feeling with these shoes. There is also an air cushion in the heel to absorb shocks and to add stability.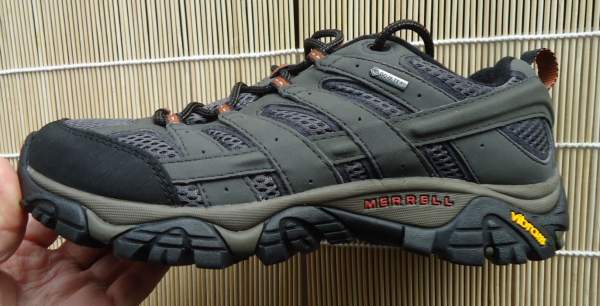 The picture above shows the overlay which you have on the toes. Observe also how thick the whole bottom section is.
The midsole and inner sole
The shoes are with EVA midsole for stability and comfort. The pictures below show the removable inner layer.
---
Final thoughts, rating, pros & cons
In summary of this Merrell Men's Moab 2 GTX Hiking Shoe Review, as you have seen this is already my second pair of these Moab shoes, and I am more than happy with them. I shall use them only for daily life, but if you need good hiking or approach shoes this is the model you will want to consider. They offer protection from elements and the grip is excellent. Fully recommended.
The price is more than fair, but there are many sellers on the market and there may be differences, so please follow the links given here. There are numerous reports about these shoes everywhere around and the ratings are very high. My own rating is shown below, please have a look:
Note that they have Merrell Moab 2 GTX version for women as well. Please check in my page with boots and shoes if you need more options and different models. You might want to read also my review of yet another great pair of boots, the Salomon Men's Quest Prime GTX Backpacking Boots that offer great ankle support.
Note that this is not a sponsored text, and I am not paid by the brand. I ordered and paid these shoes myself. Please use the comment box below in case of questions or comments. Have a nice day.