---
After carrying packs for well over three decades, I know what features a great pack should have. But is there really an ideal hiking pack? Read the lines below if you want to know how to choose a hiking pack.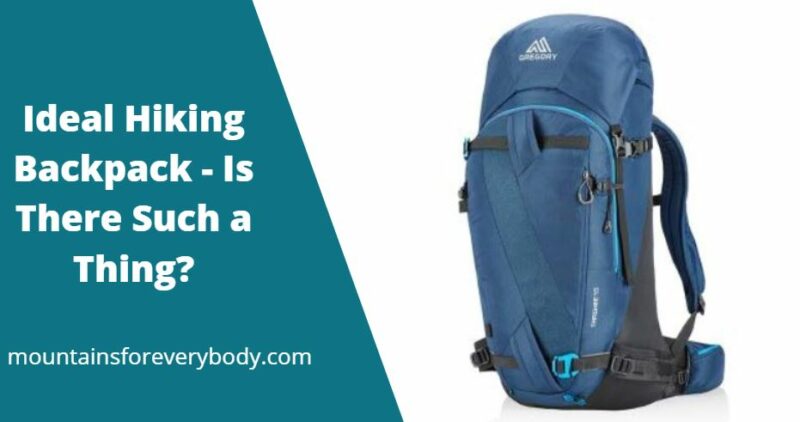 There are a few great packs on the market which I would love to dismantle and then use their parts to create my own Frankenstein pack with all the features I love to have. Speaking about features, the more features the heavier pack, it is usually as simple as that. When I see an ultralight hiking pack, my first thought is 'what is missing'.
I guess there is no way we can agree about the term 'ideal pack', we all have different preferences. So here is what I think a perfect backpack should have and how to choose a hiking pack.
Access points
It is necessary to mention entry points first, because this is related to the lid story that follows below. So a hiking pack can have the following access points:
Top access
This is the usual classic top entry point with a collar, but some packs have a U-shaped zippered panel instead. There are also packs with a roll-up top. My preference is the collar and lid, and I am not going to discuss the other cases. The reasons for this will be clear below.
Now, the collar must be expandable to accommodate extra load when you need it. Bear in mind, this implies a bit more of material used for its construction, but I am willing to carry it in exchange for the benefits it brings.
Here is one example. When you are on an unsupported trip, you will start with more stuff (food, toilet paper, water, etc.). So you need more volume in the beginning, this is where such an expandable collar plays a big role.
One more example – dependent on the season and climate, sometimes you will carry bulkier stuff, so such a collar may help to accommodate it. No need to buy a larger pack.
Note that Deuter packs almost always have such an expandable collar. You will see this in their names as a number +10 or even +15. This describes extra volume (in liters) which you have when you expand the collar. Great examples of this type are this Deuter Aircontact Lite 40 + 10 backpack and also Deuter Aviant Voyager 60+10 SL Pack for women.
Bottom access
This is about the zippered entry point which we normally describe as a sleeping bag compartment. There is one important detail to mention here, and this is the divider inside. Most of the packs on the market have an inner divider that separates the bottom compartment from the main compartment above.
But even in very expensive packs this is just a simple shelf that is fixed with toggles. This is not so great because small items from above can easily slide into the bottom compartment. Sometimes this is a divider with a drawcord, and this is a better design.
In Deuter packs, almost always you have a zipper that closes the space between the two compartments. You can see it in Deuter Futura Vario 50 + 10 pack. But a zipper adds weight. Well, Deuter packs are usually not the lightest on the market.
Front access
Having a front access may look convenient in particular if this is a big pack. Sometimes you have this access instead of the bottom access, and in this case it may be justified.
But in general, you do not need this extra entry point. Think about weight. This is usually a large opening with a very long zipper that adds unnecessary weight. Though the reality is that many top-packs on the market have such a front access.
So the bottom line here and my choice would be:
Top + bottom access.
A zippered divider between the two compartments, or even better a simple and light fabric with a drawcord. I have this in my first old Deuter Futura pack.
The lid
If you are not familiar with this terminology, the lid of a hiking pack is the top section that covers and protects the top entry point.
You have already seen about the expandable collar, well, the lid must be designed to accommodate to such an expansion. So this is a new term for those who are not familiar: a floating lid. More about lid you can read in my separate text.
Note, such a floating lid means extra straps plus some buckles that allow for moving it up or down, and this is extra weight. But this is a useful feature. You will use it also when you store the climbing rope or a helmet on the top of the pack. You can keep such an item in place with the lid itself. This is one of the reasons I love to have a lid.
The lid should have the following features:
There should be several pockets with access from outside and underneath the lid, at least one plus one. You do not have this in packs with a panel access mentioned above. But bear in mind, such pockets have zippers, and this means extra weight.
There must be some attachment loops on the top. This is useful to add some extra bulky stuff, like a closed-cell foam pad or anything similar.
There is one extra feature I love to have here: the lid should be designed to transform in a day pack. You have such a great example the Granite Gear Blaze 60 where the lid is detachable and you can use it as a lumbar pack. Yet another great example is the Mystery Ranch Stein 62 where you can use the lid as a small backpack. But my favorite is what you have in Osprey Aether AG 60 Pack and in several other packs from Osprey. This is as close to perfection as it can be, see the picture.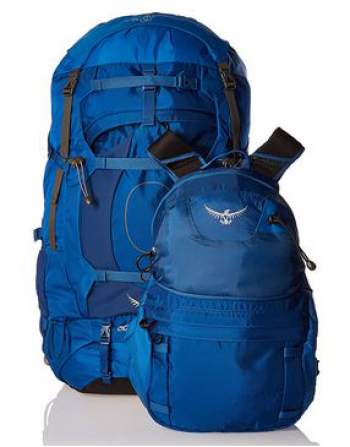 The suspension system
There are several important elements in the suspension, and they include the following features which a pack should/might have:
Adjustable torso length.
Adjustable hip belt.
Ventilation.
Of course, there must be padding and all other necessary details that are assumed as present in every pack, no need to discuss just every detail.
Adjustable torso
There are several different systems on the market and they include:
Ladder-type adjustment:
This implies several discrete positions (lengths) so you can move the harness up or down to your torso size. This is very reliable and it will never fail. There are several subvariants here and you can see one great example in Osprey Rook 65 Backpack for Men and in Deuter Aircontact Lite packs so you can compare.
A small disadvantage of this design is that those are specific lengths and you cannot choose in between, but you can always do some fine-tunning with shoulder straps.
Adjustment based on a continuous system:
This means that you can move the harness to any position within the given range. There are several different designs here. So you can have just a Velcro hook and loop connection, you break the connection, move the harness, and then press to re-engage the connection.
Yet another type is in Deuter Futura Vario 50 + 10 pack where you have a single strap behind the back panel. There is also a locking mechanism so you can move the harness up and down. The same is in the version for women, the Deuter Futura 45 + 10 SL.
But the best system is in some of the Kelty's packs and this is what they call PerfectFit, with all the good reasons. You adjust the torso length when the pack is on your back so you can feel the difference under the full load and you can choose the perfect position for the harness. You can see this in Red Cloud 110, Kelty Reva 60 backpack for women, and in many other packs from this brand.
Adjustable hip belt
There are several different designs here:
Moldable hip belt padding which accommodates to the user automatically due to body warmth. There is hardly anything better. You have such a system in Osprey Aether AG 85 and in all the packs from the Aether-Ariel series. A small problem is that you have to change the whole belt if it is not long enough for you, or if it is too short. But usually, you do not have to do this. Such belts are built for average users.
Adjustable hip fins. This means you can move the padding forward and backward and this solves the problem which you have in the first system mentioned above. This is convenient if several family members use the pack, we are all different and it may be essential to move the padding to the right position. The hip fins are fixed in position by Velcro tabs. Examples? See them in Gregory Paragon & Maven packs.
There are some other examples, like the possibility to detach the belt behind the lumbar padding and reposition it to your perfect length. You can see this design in the Granite Gear Blaze 60 pack (shown below). A minor issue here is that everything on the hip belt is shifted when you make the hip belt longer or shorter, so hip belt pockets may be positioned in a way you find uncomfortable.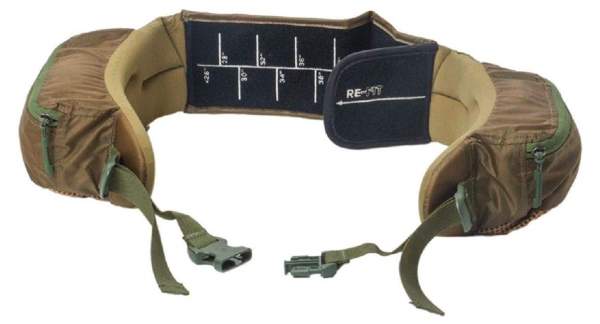 What would I choose here? If the pack is supposed to be used by several family members, I would rather go for the second option, so my Frankenstein pack would have such adjustable fins.
Ventilation
Regarding ventilation, the trampoline-style tensioned mesh invented by Deuter and applied for the first time to their Futura packs is the perfect option. There is nothing better and I can hardly imagine it can be better. I have been using this in the past 18 years or so. Many top brands are now adding this to their packs so such a design is becoming widespread.
So if you want such a system, check Deuter Futura Vario 50 + 10 pack. But equally good is also Osprey Renn 50 and the corresponding Rook 50 for men. The same holds for the packs from Gregory Zulu series.
There may be some issues with such a design, and I know that some dislike it because of the following:
To have excellent ventilation, the back of the pack is curved, and in some cases this is a bit too much.
This 'eats' the volume of the main compartment.
This may also keep the center of the gravity of the pack a bit farther from your own center of gravity. Not the best option for stability and navigation on narrow ridges and exposed passages.
Pockets
• When it comes to pockets, my favorite feature is the upper side zippered pockets. The best design implies bellows pockets, so those can expand outside when they are full, and in such a way they take less volume from the inner main compartment.
It is an obvious trend in packs' design that they come without such pockets. But there are two brands that still integrate this feature in their packs, this is Deuter and Kelty. You can see this in Deuter Futura Vario 50 + 10 pack and in Kelty Coyote 105 pack see the picture below.
Note that Deuter's design is better because those zippered pockets are bellows type, this is not the case in Kelty's packs.
But there is one problem with these pockets. When the pocket is full, it pops out (to the side), and this makes access to the lower mesh pockets difficult. So I hope manufacturers might read this and solve the problem by simply adding extra side access to those lover mesh pockets. It is as easy as this, and I have never seen it in any pack that has both upper and lower side pockets.
• My second favorite feature in pockets design is pass-through pockets. If you have no idea what I am talking about, check any of these packs by Kelty: Kelty Coyote 105 pack, Kelty Redwing 36 Pack for Men and Women, and many more.
When you have such a system in place, you can pass any longer item behind the mentioned side zippered pockets, all the way to the side mesh pockets. This can be trekking poles, tent poles, tripods, or anything similar. See the picture: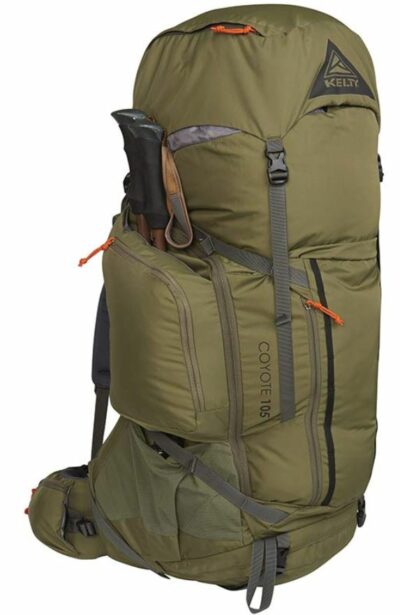 This is an incredibly functional detail. I am sure it would be easy to combine it with the bellows pockets as they are designed now in Deuter's packs.
Attachment elements & straps
In this department, the rule is: the more the better. Such elements are not heavy but they add lots of functionality. On the other hand, it is easy to make some of them removable, so if you are an ounce counter you can use them only when needed. Many packs of Osprey have such removable straps.
So here is what my pack should have:
Attachment loops on the lid.
Dual (removable) side straps. Those should be reversible. This means you can reroute them over the front so that you can attach some larger items when/if necessary. There are some packs of this type on the market.
Dual removable straps over the bottom compartment access point.
Some attachment elements on the bottom (attachment loops or daisy chains).
Daisy chains or attachment loops on the front. A pair of such daisy chains increases the functionality of the pack dramatically. See them in this Mountainsmith Apex 60 pack.
Stow-on-the-Go attachment for the poles. If you are familiar with Osprey' packs, you know this is the only brand with this design and there is nothing similar on the market.
Do you have anything to add here?
Rain cover
Some claim you do not need it and you can simply use a plastic bag and put it in the main compartment and then fill it with your stuff.
But what about the bottom compartment, what about the lid, what about pockets? Would you add plastic bags everywhere? Well, I wouldn't, I would use a rain cover instead.
Think also about long hours with rain and the pack soaked with water. It is heavier if nothing else. You will have water leaking through the seams and collecting in the bottom compartment and on the bottoms of the pockets.
So in my view, a rain cover is a must. Of course, if you go to dry places without rain and snow, you certainly would not need it. But come to the Alps and you will see why you need a rain cover.
Weight capacity & volume capacity
There is not much one could say here. If you buy a pack from a reliable brand, it will be able to support as much weight as you can carry.
On the other hand, the required volume will depend on the season and climate. Bulky warm stuff for cold weather will need more space for storage. If you pay more you might get better packable stuff. But I already mentioned the expandable collar that serves this purpose.
Summary of features I want to have
Here is the list of necessary features which my Frankenstein pack would have (I do not list the usual features like hip belt pockets and other details that are assumed by default in a good pack):
Adjustable (floating) lid with several pockets.
Expandable collar.
Adjustable torso length.
Adjustable hip belt with movable hip fins.
Trampoline style tensioned back panel.
Top & bottom access.
Rain cover.
Pass-through pockets.
Side zippered pockets.
Side mesh pockets with dual access.
Plus lots more…
My priorities are not necessarily your own priorities, but if you are not sure how to choose a hiking backpack, the features mentioned and described above could be a good guideline to find a pack that would suit you.
Is there anything close to perfection
The short answer is no. Currently, there is no pack with such a combination of features. Though there are many great packs on the market, but some features are always missing.
This Deuter Futura Vario 50 + 10 is one of them. If only it would have those pass-through pockets from Kelty's packs, and Stove-on-the-Go system from Osprey, and adjustable hip belt, and… But see how it compares with Osprey Atmos packs that are also among the best on the market.
Thank you for reading. Let me know what you think, is there anything important I missed mentioning? There is a comment box below.