---
Deuter Aviant Voyager 60+10 SL Pack for women is an impressive backpack with an adjustable torso size, three access points, a fully functional daypack included, and much more.
---
Key features & benefits
Three access points.
Detachable daypack.
Adjustable torso length.
Steel frame.
Transport cover doubles as a rain cover.
---
What this is about
Here you have a backpack from a new mini-series which Deuter launched recently. It includes also a larger Deuter Aviant Voyager 65 + 10 pack for men.
So this smaller pack is a women-specific design, and this means it has a narrower shoulder harness, the hip belt is ergonomically designed to follow women's body shape, the colors are different, the sternum strap is at a different position, the pack is shorter in length, smaller buckles are used. The letters SL in the name mean 'slim line', and this describes the mentioned features.
You have 60 liters of volume here, and if you are curious about this +10 in the name, this is an extra volume which you can have with its expandable collar. The collar has two drawcords for this purpose, and also the lid is adjustable or floating to accommodate such extra stuff when/if you add it.
3 Access points
• As mentioned above, this is a classic design with a lid and collar and this is the usual top access point.
• You also have a U-shaped zippered opening on the front. It is shown in the picture below. The flap is with two extra buckles to reduce the stress on the zipper.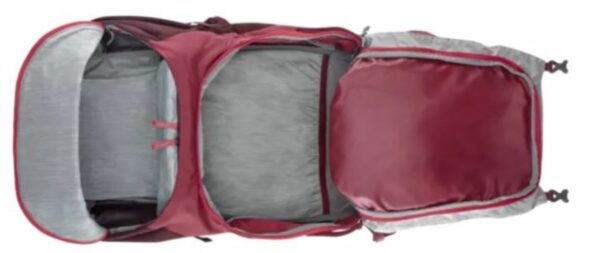 • There is also a separate zippered bottom compartment with a zippered divider as the third access point, you can see it in the picture above. The divider is also visible.
If you carry some large object in the pack, you can unzip the divider and have a single huge compartment.
Bonus 1: Transport cover that doubles as a rain cover
In the zippered pocket on the bottom, you have a waterproof transport cover that also doubles as a rain cover. This you can use to store the pack when you transport it on the plain and also as a protection from the rain. A long zipper closes it completely to protect the pack and its straps. There are also two reinforced grab handles on the cover, plus a small sleeve where you can put your address and name.

Bonus 2: Daypack
The picture below shows the daypack that comes with this Deuter Aviant Voyager 60+10 SL Pack stored in the large holster on the front. It is fully functional and it includes the following elements:
It comes with fully padded shoulder straps and back panel.
There is a side pocket visible in the picture.
There is a top zippered pocket for valuables, and with a key clip inside.
It comes with an internal sleeve where you can store a 13 inches computer.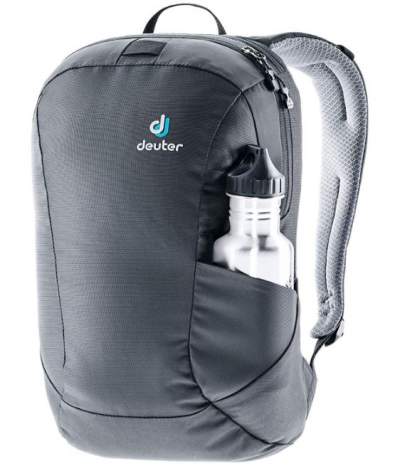 You can use it as a city-tour pack or a summit pack when the main pack is used outdoor. Note also that this daypack can be attached to the front when this is more convenient for you. There are two straps on the shoulder harness of the big pack for this purpose. Because of all these features, the Deuter AViANT Voyager 60+10 pack is included in my list of best backpacks with daypacks.
---
Suspension system & other features
The most important elements in this Contact system which they use in several of their series are:
A spring steel frame and integrated framesheet for structural support and load-hauling capability.
An adjustable harness that is is ladder-type, this is what they call the VariQuick system. It is easy to use and reliable, see it in the picture below. This is a system very similar to what they use in their Aircontact and Aircontact Lite packs.
Massive padding on the hip belt and in the lumbar zone. The picture below shows how it looks. This system they call Ergonomic Comfort Lock (ECL). It includes the hip belt with dual V-shaped front belt straps on both sides for a perfect hugging of the hips when you cinch the belt.
You also have the usual load-lifter straps and an adjustable sternum strap.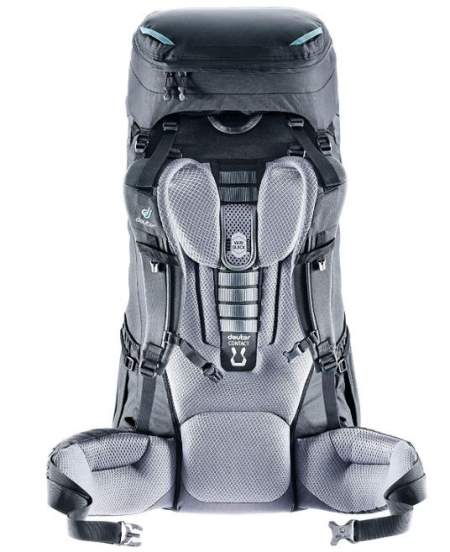 Pockets
There are 6+1 pockets in total:
The lid is with one huge top pocket equipped with a key clip, and one pocket on its underside.
Dual stretch water bottle pockets are on the sides.
One large front sleeve is for the daypack.
There is one pocket on the hip belt.
A zippered bottom pocket for the rain cover.
Straps and attachment elements
Here is what the pack offers:
On the lid, you have four attachment loops.
Dual compression straps are on each side of the pack.
Dual straps are on the bottom compartment.
One carry handle is on the bottom.
One carry loop is above the shoulder straps.
There are two mentioned attachment straps (loops) on the shoulder harness.
---
Materials
This is a heavy pack but see its steel frame and the durable fabric. You have 420D Polyamide and 600D Polyester with PU coating, both tear-resistant and strong. This is a high-performance PFC-free material, and with dirt- and water-repellent impregnation.
All the features of this pack you can see in this video, it is in German but you will see everything, this should be good enough:
---
Specifications
Best use: trekking, travel.
Weight: 6.02 lb (2730 g).
Volume: 3661 + 610 in³ (60 + 10 l).
Dimensions (L x W x D): 31.5 x 12.6 x 10.2+6 in (80 x 32 x 26+15 cm). Note, the pack's dept D can be expanded for another 15 cm or so, when you add its daypack full of stuff.
Torso fit range: 14 – 19 in (36 – 48 cm).
Frame: steel.
---
Final thoughts, rating, pros & cons
In summary of this Deuter Aviant Voyager 60+10 SL Pack for women review to stress again that here you have a pack built in the best tradition of Deuter. They have been making packs for over one century, and they know how to do this. This is a pack that will last for years and it is good for both trekking tours and travel.
The price is steep but bear in mind its bonus daypack, and its bonus transportation bag. Those two you would have to pay probably around $100 or so if you would buy them separately. So if you can afford it, the pack is worth the money. Fully recommended.
Please see how I rate this pack against my standard set of criteria for backpacks here in the site:
Thank you for reading. We add new texts regularly, so bookmark this site and stay informed. There is a subscription form below for our weekly newsletter. Use the comment box below in the case of questions or comments.